You Can't Take It With You
Lessons From The Tenant Farmers to The Widow with Two Coins In this section of Scripture, Jesus continues teaching in parables with the overlying theme of trying to take ownership of things that don't belong to us contrasted by an example of someone who knows how to let things go. In the past few weeks, we've discussed the topics of money and marriage - this week, we'll look at the sobering reality that you can't take any of it with you.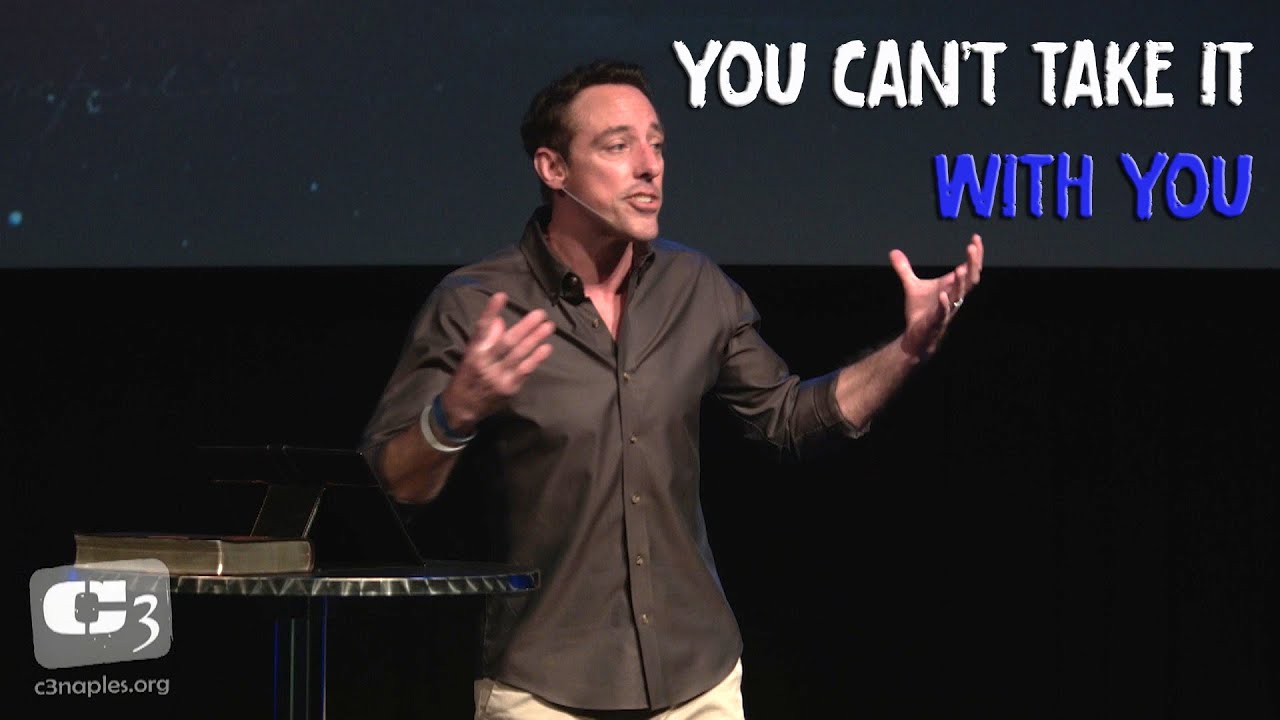 You Can't Take It With You - Sermon with Gene Simco
Mon, Jul 16, 2023 10AM • 48:33
SUMMARY KEYWORDS
Jesus, people, hypocrites, home, renting, house, bodies, story, thinking, heard, point, replied, servants, die, give, pharisees, mind, questions, tenant farmers, vineyard
Morning. Welcome. If you're new here among us, my name is Gene I serve here at C3 church as your pastor. And today we're going to do a little light reading.
Some people got scared when it pulled that out, you'll find out what it's for later. So if you're not new here among us, you know, that my family and I, we went overseas a couple weeks ago, is it two, three, maybe a month ago or so. And we went for two weeks. But here's the thing, we had a challenge. Before we went, we decided we were going to go for two weeks.
carry ons only. Think about that. If you've traveled a lot. You know, if you travel a whole lot, that makes a lot of sense, right? But you're like, wait a minute, because you get like, you know, a little piece of luggage and then a backpack. Now, there are a couple things behind this practicality, economy, all that stuff comes into play. But it was really just a challenge for my wife. She likes Tetris. Right? So you're really you know, if you're challenged, or you're like, there's no way we can make it two weeks. Oh, really? You want to see? Right? So. So this is what happens because we don't do any of that my daughter and I so you can ask, right? So you get a pile of stuff. And you're like, I want to take this. And of course, it's like way too much stuff. But it's like a challenge. We're really kind of egging her on right shot to see what happens. And if you know the dynamic in my family, it's kind of funny. But if you know anything about me,
you do. It's a thing I'll never learn. But anyway, you know about me, I like to be clean. So when you say hygiene, it means two things to me. You can you can use that. It's not the first time I've heard it, but I laugh just to be polite, because I'm a pastor, right? That's what we do. So anyway, I the idea of wearing the same clothes after sweating to me is repulsive. It just That's it. I just got to be honest about it. It's just a clean thing. That's all it is. Don't read into it too much. So here's what happens. I need 14 pairs of pants. Right? So that's the first thing so it's like this. And that's not even going to fit in one of the suitcases anyway. Then I need 14 shirts and 14 pairs of underwear. Socks, you know, I got the sandals shoes aren't a problem. I'm going to wear sneakers. And then I have sandals. I'm aware it's a summertime over there. And so, you know, it all gets kind of put out on the bed, right? And she's getting ready to pack it. And so the third pile the pants, she's like, You cannot take those with you right there. They're not going to fit. You can't take them with you. I'm like, okay, I can wear pants twice, right? So find half the ball goes or so. And then the shirts, you can't take those with you. And I'm like, Really, it's going to get sweaty. And then she reminds me they have things like running water and laundry services in Europe. So you
you can take them, you'll be fine. We have a bathtub, we can wash it. And then remember when we did that we were really poor. Oh, yeah. Okay, so we're going to do all that stuff. Alright, so half the shirts go. So the next pile is the underwear. And I said, I'm taking all of them with me. That was it.
There was no way. But here's the really funny part is that when we get to the airport, and the kiosk wasn't working, like everything's elected, it's been 20 years since I've traveled overseas, and I didn't realize how different it was, like, everything's electronic. Sometimes it's scary, because there's no real people next to you like, oh, man, I hope I scan in, okay, otherwise, there's not going to work. So we couldn't like scan luggage. Like we got on the first flight we did. I mean, they didn't check the weight. So we got away with it the first time, but then we couldn't like scan. And for some reason, we had to talk to a real person who has a scale. And they're like, weigh the bag. And it brought me all the way back to like my martial arts and fight days, right? You know, you got to do the weigh in. It didn't make weight. I was like, What's wrong with you got a fight coming up. It didn't make weight. And so we had to check it anyway. So
that's what happened. Now, it's a good exercise. It's a really good exercise in making you like, think about what you actually need. It was a really good exercise, you knew it was going to come to religion, right? So what you actually need, like, what am I actually need to take with me, I'll see you living out of a suitcase for a couple weeks. But it wasn't bad. And I didn't miss a lot of the stuff. I think I needed, you know. So a really good exercise in that. What's important to you, and it made me think of this story of a man preparing for a funeral. So he's real old. And he knows of course, he's going to die soon. So you want to make it easy on his loved ones. And so he goes to a funeral home. Yeah, it's going to get depressing, right? So he always ruins everything. I thought we were going to have fun today.
We'll talk about that too, in a minute. So he goes to the funeral home makes the arrangements right. So he gets the burial plot. This is where you're going to be the next tombstone or whatever you call it the headstone. Right? What are you going to say on it philanthropist because I've been very generous my whole life. So he gets all that done. They get to the point where they're doing the paperwork, and they're doing the paperwork. And the old man says, well, we're not done yet. You know, the payment and all that other stuff. And he's like, Okay, what else do we have to talk about the hearse?
He's like, we have a hearse. It's just fine. It's a nice hearse. It's fairly new and shiny. He's like, Yeah, but
what's the engine? Like?
Think it's an eight cylinder engine? I don't know. I'm not sure. All right, well, how much torque does it have? He's like, you're not going to be in a hurry, bro. like, Dude, relax, you know. So he's like, Well, what's the hauling capacity?
You're not very heavy, you know. So that's not what hauling capacity. And so the old man points to like a trailer that he has hitch to the back of a truck that he brought in there. He's like, you see a trailer? Because, yeah,
that trailer has all my stuff in it. And I'm taking it with me.
Alright, not the best joke, but it's a timeless one.
Anyway, so what's the theme today? Take it with us. So going back over the last few weeks, right? So last week, we asked is the honeymoon over and in our relationships. And with Jesus, we had talked about money, right? So we talked about marriages. So why not talk about death? Why not just do that and just rip the band aid off. That's what we're going to do. Now. Here's the thing. Here's the thing. If you think I like depressing topics,
you're probably right. But
but we're doing a series right remind you guys think we need to think about it. It's the Bible chronologically ish. It can be hard to do scholars debate over the exact order of things, but not the point chronologically. So what we're doing is Jesus is picking the topics. That's just what's happened. I'm just reading the Bible straight through. And so he's picking these topics. And it's an interesting thing to think about. This is just Jesus taught. He's still talking. He's still going week after week. So it has been said, and I think it's true, that the Bible doesn't read, like most people preach sounds a little different, doesn't it when you're just listening to Jesus all the time. So basically, I'm just taking all the responsibility off of myself. That's it's nice. The being an ambassador is the best job in the world, right? Oh, I'm just delivering the message. But then they shoot the messenger. So here's a chart. Here's a chart for you. So this is the chronological ish order of what we're doing. Right? So this one, there's a lot to it, it seems like a lot, but it actually flows very, very nicely. Jesus does things like that. So if you're really interested in this, and you're a Bible nerd like me, you can go into our app, and it's in there, if you really want to check it out and study along and read along it has the Bible study questions and everything in there. So you can kind of track along Bible study always follows the messages where you can ask questions and engage in it. So let's hop right in. We left off at the story of the two sons. So just to kind of remind you what's going on here, right? Lip service, right? one's like, Yeah, I'll go do it. And then he doesn't go do the chores. The other one's like, Nah, I'm not going to do it. And he goes, and does it. And so this represented the people who repented of their sins and then ended up doing it. Not that it's a good idea to give Jesus lip service. So now we're just going to continue right along. Matthew 2133. Now listen to another story. A certain landowner planted a vineyard built a wall around it dug a pit for pressing out the grape juice, and built a lookout tower. Then he leaves the vineyard to tenant farmers and moved to another country. At the time of the grape harvest. He said his servants to collect his share of the crop, but the farmers grabbed his servants beat one killed one and stoned another. So the landowner sent a larger group of his servants to collect for him. But the results were the same. Finally, the owner sent his son thinking, surely they will respect my son. When the tenant farmers saw his oncoming they said to one another, here comes the heir to the estate. Come on, let's kill him and get the estate for ourselves. So they grabbed him, dragged him out of the vineyard and murdered him.
When the owner of the vineyard returns, Jesus asked, What do you think you'll do to those farmers? The religious leaders, he's speaking to replied, he'll put the wicked man to a horrible death and lease the vineyard to others who will give him his share of the crop after each harvest. Then Jesus has them. Didn't you ever read the Scriptures, the stone that the builders rejected has now become the cornerstone? This is the Lord's doing that is wonderful to see. He's quoting Psalms, I tell you, the kingdom of God will be taken away from you, and given to a nation that will produce proper fruit. Anyone who stumbles over that stone will be broken to pieces and will crush anyone that falls on. So when the priests heard this, and the people he's talking to, they like kill him, right? But they're afraid because they're considering Jesus a prophet. They don't want to get in trouble with the people. So what's the meaning here? Well, the meaning here is that he's describing these people that are coming to these just tenant farmers and remember that word. They're like the prophets finally, what his
Son, that's Jesus, you're going to kill him too, right? And so then there's going to be a judgment to pay for that. But just remember their tenants. And so they're trying to take ownership over this thing. And so those are the religious leaders, these people aren't getting it. They say they're getting it. They're not getting it and they kill all the prophets before Jesus is a theme building here. Next, we're going to kind of just go over this sort of quickly. There's the parable of the great feasts. And next, Jesus just tells this parable. And it's like what we saw in Luke 14, but a similar thing, you have a king that holds a wedding feast for his son. But here, it's more about the rejection of that invitation. Right? So he sends his servants out, go invite everybody, but everybody's like too busy for it. So what is this is the religious leader rejecting him, right? So they reject Him. So fine, they actually end up killing some of the messengers. Same type of theme here. So he goes, he takes care of all those people, sends a servant's out again to everybody. Now, the good and bad, where does that resemble? Well, these people who weren't like the Jews are these chosen people or think that they're chosen, right? So out to everybody, the Gentile sinners, everybody tell him to come on in? Well, they do have a great face, but there's someone who's not really wearing the right wedding clothes. And then he kicks them out into like, outer darkness where there's weeping and gnashing of teeth. One of Jesus's favorite ways to describe hell, For many are called but few are chosen. And so, you know, you might want to change your mind and get in later when you see that the party is pretty good. But no, you know, that's, it's too late, there's going to come a time when it's too late. So that's what's going on here. So next, you're going to get a set, and it's really good. If you really are into the Bible, you really like to be a Bible nerd. You should remember these as a set. There are people questioning Jesus here. So you know, easy way to remember Pharisees. Sadducees grabs like different groups of people questioning Jesus, and presenting Jesus with questions and it's all in a row. And one's more popular than the other two, perhaps. So I'll just tell them straight through Matthew 2215. Then the Pharisees met together to plot how to trap Jesus into saying something for which he could be arrested. They sent some of their disciples along with the supporters of Harrods and meet with him. Teacher, they said, We know you how honest you are you teach the way of God truthfully, you are impartial and don't play favorites. Now tell us. What do you think about this? Is it right to pay taxes to Caesar or not? But Jesus knew they're evil motives, you hypocrites. He said, Why are you trying to drive me? Here? Show me the coin used for the tax. When they handed him a Roman coin or denarius. He asked Whose picture and title are stamped on it. Caesars, they replied, Well, then he said, Give to Caesar what belongs to Caesar, and give to God what belongs to God, His reply, amaze them, and they went away. Pause so it'll keep going. But there's a little bit going on. Some of its obvious, you know, what's going on here? Right? Why are you so concerned with money, stop torturing turns on, but he turns it on them in a way unless you know, just a little bit about the history going on here and a little bit about the context. What does he do? Show me the coin?
What's on it, Caesar, but that's not all right. So if you know a little bit about who they considered Caesar to be, it says on it, Caesars God as what it says on that graven image.
So they just broke the first two commands, the 10 commandments. And so he's calling them out in a big way. Right? So it's kind of cool. There's a lot of gravity under what Jesus is doing here. So Matthew 2223, that same day, Jesus was approached by some Sadducees religious leaders who say there's no resurrection from the dead. They pose this question Teacher, Moses said, If a man dies without children, his brother should marry the widow and have a child who would carry on the brother's name. Well, suppose there were seven brothers, the oldest married one, and then died without children. So his brother married the widow, the second brother also died, and the third brother married her. This continued with all seven of them. Last of all, the woman also died. So tell us, whose wife will she be in the resurrection? For all seven were married to her.
Jesus replied, Your mistake is that you don't know the Scriptures and you don't know the power of God. When the dead rise, they will neither marry nor be given in marriage in this respect, they will be like the angels in heaven. It continues, but now as to whether there'll be a resurrection of the dead. Haven't you ever read about this in the Scriptures long after Abraham, Isaac and Jacob had died, God said, I am the God of Abraham, the God of Isaac and the God of Jacob. So he is the god of living, not the dead. When the crowds heard him, they were astounded that his teaching continues Matthew 2234 When the Pharisees heard that he had silenced the Sadducees with this reply, they met together to question him again.
One of them an expert in religious law or scribe tried to trap him with this question, teacher, which is the most important commandment in the Law of Moses, Jesus replied, You must love the Lord your God with all your heart, all your soul and all your mind. This is the first and greatest commandment. The second is equally important. Love your neighbor as yourself, the entire law and the demands of the prophets are based on these two commands. Now in Mark, a little bit more of a dialogue, the scribe kind of affirms, it repeats the whole thing, and Jesus says, You're not far from the kingdom of God. But in Matthew, Jesus is going to put an end to the questions here. So he asks the Pharisees a question. What do you think about the Messiah? Whose son Izzy, they replied, he's the son of David. That's what they keep calling him. If you notice, then why does David speaking under the inspiration of the Spirit, Mark, Holy Spirit, call the Messiah my Lord. For David said, The Lord said to my Lord, Sit in the place of honor in my right hand until I humble your enemies beneath your feet. Psalm 110. One, since David called the Messiah, my Lord, how can the Messiah he has done no one could answer him and after that, no one dared ask him any more questions, and you got to continue. Remember he called hypocrites. So now Jesus goes on this tear on the bigger sections in Matthew, an absolute tear. I'll summarize it for you. Basically, he's telling the people, the crowds and the disciples, listen, practice whatever these religious teachers tell you to do, but don't follow their example. Because they're a bunch of hypocrites is what he's saying. Right? Everything they do, is for a show that uses a line we've heard before he likes this one, the greatest among you must be your servant, but those who exalt themselves will be humbled, and those who humble themselves will be exalted. Sound familiar? Then he just rips into them what sorrow or woe to you right? So what sorrow awaits you teachers of religious law and you Pharisees hypocrites, you shut the door of the Kingdom of Heaven in people's faces, you won't go in yourself and you don't let others in either. What sorrow awaits you teachers of religious law your Pharisees hypocrites for you Crossland and see to make one convert and then you turn that person to twice the child of hell you yourselves are blind guy yeah Oh, blind guys what sorrow he doesn't stop you keep going what sorrow awaits you teachers of religious law and you Pharisees hypocrites. You're careful to tie even the tiniest income from your herb gardens for example, but you ignore the more important aspects of the law, justice mercy and faith your tithe yes but do not neglect the more important things blind guides hard to understand you strain your water so you don't accidentally swallow a net but you then you swallow a camel again you're in all these little tiny details but you're missing the big thing so a lot of hyperbole there he's getting their attention what again What sir whoa Do you teachers a religious loan Pharisees hypocrites for your careful to clean the outside of the cup in the dish, but inside your filthy what sorrow Woe to you teachers of religious law and Pharisees, hypocrites. You are like whitewashed tombs the same idea right so they don't know the graves. They're stepping on death inside you. What sorrow awaits you teachers of religious long Pharisees, hypocrites. Free will build tombs for the prophets, your ancestors killed and you decorate, decorate monuments of the godly people, your ancestors destroyed. So what does this make you think about? Remember the parables we did? Right? So two sections there that we had, it all belongs together.
So then there's a section where it's very similar to the triumphal entry where He's grieving over Jerusalem that will be destroyed. In Mark, you'll get a section it's a little shorter, much shorter than the woods. It's just like kind of a summary there, then you get this story. Mark 1214, remember, lot doesn't stop. You got to keep reading. Mark 1241, Jesus sat down near the collection box in the temple and watched the crowds dropped in their money. Many rich people put in large amounts that a poor widow came and dropped to small coins. Jesus called His disciples to him and said, I tell you the truth, this poor widow has given more than all the others who are making contributions, for they gave a tiny part of their surplus, but she pours she is has given everything she had to live on.
A section today begins with the tenant farmers the point, right, the rejection of the prophets, and Jesus and the consequences, but notice, they are made to be tenants.
So the parable is told under the premise that they're just tenants, right? So what did they do? They tried to get the ownership. They're just tenants. That's what you should have in your mind. They're, they're just renting space from what belongs to someone else. God, Jesus points to the kingdom. Then he reminds them they're mine.
He belongs to Caesar, someone else followed by teaching about the resurrection.
Jesus tells them that heaven won't be like here. So when those two answers were taught, we can't take our money, or our wives with us. No jokes, no jokes, no joke.
It won't be like that you won't be married in heaven. Right?
Now, that's not us.
Somebody else. So anyways, but you can't take it with you getting a theme here, right? You can't take it with you. Like the tenant does not belong to us. Even if we try to take ownership of something and we think it's ours. It's not, then we can tell you the greatest command love, God love your neighbor more than everything you want to take with you. Right? Then instead of stern warnings, for those who love phrase of people, or wealth more than God, a tear, or section ends with a woman who gives everything
to God.
Everything. So it seems like she gets a concept that these tenant farmers or religious leaders do not get. You see the antithesis at the book end.
It all belongs to God.
We're just renting or borrowing everything we think we own.
Thank you.
We sight you know me, man, I can't help it.
We saw a couple of weeks ago, money can have an effect
on our ability to change. And then in that message, there's a parable about the guy with the barns, what's the point right to kind of maybe modernize it or whatever. But here we have a situation where you have this metal. And the whole thing is in response, a guy comes up to him and basically asks him to like settle like a legal dispute with his brother over his father's estate, right? So Jesus just goes, you're missing the point like Jesus always does, like, beware, right? You have every kind of greed, he tells me he tells a story, there was a man that had these Bart, great harvest, he got all these crops, he had all this stuff. And so fills up his barns, his barns are full. So this is implied. It's not said by Jesus. But think like, the man says, Well, what am I going to do? I've run out of rooms in my barns, right? And so you're thinking or hopefully, you're thinking like, maybe you could give some to the poor, help your church like something like that, right? But he says, I know what I'll do, I'll build even bigger barns, then I'll be all set. Ah, we can relax. Now. We're good, everything's fine. Then God comes into the story and says, you fall. You'll die tonight. Now who's going to get everything you worked for?
doesn't belong to you anyway. Right? You're just renting it. So today, we get some more perspective on that we can't take it with us. It doesn't belong to us. Anyway, the Pharisees don't get that. But the woman knew. So he's good, bad example. Right? And good example, you cannot take it with you.
So
I talk to you guys a lot about different jobs I've had, right. So try to relate to different things and bring things into,
into the sermons and I thought about this one job, I couldn't help it that came to mind that I had for a little while. And it reminded me the theme it kind of reminded me the guy with the U haul truck, the story. And it was like an estate clearing job kind of interesting, like so say someone dies.
And they own a lot of stuff that they think and then they just don't have anyone to leave it to or something like that, right? So we go in, we clear it out. And then smarter people than me at the time, would like sell it and auction it off or whatever it was right. And so you go through the house and it kind of like it was really sobering. And I was young I probably late teens or something like that. I was pretty young. And it was heavy, right? It was really like, whoa, you know, this is kind of crazy, because you're going through all this person's stuff, right? Even their private stuff they think they owned, you know, they kept it nice, they hid it, you know, all these things. And you're like, you know, did this guy know that this teenage like dirtbag is going through his house? Like rifling through all his stuff, you know, like, it probably wasn't in this person's mind when they put it in the safe or the hid it there. They did. So you go through everything. And so it was very sobering. It's kind of interesting. It was like the guy in the story. You know, he got all put in a truck, you know, hauled off somewhere, but not behind him to his grave, you know, not there. It was just kind of like wrap my mind around. It really kind of blew my mind. And there was stuff and I might have been thinking this I was when I got the job, like what can I take? What do I get? And so it was like a perk of the job. I was told that when sometimes you get to keep stuff, right? And one of the things that they just didn't often take were books. They didn't take books.
Because generally, everyone has like a book like this is worth 500. That is not it's not worth a lot of money. Like, there are very few books that are worth, like a whole lot of money. And if you're my wife, she worked at a bookstore, we've been involved in publishing industry and I have a lot of books in my house. Now a lot of Bibles, books are heavy. And it was worked around books and other really, really, really heavy taking all this paper and pressing it down into this thing. So they weigh a lot. And so they don't want to deal with it. Right. So they just, they won't make weight on the U haul right? There. They don't want to deal with it. And so you get to keep books, if you're interested in them well, so I went through
this pile of books
and found that seven, right, so
you get workout. So big dictionary, right? And interested me because it's not like books today, it had all these leggings in Boston, or engraving, and stuff. I was like, That looks cool. And it would make me look smart if I put it in my room. So that was probably what I was thinking. So you know, I got it home. It was really interesting. And I opened it up, right, I actually read it.
I opened it up. And then I saw this
this was there.
And
everything stopped. Why?
I was thinking,
Oh, I kind of knew what it is boutonniere. Is that the word for it? She corrected me I was like corsage what are they called? Right? So this is something that you know, if you've been tortured, like I was more suited as a kid to get these things pinned on for special occasions, right. So you get this pinned on, so I couldn't help more my mind couldn't help. They're like squirrels or birds or something.
pictures and everything. So but here's the thing. So about the dictionary, this is about, I think it's 1956. So at the time, I didn't want to say, you know, maybe it was like 40 years old or something like that. Now, it's like 70 years old. With the time when you're a kid like 40 years, it means I'm going to die, right? So 40 years is really, really old. And so that's a long time ago. And so I'm thinking like, this is ancient, this is a long time ago, the person has died, then your mind races, right. So you're like, Okay, you know, and we were doing this, when I brought it out, I brought it out, it's been on a shelf for like, 10 years, I brought it out and they're like, why is that there? You know, what's he going to do with it? So Heather and I were talking about it, and they were like, What do you think it was?
So, you know, I don't know why my mind went to like a teenage girl, like prom, start thinking about like prom, like, you know, something like that, right? And so you have this situation where if you're thinking about the thing in its entirety, so this girl and at that point, right, your teenager, you don't know anything else, maybe it's a prom, maybe it's your first date, and there's your first kiss or something like that. And it's like really special, right? So she's like, Oh my gosh, I'm going to remember this forever. She didn't
remember this forever, you know, I'm going to put it in there. This is going to last forever. This is beautiful. This is, you know, maybe the boys are love, we're going to get married, everything's going to be great. It's like this huge, special thing, and something that she's trying to keep and preserve
forever.
Or how they're brought up the point you made it a father of the bride. You know, my daughter got married, and he maybe he remembers
getting that pinned on
the daddy daughter dance.
You want to do cherishes that moment, as he puts it in here?
What is it?
I don't know. But it was really important to this person.
And this whole thing stuck with me so deeply. That I don't even know if 40 year would 30 years later, 30 years later, my that'll get 30 years later. It came to my mind as soon as I was preparing the message. And the book has been up on a shelf in my house for 10 years. I haven't touched it.
And it's just an amazing thing to think about.
This thing that someone took so much time to carefully preserve was so important to them.
ends up in my house on a shelf.
No one knows about it. And the story is still nameless, faceless story we don't know
she couldn't take it with her
should make you think.
Now when I think about the estate clearing thing,
they're going to be several disclaimers here. Disclaimer. So it says my notes careful.
When I think about the estate clearing thing, I think about a term that we use
home ownership.
Now
because of my experiences in life
When someone says like, they get a mortgage, it's like, congratulations. I have to, like, try not to be like Jesus in this instance and be like the party pooper, right? Because people are always doing that they go, there's a feast, right? And everybody gets there. And Jesus is always pointing out things doing wrong, like somebody's doing something wrong, right? Someone sits at the head of the table. He's like, those who humble themselves will be exalted in you. So I try to.
I try not to do, he's always doing that, like read the Bible, and like, it's okay to laugh. Sometimes. He's like, the worst party guests, right? He's going to ruin your party. So anyway, I try not to ruin this person's party, because they're really happy. And they're like, you know, and I'm like, you don't know what a pain in the NEC insert a different word that is going to be for you. That's what comes through my mind. Because you just got a mortgage. Okay? Now, those of you who have been through a foreclosure process, you know, that home ain't yours. The minute you don't pay,
right, like the 10 of our, it's gone. They're taking that home that you think you own from you. It doesn't matter whether you're 20 years in, you got $100,000 invested, it's not yours, and neither is any of that money. It's gone.
Now, this is the disclaimer, I'm not a financial advisor. Right? Like, I'm not a doctor, I give the medical. I just have experience. So I've been on both sides. I've had a home taken from me, I own a home, you know, so I get all in. So I'm not saying that home ownership is a bad thing. Are you hearing me not saying it's a bad thing? It can be a good investment if you do it right. And I'm not giving any more financial advice, because we shouldn't be thinking like that, when people do that, like, stop it. Like what does Jesus do about the money?
You don't even know we're talking about the money. So if we find Christian like speakers talking too much about money, and not all about Jesus, it's called a false teacher, hypocrite. That's what Jesus is saying to them who care so much about money. Anyway, it can be a good financial move, right? Depending on the situation, that's fine. There's just nothing wrong with that. But being a home owner,
it's still an illusion. Even he got rid of the mortgage, what happens when they want to build a road through where your house is?
It's not yours. What happens when you don't pay your taxes or something like that, depending on where you live? It's not yours.
Find that out real quick.
Natural Disaster, what happens?
That's it.
So it made me think of something and it's kind of fun to just have a ton of jokes here, but I'll keep it short.
It just, I don't know how many times I've said it owning a home like, like, it's kind of nice to just rent.
Yes, that happens when the AC unit breaks. You're like, remember when we were renting? It was so easy, because that's the landlord's problem. That's the landlord's problem. That's the landlord's problem. It was so nice. Because it seems like every now and then you're hit with like a grand, you know, or like whatever it is. You're like, No, I'm just trying to save for a TV. You know what every time you try to save for a big TV than the refrigerator goes or something like that.
But renting
again, homeownership Yes. Good. Renting was freeing.
There was just a part of it. That was really freeing. It's kind of nice. Not to worry about that stuff all the time. You know? Cuz you hear the noises Right? Or like we had a house in New York. Nightmare house contemporary house. 30 stories up. Oh, it's so cool contemporary house with a flat roof.
Don't ever get a house with a flat roof. Church has a flat roof. Right? Leaks like I had nightmares about leaks like everything. And so even to this day, if the house I'm in has like a shingle roof, small house, not a problem. Like I hear any water drips. I'm like, like, I'll wake up out of it. It's like I get scared. I get nightmares about leaks, right? But we didn't have those nightmares when we were renting. It's the landlord's problem, right? Like, if it drips on the carpet, I'm going to new carpet, right? Who cares? You're not worried about it.
It was freeing, actually.
Renting can be free. And here's the thing. We don't own it. Anyway. That's what God tells us. We don't own it anyway. We're just tenants here. And so when we get to First Peter, he's writing to the church. They're experiencing suffering. We've looked at it recently right in the context of people groups like wives should your husband this way, husbands wives, all those things. And in the midst of it, he said something quite interesting. First, Peter 211 Dear friends, I warn you as temporary residents and foreigners
to keep away from worldly desires that wage war against your very assaults could say sojourners or aliens, right. Someone passing it's probably what he's thinking of right. The Israelites wandered around for 40 years, right? You're just you're just passing through temporary residence. Foreigners, strangers
Passing through this, this is not our home.
This is not our home. This isn't our stuff.
Peter goes on to describe his body as if you're in Second Peter, as an earthly tent. That is something that is constructed temporarily, and then taken down. It's not permanent, nothing is. So he starts off Dear brothers and sisters work hard to prove that you're really among those God is called and chosen, do these things and you'll never fall away, then God will give you a grand entrance into the kingdom of our Lord and Savior, Jesus Christ what
you temporary, then when you get to your destination your home, then you'll get the grand entrance into your real home. Second, Peter 112. Therefore, I will always remind you about these things, even though you already know them and are standing firm and the truth you have been taught. And it is only right that I should keep on reminding you as long as I live, the Greek says, As long as I'm in this tent, or tabernacle, for our Lord Jesus Christ is showing me that I must soon leave this earthly life or translating it that way. Because he's saying, I'm assume put off my tent, which sounds weird or tabernacle. So there's they're trying to explain you what he's saying. That's what it says in the Greek, I'm assuming, pull off my tent. That's it. So I will work hard to make sure you always remember these things, after I am gone.
Then these things in mind all the time, Paul says a similar thing. Second Corinthians 514, we know that when this earthly tent we live in is taken down that is when we die and leave this earthly body, we will have a house in heaven and eternal body made for us by God himself, and not by human hands. We grow weary in our present bodies, and we long too long to put on our heavenly bodies like new clothing. For we will put on heavenly bodies, we will not be spirits without bodies, while we live in these earthly bodies while we groan and sigh. But it's not that we want to die and get rid of these bodies at clothes, rather, we want to put on our new bodies, so that these dying, bodies will be swallowed up by life. God Himself has prepared us for this. And that's a guarantee, he has given us His Holy Spirit. So we're always confident, even though we know that as long as we live in these bodies, we are not at home with the Lord.
Where We Live By believing not by saying we live by faith, not by sight. Yes, we are fully confident, and we'd rather be away from these bodies. For then, we'll be at home of the Lord.
But usually the verse of the day.
But it's crystal clear.
That's the goal.
We are not at home with the Lord. Truly, until we packed up this tent, and we go home to be with him. That's what God what God's word says right.
He is our true home. While we're in these tents, we're not truly at home.
We're simply renting space, right? We're simply passing through. Everything is borrowed from God. Nothing really belongs to us.
Yet knowing all of this,
we can sometimes enslave ourselves to worldly things.
The homes that we think we own can end up owning us.
They can become prisons. In a sense. We do this with other like borrowed possessions as well.
This is why Jesus teaches this way we go back to the Sermon on the Mount Matthew 619. Don't store up treasures here on Earth, where malls eat them and Ross destroys them and where thieves break in and steal. Store your treasures in heaven where moth and rust cannot destroy and thieves do not break in and steal where your treasure is there the desires of your heart will also be your eye is like a lamp that provides light for your body. When your eye is healthy. Your whole body is filled with light. But when your eyes unhealthy, your whole body is filled with darkness. And if the light you think you have is actually darkness, deep that darkness is no one can serve two masters, you will hate one and love the other. You will be devoted to one and despise the other You cannot serve God and be enslaved to money.
You remember the context of all the worries people like Jesus says don't worry about anything. What's the context? It's always stuff that says response when they were to worry about your food or clothing or what to eat right? The context about not worrying is about your stuff. Don't worry about that.
But you see, having all this stuff can make us worry. It can be the root of all the anxiety that we're having.
It's about not being enslaved to your stuff. Now, how do we get there? stuff? We live in this commercialized world, everything even churches commercialized. Disgusting. Don't worry, I won't get started on that again. But it is, if it isn't, it's not good. So what do we do? We're always being sold, something's old, something's old, something's old. It's crazy. What do we do? And here's another disclaimer, it's okay to have some nice things. Check it, make sure it doesn't own you. It's okay. I used to have a lot of nice things.
I got rid of more than I kept.
And I'm better off for it.
It's freeing.
So an exercise what can we do?
Think about the things you have evaluate how much joy they're actually causing you? versus how much stress they're causing you.
To find yourself occupied with this stuff. With these things? How much joy is that? Right? Right? Maybe get a suitcase and put all your favorite stuff in there. Right? Take it around with you everywhere you go. Show and Tell everyone.
travel abroad, right? And then come back and started looking at all the stuff you didn't take with you? Or did you need it?
What do you save it for? How much worry? Perhaps your closet? Maybe you have a closet that's overflowing like the man with the barns?
How much of it do you need?
No, I started looking at like my shirts and my closet. So there's a lot of them in there. And I'm like, when's the last time I wore that one? No, let me give it away. Get rid of it. taking up too much space. Again, maybe it's something causing you are going through this now. Again, it's fine. I just laugh. Because I used to have a lot of cars. I've had a lot of cars. And I had like a really nice Italian sports car. And it was funny, because when I moved into ministry, I was like, now I'm not as worried about I don't really care what any of you think. But in the beginning, you get to that point, I just don't care.
But in the beginning, I was like, Is this appropriate for like, you know, person in ministry to have I don't know, again, I don't care. Like my wife works. I'm like, whatever, we have nice car. But I was worried about it. Right? So and also we went through a period where I was out of the business and we didn't have any money. So we started selling stuff to live right to get by. And I couldn't keep things certain things anyway. Because on a car like that when your clutch goes, it's $12,000. So it's like, alright, we're not going to do this anymore. So I sold it. I kind of tell you, you as well as cars, you know, you have a teenage boy poster on the wall. It was so free.
It was so three, because even I park it places like it's not like down here where it was like you're going to leave church today and see that car. Right. But, you know, in New York, they're like, Are you lost? Why is it a neighborhood like that? You know, and what would happen I park it, people would sit on and scratch it and all this other stuff. I'm like, it would just worry about it. Don't worry about it, right? Like the winds blow too. I'm like, oh, somebody in the garage falling, like thinking about all the time and then all of a sudden, I got to replace something and what a headache. I've heard like owning a boat is like that. It was never one of those. But what a headache. And now reminded of it again, pretty nice car. But you know, it's like we had to do repair. It was like, Oh my gosh, really. And now we're talking about getting rid of it for something utilitarian. I'm like, Oh, we're growing up. It's amazing, right? Let's just get something practical. I'm like,
you know, like, that's crazy. But we're having those conversations, right? It took a long time for us to get smart and figured this out. It's kind of cool. Like the noise it makes, but
is it worth it? I don't know, whether it's like,
going to be interesting breaking up with my car, you know, like, it's a bad relationship.
It's expensive.
So that's the advice. That's the application today. You know, just
just to encourage you, everything in this world. Everything in this world will break. It will lead us down it will cause us stress, stress and stress sorry,
and aggravation.
But not Jesus.
That's the focus. That's the thing. That's the key to our joy.
Focus on him.
Our worldly desires will produce more.
More stress,
more worry,
or anxiety
anger
jealousy,
envy, greed.
All that stuff is good at that antagonizing that part of us the flesh.
But Galatians five flesh is it more the spirit the spirit
produces love, joy, peace. Remember what Paul is telling Timothy
contentment itself has gained as well.
Contentment itself as well.
Since invitation,
talks about being baptized, if you want to know about that,
if you're in a place where it's like a hamster wheel and I was there, I've been there
is never enough pulling out off the car lot looking at the next back at the next car while I'm in my new car, it's ridiculous. It never ends. No, you're not going to can tell you this, you're not going to get to a goal where it's just like, bam, that's going to be enough. If you're in that type of disease, if you're on that hamster wheel, it's never enough. It's never going to be enough.
So if your
barns are full, but you're not fulfilled, if you're in that space, don't build the bigger barns. Come talk to me. And be told how you can do that. If you're tired of setting goals, and not really getting anywhere.
Let me tell you about Jesus,
where you can find that fulfillment in him. The love, the joy, the peace, the patience, the kindness, the self control in any circumstance.
Let's talk about him. And then
they pray for you, Lord, thank you for everyone in the hearing my voice sound of my voice. I just pray today that your touch hearts
you cause people to surrender to you Lord, where they can find that love that joy, that peace, that patience, that kindness and goodness
and then be inspired to share that with others as vehicles of your gospel message.
I aske these things in Jesus's name, Amen.