Why People Quit Christianity
Last week, we looked at the book of Philippians and saw what it was to be a committed Christian. This week, we will look at the letters Paul wrote to the church in Thessalonica and we'll see that they are facing persecution and suffering – just as we saw in Philippi, but worse. We will look at some of the ways in which we can maintain our strength through the Church so that we don't grow weary and give up.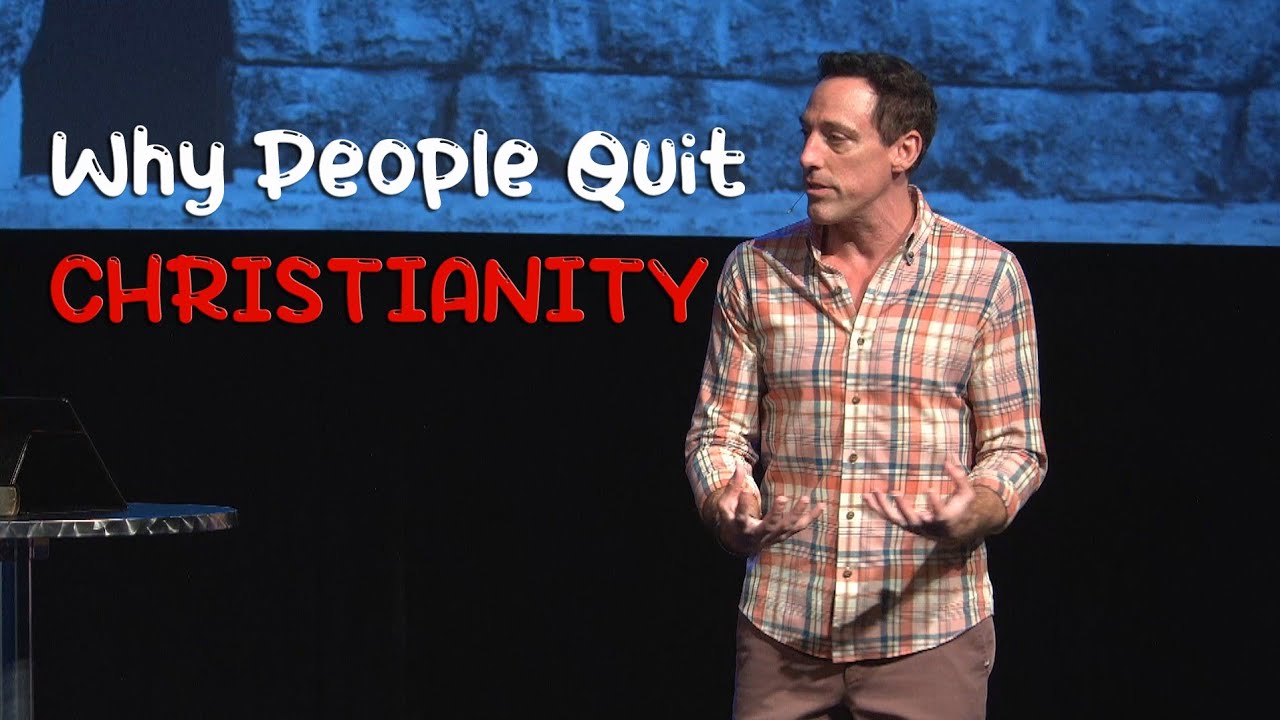 Why People Quit Christianity
Sun, Oct 29, 2023 10AM • 58:51
SUMMARY KEYWORDS
people, Paul, Jesus, read, bible, god, lord, Christianity, church, peace, day, second Thessalonians, believers, first Thessalonians, Philippi, faith, letters, encourage, man, suffering
Good morning. Welcome. Somebody's going to say Sunday. This is NOT CHURCH coffee. You're all awake. If you're not going to get some coffee, we'll be right. If you're new here among us, my name is Gene I serve here at C3 church, as your pastor. And I was thinking under these very bright lights here, that things might look a little different. If Thomas Edison never existed. It is said that the famous inventor made 1000s of trials, before he got the light bulb to work. There's a story told one of his workers, someone he gave a task to came to him and said, Mr. Edison, it can't be done. He said, How many times have you dry 2000 times. Go try another 2000 times, you have only discovered that there are 2000 ways in which it cannot be done. The same man said genius is 1% inspiration and 99% perspiration. So indeed, we'll talk about not quitting on Christianity today. So last week, we did x 16, and Philippians. So there we saw what it was to be a committed Christian. So this week, we'll look at the letters Paul wrote to the church in Thessalonica, I will say a lot of names that are fun to say, will see that they're facing persecution and suffering, just like in Philippi, but it's worse. So we'll look at some ways in which we can maintain our strength in Jesus and through the church, so that we don't grow weary and give up. So when arriving at these letters, I have to contain my excitement. I love the Word of God, I love the Bible, and I'm a Bible nerd. So when we get to these places, I'm like, Oh, we're in x. And we can go to these letters. So we're going to arrive at these places where Paul was right, not literally going to arrive or staying. We're going to do it right here from here. But we're going to look at these places. Paul goes to them, but then later writes letters back to them or some of them. So we're going to look at them both. And last week was really cool, because we got to see some common things common people, you understand what the backdrop is what Paul is talking about. So let's hop right into Acts 17. If you're following along, we'll hop right in. So after Philippi they leave Philippi acts 17 One, Paul and Silas then traveled through the towns of amphibious and Apollonia and came to Salonika, where there was a Jewish synagogue as was Paul's customs, he constantly went to the synagogue service. For three Sabbath's in a row. Three weeks in a row. He used the scriptures to reason with the people. He explained the prophecies and prove that the Messiah must suffer and rise from the dead. He said this Jesus I'm telling you about is the Messiah. Some of the Jews who listened were persuaded and joined Paul and Silas along with many God fearing Greek men, and quite a few prominent women. But some of the Jews were jealous, so they gathered some troublemakers from the marketplace to form a mob and start a riot. They attacked the home of Jason searching for Paul in silence so they could drag them out to the crowd. Finding them there. They dragged out Jason and some of the other believers instead and took them before the city council. Paul and Silas have caused trouble all over the world. They shouted. And now they are here disturbing our city too. And Jason has welcomed them into his home. They're all guilty of treason against Caesar for they profess allegiance to another king named Jesus. The people of the city as well as the city council will throw it into turmoil by these reports. So the officials forced Jason and the other believers to post bond and then they released them. Okay, quick notes here. Paul and Silas again. So same traveling companion now are you done with Barnabas? Over the thing with Mark, you see prominent women Luke wrote this, you see them in the Gospel of Luke, remember, he says the women were supporting Jesus in the ministry. So Luke mentioned this a lot. We saw Lydia, if you remember, right, so she's selling the expensive, expensive purple garments. And so she had a home and invited Paul to stay with her on her own initiative, not unlike her getting her husband's permission or something like that. So prominent women you're seeing here, Luke, make sure to mention, and now we see this persecution, you can say they were mistreated in Philippi. They're mistreated here, too. So I'm going to kind of summarize the rest of the chapter because we're going to go back to Thessalonica. But there's the rest of the chapter. We want to honor that. So that very night, they send them out, go. So they go to Berea Long story short, they get to Berea and in Berea the people are very different. They examine the Scriptures to see if what Paul is saying is true. Good practice. If you've been here for a while, what do I say don't even believe me? That's what this is for. Right? Check my work and so you check my work. Make sure you get it right. So you always Don't rely on any man, any person, we make mistakes, we can be wrong. That's my wife. So just read that. Okay? The big point here, but if you see a ministry like Berean ministry or you know, Berean church, and what they're trying to say is they care about the Word of God, probably a good place to be. I don't know. Anyway, so here's what happens the Jews in Thessalonica, they follow them there. That's what ends up happening. So they leave Silas and Timothy, Paul goes on to Athens. And so it says, when Paul was waiting for them in Athens, he was deeply troubled by all the idols he sees there. So what happens is he's having these debates, he's wherever anyone would listen to him like out in the city square, he has debates with like the Epicurean and Stoic philosophers. So Luke makes mentioned like, they just care about all the Athenians care about all the latest like, you know, stuff, teachings and stuff like that. And so they bring them to a high council, and this is fun. Areopagus, Areopagus, not Snuffleupagus Areopagus. Right. So many people knew what that was, I didn't think you're all that old. Anyway. It's arias. Paul goes in Greek. It's like the hill, the hill of Aries or God. Somebody will say Mars Hill, and I don't really know enough about Latin stuff like it's the Latin equivalent, but it's not Aries. And so when people say Marcel, I'm like, that's not what it says it. That's Latin. So maybe it comes from there. But this is Greek. It's Arias Paul goes. So the hill of Aries is where he is. And so a pretty prominent place. And they gather together and Paul displays I'm not going to read it. It's a very short, short sermon. But he gives a speech is really interesting, because he approaches this in a very, very interesting way. And when you talk to scholars, it's typical rhetoric, right? So he says, Men of Athens, I see that you are very religious in every way, right? So he's going to throw him a compliment. Some Bible versions might say superstitious, because they're catching on to what he's saying to a believer. It's like a very religious, but they would have taken this as a compliment. So he gives a speech, somebody says, you know, walking by and I saw this altar and it said to an unknown god, this is the God that I speak of. Paul's really smart here, right? So flattering, right? So using the flattery first, then he's going to kind of get something he can work with. Right? He gives a speech basically, you know, let me tell you about this God, he made everything you don't worship Him and doesn't live in temples. And he's bigger than all that made everything waiting for the time here for you guys to repent and come to him. He says something interesting from it's used a lot in a good way from one man or one blood he created all the nations throughout the whole earth and so this is very interesting too, because what is he doing is breaking down these racial divides. And he's saying we all came like as Christians this is what we should really we all came from one man right so we're yes the nation's and all these other things, but no, we're all one in Christ Jesus like or Galatians three. So he is it he gets to the resurrection, and that's when some of them are like, what you know what I mean, what are you talking about, but he kind of loses them a little bit there some left someone to hear about it, but it says that some more than one join him, Dionysius and Damaris. But it also says some others with them, and I just always find this funny because I hear a lot of people that talk about it in the, the chalk it up like it's Paul's failure in Athens. I you know, maybe other people if you've been a pastor, you've heard that right. Like, the PA really failed. And he only got two followers. Well, first of all, it says some others, right? So and while every soul saved is important, that can't be a failure, right? If it was just one of them, right then. That's it. But one of them is like a leader like a Areopagus gates or something like that very complicated word, which you don't see it in many translations, but he's one of the leaders, Dionysus God. And so he converts a leader. So I want you to think of this. And I just think and talk a little bit more about it. I think they're just culture, a belligerence in Christianity, right? And we always want to be like, at odds with people and argumentative and none of those things are Christian qualities. They're, they're not good. So we should do it like Paul, right? You try to find something to work with, like, compliment the person like nice shirt. Right? If I say that to you a lot. There's probably something wrong with you. Right. All right. I'm always trying to look for something. Yeah, we won't talk about the hat again. So anyway, I will make fun of you. I cannot help.
But anyway, you know, but come on, you know what, why do we want to come up people like this? And so that's why I think they downplay it. I really do. I think a lot of even pastors downplay this, they dismiss this because they're like, that's not the way we want to do it. Right. So like, just think of this, I just want you to just think very quickly, take a minute. But you know, like, think of it like we know that there's a gathering of Satanists. You know, what I mean? Is we know there's like, like I says, Paul is disturbed by the idols Paul's got. So we know there's going to be a gathering of Satanists. And what are we going to do, right? We're going to go in there with our, you know, pitchforks and torches, or we're going to go there with our signs, you know, like state and, you know, whatever, blah, blah, you know, all this stuff. I'm going to yell at them. We're going to get ready to argue with them. We're going to practice our politics. genic points are probably good. We're going to get really good at that we're going to be able to defeat them in every order. And we're going to be right rude and nasty, but like think about it showing up and be like, you know, like I show up. And I'm like, Satan worshippers, right? I see that you guys are really religious, that's great, you know? Like, like, that's what's happening here. Like think about that's what's really happening. And then like the leader of the satanic cult goes, You know what, you're right. I'm going to follow your gene. I said, just that one guy, that's a win, right? But you go there with a sign or all the stuff you're going to get nobody, right? Nobody at all. So just the point I want to make to you guys because I'm just seeing I'm seeing it a lot, especially with what's going on. I'm not going to tell you about we come here to talk about Jesus. Things come and go. All these bad things are going to happen all the time, whatever. But you're going to hear about a little bit we come here to get away from that, like, let's just get to the Word of God get centered, get peaceful, just the one in Christ together, right? But there's so much of this like angry preaching and stuff. And it's just not good. I don't like what I'm seeing out there. So. Alright, so Paul will write a letter back to the Thessalonians. Alright, so this is said that it is one of Paul's first letters. The place is really called Thessaloniki. That's fun to say. Definitely. Nikki, it's Alexander the Great sisters named after her last week, Philip Philippi. Alexander the Great stat. So these are prominent cities. So writing to the city First Thessalonians This is the loneliest one, one this letter is from Paul, Silas and Timothy, we are writing to the church in Thessalonica, to you who belong to God the Father and Lord Jesus Christ. May God give you grace and peace. So here, we see that so you see these people together, Paul, Silas Timothy's like co authors issues, just, you know, he's going to set Timothy up for success. When he sends him there. He's one of me. We saw silence and acts, grace and peace, very common greeting for Paul. So I'm going to summarize some of this for you and then just hop in on certain scriptures on our chain of thoughts. So he praises the faith of the festival Thessalonian Believers now messing myself up. Alright, so same kind of themes as Philippi right. So we have this faithful work, enduring hope, imitating us imitating Paul Silas and Timothy right. So and as a result of this, he's letting him know he's complimenting, you know, everybody's hearing about you have all those in Macedonia and acai. Remember, Philippi was in Macedonia, okay, we're going to get to that and Corinthians. And so now the word of the Lord is ringing out to You, from You to people everywhere, and they speak of how you're looking forward to the calming of God's Son from heaven, Jesus, whom God raised from the deck, he is the one who rescued us from the terrors of the coming judgment. So you see the same thing here going on. It's a really common theme throughout the whole New Testament. Jesus is coming back, Jesus, we have hope and Jesus coming back over and over and over again. That's what we set our sights on. First Thessalonians two one, you yourself know, dear brothers and sisters, that our visit to you is not a failure. You know how badly we have been treated in Philippi remember that see? Oh, it's amazing to read these things together because now it's in recent memory, just before we came to you and how much we suffered their prison the stocks they bring the house down with the worship regardless. Yet our God gave us the courage to declare he's good news, you boldly in spite of great opposition. So you can see we are not preaching with any deceit or impure motives or trickery. For we speak as messengers. It's very interesting here, because in the Greek it says apostles, but it's like lowercase Agnes sent one member, that's the closest thing we have the missionary and the Greek approved by God, to be entrusted with the good news. Our purpose is to please God, not people, he alone examines the motives of our hearts never wants to be tried to win you with flattery as you well know, we know and for you read Paul. And God is our witness that we're not pretending to be your friends just to get your money as a human praise, we have never sought it from you or anyone else. So we remember Philippi familiar themes of suffering, not being like those false teachers, right? So we're not doing it for money. We're not doing it. So anytime you see Paul, and it creates a lot of issues for people if you don't understand the whole thing, but he's trying to show up the false teachers, like I'll just go and make tents or whatever it is, I'm going to do, and then for each, but certainly, it will see in First Corinthians, Second Corinthians actually causes a lot of problems. But anyway, he's trying to show up the false teachers. And remember, Galatians in close enough memory, right? I'm not seeking for I wouldn't be a servant of Jesus Christ if I was trying to please people. So same things over and over again. So we just jumped down a little bit. yourselves are witnesses and so is God that we were devout and honest and faultless, toward all of you believers and again, imitating them suffering persecution, and important here, God will bring the justice that's a big theme is going to grow in Second Thessalonians. Again, what will the reward the when Jesus returns the heavenly prize? That's what they're supposed to focus on. And just towards you get to the end of this chapter is a quick note if you're I use an NLT because everybody understands it. And then like when it goes a little bit off, I think I'll just go back to my Greek Bible, put what it really says in there. So if your Bible This is what I would call an innocent idiom, right? So there are many departments of the Bible translation people, you know, like, they'll have like a whole group working on these letters and other groups, and they try to gloss it over with like a literary English person or whatever. But sometimes they're not like thinking about the whole thing together. So you got to really like read the whole Bible like a lot. Because it says, Yes, you are our pride and joy. As an innocent idiom, we say that right, your pride and joy. Well, pride is always a sin. In the Bible, it is always a sin. So you cross this out, because it doesn't say it says your glory. Enjoy. But that's weird in the English language, right? You're my glory and joy. But that's what Paul says he does not say, fried, there's different words for this kind of stuff or arrogance, Alinea, it's not there, right? So glory and joy is what is there. And then in other places, like he'll say, a coffee mug, you might boast that some translated pride. It's not what he's saying. They're different words for that. He Petit finals and valleys in the end, so arrogant, surprised, you didn't even need to know that First Thessalonians three, one. Finally, when we could stand it no longer we decided to stay alone in Athens. And we sent Timothy to visit you. He is our brother and God's co worker and proclaiming the good news of Christ. We sent him to strengthen you to encourage you in your faith, and to keep you from being shaken by the troubles you are going through. But you know, that we are destined for such troubles. Even while we are with you, we warn you that troubles would come soon, or soon come. And they did as you well know. That is why when I could bear it no longer I said Timothy to find out whether your faith was still strong, I was afraid that your the tempter had gotten the best of you, and that our work had been useless. But now Timothy has just returned bringing us good news about your faith and love. He reports that you always remember our visit with joy, and that you want to see us as much as we want to see you. So we have been greatly encouraged in the midst of our troubles and suffering. Your brothers and sisters because you have remained strong in your faith, He gives us new life to know that you are standing firm in the Lord. Remember, he's propping up Timothy and Philippians so the same type of thing he's sending people to other places. Right Paul? He has concerns here right so anxiety are going to see that Paul, we saw it already member about a Pafford itis he had this like anxiety about him. We're going to see Second Corinthians 11 He's doing what's called like, the fools boast a coffee Ma. And he goes through all the things that shipwrecks the beatings, and not only that, but all the medina like the all the anxiety I have over the churches. It's a natural human response, right? So he's worried about them, they're like children to him. So the big thing here is you're finding this is the crux of his concern. And you can see it in here. When you look at the whole thing. This is really what it's about. What is this letter written for? What is the subject line in the email? Well, he's worried that they're going to give up they're going to fall away from the faith because they're suffering persecution. That's it. That's what you should be thinking of. Right? So this is what's going on here. But no, he wants them. This is not fine print Christianity. So much of that going on to it. Not fine, but he was we weren't you, you were going to suffer is going to get bad, right? So we'll talk about that later. But relax, it's okay. So, Chapter Four begins with encouragement and right living being holy. That is set apart for God, staying away from sin. And this one, I like this First Thessalonians 411 Make it your goal to live a quiet life, minding your own business. Just soak that in, please. All right. So working with your hands, just as we instructed you before, then people who are not believers will respect the way you live. And you will not need to depend on others, but just be 11 Okay, just
soak it in mind your own business. So we can have less meetings right about other people. So First Thessalonians 413. And now if your brothers and sisters, we want you to know what will happen to the believers who have died, let's get serious. So you will not grieve like people who have no hope. For since we believe that Jesus died and was raised to life again. We also believe that when Jesus reach Hearns, God will bring back with him the believers who have died. We tell you this directly from the Lord, we who are still living when the Lord returns will not meet them head those who have died. For the Lord himself will come down from heaven with a commanding shot with the voice of the archangel, and with a trauma call of God. First, the believers who have died will rise from their graves then together with them we who are still alive and remain on earth will be caught up in the clouds to be the Lord in the air. Then we will be with the Lord forever. So encourage each other with these words. So again, we have what hope in Jesus even in death, he's coming back. So this is how he's reminding you if you suffer, he's coming back. Don't worry. Even if you die, he's coming back for you. Don't worry, right so everything that could happen that's all this is here. Now just a quick note because some crazy People will and Tony knows I'm going for it. They will make this about what it's not. I just told you what this was about. Right? And you can clearly see and hear what this is about. Because you are you read the subject line like you know what's going on, right? It's getting that adoring Jesus coming back. That's it. Take that leaf like that's it just the rest of the Scripture done. But people draw this into this like kind of like pre trib made up rapture thing. It's like, I don't know, I know where they get it from. But that's a real stretch for this text, a real stretch. It doesn't mean it's like, let's you know, it doesn't say anything about the tribulation, if anything from his letters. If we're reading Greek, it says you're going to go through tribulation, you're going to go. That's the word for the suffering there. It's horrible, right? So we got to that I talked about it. We did. Matthew 24 I showed you if you just read the text being, like taken or swept away, like those in Noah's day is not a good thing. You don't want to be taken. Yes, throw the movie away. So it's not it's not going to happen. The Bible doesn't say that. In fact, Jesus says, you're going to go through it. He says exactly the opposite. And we're listening to him. So is that just a real short thing? without getting distracted? From our point today? Basically, like the term out to meet Him in the air, like, think about it, it's like, they would say that in other literature of that day, for example, you'd have a king coming back from battle victorious, we're going to go to meet the king in the air, you know, so we have things like walking on air and walking out there, right. So something like that. It's like that sinking, elevated, lifted up. Yeah, you know, we're going to go to heaven with Jesus. But it's not. That's not the point purpose. They're the point purposes, Jesus is coming back. So Paul continues, he doesn't get into all that he didn't need the digression because people never took it that way until 1850 and beyond. So he just continues where he should be going. First Thessalonians five one now concerning how and when this will happen. They don't they don't turn the page. Resolve into your brothers and sisters. We don't really need to write you, for you know quite well, that's a day of the Lord's return will come unexpectedly, like a thief in the night. When people are saying everything is peaceful and secure, then disaster will fall on them. And as suddenly as a pregnant woman's labor pains begin I'm all the women are like, that's not how it happens. But anyway, there will be there will be no escape, but you get his point. What's the point? unexpectedly? You don't know? Right? So here's the thing. We've been through this, but this echoes what Jesus says the apostles like why was it all going to happen once the kingdom going to come up? Like, we don't know. It's not for you to know. Not even the Son Knows. Okay? We got that from Jesus. Right? If you've been here for a while, you've heard that only Jesus may only the Father knows. He said almost myself. Only the Father knows. Jesus said even though so how can we know? And why is everyone saying they know? Nothing has changed. Let's it lens here. Why are people saying they know? Right? So drives me nuts. All End Times prophecy outside the Bible is always wrong. That's the common thing. It's always wrong. It always has been wrong, but people go crazy with this stuff. Drives me nuts. Right? So it's called faith. It's not for us to know. So imagine that, right? We're supposed to have faith. And here's the other thing is why because I want to game the system. Live in the light. Pretend like Jesus is coming back now. Now. Now. Now, with every terrible conversation you have with people when you're yelling at your husband or your wife, you know, Jesus coming back. Now, that's the point. If you think like that all the time, you might be a nicer person. People don't want to be nice. So, first, Thessalonians five, four, but you aren't in the dark about these things. Do your brothers and sisters and don't be surprised when the day of the Lord comes like a thief again, for you are all children of the light end of the day we don't belong to the darkness at night so be on guard do not sleep like the other stay alert and be clear headed night is the time when people sleep and drinkers get drunk. But let us who live in the light be clear headed protected by the armor of faith and love and wearing as our helmets the confidence of our salvation for God chose to save us through our Lord Jesus Christ that the pour out his anger on us Christ died for us so that whether we are dead or alive when he returns we can live with Him forever so encourage each other and build each other up as you're already doing. Again, you don't know the time you do know he's coming back and just act like it's now And now and now and you'll be ready so things in the meantime put on the armor of God sounds like Ephesians six right but we just get one of the pieces he just quickly saying that put on the armor of God for yourself. For others. What do we what do we do with others? fear monger I get them riled up and angry No. Encourage and courage, Peace, Love. We are peacemakers encourage with love just love one another please like First Thessalonians 512 Dear brothers and sisters honor the Those who are your leaders in the Lord's work who work hard among you and give you spiritual guidance, show them great respect and wholehearted love because their work and live peacefully with one another. Just you guys can absorb that one's here. Just take that one. Especially first 12 You got that? Okay, so, you guys treat me great. I just want to say anything bad about anyone in particular. And seven, you know? Again, don't be late. We have a report. If you're new, it's okay. Right? Don't be lazy. Do your bonuses First Thessalonians 514. Brothers and sisters, we urge you to warn those who are lazy, encourage those who are timid to tender care of those who are weak, be patient with everyone see that no one pays back evil for evil to always try to do good to each other and all tall people and to all people, right? And now we come to the shortest verse of the Bible to blow your mind. First Thessalonians 516 Rejoice always, never stop praying. Be thankful in all circumstances for this is God's will for you who belong to Christ Jesus. Now, I setup it's like it's up. So I have this imaginary of Daydream where I'm on Jeopardy. And it's like beauty to do like, what is the shortest verse of the Bible? I'm like, right there all my money First Thessalonians 516, right. And they're like, No, we're sorry, Pastor, you're wrong. It's John 1135. Jesus wept. I'm like, no, no, it's not in the original. It's shorter here. And then we get an argument in the later like, after getting my points back and I lose but then I win. And it's all things never going to happen. But anyway, this is the shortest verse in the Bible just so you know, he's not excited. Like the Greek and all that stuff. It's almost unnecessary.
Right? So right rejoice always. How are we going to rejoice always remember, Paul was anxious. He just said it himself. Right? It's the ideal, right? That's over. So even the list of command let's just rejoice. Let's have joy guys, even in the worst stuff. Let's just shoot for the joy. That's what it is both sides of the coin. First Thessalonians 519. Do not stifle the Holy Spirit. Do not scoff and prophecies, but test everything that is said hold on to what is good. Stay away from every kind of evil. This is important to remember. So remember those false fear monger? You know, prophets, they come up with things, test it, test it your something, test it with this, like the Bereans the every test it really. And if you read just this letter, you'd be like, no kind of says you don't know you can't like what are you talking about? False teachers false prophets. All right, so Paul's final greetings First Thessalonians 523. Now may the God of peace, make you holy in every way and make your whole spirit and also embody be kept blameless until the Lord Jesus comes again. So you see the theme there? There it is, again, God will make this happen. For he who calls you is faithful to your brothers and sisters pray for us. We'd all the brothers and sisters with a sacred kiss or a holy kiss. You don't have to do that to me. I command you in the name of the Lord. Read this letter. Let you all brothers and sisters, May the grace of our Lord Jesus Christ will be with you. So again, are you seeing it? Yeah, it's live blamelessly while we wait for Jesus in peace and agita. And like I said last week, right, they read these letters aloud, not one line at a time, right randomly out of order, they would read the whole letter, just like we did, almost, let's just hop into Second Thessalonians similar themes. I'm just going to go through kind of paraphrase it for you to show you a couple of verses, but I want you to see, just see what's going on here is building First Thessalonians one this letter is from Paul or sorry, Second Thessalonians. One one's letters from Paul, Silas and Timothy. We are writing to the church in Thessalonica. To you who belong to God the Father and the Lord Jesus Christ, thy God our Father, and Lord Jesus Christ give you grace, and peace. Sound familiar? Second, Thessalonians one three, your brothers and sisters, we can't help but thank God for you. Because your faith is flourishing and you and your love for one another is growing. We had a nerd moment couldn't help it. Cross out proudly boasts coffee man says there to God's other churches about your endurance and faithfulness in all the persecutions and hardships who are suffering. And God will use this persecution to show His justice and to make you worthy of His kingdom as interesting for which you are suffering in his justice, he will pay back those who persecute you, and God will provide rest for you who are being persecuted and also for us when the Lord Jesus up hears from heaven, He will come with his mighty angels and flaming fire bringing judgment on those who don't know God and to those who refuse to obey the good news, the gospel of our Lord Jesus Christ, it will be punished with eternal destruction, forever separated from the Lord and from his glorious power. When he comes on that day, he will receive glory from his holy people praise from all who believe and this includes you, for you believed what we told you about him. Right? So same themes again, your suffering But Now do you see the more of the emphasis on Jesus's justice, but it's getting bad. So he's going to look don't go after it don't repay evil for evil member you're going to repay them we're just Jesus is going to take care of it, he will bring the Justice right. So be it in the meantime, be at peace with everyone. So the bulk of the next section is what happens when Jesus comes back what Satan is going to do and his operation in the whole thing. He's just let's clarify some things about Jesus Second Thessalonians two, don't be so easily shaken or alarmed by those who say the day of the Lord has already begun. Oops, don't believe them. Even if they claim to have a spiritual vision or revelation or supposedly a letter from us. Don't be fooled by what they say. You absorbing that? Don't be so easily shaken our alarm driven anger. Right GDP rally. Right we're going to study Christian army, by those who say that the day of the Lord has already begun. Have you heard that one? recently? They were in the end. You heard that? False. Don't read your look read Don't be so easily shaken or alarmed by those who say the devil Lord has already begun. be shaken. There'll be full. What did it say? They're going to come back. He's going to come back unexpectedly. Right? So they get caught on all this stuff about Satan but they don't read this. I say it's good to have amination all this stuff is going to happen. You see all these bad things? Me Okay, great, great, great, but what does it say? The man of lawlessness will be revealed but the Lord Jesus will slay him with the breath of his mouth. So it says go to verse eight. So yeah, now let's put the Lord Jesus was what do we do? We wait peacefully and patiently. There's nothing else to do because the Lord Jesus has got it. Somebody please say and then like that. Right? Where do we believe this? Do we believe this? Like, do we believe that Jesus has got it? He will slay him with the breath of his mouth. I believe that so I'm going to get yours may not be in the nicest way to think but I'm like, I pity people. I'm like, oh, no, you're going to get it. So he does the slang. believers should stand firm rights and then he asked for prayer for them. Pray to that we will be rescued from wicked and evil people. But not everyone is a believer that the Lord is faithful it will strengthen you and guard you from the evil once we get more excitation for proper living like live properly. imitate us we see that in the next section imitate us system makes me laugh every single time even while we were with you. We gave you this command those unwilling to work will not get to eat no potluck for you if you don't help out like no pizza. Like no, no, this person does not serve. Nothing you serve once. It's Biblical. never deprive anyone of pizza. That's just crazy. I talked about pizza second, Thessalonians three, three. As for the rest of you do brothers and sisters never get tired of doing good. Never get tired of doing good. He gives some final greetings in his own handwriting. me the grace of our Lord Jesus Christ giveth you all don't grow weary and give up don't give up Paul is concerned they'll quit me growing weary. The sufferings the death the work to grow weary and give up whatever Second Thessalonians three 313 wasn't the right thing so first line there let us focus on that line there that's what I was asked for the rest of your brothers and sisters never get tired of doing good
Paul gives this long game hope even in death even if you die. Sorry. Jesus is going to bring you up from the dead and you're going to be with Him forever and ever. And then all these questions where he Paul knows they're asking him right. What about these people who did all this harm to us? And we even see it in Revelation. The white robes right that he had in one that's the guy going to come back and get everybody assurances regarding this justice over they're persecuted but they're growing weary and we see that escalate and Second Thessalonians because of what Paul's saying emphasizes that just it seems like things are getting heated. Paul is trying to get them and us to focus on the long game. Focus on the long game. But here's the problem. People generally don't like that. Well, let's talk about the long game. He wants quick fixes. Instant gratification, especially in this day and age, but don't get it right away, like I fall for it to come on, you know, on a different computer mice my computer so fast, because it needs to be capable enough. My brain works. It's fast. But if I go on somebody else's computer, I'm like, What's wrong here? It's only taking one second, right? So I know I get it. I know, right? Everything is right there. Right? It's right there. We have all the answers right there. The problem is, this leads to this quick fix culture that we're in, right? We got a pill for everything. No, we have to exercise I try to exercise when stuff goes wrong. You know, I'm like, we must pray, pray, just pray, like hold on a second, though. We bring them a doctor and give me a little quick here for sure. And make it go away. You know, it's like, just everything's that stuff. And then that's like the diets, right? Like a 30 Day Fix. Like, we've been spending 20 years of your life ruining your body, and we're going to fix it for you in 30 days. That's not true. But wait 60 days more believable, 90 days? A year? How are you doing with the new year's resolution? You don't have to answer that question. I said it. So people are trained to become weary of these like, right, you know, if they're not getting it right away, I give off. You know, that just takes too long. You know, I don't want to do that. This is the concern, we do it too. We grow weary in the waiting, we get tired of waiting and we quit. It's like me trying to find a parking spot. So I'll just go right back home. So I get it, that that's why she drives. Again, people like this instant gratification, right? And the world is ready to sell it to us. Right? They're ready to sell it to us. So we have all these alternatives, right competing for our attention. But here's the thing. It's really funny, because psychologically, like when you think about it, they've never worked for us before. Which is why we're looking for another one, right? They don't work. Generally, they just don't work. So why do we keep seeking them out? How do you do that? Like we know they don't have it work? No, because you wouldn't be searching for another solution if the other one. So we know. Well, here's some reasons. And just some observations. Hey, you know, I've done I've done it twice. If I say you, it's the third. So, right. It's like the gym membership keychain thing. Right? I checked the box. I'm in it, even if I'm not right. I'm doing it. So it's a checkbox, and we got to show everybody we're trying. It's going to mask like, I'm trying at least I tried. As you can say, at least I try. It makes it feel good. Generally, they're easy. That doesn't challenge you really, really well. Even if it's just the timeframe, let's say it's a hard workout programs, you know, but maybe they're easy, right? You can eat whatever you want, you know, just control the board. And you'll lose 20 pounds, you know what I mean? Like? This is not going to be challenging. Awesome. Let's get my wife, she does all the challenging challenges. It's crazy. But for the moment, but even then the timeframe is very short. Oh, cool. You know, I'm going to look awesome in four weeks. It's only her like, she's the only person who does that work. So just don't listen to anything I say another thing. But anyway, in general, I'm making a generalization here. So we joke about this all the time. So it's okay, you're probably right. Or we're good. Doesn't really challenge. It's not long, right? And here's the other thing. You can blame the diet. I've tried everything. I've tried everything. Nothing works for me. Nothing, I've tried everything, nothing works for me. And even if it could work, here's the whole other thing. We may not be ready to grieve the old us think about it. We're comfortable this way. I don't want the expectations that go up. So we'll just stay this way. And say we try that's why we keep doing it. Now unfortunately, this has made its way into mainstream Christianity. Right? We have fad Christianity problems. And so yeah, like the fear mongering that's one of them right? And we're going to give you a quick fix is what we are going to do right oh, wait for Jesus. We're not going to be patient. No long game no long No, no, no, no, no. It's coming back. The End Times are now and you're going to be ready, right like drives me crazy. This is how we're going to we're going to prep for it and do this. We're going to do that. We're going to control the whole situation. The world's going to melt read your Bible. Nelson. Aim Fire Don't get scared. So you know but that's it but then Jesus is going to come back Don't worry about this stuff for the patient peaceful wait for to know that instant gratification. This whole entire thing is a fad. It's a Christian pet. It did it started in the mid 1800s rapture got invented and all this other stuff that that Christianity is a new one like it just keeps coming up every day. It's not new. Relatively. We even have like the fad Christian diets ever hear anyone say if you did it, just relax. I'm not talking about you. But if you talk to me about it, it's you. So like, you ever have the Daniel diet? Daniel diet, right? Like it's 10 days. And what I hear is I'm going to blow this on day 11 That's what I hear. That's like all I hear I got like, I'm going to I'm going to ruin myself on day 11. Let's read Daniel, I'm going to tell you what happened, but read how committed they were to that. It was just a test 10 days with a test day. Hey, but then they kept doing it for a long time. Right? So call me in like three years. We have it it's worth mentioning here. We have the verse of the day problem. Right we do. We only want to commit to one line of the Bible a day. Who come on? Is that not read it? Yes. It's ridiculous. It's ridiculous. Contextually. It's stupid. Like these people post these verses, they sound stupid. Like, it's like, that's not at all what that means. sounds dumb. You're going to say the Bible actually says stupid. So it's okay to say that word. But you got to think about it. From where I stand. Right. You know, it's like, I know, I read the Bible, like a lot. But still, like, I'm reading about the old church, what they did the reading these scriptures. Everyone was like, that's great, right? They're all interested. You know, and I get up here and I'd like think about okay, awesome, right. So I want to encourage you guys, if you came, that's good. So glad you gave an hour or two of your time. Whenever you're going to do the potluck. Even an hour, even just listening here for an hour. I appreciate you. I really do. There's no but it just I just appreciate you guys. I love it. The problem is like, I will get new people that come in and they have the Bible tucked under their arm right now. Like the perfect Christian family. I'm like, oh, here we go. They come in. They listen. And they're like, that was just too much Scripture. They start looking bored while I'm reading the Word of God. Right, that was too many. Too many Scriptures said no committed Christian Ever. Ever. I could just read you the Bible for one hour and you should be fed, satisfied and should be like perfect in telling your stupid jokes, right? That should be the thing. Yes, it's better. It's better. It's better than anything I can say. Right? I'm trying to relate it to you because you shut up. Right but think about it. Like think about that's a big problem. This person has been bought into this fad Christianity so bad that the word of God sounds foreign to them. What? It's not even Christianity anymore. It's just not. It's not a committed Christian. So same thing with church, why people do it? Well, check a box, right? Check the box showed up on Sunday, check the box or not right? But then I put the Jesus fish in my car. We've already talked about that problem. So it's like the keychain ornament. They have from the gym says I'm a Christian then you cut people off and embarrass me but the same thing is the gym. Not in shape. Don't say go to my gym. So
at least I tried. At least I'm trying over and over and over and over again for years on end. Please, I'm trying. The other thing you can blame the church never had anybody leave the church and say yep, my fault. I just want to sin. I just want to go to another. I just want to go to another place where they don't challenge me right? I want to go to another place where he didn't like just I don't know. He just like the Holy Spirit. Read my mind. He's talking about my sin. I don't want to hear about my sin anymore. I want to be told I'm getting everything right. Maybe they'll put me in leadership even low. I don't even belong there. Right? Maybe they'll let me sing even though I can't sing except in the shower. Not even your dog thinks you're good. You know they'll let me do what I want to do. They'll let me do whatever I want to do. And make me feel great. Don't challenge me pasture. Land serves six fall. There's always some people want to play semi comfortable the way they are. But we do say Come as you are I welcome anybody. I don't care what your sin is. I don't even care just murder would be like little weird like just like I look out for the flock but like anything else. You know, it's fine. I know. There are a couple more that I just don't want to hear about but you get my point. Speaking in Grand hyperbole, big words of still not useless. So anyway, Come as I love you, I love everybody. In fact, I've just been there done it, I get it. Don't stay as you are. Tom stays, you always want to see some progress, not perfection, but progress. Most people don't want to grieve the old them. So they just stay complacent. You know, and they'll go wherever they can feel complacent. But they've set themselves up for failure. That's where bad Christianity gets you failure, and some sadly fall away from the faith. So that's why Paul gives the warnings doesn't want them to fall away. I told you how I call culture has a major commitment problem. It's all got to be instant. We don't want to commit to anything. We don't want to play a long game. No, no, no, no, no, no, no, no, I need it. Now. There's a problem. Paul, he's worried, right? It's been it's a human problem. But they're grown, where they're getting lazy, they might give up. They're getting tired, because doing the right thing can be difficult. So just a little application, how do we work through the heart? How do we do it? Well, if you've been here for a while, you kind of know, but it might not have been codified for you. So first knowledge about what you're getting into. That's important. How many Christians have you seen in the Christian community have been a Christian for a long time? People get baptized, like and you really know, like, they don't know what they're talking about. They have no idea what they're signing up for. They don't know what Christianity is. Knowledge would have called it he Paul said, I told you, you're going to experience suffering. So I started to say that okay, I'm going to baptize you, but you're going to experience suffering? No, you don't hear that? Right. We don't hear that kind of honesty of this fine print that fizzle read only that. They just don't keep it then what happens? Where do you see happen? before I really started thinking about this biblically, most of the people I baptized was a part of that. I don't, I don't even know if they're going to church at all. Why? Because something bad happens. And they go, you didn't tell me about that. Or this doesn't work. I got sick. They told me I never get sick again. But I got sick as they fall away. But dad died, you know? Yeah, that stuff happens. Right? It just, that's life. So that's exactly why we here draw your attention to the fine print. So it's kind of like a change since the martial arts industry, right? So that we have this big, it's called the assumption of risk, right? Because you can't waive your right to sue. So you make them sign assumptions. And it's hilarious. Like, we just did almost a joke. Like, we were just like a four point font, let's say all the craziest stuff we can possibly say, right? You're going to die if you do this definitely going to die, right? It's worse than skiing, you're going to, I'm going to try to break your leg, therefore it is going to break. You're going to look different. It's going to be horrible. Like, all these things we even had this is true about the foul language, right? We were mentally calibrating you, right? You know, for it. And it's true. But anyway, you know, it was all in there. It was all in their craziness. But what did I say? Just sign up for your money, right? You don't you don't need to read that. They just want to read it. Just really, really dangerous is to beat the heck out of people. Right? So like, it was dangerous. But what did I say? When I wanted to do things for money like the false teachers, right? You don't you don't need to read that. Just like everybody says, okay, sound familiar? Very much. Unlike Jesus. What Jesus said, you will follow me Oh, Peter, right. Deny yourself don't be selfish. You can't follow me. If you're selfish. Pick up your cross. You're going to suffer and die for me. Then you can follow me that's exactly what he said. He made people consider me very my father let the dead bury the dead. who follow me? Who puts a hand to the plow starts to work that looks back not worthy of the kingdom of God. Get on the move. Now. We're following your Jesus. Foxes have their dens birds have their nests but I'm homeless. You're going to be homeless to Peter says we've given up everything to follow you. Commitment. What king was 10,000 Soldiers goes to war against another king with 20,000 Soldiers without counting the cost and getting Council flood warnings I could keep going. There's more. Right? He is a fine print with Jesus. It's like all capital of the 16 point font right there. So many people are baptized without it. So you have to know so what we have is and you go on the website and sip baptism statement you can you can see what you're committing to In recent times when I was like let's churches got to be biblical. If you've been baptized more recently by me, Well, what did you get? You got an email, and you got this whole thing you had to read, right? And then what do we do we affirm it. Or you make you say, yes. You believe this? Yes. Do you believe this? Yes, there's a core tenets of Christianity. And here's the other thing, it's like an assumption of risk, I force you to read. Listen, the enemy will attack you. When you get baptized, you are going to be under attack. And so I make sure I meet with every person about make sure I sit down to like, Okay, let me explain the armor of God, you got that on, you better put it up. You have accountability people, you have someone you can go to, I can't be that person for everybody. So we need someone, if you're a woman, I'm not that person. You got a buddy you up with someone that you can talk to that's going to encourage you and coach you through this. Because the enemy is like a stage 10 cleaner ex girlfriend or boyfriend, right? If you knew that movie, it's right. He does not when you say I'm out, I'm out of this relationship of sin with you, Satan, I'm out. I'm going to I'm in a relationship with Jesus, now. He's going to want you back. He's going to want you back. And when you do that in front of everyone, he is coming after you. He's coming after you. You need to hear that you are going to suffer some things. And so when you get your armor you up, man, we're going to make sure that you understand this, you're armored up, you have people that come and encourage you that's important. So it's in the baptism statement, and it goes way, way back because they're biblical. So I use very old Baptist sounds nice and formal, right? You know, but in it, it says this, you're asked these questions when you get baptized, because the early church asks these questions. Will you continue in the apostles teaching? And the fellowship, the breaking of the bread and the prayers? Will you continue in that? If you say, No, I'm not going to dunk you. That's it. You're not we're not going in the water today? No, because not going to work. I'm never heard anyone get baptized like that. I'm like, wait a minute, but I started looking at all these old church things. And like, the way the Bible really says, I'm like, You need to be asked that that's what they did in the church. So that's on the outside wall right there. You're not going to do those things. This will not work. At all, don't want to see anyone fall away from it. I'd rather see you just go away, get mad, wait, hit a bottom, I'll pray for it to be a high one and then come back and we'll try again.
Rather than fall away from the faith, it's biblical. This is what they did in the early church. No. window into next week. Relationship is key, right? You got to hear that. But there's stuff we have to do as we've seen on the Bible on our part, that just is so well saved by grace through faith in Jesus Christ. Relationship is key. But work out your salvation with fear and trembling, right? So we need to work say by grace but vision is to keep reading. It says we're created anew in Christ Jesus, for good works. We're supposed to be doing things. The Bible also commands us to look at Hebrews next week, Jesus is better than everything. I love Hebrews. Right? He is the head of the body, we are the body of Christ to be detached from the body of Christ, you are detached from Christ. Makes sense, right? Very definition of church is to assemble together. Ecclesia So, in the baptism statement, it's important but I want to give you a window Hebrews 10 Here's 1023 Let us hold tightly without wavering to the hope we affirm for God can be trusted to keep his promise. Let us think of ways to motivate one another to acts of good love and love and good works. So love not anger violence, like no let us not neglect our meeting together as some people do. But encourage one another especially now that the day of Jesus's return is showing nears given hope is does it all just sound very congruent when you read more and you take the time like it sounds just like what didn't you just read that and yeah, we did. Over and over and over again. It's very redundant, but for a good reason. This is what God wants you to know. This is where he wants you to have your peace your hope so many people are just suffering under this anxiety the bad things you know what I mean? Like not fear of the Lord. No, it's not that anxiety of you're going to come and get my money and then instead of having good teachers sit around and worry about your money that it's going to just mas get it you know, Russ knows. Okay, and be at peace. God loves you. This is like just this much right? It's just this much of your eternity don't
worry about it so much. You know, wait, there's nobody like Jesus we can kill anyone with the breath of our mouth like that's cool. Better than Godzilla right
so you know it just have some humor. have joy When how many times we read about joy, laugh together? stuff, you know, I just my heart for all of you is that you would find peace and Jesus, we would live in peace with one another and others out there and just try to get good. Come on, let's get them in a church, get them into Christianity. Peace, it's okay. The stuff has been going on like where is that? So just as a pastor to be real with you guys or my family, just that encouragement, it hurts me to see this pain as anger. And oh, that's not what the says that's not what God has a store for you. So just hope just live in that house with me join me and just living in the hope of Jesus's return, if any takeaway. So real quick, look, this is the place to become to do that. If you're new here, this is a place of peace, right? So this is just hunger for encouragement, reassurance and food. So you're going to be told about the food afterwards. Join us in that fellowship, eat with us break bread with us. I want to get to know you. Right. So you got to give me like 10 tries on your name, I'll get it. But I want to get to know you. We're family we eat together. We have fun together, we have joy together. And yes, if you're suffering going through things we want to know about so you're going to be told how to connect with us. If you are not new here among us. And as you know, person centered Well, Second Thessalonians says if you're being lazy, like he was Sir. You can connect with me. Hey, the Bible said it and I did it. So well, we encourage you to get plugged in, get out of your own head. Just go and serve some other people. It'll bring you peace, I promise. All right. So I just love you guys. Let me pray for you, Lord, thank you for everyone in the sound of my voice hear my voice. I pray for everyone who couldn't be here anyone watching online Lord, let it reach them too. But just Lord, bring them your peace, your grace and mercy, Your love. Let him yield it. That's my prayer. Just open their hearts so they can really experience it. Not just hear about it, but just experience it. So just let them just surrender. Just hand over all these horrible things to you, Lord, that you can heal them with the Holy Spirit and dwell in them and just solve all of this for them. And then in turn, turn them in the vehicles of grace, your love, your joy, your kindness, your peace, all that patience that you fill. The spirit filled believers with negative vehicles of that all for the sake of your gospel. I ask these things in Jesus