Last week, we looked at Jesus' humility, contrasted with the religious and racial attitudes of the people surrounding him – even His disciples. Today, we'll see that as Jesus teaches openly in the Temple, the question is raised: who is Jesus? Jesus answers the question – and it is met with mixed reception. Today, we'll look at those accounts and other Biblical passages that tell us exactly who Jesus is.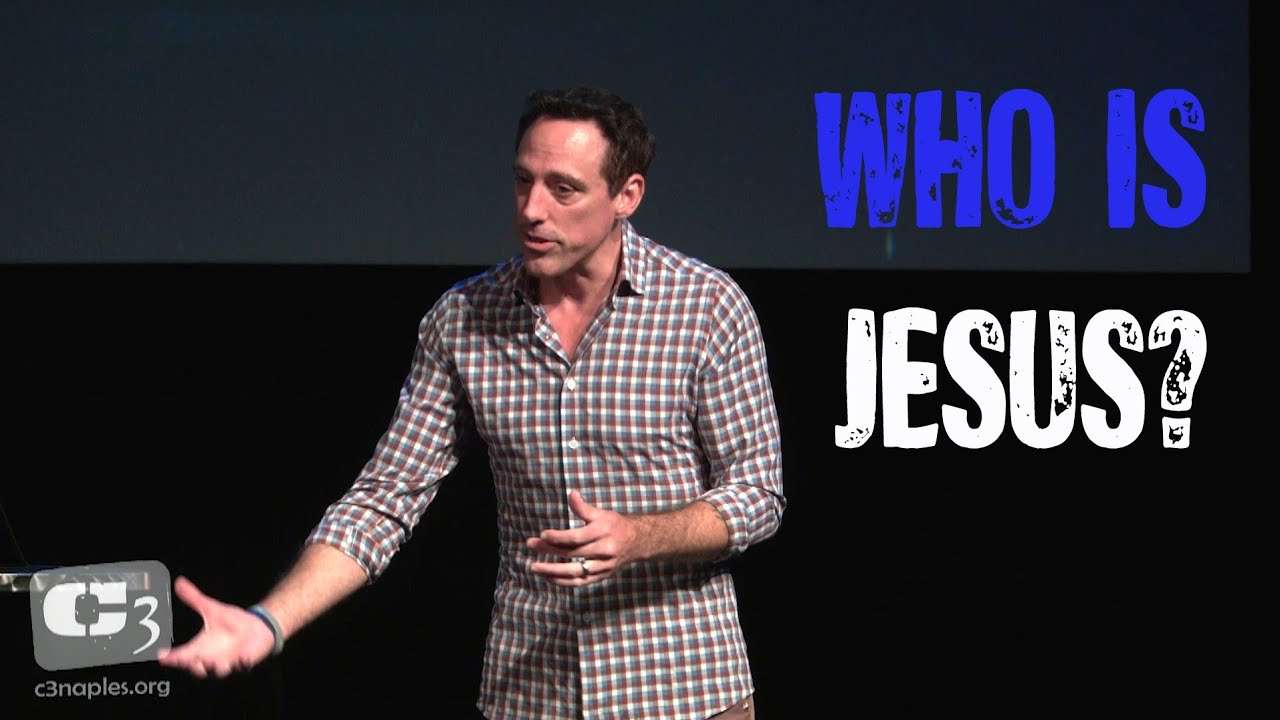 Auto-generated by YouTube
Who Is Jesus?
Who Jesus Says He Is & Who The Bible Says He Is
Mon, Apr 24, 2023 9:09AM • 48:06
SUMMARY KEYWORDS
god, Jesus, people, Abraham, john, sins, talking, son, life, Christ, crowd, Moses, father, holy spirit, descendants, messiah, gospels, contemplate, truth, read
Welcome, if you're new here among us, my name is Jean I serve here at C three church as your pastor. And I want to begin today by talking about reservations. Not the ones you had about coming here this morning. dining reservations. So, this is a thing. A lot of people get here to Naples, they notice, wow, there's tons of different restaurants to eat out here. And like they're good. But a lot of people don't realize you need reservations. Sometimes. I like to get them anyway, whether I need them or not better safe than sorry, right. But some people go in there and they make this mistake. They think, oh, there's plenty of tables. Look at how many tables, of course there's a seat. And the hostess is like, Nope, you need reservations. And then you make this mistake, you say something like, but there are plenty of tables, right? So that's I'll translate that for you. You don't know how to do your job. So, there you go. You really got off on the right now you're definitely not getting in, right? But it's based on what their ability to serve you not how many tables they have. So, if there's not enough servers, they know that you're the same person, if you're just made that comment was going to put a bad review on Google forum. Right? Like just know, you need reservations. So, piece of advice Pro Tip one, right, so we're going to go through a few pro tips here. So, I heard a story about a couple. They didn't listen to my advice. They didn't know about the pro tip, same type of thing. Ah, plenty of tables. Let's go. And the wife's like, no, I haven't had an open table. And I get all my points on there. And you said there's a dynamic. This is real. So, you know, I get my points. He's like, whatever. Let's just go eat. All right. Same thing happens now. But there's plenty of tables. And she's like, singing, right? So I don't know. But Pro Tip two, she knows it. She's like, Oh, but can we sit at the bar? Yes. So if you want to get into a restaurant, and they're booked, you can often sit at the bar. But problem, the bar, that's where people like to drink excessively. So you know if that's your thing, fine. We'll talk about that later. But you'll hear all about that here. But the thing is, it can get annoying, right? People who drink excessively get kind of annoying. And that's what happens with this couple. So they're sitting at the table. Now Pro Tip three, you can get the full menu at the bar, not just the bar menu, you just have to ask for it. Right. So but the husband doesn't know. He has like the bar menu. And he's like complaining about there being no selections and stuff. And so there's this couple of guys at the other end of the bar. And they have not been drinking moderately, which is okay. But excessively. And so one of them sees the wife, husband, wife, the couple's there, and she's the wife thinks she's attractive. And he says to his friend, hey, go ask her if she's married. Good friend, right? So you get slapped? Go ask her if she's married. Okay, so the guy kind of mosey on over, sits down next stir, has stares at her. She's pretty. He's drunk. So he forgets why he's there. And so you can feel when someone's looking at you. She feels it feels someone's looking at me. So she looks at me. He's like, What?
What do you want? Oh, are you married? That's my husband. Okay, he goes back to his friend sits down. Well, what did she say? Did she say she's married? No. No, she doesn't. What? I see a ring, right? There's a it's called the ring finger. You can put as many rings on there as you want. Right? No, but I think she's going to ask again. Does it again? Come lower. Same thing. Identical.
What now? She says right. Are you married? I told you. That's my husband. Goes back to his friend's house. Now. Why did you say? Did she say she's married? No. All right, fine. So he decides, Okay, now I'm going to go it's safe. He goes over when we sit down next door and he's like a bit cooler. He sits down next or what do you want? I'm a thief. So you know, it's a nice restaurant with a nice bar because they have those hooks. That's what those four. She has a purse there. So she's like, moving out over there. I'm here to steal your heart. Without missing a beat. She just slaps him knocks the glasses off his face. He's wondering what so here's the thing. She's been training Muay Thai, and this was her excuse to try it out. So she did on this guy slapped. He won on his back to his friend. I suppose you said she wasn't married. She didn't specifically say she wasn't married. Yes, so this, this will go somewhere. That was funnier in my head, then you guys reacted to it. But anyway, you're waiting. Is there something else? No, no, there's nothing else that was it. It was kind of funny. All right, it'll, you'll see. So we're going to recap the rest of the story. And that's not a real story that didn't really, that's probably what was Did you really get some, but I've been slapped in the face by a woman has done more Thai. It's kind of what he used to do for a living. And yeah, they can hit pretty hard. So just so you know, be very careful who you're talking to. Anyway, the humility of Jesus. So where we left off, we talked about Christianity, and sometimes we make Christianity kind of a hard club to get into some of our religious stuff. Maybe it's our racial stuff. There are a lot of different divisions, right? So we talked about that. We saw how the disciples, the Apostles, were doing that type of thing, the Samaritans, right? Let's call fire down on them. They're not like us. There's racial religious differences going on there. But Jesus is really humble. For who he is. Members, brothers. I want to turn them both into donkeys if I was Jesus, right. So he's very humble for who he is. And so we're contrasting that constantly. So that's where we left off. We saw that Jesus, his brothers challenged him to go to the festival. That's a festival of booths, he's going to go, because he's supposed to according to the law, but he delays he doesn't like kind of step up to their challenge. And he's again, he's humble. Then we get James and John calling fire. They're on their way. They want to call fire down the Samaritans. And that's where we pick up. So he arrives in Jerusalem. And that's where we are. We don't need a chart today, because we're just going to go straight through John seven and eight. You're like, oh, only two chapters. Yeah, but I'm like, going to read the whole thing, too. So, there we go. A lot of Scripture today, John seven, three, we'll pick up at verse 10. So we left off at his brothers. Jesus teaches in the temple openly Now, John 710. But after this, his brothers are after sorry. But after his brother's left for the festival, Jesus also went though secretly staying out of public view, the Jewish leaders tried to find him at the festival and kept asking if anyone had seen him. There was a lot of grumbling about him among the crowds, some argued he's a good man, but others said he's nothing but a fraud, who deceives the people, but no one had the courage to speak favorably about him in public, for they're afraid of getting in trouble with the Jewish leaders. Then midway through the festival, Jesus went up to the temple and began to teach. The people were surprised when they heard him. How does he know so much when he hasn't been trained? They ask. So Jesus told them, my message is not my own. It comes from God who sent me. Anyone who wants to do the will of God will know whether my teaching is from God or is merely my own. Those who speak for themselves want glory only for themselves, but a person who seeks honor to honor the one who said him speaks truth, not lies. Moses gave you the law. But none of you obeys it. In fact, you're trying to kill me. So the crowd, your demon possessed, we're trying to kill you who's trying to kill you. So this will go back and forth here. It gets confusing because he's going to go to the Sabbath. He has been criticized for healing people on the Sabbath. They're not supposed to work on the Sabbath, and they're calling it work. So this is a criticism. And if you have this in mind, you're good. If you don't you need me to remind you, if I'm not around, you got to read your Bible. So okay, there we go. So I'm confusing it for you. This is the criticism. So he's going to jump to that and it seems like he's coming out of nowhere with it, but he's not. He's like, You guys don't even obey the Sabbath. You know, remember this because it all attaches. This is one like kind of stream that you're supposed to read here. He's going to talk about circumcision. Just keep in mind that this starts with Abram or Abraham. So he talks about circumcision. He says, you break the levels, you break the Sabbath, because if your child needs to be circumcised, and that lands on the Sabbath, you work too. So he's making that kind of criticism there. That's what that's all about. But remember, for this message, Abraham or Abraham, alright, so look beneath the surface so you can judge correctly. John 725, some of the people who lived in Jerusalem started to ask each other. Isn't this the man they're trying to kill? So they just went from saying, Wait, no one's trying to kill you, too. Now. We recognize that. But here he is speaking in public and they say nothing to him. Could our leaders possibly believe that he isn't Messiah? How could he be for we know where this man comes from? when the Messiah comes, you will simply appear, no one will know where he comes from. While Jesus was teaching in the temple, he called out yes, you know me, and you know where I come from, but I'm not here on my own. The one who sent me is true and you don't know him. But I know him because I come from him. He sent me to you. Then the leaders tried to arrest him, but no One laid a hand on him, because his time had not yet come. We've seen that theme in the past. So as he's talking, summarize a little bit here. Many people actually believe in Him. Now, the Pharisees heard what's going on. So they send the temple guards to arrest Jesus. But Jesus tells them, I will be with you only a little while longer, right? Then I will return the one who sent me, you'll search for me, but you can't go where I'm going. So that's going to come up a couple of times here. Now, they're puzzled by this statement. Where is he planning to go? Is he thinking of leaving the country is going to go through all these different speculations? Maybe he'll teach the Greeks or the Gentiles? They don't know. What does he mean? You'll search for me, you can't find me. You can't go where I'm going. John 737. On the last day, the climax of the festival, Jesus stood and shouted to the crowds. Anyone who is thirsty may come to me. Anyone who believes in me may come and drink for the Scriptures declare rivers of living water will flow from his heart. When he said living water, he was speaking of the Spirit who would be given to everyone believing in him. But the Spirit had not yet been given because Jesus had not yet entered into his glory. Pause, explain a couple of things to you guys, in case you don't know. So the Holy Spirit a lot of people get very confused. I've seen people get very confused on this. So the Holy Spirit isn't born doesn't all of a sudden arrive. And x Pentecost. Go all the way to the beginning. Second verse of the Bible, the Holy Spirit was their creation hovering above the waters, right? So we have to know that we serve a Triune God, Father, Son, Holy Spirit, all together, one from the beginning. Alright, so you'll get that plurality. If you read Genesis, you'll see us right so we see Father, Son, Holy Spirit, right from the beginning, if you're reading it correctly, important. No. We even see the Gospels you see the Holy Spirit all through the Old Testament. And you see in the gospels, Luke, no less than five people are filled with the Spirit, the Spirit is active. Jesus is conceived by the power of the Holy Spirit, what's going on here? It is God's selective placement of the Holy Spirit, uncertain people by his will. Pentecost comes anyone who believes in Jesus, waterfall of the Holy Spirit. That's the difference. So it's very important to know that okay, so it's like the Holy Spirit all of a sudden gets created or exist. No, the woman at the well remember John for sound familiar, right? The living water. So if you're reading the Bible, the way you should know these big sections, you'll go, oh, he said this before, same type of thing going on here. John 740. When the crowds heard him say this, the living water, some of them declared, surely this man is the prophet we've been expecting. Others said he is the Messiah. Sound familiar? John four. That's what she was saying, Oh, you're a prophet. Still other said, it can't be it will the Messiah come from Galilee for the scriptures clearly state that the Messiah will be born of the royal line and David and Bethlehem, the village where King David was born. So the crowd was divided about him, and some even wanted him arrested. So they think he's born in Nazareth, where he grew up, he really is from there, right? So they're just kind of confused. So the temple guards return. And they're like, where's Jesus there when they don't have Jesus? They didn't arrest him. So they're like, oh, you know, Do you guys believe in him too? You know,
is there any one of those Pharisees who actually believes in him? You know, the crowds believe in him, but they're cursed because of it. So they're denouncing the guards? But then enter in if you remember John three. Nicodemus, I mean, Kadeem has kind of sticks up for him a little bit. He's like, is it right to like, just say a condense, condemn someone, arrest them or whatever, without putting them on a trial or having a hearing for them? It's like, what are you from Galilee to they start insulting him. So search the Scriptures, you don't know what you're talking about. So again, a little bit of confusion. That's what you see, the crowds are confused. The teachers are confused, a lot of confusion about Jesus. Now, this is a very famous account. I want you to pay close attention to a couple of details is a straight flow, not stopping. Pay attention to a few details, and then I will explain them to you when I'm done. John, eight, one, Jesus returned to the Mount of Olives. But early the next morning he was brought, he was back at the temple. A crowd soon gathered, and he sat down and taught them as he was speaking the teachers of religious law and the Pharisees brought a woman who had been caught in the act of adultery. They put her in front of the crowd, Teacher, they said to Jesus, this woman was caught in the act of adultery. The Law of Moses says to stone her, I mean, throw rocks at her until she dies. What do you say? They were trying to trap and the saying something they could use against him. But Jesus stooped down and wrote in the dust with his finger. They kept demanding an answer. So he stood up against that, all right, but let the one who has never sinned, throw the first step. Then he stepped down again, and wrote in the dust when accusers heard this, they slipped away one by one beginning with the oldest until only Jesus was left in the middle of the crowd with a woman. And then Jesus stood up again and said to the woman, where are your accusers? Didn't even one of them condemn? You know, Lord, she said, And Jesus said, Neither do I go and sin no more. Hang on to that we'll come back. But we're just going to continue in God's word. This is what it says, John 812, Jesus spoke to the people once more and said, I am the light of the world. If you follow me, you won't have to walk in darkness, because you will have the light that leads to life. Pharisees replied, you're making those claims about yourself says such testimony is not valid. And so here, what he's going to start doing is kind of rotating cycle kind of condense it for you a little bit. He's going to begin saying, My father and I are the witnesses. If two witnesses agree, even according to the law of Moses, they, their testimony should be believed. So he's talking about being sent from the father, he's not on his own. He's not speaking just his message. It's father and son. Together, here. I am one witnesses and the Father is the other one who sent me. Now it gets to me as your father. Now, since you don't know who I am, you don't know the Father either. Like if you knew the father, you would know who I was. He talked about where he's teaching. It's in a section of the temple called the Treasury. But again, he was not arrested. Specifically, it says, because his time had not yet come. He goes through the cycle again, I'm going away. You'll die in your sin, you'll search for me, but you can't go where I'm going to speculate again? Is he planning to commit suicide? Where's he going? What does he mean? You can't come? Where I'm going? You are from below. I am from above. Again. He's coming from the Father. You belong to this world, I do not you will die in your sins. For unless you believe I am. Who I claim to be you will die in your sins. Who are you? I'm the one I've always claimed to be. I have much to say and condemned, but I won't. For I'm only saying what I've heard from the Father, they still didn't understand. He's talking about the Father. Then, when you see the Son of man lifted up on the cross, then you'll understand that I am He important statement. We'll talk about that in a minute. So many people do believe him. Remember Abraham? Here we go. John a 31. Jesus said to the people who believed in him, you are truly my disciples if you remain faithful to my teachings, and you will know the truth and the truth will set you free. For descendants of Abraham. They said, We have never been slaves to anyone. What do you mean, you'll be set free? Jesus replied, I tell you the truth. Everyone who sins is a SLAVE of sin. A slave is not a permanent member of the family, but a son is part of the family forever. So if the sun sets you free, you are truly free. Paws free from what? Sin? Yes, I realize that you are descendants of Abraham. And yet some of you are trying to kill me because there's no room in your hearts for my message. I am telling you what I saw when I was with my father, but you are following the advice of your father. On Father's Abraham, they declared? No, Jesus replied, for if you are really children of Abraham, you will follow his example. Instead, you're trying to kill me because I told you the truth, which I heard from God, Abraham never did such a thing. No, you are imitating your real father that replied, we aren't illegitimate children. God himself is our True Father. Jesus told them if God were your Father, you would love me, because I've come to you from God. I am not here on my own, but he sent me Why can't you understand what I'm saying? It's because you can't even hear me. For you are children of your father, the devil. And you love to do the evil things he does. He was a murderer from the beginning. He has always hated the truth because there's no truth in him. When he lies, it is consistent with his character for he's a liar and the father of lies. So when I tell you the truth, you naturally just don't believe me? Much of you can truthfully accuse me of sin. Since I'm telling you the truth. Why don't you believe me? Anyone who belongs to God listens gladly to the words of God. But you don't listen because you don't belong to God. The people retorted, you, Samaritan devil. Didn't we say all along that you are possessed by a demon? There's that insults Samaritans? No, Jesus said, I have no demon in me for honor my father and you dishonor me. And though I have no wish to glorify myself, God is going to glorify Me. He is the true judge. I tell you the truth, anyone who obeys my teaching will never die. So again, there's that thing about the Samaritans. There's that divide. It's used as an insult here No, Jesus is not you using it that way, they're using it against him if you're following along in your Bible, anytime you see just interesting, cool note, Truly, truly I say to you something like that in the Greek it literally says Amen. Amen. That's what Jesus is saying there. Amen. Amen. In Greek, an interesting thing. So, people go on again about him being possessed by a demon. He does anyone who obeys my teaching will never die. Jesus is saying, Are you greater than Abraham? He died. And so to the prophets, what are you talking about? So he goes back into not wanting to glorify himself, your father Abraham, rejoice as you look forward to my coming? Saw It was glad that people said you aren't even 50 years old. Can you say you've seen Abraham? John 858, Jesus answered, I tell you the truth before Abraham was even born, I am. At that point, they picked up stones to throw at him. But Jesus was hidden from them and left the temple. I, oh, is Jesus, this is kind of the rotating question that's going on through these two chapter. How is this untrained guy? Maybe he's a prophet, He's the Messiah. People still do this today. There are many people out there who will make clip especially they will say Jesus wasn't God.
Jesus never said he was God. But here, for those who know the word, we know exactly what Jesus is saying. But to those who don't, they don't understand it.
So I'll explain it to you in case you tell. But first, a couple of things here that you have to notice. Authority. Jesus's speaking, the authority of God the Father. The woman caught in adultery. Big deal. Yes, according to the law of Moses, stone her to death, but he has the power to forgive sins. Only God can do that. He has the power to forgive sins. So if you remember, are the guy who came down through the roof they ruined the roof tiles of the house and brought the guy out right the paralytic for men, bring him in. What the issue there he says to him, Your sins are forgiven and heal him right away. what only God can do that ah, so that you know, the Son of Man has the power to forgive sins, I say to you pick up your pallet walk, pick up your mat and walk his authority. He can forgive sins. Now, a little thing here the writing in the dirt. This is actually very, very interesting. So if you know the word Well, you know that when Moses came down with the tablets, they were written right by the finger of God. That's what they're in by consists specifically the finger of God. Very interesting. But he does it twice. That's weird. Why do you think that is? Perhaps because What did Moses do with the first set, it comes down Exodus 31, you get to 32 and his brother Aaron made the golden calf. Moses is upset. Breaks tablets, he has to go back up and do it all again. Two times written by the finger of God, Jesus is fingers the finger of God. He's going to fulfill the law. Abraham, big deal. What he said about it before? I am, it's such a big deal. Blasphemy. They're going to kill him. They know exactly what he's saying there. They wouldn't be trying to kill him for no reason. So if we go back, Abraham is a really, really, really important patriarchal figure, right? It goes all the way back. The covenant of circumcision starts with him. Really important. And there's the covenant of circumcision, but it's kind of broken into two different pieces, Genesis 15, Genesis 17, and splits the animals God goes through the blood covenant, they do that to say, well let this happen to me if I break this covenant, really kind of a big deal. So that's why they're trying to kill him. But what's really interesting is this name he's using before Abraham was, I am. No, we got to get to Moses in order to understand it. Before that in the Bible, is just a title like El Shaddai. Right? It's just God Almighty or something like that. That's how God's referring to him. So when we get to Moses, Moses, the burning bush account, okay, Exodus three. If they asked me, What do I call you? I am exactly what he says. So it's the first personal name God assigns to himself. That's what Jesus is saying. So every single time he does this, he's saying, I'm God. He's answering like God would. So that's why they're like, what I am Killam he's saying he's gotten big deal. Point of Interest, if we keep reading, you get the blood of the plagues, the 10 plagues, and excess count blood frogs, the nets, each time Jennison genres. And if you can tell me where I got the names from gold star, the magician's of Pharaoh are replicating everything. Big deal, they can do it big deal, they get to NASA can't do it. They say, this is the finger of God. Very interesting if you keep reading Exodus. So we get to John. And so these two chapters are out of John. We didn't have to make a chart today because they're not in the other Gospel accounts. So that's why you have these four gospels. This, almost like the stated purpose of the Gospel of John, why John's writing it? There's a lot more than one reason, but the main reason is that Jesus is God. So you have Matthew, Mark, and Luke, they're written probably, you know, a little closer to Jesus's life and ministry here on Earth. Synoptic Gospels, they're similar. They tell some of the same exact stories almost word for word, but they give us different perspectives or details. Fine. John is probably later. And he comes in because people are saying, Jesus is God. He's not God, that's a big thing going around at this time. And so John, comes right out the gate, and you have to understand biblical language to get what he's saying. But in the beginning was the Word, and the Word was with God, and the Word was God. He was in the beginning with God. All things were created through Him, and apart from him. Nothing that was created, was ever created. In him was life. And the life was the light of men. The light shined in the darkness, and the darkness could not overcome or comprehend it. I'll stop. So right from the beginning, in the beginning was the word Jesus. So he's talking about, he was in the beginning with God, and he was God. He was in the beginning with God. He is the eternal Word. So John also interweaves his I am statements. So when Jesus says these things, he's making sure to clearly put them in there. It's not that they're not in the other gospels. But in John, it's a major heavy, heavy, heavy theme. Again, this is God's personal name that he has assigned to himself. So it speaks of his dominion over everything. His pre existence is self sufficiency. He sustains himself, he sustains us. I am. That's it, I just am who I am. Again, he's the Eternal Word. So when we look at the I AM statements, they're very powerful, and put them up on the screen for you and explain a little bit. And Jesus says, I am the bread of life. So as bread sustains physical life, so Christ, sustained spiritual life, I am the light of the world, John eight, we looked at that, to the world lost in darkness, Christ offers himself as a guide. I'm the door to the sheep, John 10, Jesus protects his followers, as a shepherd protects his flocks. I am the resurrection and the life. Death is not the final word for us. We're in Christ Jesus, I am the good shepherd. So he's committed to caring and watching over again his flock. I am the WAY the TRUTH and the LIFE. Jesus is the source of all truth, knowledge and eternal life. I am the true vine by attaching ourselves to Christ, we are yoked with him, we produce the fruit of the Holy Spirit. I am. Jesus is saying, he is all encompassing and self sufficient. It also affirms his identity as the Savior, the Son of God is infinite. He is sovereign over our lives, he is who he is a CD, fancy term, right? So it's the quality or state of being self derived or self originated, specifically, the absolute self sufficiency, independence and autonomy of God, if you like really big words, the bottom line, that is Jesus. Now, it's not just Jesus, who said this. We don't know about Jesus writing anything in human form, except a couple times on the ground. He didn't write about himself. He said it about himself. But if we look at these Gospel accounts, we talked about witnesses and the portance of witnesses and Christianity in the past, we have record of people worshipping Him, or saying, Your God in the Bible, really big deal. So, here are some instances, man born blind. Do you believe in the Son of Man? Yes, Lord, I believe we could put them on the screen. The man said, and he worshipped Jesus. Now, you know anything about the Bible, the Old Testament, if you're a Jewish person, you don't worship anybody but God. That's it. He worships Him. Martha gets a bad rap, right? But if you read John, she does something pretty interesting. She actually goes out to meet Jesus, they have an interaction, they're talking about the resurrection. Do you believe in this? She says, Yes, Lord, you told them I've always believed that you're the Messiah, the Son of God, the One who has come into the world from God, you have to be in heaven to do that. Doubting Thomas gets a bad rap. As soon as he gets the evidence, he says, My Lord and my God, he exclaimed, he's not saying, Oh, my God. He's saying, My Lord, You are God. He calls him God. Peter. Were they Sam, John the Baptist, one of the prophets, whatever but Jesus tells, but who do you say, Peter answered, You are the Messiah, the Christ, literally, the Son of the living God. When the apostles see the risen Jesus, when they saw him, they worshipped him. Like what's up Jesus? You know, not a big news is huge. They worshipped Him.
The Roman soldier, the cross, surely this is the Son of God. And it goes far beyond the Gospels. I told you about the New Testament, right? So there are witnesses to Jesus. Each one of these books are written by witnesses or people who interviewed the witnesses. And so they further affirm Jesus as a deity. Romans nine, five, Paul's talking about his ancestors, Abraham, Isaac, and Jacob are their ancestors. And Christ himself was an Israelite as far as his human nature is concerned. And he is God, the one who rules over everything and is worthy of eternal praise. Amen. Colossians 115, Christ is the visible image of the invisible God, he existed before anything was created and as supremum over all creation, for through him, God created everything in the heavenly realms and an earth. He made, the things we can see and the things we can't see, such as thrones kingdoms, rulers and authorities in the unseen world. Everything was created through Him and for Him, He existed before anything else. And he holds all Creation together. Colossians two nine, for Christ, lives in all the fullness of God in the human body for him Christ. He's all the fullness of God in a human body. Second Corinthians four for Satan, who is the god of this world, has blinded the minds of those who don't believe they aren't able to see the glorious light of the good news they don't understand this message about the glory of Christ, who is the exact likeness of God Philippians two, six, though he was in the form of God, he did not think of equality with God is something to be clung to, to be robbed Titus two, two, and we are instructed to turn from God lives living in sinful pleasures, we should live in this evil world with wisdom, righteousness and devotion to God while we look forward with hope to that wonderful day, when the glory of our great God and Savior, Jesus Christ will be revealed. He was one eight, but to the sun, he's talking about Jesus, he says, Your throne, oh, God, and doors forever and ever rule with a scepter of justice Peter, one. This is a letter from Simon Peter, a slave and an apostle of Christ Jesus, I am writing to you who share the same precious faith we have. This faith was given to you because of the justice and fairness of Jesus Christ, our God, and Savior. I am. It's important to know, sometimes we as Christians, we get going along and we take some of this stuff for granted. Maybe you're hearing some things you haven't heard before. Maybe some things are getting clarified or identified for you. That's good. That's a really, really good thing. Maybe you knew everything I said. But here's the thing, why going boom, boom, boom, boom, boom, boom, somebody? Well, for unbelievers who's saying this? I think Case Closed I When Jesus wins, right? So there was an argument here, there's no doubt. There's no doubt that's why. Furthermore, as Christians, right, we are commanded to be able to make a defense for what we believe. We that's not optional. It isn't not an option. You should know this. So if someone says, Well, Jesus never said he was God, what are you going to know? What if someone pushed you a little bit? Or you're a Christian? Really? What does that mean? Like you're totally devoid of Jesus. Right? Okay. When did he say he was God? I don't know. Doesn't sound very convincing to me. Right. And so you have a lot of other faiths, like, they're highly convincing. You don't do not condone it, but some of these people are killing themselves with what they believe. Highly convincing. And so just to let you know, it's, it's really an I'm not trying to like, put anyone down, or like shame anybody, but I'm giving you the information. There it is, right? Go watch the sermon again, the sermon notes or just watch it, I'll email them to you if you need them. It's important. And also, it's important for your faith so nobody can shake it. We're supposed to know that faith comes through Romans 10. faith comes through hearing, hearing the Word of God, you have to know it gets into your heart. You have to know the truth. This is really important. So this is interesting. Before Abraham was, I am and I talked about the covenant, I'm going to show you just how full circle this whole thing comes. It's amazing. So Abraham, and the issue is he's going to be blessed. And at this time, Abraham, if you want to get technical name changes to Abraham or so. Anyway, you're going to be blessed. But how can I be blessed? I don't even have a son. And he's very, very old. He's in the 90s. Right? So he's very old. I don't have a son. He's thinking my son Eleazer will get my inherit or my slave Elisa will get my inheritance. I don't have a son. God takes him outside. And he says something interesting. Thinks about sizes look up at the stars. How them if you can, that's how many descendants you'll have. Look at the stars. Count them if you can. Now, they're like specs. You're in like a nice clear night. Here looking really contemplate that they're just a bunch of specs. That's why God's doing that. It's kind of like pointing to the sand, right? Every one of these grains of sand will be a descendant. Same thing, look up there. That's how many descendants? Yep. Now, a RAM. This is interesting. Each one of those specs is a son. Right a descendant. But in reality, they're literally sons. And this is interesting as you ends. Each one of those specs is a son many much, much, much bigger than ours. But their specs, that's how huge God is. Amazing. Just contemplate that. Have you ever done that just looked up into the sky and thought each one of those is sun. Now, if we put that in perspective, we can fit? Just think right? We can fit about? One because you can't we haven't tried to do this, we can't do 1.3 million Earths inside the sun. Think about like walking around our Earth. I don't know how long it would take not going to try. But it's huge platitude. But one, we can fit 1.3 million of them in the sun if you could. Now let's scale that to humans. I'm going to give you a number that I did not know before preparing this message. 176 septillion. Sounds like a reptile. But here's the thing. That's how many humans we could fit in the sun. Now to give you an idea, a little bit more than 8 billion people on the planet Earth on it. I mean, on the planet Earth, a billion. And that is septillion under there. It's like 24 zeros. And if I got it wrong, sorry. I'm not a mathematician, right? But you get the point. It scales out like we think eight billions. That's the total population of the earth. dwarfed by this and so when you're kind of scaling that stuff out, you probably know what is it? Like? 1000 1000s A million right is that I do that one, right? Yeah. 1000 1000 a million, but it keeps scaling like that. So it's like billions of billions isn't billions of trillions is like a septillion. It's astronomical. It's hard to even comprehend. Those specs in it like septillion of us would fit in there. So what are we? It's crazy. And this is the right way to contemplate God unfathomable. And that's right thinking. And so then we have all these questions or difficulties with God or these different things we're going through. If we think rightly about God, it's like, oh, like, I'm stupid. I'll just go back over here. We can't comprehend God, and how enormous that's the only thing you like, look up at the stars, you know what I mean? And just start thinking like their son's bigger than ours. That's a reference point. But it's not even close.
It's not even close. Now think of this. The creator of all that, and we can't even see it all with our human eyes.
Came here as one of us. What blows my mind? Psalm a three. When I look at the night sky, let's see the work of Your fingers, the moon and the stars you set in place? What are mere mortals that you should think about them? Human beings, that you should care for them? Yeah. Wow. Makes me feel a little small. Amazing, but here's the thing. God whose size is beyond comprehension came here and made himself like us. What? That's how much he cares about us. I've seen all kinds of illustrations, analogies, like for this right? You know, so I've even done it like, you know, imagine loving your aunt so much that you become an aunt and your aunt fun. You know, imagine you love your dogs so much. You want to be able to talk doggy to them, or, you know, whatever you want to see what the dogs like you want to communicate and express your love for that dog. So I'm going to make myself a dog. Pet a lot. But think about that write. This scales out so much that we just don't, we can't comprehend it. But that's how much God loves you. That he came here he made himself less than a speck, I don't even know. Nothing, and communicated with us, talked to us, gave us His word wants to speak with us. And then he died for us.
That's how much he loves each and every one of you. And it's worth thinking about. It's worth comprehending and contemplating. To think about Jesus like this. It's in the Scriptures tells us to make our attitude like Jesus's who existing in the form of God didn't regard equality with God is something to be taken advantage of reverses. The sin of Adam, steady took on the slave, the former slave, the likeness of a man and when he had come as a man in his external form, he humbled himself by becoming obedient to point of death, even to death on a cross. For God so loved the world. gave His one and only Son so that if you believe in Him, you can have eternal life in him. That's how much he loves you. I think we need to hear that more often. He loves you. That should change everything. Everything. You are loved by the creator of the universe, the author of life. We need to contemplate it more. He paid the eternal ultimate price. So you can live a joyous life now and an eternal life with Him forever. Amazing. So, while we're spending our time on this little tiny speck and that should put our lives in perspective, that's all this is. A speck. We should spend it developing that relationship with Him through your trials through your problems, pray more. Turn off a lot of the garbage that you might be reading.
That's where the truth is. spent more time nurturing that relationship. He, he wants to talk to you. This is his love letter to you read it. What he has to say is truth. And the truth will set you free.
No matter what you've done. It's but a small thing to our great God. That's important to understand. So, if you're tired of sweating the small stuff, be in relationship with God. Be about the greatness and glory of our Lord. Amen. He's here for you. And we are here for you. And you'll hear about how you can get connected in the announcements. In the meantime, let me pray for you. Lord, I thank you for everyone who took the time to come into church to hear Your word, knowing that that's what we're all about here. Just molded us into vehicles of Your grace, your mercy, your love, fill us with your peace, your joy, as we go out this week, so we just reflect your glory to those around us so that we can faithfully spread the good news. I ask these things in Jesus's name, Amen.