What Do You Worship? Lessons from 1 Corinthians
Last Week, we looked at the book of Romans and saw that it gave us the prescription for a drama free Church. This week, we'll look at the book of 1 Corinthians, which will cause us to look inwardly and ask the question: what do we really worship?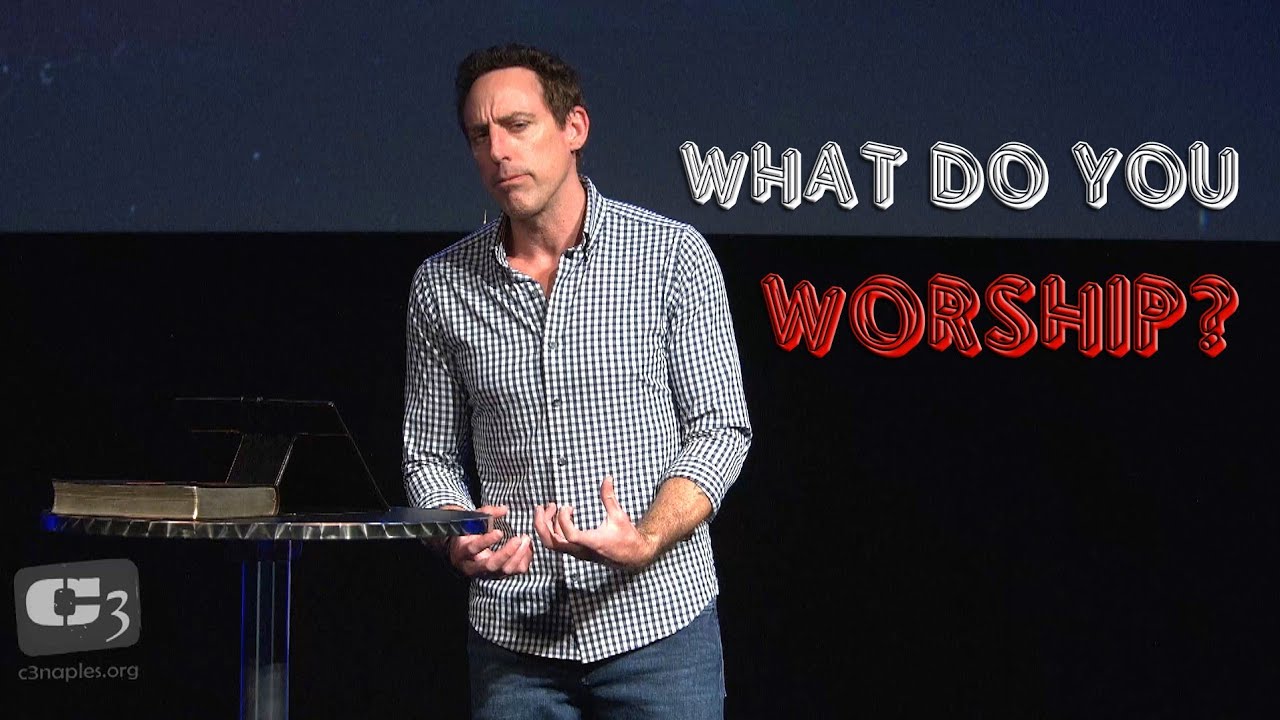 Sun, Nov 19, 2023 10AM • 1:00:53
SUMMARY KEYWORDS
god, church, worship, Paul, talking, Jesus, Christ, lord, tongues, good, read, people, love, first Corinthians, romans, understand, hear, chapter, divide, apostles
Good morning. Welcome. If you're new here among us, my name is Jean I serve here at C three church as your pastor. So just a quick note for you guys, there will be no Bible study this Wednesday. You don't want to forget that. But I made Bible study questions anyway and put them in the app. So you can go to the app. They're in there now and you can review the questions just about the message. So just that needed to be said. So another topic, timeless music. When we think of timeless music, and great composers, names come to mind. Britney Spears
good one. My buzzer with me. Now, for many great hey, let's not be so mean to Britney, right? No more jokes. Stop. Stop that. Okay, good. For many great musicians, they'll point to a couple different guys. And one guy in particular, especially like if you play an instrument is Bach, Johann Sebastian Bach, incredible music. He just churned out so many pieces of music. But when a lot of people don't know, is that first and foremost. Bach was a worship leader. A lot of people don't know that first and fourth, he's quoted as saying, All music should have no other end and aim than the glory of God and the souls refreshment, where this is not remembered. There is no real music, but only a devilish hubbub is devilish garbage, right. So a lot of people don't know this. Either. I was a musician. So you can see this on his pieces. It says Jay, at the top of his pieces, and at the bottom SDG. So translated, Jesus helped me and glory to God alone. Right. So that's where he began and all of them with this in mind. Now he got that right. As far as doctrinal issues are concerned, well, worship leaders don't always get those things, right. That's a church joke. Anyway. If you've been here for a while, right? Last week, we're going to really hop right in today. We've been following Paul, through the book of Acts, and we see these places that he goes to, and then he writes letters back to them later. So we were in Acts 18. We looked at Romans and the occasion for writing. So now we're going to hop right back in and we're going to jump into Acts 18. Again, we're going to do a few of the first verses, just as a reminder and then get into it acts 18 one, then Paul left Athens and went to court there he became acquainted with a June into killer born in Pontus, who had recently visited for arrived from Italy with his wife Priscilla. They had left Italy when Claudius Caesar deported all the Jews from Rome. Paul lived and worked with them, for they were tentmakers or Leatherworkers, just as he was, each Sabbath, found Paul at the synagogue trying to convince the Jews and Greeks alike. And after Silas and Timothy came down from Macedonia, Paul spent all his time preaching the Word. He testified to the Jews that Jesus was the Messiah. But when they oppose and insulted him, Paul shifted us from His from his feet, or was closed, sorry, and said, Your blood is upon your own heads, I am innocent. From now on, I will go to the Gentiles Sorry, I had a moment where two or three versions converged on me there. So then he goes to the home of touchiest justice who lives by the synagogues, there's a synagogue there, Christmas, the leader of the synagogue gets converted, so he gets converted. He spends a while there many other believers are baptized and he gets encouraged by the Lord, right, you're going to be good here. Stay here for a while stays for a year and a half. It's got Galileo becomes governor. So I'm just going through x 80. And pretty quick, you becomes governor and something like what happened in Acts 16 happens or the acute they make an accusation against Paul, persuading people to worship God in ways that's not lawful. Right? So Galio is kind of funny. Paul begins to make his defense and guy was like, I don't care. This is an issue among you guys. Get out. Right. So they beat this guys to find us in front of him. And he doesn't even care about that either. So then they set sail for Syria. Priscilla and Aquila, go with him. And basically got to understand this for well, it's coming up but anyway, they leave Priscilla & Aquilla in Ephesus. Paul goes on. Please stay. Come back, Lord willing. Now they run into a guy named Apollo's. Apollo's is an eloquent speaker he's Jewish. He's from Alexandria, and they all kind of arrive here. Priscilla and Akela teach him the way of the Lord a little better. He only knows about John's baptism. So a little bit more about Jesus. And he's really good at refuting his Young people, the Jews who didn't believe so then he's encouraged to go to a Kea or Corinth. And now it all converges here. So remember Paul has been to Corinth, he's not in Corinth any longer he's traveling on we'll get to Ephesus, later he'll come back spoiler alert, and we have Apollo's there in chorus. So this brings us to First Corinthians. My goal today is that we did this with Romans and Hebrews. It was great Bible study, there were so many people that came and said, I actually understand what Romans is about now. So that's the goal. Today, we're going to look at the big picture, and look at some things a little more deeply as it pertains to our application today, what we're doing today. Alright, so first Corinthians, we'll look at what's going on. So one thing you should know, and this will come up if you read it carefully. There's a zero Corinthians. But this is really second Corinthians, there's another letter, we got to deal with it that we just don't have. And so he's answering questions. So there's, there was another back and forth there was writing between them. And they had these questions. There's a lot of questions here. A lot of things going on. Subject line, if this were an email. Are you kidding me? Like that would be the subject line for First Corinthians. That's really, but there is, there is a lot of problems. There is a breakdown here. So there are no like numbers in the original, right? So Christians, for the first 1200 years of Christianity would have no idea about like the verse of the day, right? They would actually just read these things all the way through, like we'd read any other book. And I won't rant anymore on that one. So. So anyway, there's like a 01, Chapter breakdown. Basically, it's really easy to kind of like, look at what's going on. And so you have these sub subject lines going on, and you should have them in mind when you are reading these verses. Right. So the first one unity, they're doing pastor worship, he's not happy about it, five through seven, one through four, password five through seven, six, like so. And I was going to say you always have sex on your mind when you read through it, but that would have been just wrong. Right? So right eight through 10, it was eight through 10 Meet sacrifice to idols, we'll get into that doctrinal issues, right 11 through 14 things in the worship service. 15, the resurrection 16 the collection, that's like, the easiest way to remember. So if you have those things on your mind, and I'll guide you through as we go, you'll get it right probably, right. So I'm not going to read the whole thing to you just key verses on our subject at hand. Right? So we'll get you out in time for the potluck. Don't worry. So let's hop right in here. First Corinthians one, there's letters from Paul chosen about the will of God to be an apostle of Christ Jesus, and from our brother Sosthenes. I'm writing to God's church in Corinth, to you who have been called by God to be his own holy people. He made you holy by means of Christ Jesus, just as he did for all people everywhere who call in the name of our Lord Jesus Christ, their Lord and ours. May God our Father and the Lord Jesus Christ give you grace and peace. So we see that standard greeting Paul uses a lot grace and peace there your tone for the letter Sosthenes, he was the guy who had been beaten. So he, he hears a report, so I'm just going to kind of paraphrase what's going on here. Here's a report from Chloe's people like Chloe's households or somebody named Chloe, right it gives a report that some are like they're these divisions, these factions going on some say I'm with Paul, some Sam with Apollo's, we saw Apollo's there, right and some Sam with Peter, Has Christ been divided. I'm glad I baptized, none of you, except Crispus gas, and all of Stefan has his household. But anyway, that's what he says. But anyway, because you might say you were baptized in the name of Paul. So he's not happy.
What he'll go into next. So there's these factions, right? So he goes to this whole thing starts talking about wisdom a lot, right? So that what the world considers wise is, you know, like, is foolish compared to God or the other way around, right? So the wisdom of God is foolish that this idea that Jesus got crucified, is foolish. That's crazy. God dies on the cross what you know, so he's going through his whole thing, and he's downplaying earthly wisdom, right? So God uses the foolish things to shame the wise, the weak things to shame the strong, not many of us when we came to Christ, or like wealthy, strong, wise, right, so he uses these things. Why so that no one can boast. So this is the big thing here. And no one can elevate themselves right? Or be elevated. This is why Paul is talking a lot about wisdom. I'm trying to just kind of get it down for you. So no one can worship us, right? I didn't come he says with clever words or lofty Speaker I came to you in trembling, right? He's trying to downplay himself, and all these people that they're propping up, he's not happy. Again. The world sees the Gospels foolish to get into first grins. Ian's three now, your brothers and sisters, when I was with you, I couldn't talk to you as I would to spiritual people. I had to talk as though you belong to this world. Or as though you were infants in Christ, I had to feed you with milk. Now with solid food because you weren't ready for anything stronger, and you still aren't ready for you are still controlled by your sinful nature, you are jealous of one another and quarrel with each other. Doesn't that prove that you're controlled by your sinful nature? Aren't you living like people of the world? When one of you says I'm a follower of Paul and other says, I follow Apollos? Aren't you acting just like people the world? After all, who is Apollos? Who is Paul, we are only God's servants through whom you believe the good news. Each of us did the work the Lord gave us, I planted the seeds in your heart, and Apollo's watered it, but it was God who made it grow. It's not important as the planting or who does the watering. What's important is that God makes the seed grow, the one who plants and the one who waters work together with the same purpose, and both will be rewarded for their own hard work for we are both God's workers and you are God's field. You are God's building. So just see this unity, we work to gather, right. So basically stop going after one speaker over the other just we're just mouthpieces, right? Really important. You are babies controlled by your sinful nature. This is what people of the world do. Right? So to emulate all these famous speakers and all these famous people, that's worldly thinking, shouldn't you be like worshiping God, not this person, which is what he's talking about here. We're just servants. I'm no body, and just a messenger. Now, why is he saying you are God's building? This is going to lead to the concept of what the church is the building the body of Christ, we are temples of the Holy Spirit. So this idea so this idea is going to start to come into play here. First Corinthians 316 Don't you realize that all of you together are the temple of God and that the Spirit of God lives in you? God will destroy anyone who destroys this temple for God's temple is holy, and you are that temple. What is he talking about? Well, don't break up over this don't destroy this unity stay together on this stuff. Now you are controlled by the Spirit. So before I forgot to mention this, doesn't it sound like Romans six and eight? Like you're not controlled by your sinful nature? What are you doing? So same type of stuff he's talking about here? He wants us to look at Apollo's and him as mere servants of Christ. Now remember the judgment so He'll slip into judgment? If you're reading it, like why is he talking about gender? Because basically, like think American Idol, right, you know, like somebody gets up and for like, I'm on American Idol. Right now there's going to be another speaker gets up, and you guys are going to judge right, you're going to sit there and evaluate who's better. So don't make judgments about anyone ahead of time before the Lord returns, for he will bring our darkest secrets to light and will reveal our private motives, then God will give to each whatever praise is due. So remember, Romans two, God will judge your secret life write your brothers and sisters, I have used a pause on myself to illustrate what I've been saying. If you pay attention to what I've quoted from the scriptures, you won't be proud of one year leaders at the expense of another. This is not a competition, right? So it's not a show, he mocks them a little bit. Our dedication makes us look like fools, but you claim to be so wise in Christ. Again, we are weak, but you are so powerful. You have to read it in the right voice. You are honored, just like I did. But we already killed. So I urge you to imitate me. This is a theme we saw, right? So there are false teachers there. First Corinthians 418, some of you who have become arrogant thinking, I will not visit you again. But I will come and soon if the Lord lets me then. And then I'll find out whether these arrogant people just give pretentious speeches, or whether they really have God's power for the kingdom of God is not just a lot of talk is living by God's power, which you choose. Should I come with a rod to punish you? Or should I come with love and a gentle spirit? See three, which should I choose? Should I whack you with a stick? So he's, he's pretty heated, right? He's not happy. Okay, next section. Sex. He gets a report. He's told that a man is living it's insane. He's having sex with his stepmother. Gross, right? Okay. So really, really quick. It's, it's I do a lot of study on versus anchor things especially. And it's really good to study history and all the different things that are going on. So you know, because we make references in our language, and you're like, it wouldn't make sense to someone 2000 years later. So if you kind of understand and understand the Greek language, have a real love for that, and studying that. I'll bring up try to bring some things like how could this happen? Right? Mortality rate, right? no hospitals, no doctors, especially my women, childbirth, they die. They die a lot in childbirth, very dangerous fact. And so what would happen? Well, men were marrying younger brides anyway in that culture. So you could be like, I don't know, 30 something years old, whatever, and marry like a 1516 year old girl sounds crazy in our culture, but it's just the way it is deal with it. So what happens if that teenage girl dies in childbirth? The guy's not going to pick no offense and old lady, right? He's going to pick another younger girl. But what if the guy had a son, right? And now this younger girl in him maybe are close in age, see what happens so you can have this kind of thing happening. There's a wife before he has a son. They're both teenagers. So you have two kids in the house. Oh, so this has happened here one plausible way and highly probable that this would happen. So what he wants them to do is throw this guy out because he's already been warned. He said I'm there with you in spirit right so I was there. So there's I pass judgment already gives this example hard for us to understand. But like we would say one bad apple spoils the whole bunch. But he uses kind of a cooler illustration if you understand the Passover they're not supposed to have a week a yeast the speaks of the expediency by which they're supposed to leave and the Exodus account, right? So you don't even have time to let that dough rise. Bad pizza, right? So anyway, I can't stay you have to get it. So anyway, I know a lot about the ease making the dough rise. So he's using yeast, he's like, take these remove the yeast from you, because one little bit of lemon will swell whole batch or puff it up. And it's like a double illustration there. It's going to make you puffed up, you're prideful, that you can deal with this. And it's a really nice tie in because he says then you'll be like a fresh batch of dough made without yeast, which is what you really are. Christ our Passover lamb has been sacrificed for us. He's putting Christ into that Exodus account. First Corinthians five nine, when I wrote to you before, I told you not to associate with people indulgent sexual sin, but I wasn't talking about unbelievers who indulge in sexual sin, or are greedy or cheat people or worship idols, you'd have to lead the world to avoid people like that. I meant that you're not to associate with anyone who claims to be a believer, yet indulgent is in sexual sin or as greedy, or worships idols or as abusive, or as a drunkard or cheats people don't even eat with such people. It isn't my responsibility to judge outsiders. But it certainly is your responsibility to judge those inside the church who are saying, God will judge those on the outside. But the Scriptures say you must remove the evil person from among us. There's a lot in here, right? So the letter I wrote to you before, that we don't have so there's your back and forth right there. And the proof that there's just another letter out there, we don't have
judging now. So Matthew seven, Jesus's Sermon on the Mountain, he begins to wrap it up. Seven, one, what do people do? Yes, don't judge and then they go. And don't read any of the other stuff about him saying you should judge a tree by its fruit, right? So here, we also see both sides of that. But something very interesting is at play that I think a lot of Christians should read again and obey the scriptures. It's not your job to judge those outside the church. Better than a picket sign would be a mirror. That's the way to go people. Alright, so it's not our job. That's not what we do. Do we judge those inside the church? And then they take this too far doesn't have that this part? Yes, we should know where there's tons of grace and only church leaders otherwise, mind your own business. That's how you put it all together. Right? I have the discretion to judge right. But I do so very, we've been here for a while very carefully. We're very patient. I've always had that mirror, I got to put the mirror down first, you know, think about it, but the mere backup, think about it, right? So this is what you got to do with these verses. So chapter six, confuses people sounds like a digression. But he's going to talk about lawsuits. It's a failure for you. Now remember the word cheat people when he's talking about see people it comes up again? All right. So you yourselves are the ones who do wrong and cheat people. So you're kind of getting this thing like Jesus said, right? If someone sues you for your shirt, give them your coat. Right? So just isn't it better for you to just be cheated? Who cares? Why are you going to court and suing one another? Well, what's going on here the word cheat to unity, right? There's, again, this themes can now you're dividing over that wonderful, you know, so, it will be a bridge though, to sexual sin. Remember the word sheet First Corinthians six, nine, don't you realize that those who do wrong will not inherit the kingdom of God? Don't fool yourselves. Those who indulge in sexual sin or worship idols or committed adultery, or male prostitutes practice homosexuality or thieves are greedy people are drunkards or abusive or cheat people. So ties right there. None of these will inherit the kingdom of God. Some of you were once like that, but you were cleansed. You were made holy, you are made right with God by calling on the name of the Lord Jesus Christ in the Spirit of God. Remember Romans six and eight again, right? You're not controlled by those things. All right. Now, again, a lot of people will read these. So there's like a couple of ways in New Testament were talks about this they pick the favorite sin like that one. But did you notice they put that back up on the screen again? Just reverse one digit. Did you notice all the other sins in there? Right, there's not like these are the worst ones. And by the way, Christians please put them on a sign and go out and like, you know, throw it in the outsiders faces. No, it says the exact opposite. And there's a lot of other stuff in here that you should reflect on before doing that. Are you greedy? I'm greedy. Right? So I don't share my pizza. So I got to break it up. Cuz you guys are getting real serious and scary. But you shouldn't be. But I'm greedy. I'll go first. Have you ever been abusive to anyone? Have you ever achieved with anyone from anything? Right? Yeah. So Zip it, I know you did. So we have a thing. It's okay. There's a so anyway, you get my point, right? Go back to chapter five. It just said, like, no, just those inside the church, but work on yourself. Alright. So avoiding sexual sin. He'll continue on you give some comments on what like we would call greasy grace. So now there's this refrain that begins here. Like he's saying to them, he's quoting them, I'm allowed to do anything. Not everything is good for you. I'm allowed to do anything, but you're not become a slave to anything. Romans six and eight, right? You're not specially six. Right? So don't you realize that your bodies are actually parts of Jesus or parts of Christ. So don't make a part of Christ and attach it to a prostitute? That's what he says. It's the Bible. First Corinthians 618 run from sexual sin, no other sins so clearly affects the body as this one does. For sexual immorality is a sin against your own body. Don't you realize that your body is the temple of the Holy Spirit, who lives in you and was given to you by God? You do not belong to yourself, for God bought you with a high price and you must honor God with your body. Remember chapter three? Right? So he's going to start using this and kind of different ways it was corporately, right, the temple of God. Now it's personally the temple of God. Go back to three, remember what he said, Whoever destroys that temple or himself be destroyed. There is no victimless sin, victimless crime and Christianity. None. It's a sin against your own body and a sin against the temple of God. It's a sin against God. Alright, so now this is really complicated chapter seven, I'll try to get this right for you. I'm going to try to take an awful lot and but here's the thing with this chapter. And this goes a lot of different ways. I'm trying to weave an application in here at the same time. It goes a lot of different ways with people because it's about marriage, right? So I'll give you the context as to why he goes this way, sex is still the issue, right? But he kind of goes a couple different ways. And people get very confused. And most people have a version in their hand of First Corinthians chapter seven that they can't understand. If we're being just totally humble and honest, you can't understand it. So my advice to you is to get an NLT and just read it like that. It's pretty good. It's pretty good. I have read the Greek and I've spent a lot of time studying this. And it's, it's really difficult, because you have to understand, I'll try to just give you a couple little things. So here's the question at play. So the first thing is, Paul wants everyone to be like him who's not married. I wish everyone could be like me. I'm not married, and I can devote myself to the Lord. But because there's so much sexual sin among you better to be married. That's, that's how he's framing this out, right? So that you don't sit, do it in the confines of a marriage, don't fornicate. That's what he has in mind. But he will later go back and forth. But if you do get married, it's not a sin. If you don't get married, it's not a sin, but try to remain the way you are when you came to Christ or when you were not in sin, but Right. So he goes into this thing and people get confused because he starts talking about circumcision. Right? So if you weren't circumcised when he came in, don't get circumcised, right. So why is he talking about that? And it just means the way you already came in, just be satisfied with that. We're waiting for Jesus to come back. Now there are a bunch of things going on here because questions. All right. Well, what if one of us in the marriage were already married? You said to stay the way we are? One of us believes in Jesus, the other one decided not to, don't leave and he reflects like, Well, Peter will reflect them. First Peter, three, right. So you may be saved or your spouse may be saved through you. But how can someone be saved? If you put it together with First Peter and read it right full counsel, God's word you'll see by your behavior, maybe that person will decide to become a Christian by your good behavior. So just stay with them. Honor them, treat them nice, right? But if the believer or the unbeliever decides to leave, you are not bound. What does this mean? If you look at marriage contracts and things like that of this timeframe, the Greek language is going to describe being married as bound. No jokes and divorced as loosed. Right, bound or loosed. And so that's in some versions will translate like that boundary loose, right? And so what does that mean? Well, he's going to talk about your spouse dying, can I remember? Yes. So if somebody leaves you like the divorce is not your fault, you can remarry is what he's saying here. Very, very complicated translation. So it's just I'm giving you the easiest way I can. Alright, so that's, that's kind of what's going on here. That's why it's there because there's so much thing but it's really actually very, very stunning to a lot of people when you read it, because his point is, I want you to just be totally committed to the Lord, someone who gets married, they got to be committed to the spouse, I want you to be committed to the Lord. But it's quite interesting because when you think of Paul saying like, Oh, you know, don't get married and then you get other people going be fruitful and multiply. You know, what about that right? And so a lot of people don't understand there's like this teaching like the Dominion mandate or something like that. It's false doctrine. A lot of people espouse prosperity gospel and don't realize they're doing it and so it's this whole fruitful multiply thing I'm like, Okay, first of all, Genesis 128 check my work you know be fruitful multiply well, okay, first humans on the earth right? What do you got to do make more right so Okay, good. You're lucky it's crazy. Genesis nine one right after the flood Be fruitful and multiply. Why flooded the Earth? Noah, so you know, Ham, Sham Japheth. Get on it. Right. We got to repopulate the world. That's not us. Paul is thinking man, I hope Jesus comes back right now like so. What's the point? Why be attached to anything here on this earth? Right. So that's the thinking here you were in different times now? Okay, we did we don't have to repopulate the earth people. Anyway.
The next section, meet sacrificed to idols. What is that? That's kind of strange, right? Secondary doctrine. That's what's going on here. Remember, those denominational divides? So this is like Romans 14, there we have the Sabbath. They're dividing, we should take a Sabbath we shouldn't know. Okay, so all the people think they just take a Sabbath. Let's open a new church, right? So we know right? So it just or whatever the issue is. So this is just the issue of the day, the thing that's going on remember the four rules and x 15. Right, no fornication, stay away from the blood things strangled in the meat sacrificed to idols? No, you didn't remember all those, but I did for you. So anyway, those were an X 15. And they had them like, decide what was the question? Do the Gentiles Did Jesus was Jewish? Do they need to become Jewish and get circumcised? No, thank goodness, right? So just these four things. So this is really important. It came from James Jesus's brother. And even though it came from James, they're arguing about it. He says, No, it's not gospel. Don't divide over it. Whoa, and there's a key verse here. Oh, really funny, too, that people get stuck and hung up on these issues. He calls them the weaker believers legalistic people are the weak believers. First Corinthians eight one now regarding this question about your food that has been offered to idols, yes. We, we know that we all have knowledge about this issue. But while knowledge makes us feel important, it is love that strengthens the church. Get over it. Right so denominational reminder for you guys, don't let your so called Knowledge cause you to divide by all this knowledge. Just love okay, like the pastor worship stop it. All right. So still food sacrifice to idols, hard to understand how he's getting here. But I want you to think about it. So one of these things he says is like, let's say, so basically, they have why would they be doing this? Sorry, they had this meat out in the meat market. And it could have been previously the animal sacrifice to an idol to have like a foreign, like, a false god. That's the issue. So if you're eating just don't ask it's not a big deal. Like who cares just eat the meat. But if the weaker believer CZ eating it, don't just some percent like I just eat vegetables, like so just don't eat the meat. So they have to give something else. I'm like, I'm a meat eater. Right connoisseur, right? So I'd be like, no meat. No, Jesus ate meat. I'd be the first one making the argument. We need to have meat. I love me so much. Right? So he's asking them to give it up. Right? If it's going to bother somebody else, just don't eat it. So now he's going to talk about things he gives up, like his pay. First Corinthians nine 1am I not as free as anyone else. Am I not an apostle? Haven't I seen Jesus our Lord with my own eyes? Is it because of my work that you belong to the Lord? Even if others think that I'm not an apostle, I certainly am to you, you yourselves are proof that I'm the Lord's apostle. This is my answer to those who will question my authority. Don't we have the right to live in your homes and sharing your meals? Don't we have the right to bring a believing wife with us as the other apostles and the Lord's brothers do? And as Peter does? Or is it only Barnabas and I who have to work to support ourselves? So quick note, Peter as a wife. For those of you who've divided over that out there, you know Looks like he has a wife all right anyway, so their glasses off. So Paul refuses pay why? Well, he wants to show up false teachers this is going to be a big issue in Second Corinthians really like the half the reason for writing that letter as super apostles. So he figured he's going to go in there and show him up. So like Jean shows up to a megachurch mega church I almost said the guys that biblically, right? So, you know, jump to a mega church refuse pay, like live in a tent outside the church. So that's what he's doing here. But, but first Corinthians 913, don't you realize that those who work in the temple get their meals from the offerings brought to the temple, and those who serve at the altar, get to share the sacrificial offerings in the same way the Lord ordered or commanded is probably better, that those who preached the good news, the gospel should be supported by those who benefit from it. So this is going to actually cause a little trouble for Paul because JT technically disobey Jesus, maybe, right? So it's going to cause a problem for him. But you got to understand this, like Paul was working, he was a tentmaker. Notice what it said and acts 18. And as soon as the other guys came, he devoted himself to preaching what did we see in Acts six, they devoted all their time. So the word of God right, so very important, understand that it's a little bit of both, he's giving up the pay because of this issue. So there you go. But again, he's not trying to get rich and nobody is alright. So that's not a good thing. He he's all things for the sake of the gospel. And when he's when the Gentile believers, he's like the Gentile, like when in Rome, right. So when he's with the Jewish believers, he does the Jewish customs when he's one of the weaker believers. He doesn't eat the meat, right? So that's what he goes into here. First Corinthians 922. When I'm with those who are weak, I share their weakness, for I want to bring the weak to Christ. Yes, I try to find common ground with everyone doing everything I can to save some, I do everything to spread the gospel or good news and share its blessings. Don't you realize that in a race, everyone runs, but only one person gets the prize. So run the win. All athletes are disciplined in their training, they do it to win a prize that will fade away, but we do it for an eternal prize. So I run with purpose in every step. I'm not just shadowboxing, I discipline my body like an athlete training it to do what it should otherwise, I fear that after preaching others, I myself might be disqualified. You won't hear this on Sunday, very much. He still has food on the mind, which makes this verse very interesting. What did he just talk about? Giving things up? Give up the meat, I discipline my body so that I'm not disqualified. Interesting, a man of God should be able to give things up, live sacrificially, and control himself. If he's not disqualified, important to remember, you can judge a tree by its fruit. So you'll get into some things here in chapter 10. Hard to understand the one cool thing at play, if you really love the Word of God is he's bringing everything together. He talks about lessons from Israel's idolatry. It was all written so we could learn from it. But in there, it's really good to read. If you really know the Old Testament, well, he's weaving Christ throughout it. So like the rock where the water came out of strikes the rock, the water comes out, and that rock was Christ. And remember before chapter five, Christ is the Passover lamb. So it's very, very, very rich. It's really super deep. But the point is, look, learn from these lessons, he begins to talk about communion a little bit, because there's going to be an issue with the communion. So it kind of weaves here. The refrain comes up again, I'm allowed to do anything, but not everything is good for you. Right? So he gets right back here. So you meet any meat that is sold in the marketplace without raising questions of conscience, for the earth is the Lord's and everything in it doesn't matter, right, it goes right back to the meat. Remember Romans 14. And again, suppose someone knows, like for the weaker believer, don't eat the meat. So it's the point here so whatever you eat, or drink, or whatever you do, do it all for the glory of God. Don't give it offense to Jews, or Gentiles or Greeks, or the Church of God, I to try to please everyone in everything I do. I don't just do what is best for me. I do what's best for others, so that they may be saved. Chapter nine, I do all things for the sake of the gospel. Chapters 11 through 14 things in the worship service we're getting there. Alright, so the things in the worship service, weird 11 One Imitate me as I imitate Christ. Like it's kind of funny. The chapter numbers weren't there in the original, I guess somebody was sleeping, right? It should be in the chapter before and a lot of Bibles will actually put it there because it just doesn't work with what is happening here. So the next issue quickly to explain again, it's where a little bit of historical background knowledge you you'd have it when you read these things, taking total, like literal interpretations without understanding literary device is a dangerous, right? Because if you do what Jesus said, and take it, literally, you'll pluck your eye out and cut your hand off. Don't do that, right. So here's another one of these literal things, right? You ever see, like all ladies in the
sorry, you know, with the big wide brimmed hats, you know, like Kentucky Derby, and the coming to church and all that. This is where this comes from. Or guys, like always take the hat off, when they pray or whatever, this is where it's coming. They do that, because they don't understand this. That's, that's what's going on here. So what's happening is, you're dealing again, with what was going on in Romans, The Clash of the Jewish and Greek cultures here, and they do things differently. So Greco Roman women would have really beautiful, you might have seen them, like elaborate hairstyles, all these things in it and everything. But Jewish women are going to think like Middle Eastern women, right, they're going to cover their heads. They're very, very religious like that. They'll cover their heads up. So you have these different people now converging in the home church, right. So it's just a very weird setting. And so you just mark it in your Bible, put this in your back pocket as we continue to read another issue that people get wrong. What he's doing is he's giving instructions for women who are going to get up in church and speak. Remember that they're going to prophesy. When a woman gets up in church to prophesy, make sure she covers her head. So think a medieval, like banquet table shows movies with the, you know, it's called the triclinium being trying to utilize crazy words, but that's a fun one to say. So try cleaning. And they're sitting around, they're actually lounging at that time, right. And then someone goes in the middle and teaches someone goes in the middle and prophesize someone goes in the middle and does a song, right. So when the women do that cover the hair. Why? Well, you know, Saul and his wife, you know, might be there and he might be like, ooh, like, she looks great. So exaggerated example imagine woman gets up here does the announcements in a bikini, I'm going to be like, cover it up. Right? So it's not a good idea. So this is kind of like blown up version like, cover, cover it cover it right? Because the Jewish believers there, you know, whatever. It's not good wives aren't happy. So man, uncover why? Well, when you're worshipping these idols that some of them used to do the pagans. You have like the hoods, you know, see these kids and you kind of pray like that? Don't imitate the pagans, like don't do that. Just so that's what that's about giving a little bit. And it's kind of neat. If you like the Old Testaments, even the angels are watching, like, why is he saying that? Genesis six the reason for the flood. That's why the sons of God came down. So he alludes to that which is just really cool. nerd glasses off. Okay, so now, that's what's going on. Remember, the women are speaking in church. Okay, ordering the Lord's Supper, again, we go back to the triclinium. They used to so it's the home church at first. That's the way they're doing it at first. And there's a lot of awkward stuff. So here we're dealing with socio economic issues. Like, basically, to my home church is like really bad in a city like Naples, because where do we have it? Somebody's mansion or the trailer? I don't know. Either one, somebody's going to feel uncomfortable, right? So it's better to have a neutral ground. So they're just dealing with these early issues here, really rich people. They're still doing the parties in the banquets and stuff, but their slaves are Christians too, and they're not waiting for them to show up before they get drunk. So that's what's going on. So Paul rebukes them for doing that. Some have even died and taking it in an unworthy manner. What the Lord's Supper, so he's talking about the Lord's Supper here. So they're like, you know, like the sip of wine, you know, they're just guzzling wine. Right? So it's really bad. And that's what's going on. He rebukes them for that. Chapter 12, steal things in the worship service. Not going to read all the spiritual gifts, but Paul just gives a list of spiritual gifts to say we are all one body member, Paul mocking Adam and Romans seven. All right. Oh, what a miserable person I Prosecco PC are possible. POF you know, Greek, it's a literary device here. He does a similar thing by making the body parts talk to one another. So Right. So if I'm not a hand says, you know, the foot, does that make it less of a part of the body? The IRS starts talking to the eye, you know, so it's like this really weird thing. It's called process OPC. And what he is he doing unity? Again, see the theme, Unity guys, stop it, you know, and they're about to get puffed up over these gifts. First Corinthians 1227. All of you together are Christ's body. And each of you as a part of it. There's some part of the parts that God has appointed for the church. First are apostles, second prophets, third teachers and then those who do miracles, those who have the gift of healing those who can help others those who have the gift of leadership those who speak in other languages, tongues Glossop? Are we all apostles? Are we all prophets? Are we all teachers? Do we all have the power to do miracles? Do we all have the gift of healing? Do we all have the ability to speak in tongues? Do we all have the ability to turn from unknown languages or tongues? Of course not. So you shouldn't Recently desire the most helpful gifts. But now let me show you a way of life that is best of all, if you have a different translation, the NLT is making it easy to understand. If you're reading the Greek language, the question anticipates an answer. So it's rhetoric. So, no, we do not. And you'll get it if you keep reading. So he clearly begins to outline you'll say about tongues. Not all of us speak in tongues. So you clarifies that, which is interesting for a lot of people. So just a quick thing. You get these like programs, we like consumerism, right? So we got a program name, and we're going to have this in that. So you might have heard of the fivefold ministry, right? It's biblically, really wrong, because there's way more than a five fold here. So you can So Ephesians four, just don't this is not this is probably the most definitive list of the gifts because it's first, second, third, right? But it still shouldn't be taken that way, because you missed the point. Right? So you're going to do what they did and get all puffed up with the gift, no, unity, we're all one body. And we're all really important. No matter what you are, no matter what you do. That's the point. Right? So just really quickly on tongues that surprises a lot of people. I've seen people try to excuse this away, you can't if you read the whole Bible, because you'll get deep into it. It's basically what First Corinthians 14 is all about. So another thing here, right? Even though it says, we don't all speak in tongues, there will be some people who said, Well, we all do. Fake it. We all do. So we're going to start a church here. And it leads to a culture of liars. Because the Bible, not I don't care what people say, I care what this says, right? And I know the Greek Okay, so filthy. No, I read it in Greek. I know what it says, this is pretty good right here. I care about what this says. And it says we don't all speak in tongues. So why then would a group of people go and start another church to do that in? And we'll get into that more later and how they do it? Right? So if you do not everybody has a gift. That's what God says. And then I show up to a place where if you don't have that gift, you're not saved? What am I going to do fake it. So people do a culture of liars. So we got to be very careful with that. Very careful. So a lot of people guilt and all the weird stuff that goes on with that. And I'm going to read you more about what the Word of God really says about tongues and how we should use it. But this is what he's going to say. Let me show you a way that his best of all, that's where he is. That's where our chapter ends. No chapter breaks, right. So the very next thing he says is First Corinthians 31. If I could speak in tongues, if I could speak in all the language of the earth and angels, he's still thinking about this. So he picks out that one gift and didn't love others, I would only be a noisy gong or a clanging cymbal, if I had to get the prophecy, there's another and if I understood all God's secret plans and possess all knowledge, and if I had such faith, and I can move mountains, but I didn't love others, that would be nothing. If I gave everything I have, and even sacrifice my body to the poor, I can boast about it. But if I didn't love others, I would have had gained nothing. Now you know, the context for what you hear weddings. Love is patient. Love is kind. Love is not jealous. So there's your context. Then you'll go right into tongues and prophecy again. So what gifts did he pick in that? tongues and prophecy? Those the only ones he talked about there? Right? Sacrificing yourself? Does that get? Anyway, so tongues and prophecy? And he's going to say that prophecy is better than tongues? But why is he saying this? Tongues is an issue is an issue in the early church. So let love be your highest goal, right? The Spirit gives the abilities. They're different for everyone. Now, if you have the ability to speak in tongues, you'll be talking to God only to God, since people won't be able to understand you. So there's some issues developing here. I wish you could all speak in tongues. What does that mean? that not all of them do. But even more, I wish you could all prophesy prophesies greater than speaking in tongues unless someone interprets what you're saying. So the whole church will be strengthened. I thank God I set in stone before I speak in tongues more than any of you. But in a church meeting, I would rather speak five understandable words help others than 10,000 words in an unknown language. Again, your gifts are not so that you can draw attention to yourself or boast. If unbelievers are people who don't understand these things coming to your church meeting and hear everyone speak in an unknown language tongues. They will think you're crazy. Have you ever been in a church like that? I have. I've been in meetings like that. We're like, I'm kind of getting a little bit uncomfortable right now. Because it's people flapping around on the floor. Like if it was going on, and then you know, I even addressed this when it happened. I told the person later powerful service. I'm like, listen, not for the 10 unbelievers that were there. Did you see the look on their faces? They were terrified. Because I'm like, this is like an auction in another country. Like what's happening here? You know, like, This is the craziest thing I've ever seen. You know what I mean? Like and I've been around people who appropriately speak in tongues, right? So it's orderly worship, and it gives us like kind of order of doing it like if there's no one that are interpreted
it Stop Don't do it. I didn't hear anything. interpreters that they're just like, so the Word of God says, Don't do that. It's nonsense, right? So gives like an order to this. The here's an interesting verse just quickly just for deep Christians. Have you ever said or heard the phrase? God is not a God of confusion, but a God of peace? There hear that No. Okay. So anyway, I've heard people use this right out of context like so that, you know, well, you know, we shouldn't create, okay, just if it says confusion, cross it out. I kind of see it probably the closest thing there. Think, mutiny, see as mutiny. So God is not a God of mess. He's not a God of clutter. Clutter is a good way to say that there's not a lot of clutter. It doesn't say confusion. That's not the biblical word for confusion. And here's the thing God is at times a God of confusion. Have you ever heard the story, the Tower of Babel? What did he do? So it means confused their languages, goes right back here. So and that's not the same word in the Greek Old Testament or the New Testament. So it's not God's got God can confuse people. Someone on like on the translating community didn't talk to like the Old Testament people. Do all this is what happens when you instead of going right into the Greek, you take the translation, and you put too much of an older translation into it. That is also a little wrong. All right. So here's another one women, women should be silent in the church meetings.
Silent in the church meeting, what's what are these things for? Okay, so let's think about it. We're getting right there. Reading the whole thing. We're sure women just talking in the church meeting. When you have a contradiction in the Word of God, you have a translation problem. That's what's going on your quit Greek lesson, you Nika woman or wife. There's only one word for it. We want to we're going to, I'm probably saying it wrong. If you're Greek, my Greek is terrible. I can read it. Terrible, terrible speech anyway, it's almost as bad as my English. So anyway, what you have here, so if you can translate women or wives, either way, and that's the word you see there. You got to make a choice. You have to look at the context. What does he say? Well, okay, they should be submissive, but they should ask their husbands at home. But changes doesn't say they should ask their men. Women shouldn't speak in church. If they have a question about what's going on, they should ask their men at home with a caveman. Like, and it says your women right here your women. Stupid, right is that know their wives are talking about wives? Think about the stepmother situation. Right? So it's like having like teenage girls thought maybe you have a teenage wife. And by the way, when you whisper to one another in church, I can hear it as people they talk louder than you do it wrong. Right? So I can hear it. But it's annoying. So what do you have going on? If I'm up here and has nothing to do today? So I was like, shut up, right? To be silent church be quiet. Right? What do we just see? What's the whole context of what's going on here? Tongues order in the worship service. That's the context. Alright. So when people go like this, and go and pluck it right out of its context, this is kind of what it sounds like, this context and just say women should shut up in church. You know, this is not about women. This is about speaking in tongues in order in the worship services, what this is about, right, so he just talked about, if you're all gabbing away, we won't be able to understand you order in the words observe. So women, and maybe younger women and their husbands too, and it says teach them at home. So they have questions. That's what this is about. And be sure that everything is done properly. And in order now, we have a Romans 12 moment, okay, you got all that, therefore, therefore, make your bodies a living sacrifice holy and pleasing to God. This is your spiritual service of worship Romans 12. Right now, this is this moment. All right, First Corinthians 15 one, let me now remind you to your brothers and sisters of the good news I preached you before you welcome to them and you still stand firm in it. It is the good news that saves you if you continue to believe the message I told you, unless of course you believe something that was never true in the first place I passed on to you it was most important. And when it also been passed on to me, Christ died for our sins, just as a Scripture said he was buried and he was raised from the dead on the third day, just as the scripture said, he was seen by Peter and then the 12. After that, he was seen by more than 500 of his followers at one time, most of whom are still alive, though some have died. Then he was seen by James and later all the apostles last of all, as if I had born and born at the wrong time. I also saw him for I am the least of the Apostles in fact, I'm not even worthy to be called an apostle after the way I persecuted God's Church. Okay, remember all that other stuff? That is secondary doctrine that he's telling them not to divide over? Now? Here's the hill I'm going to die on. This is what It's all about this is the gospel. Right? I will argue about this right? This is correct. Don't tell me it's not right. You say that Jesus is not God. Divide, right. That's what I'm going to divide over. Right? This is the important stuff. This is way to see First Corinthians, this is where the letter, Charlie, I'm giving you what's important now, the resurrection of the dead. So there's some they're saying, the resurrection of the dead is never going to happen, or it did happen. First Corinthians 1517. And if Christ has not been raised in your faith is useless, and you're still guilty of your sins. And that case, all die, believe in Christ or loss. And if our hope in Christ is only for this life, we are more to be pity than anyone in the world. Right? So that's it. That is our hope it's in the resurrection. If that didn't happen, useless. This is a waste of time. And again, true Christians do not place their hope in the things of this world. Wrong. Now, stay away from those people who do not First Corinthians 1533. Don't be fooled. But anyone who says such things for Bad company corrupts good character, think carefully about what is right and stop sitting. For to shame I say that some of you don't know God at all. Be ready for Jesus come back. And what about that one bad apple or yeast, right, that's going to pop you up. There's a point at which you have to remove that person for yourself or just stay away from people like that, right? So be careful, especially when you're new in your walk. If you can't handle it, stay away. So now he's going to talk about the resurrection body make this really simple, hard to understand, again, it's just basically this set of questions about the reservoir what kind of bodies will we have? Well, that's a foolish question. So he says, just like a seed goes into the ground, so the seed being like your body, but then when the plant comes up, it looks different. So you will have a new body when you're resurrected from the dead. This one goes into the ground. And we'll have a new heavenly body. What will it look like Paul's like, stop asking you that question. So we're going to move on our response. Chapter 16 talks about the collection on the first day of the week, when you gather. So this in Revelation, we kind of learned that it was the Lord's Day. So that's why traditionally we do this on Sunday. You can do it whenever. But on Sunday, traditionally, a day, hey, just have your collection ready. This is going to move over into Second Corinthians they're going to drag their feet on that spoiler alert, and he's going to have to deal with that. But this is our response. So what's your response to this? Now he'll go through a whole bunch of different names. We're not going to get into it, but it's interesting. He mentions Apollo's he's going to come there when he can stuff on us. If you remember him, his household got baptized. Here's a greeting my own handwriting. If anyone does not love the Lord, that person is cursed. Our Lord come nah, nah, thought means, Lord, come, May the grace of the Lord Jesus be with you. My love to you, all of you in Christ Jesus. So, quick wrap up application, just to think about it. So now you've heard First Corinthians. And now you know, what if you haven't made me sitting there, like I heard all at once. You know what it's all about. That's the point, right? And this is how you need to read God's word. It's full context. So we're not dividing. So we're not taking things out of context and abusing people with them unnecessarily Right? Or to be united. So we have to reflect when we do these things. Remember, Pastor worship? Can we do that today? Yeah. In all forms, it's crazy. I mean, think about it. It's been so crazy, that people have actually divided over and named their denominations over there, by their pastors or after their pastors. Think about that. What Paul said about that? Just pick somebody's name and a belief system. That's the denomination. I don't think Paul would be too proud of that. After reading this. That's not a good thing. Who is Paul? Who is Apollo's people name their churches after Paul? And I'm like, you know, imagine Paul showing up that God would be like, who is? This is crazy. So far off the church has gotten but those who do it was he called them babies. Bunch of babies. Aren't you acting just like the people the world? The people the world worship people, you know what I mean? They're American Idol. You know? Why are you doing that here? It's not where you do that. That's where you worship. God causes the growth.
Phenomena denomination worship, I don't have to get into it too far. Right pride in these things. We all have knowledge. Knowledge makes us feel important, but it's love that brings the church together.
We divided all these things that we're not supposed to divide or handsome. That's insane. crates. You like the meat sacrifice. You speak in the tongues? Great. Fine, that's it. Love you like a brother and sister in Christ. That's what I worship Jesus. Can't they just get over it? And love Get over yourself and love others get over this knowledge that makes you feel important superior to other believers. Amazing. Ministry worship. The gifts he said Talking about the gift. You're all one and they should just, you know, desire the gifts that are the most helpful. But do people do is have you heard people say my ministry, you seem to grip on to certain ministries too much. It's their identity, and they got to come in and they're the only one who can do it. They're not discipling anybody else to do it? That's my ministry. What's up, move wherever I'm asked to move. And if you've been in this church for a long time, you've seen me move to a lot of different positions. A lot. Right? Whatever. Whatever, wherever you need me, Lord. My ministry is not my church. It's my church in the sense of church I go to but you get what I'm saying, right? Here's one to self worship. Those Azar mockingly to think about sin is self worship. Sin is self worship. That's what that is. Think about it, gratifying yourself. You're giving gifts to yourself. And we saw there's no sex, crime, whatever it is stuff you're looking at on the internet. That's not victimless. For a Christian, you are the temple, you need to hear this, the Holy Spirit is important. So he's got to be in there. He's not telling you to do that. Careful. But it's the temple, the Holy Spirit. Right? We should not defile the temple in any way with any sin that goes for any sin. We do these things. Worship do we? Do we worship the worship sometimes? Right. Like I was thinking about, say the song is old him with modern music and how many people maybe come through and like, the way you do it? You got to sing it like Sam eagle from the Muppets. Right? You know, we're doing it wrong. Sing it like I was young, focusing your worship. That's what you're thinking about. You should be bawling your eyes out. The lyrics to that song should be thinking about the young kids ruining yours worship song. Just a song, whatever. But two people do that. Right? Crazy. But what's the remedy as we close? Look, we have something greater than ourselves here with Jesus. What he did for us is amazing. You've heard the gospel today, if you've never heard him before, that God would die for us. shed his blood for us. That should make you forget about everything. And then it should cause you to imitate me right as I imitate Christ would increase to he was the ultimate sacrifice. So we are to live our lives what is worship, their worship in the worship? Romans 12. I said it before, therefore, hold this fight. But make yourself a living sacrifice, like kill yourself. Live sacrificially in every single thing that you do. That is worship. Singing is just an extension if we are getting it, right. I've been through it a long time. I see a lot of people come in and sing lies. It can be done. Right? But it's worship when like you came in meaning it. You came in meaning you're like, you know what? I know, I mess up. I do things wrong. But man this week, I'm going to give it a try. Jesus, help me. Help me get this right. Okay, seeing that. Good. Right. But our worship is a lifestyle response to what Jesus has done for us. That's worship. It's all about our passion for Jesus and our compassion for those for whom he died. And that is everyone. And then we pray. Lord, I thank you for everyone who came in today took the time out of their day to come in and hear Your word. Lord, we thank you. Thank you for this church that is the body of Christ, not the building, although it's nice, but the people in it are unite us and your Holy Spirit as a church so we can move all with one mind in the same direction. And then as individuals, as vehicles of Your grace, your mercy and your love, I ask these things in Jesus's name. Amen.