Lessons from Mark 10 & Matthew 19-20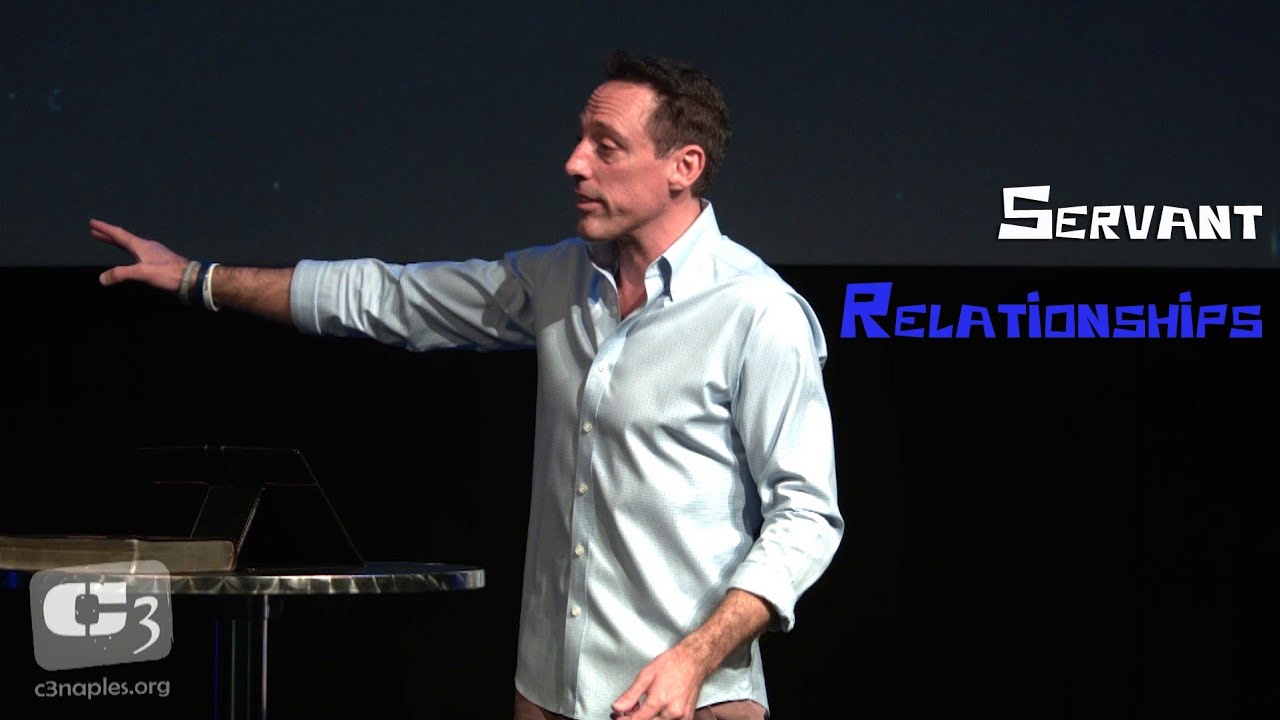 Servant Relationships - Sermon by Gene Simco
Mon, Jun 25, 2023 10:00am
SUMMARY KEYWORDS:
Jesus, read, bible, Colossians, people, god, serve, slaves, Matthew, sin, relationships, lord, told, love, Paul, talk, master, wife, divorce,
Good morning. Welcome. If you're new here among us, my name is Gene, I serve here at C3 church as your lead pastor. And if you're not, well, then you know that I wasn't here the last couple of weeks. So I want to begin by thanking Tony for preaching not one good message, but two good messages. Also everybody who serves here, as an active part of the body of Christ, thank you, you are a blessing not just to me, but more importantly, to the community around us to the whole community that we serve here in Naples. So it had been a long time, we never missed two weeks in a row. I don't think that's ever happened, since we've been part of this church, even as members, but it has been over 20 years since we've traveled abroad, my wife and I that is, and so we decided to take a trip a long trip. And so when you take long flights, when to Europe, you kind of want to make the most out of it, you don't want to spend more time flying than you do actually seeing the place. So we took some time off, and we went for it. Now, here's the thing about this foreign travel. For me, I'm not afraid of flying. But the thing that kind of gets me makes me hesitant is the long flights. Why? Well, if you've been watching me for the last 30 seconds, you know, I don't like to sit still at all, like, that's going to be a major problem for me, right? So, you know, I've been hesitant, I'm like, Okay, how's this going to work? And I know, I'm going to do I should have trained for it. It should have had their time you like how long? I can sit still? No, we only made it 30 seconds, you'll keep going? You have seven hours. So it this was on my mind if I'm being honest with you. So first flight, that's to New York, right? So our SW JFK. Good. I can sit still for a movie, like I can do that. Right. So that's, that's what happened. I sat still for about two, three hours, you know, and what's kind of funny is when you take the trip, and if you've never flown before, just think about this for just a second. So if you Well, if you have you've probably gone blind to something that's quite obvious. Your flight starts at a place called the terminal. Right? Why? You know, well, I think it's because if something goes wrong, they can just say, we told you so right. So that's where your journey started. But a couple of observations, I'm going to observe things. And so everybody, when they call you, they call you in groups, right? So first, it's like the people who need assistance and young children. I'm like, is that me? Yeah. So, you know, I excused go up, you know, everybody goes up anyway, right? They're going to have group ABCD. I don't even know how many, right but everybody floods right in there, you know, and they get up, I'm probably guilty of that. And then you get on your flight. Okay, make it to two hours. The next one, go to the terminal. It didn't die yet, though. So good. Hopefully, this happens again. But otherwise, I'm good. I don't want to go out this way. But it's going to be good for me. I'll be with Jesus. Right. So I'm waiting in the terminal. And like they call the groups and I start thinking everybody floods in there to the gate to board the plane. And I'm like, Oh, if you polled I bet, I'm just going to guess 90% of the people. Like, what don't you like about the flight? Or what are you hesitant about? Some are going to say they're scared of flying, but everybody's going to say, or 90% of the people are going to say something like, is long. Like, I don't want to sit on the plane. So I'm just thinking, Why, pray tell? Is everyone rushing to make that flight longer? No, you're going to sit on the plane longer now from the first flight. I remember. If you get on the flight first. And you're sitting there and you're in the aisle seat like me, I take a hit for the team. You're like this. Everyone's hitting you with their bags. Of course. Someone has to put their you flown in here. Does that what happened to so everyone's putting their luggage and they got all their stuff in your face? It's traumatic. It's not good, right? So why rush? So I'm like, I'm not going to rush on these planes anymore. Go ahead. And they're like, Oh, what a nice guy. I'm like, No, it's totally selfish. You'll see.
Got you go right on ahead. But here's the thing. It was really hard for me to stay on vacation really hard, because I wanted to get up and preach to the boarding groups, right? You know, so you get up there, like, welcome. If you're new here among us. My name is Pastor Gene, and I serve here at terminal 32 As your lead pastor, and I heard a story, alright, so Jesus was with his disciples, and they're all jockeying to be the greatest among them. But he said, He who wants to be first will be last right? So you know, that's a good one. So yeah, that's true. God calls those that he chooses. But I didn't hear anybody called Group B to the boarding gate right now. Right? So I could just keep going on and on. I won't. I'll save you all from that. Anyway, there was a good time. It's great to be back. Today, we're going to be talking about relationships. Again, Tony did a great job. He talked about sacrificial living. today. We're going to tie that to our relationships with one another sort of sacrificial relationships, that's where we'll be. So the last few weeks, we're standalones, we're in this series, it's quite long, because we're looking at the entire Bible, we're not leaving any thing out. So between this and Bible study, everything is getting covered. We find ourselves in the gospels, and it's going to tie in nicely to Tony's topic. So if you're new here, among us, you don't know too much about the Bible. That's okay, I'll tell you about it. You got the four Gospels, that's where we are now, Matthew, Mark, Luke, and John. They detail basically the same stuff. But some come along, and they give us additional information that maybe one won't give. So I've made charts to try to make them chronological as best I can for you. So here's this chart. If you're new, or you just want to make it easy, you're following along in your Bible. You can just go really Mark 10 is the bulk of it. That's why I kind of started there. And then Matthew will give us some additional information. As you can see from the chart, I've seen people like screenshot the chart, you can download our app, the app, it has this chart in it and the Bible study questions. And so if you're really interested, and you're a nerd like me, and you want to see how it works, there it is. All right, so let's hop right in. So where we left off, so this is going back to three weeks. In our series, Jesus was in Capernaum. And he tells the story of the Pharisee and the tax collector, that's where we leave off. So Mark 10, one, then Jesus left Capernaum and went down to the region of Judea and into the area east of the Jordan River. Once again, crowds gathered around him and as usual, he was teaching them, some Pharisees came and tried to trap him with this question, Should a man be allowed to divorce his wife? Jesus answered them with a question. What did Moses say in the law about divorce? Well, he permitted it, they replied, He said, A man can give his wife a written notice of divorce and send her away. But Jesus responded, he wrote this commandment only as a concession to your heart hearts, but God made them male and female from the beginning of creation. This explains why a man leaves his father and mother and is joined to his wife, and the two are united into one, since they are no longer two, but one that no one split apart what God has joined together. Later, when he was alone with his disciples in the house, they brought up the subject again, he told them, Whoever divorces his wife, and marries someone else commits adultery against her. And if a woman divorces her husband, marry someone else. She commits adultery, Matthew adds unless she has been unfaithful, but will continue in Matthew, Matthew 1910, Jesus's disciples then said to him, If this is the case, is better not to marry. Not everyone can accept this statement, Jesus said, only those whom God helps some are born is Unix. Some have been made Unix by others. And some choose not to marry for the sake of the kingdom of heaven, that anyone except this who can. So there's a lot to pick apart here, but don't miss the point. And so we're going to start on relationships. The main thing here is the Pharisees are looking for an excuse to get rid of their wives for whatever reason, right? Maybe they got older, whatever it is, get rid of them. And it was kind of easy. The Law of Moses does have that in there. In the Old Testament, there's a provision for divorce. It's a part of God's law, but Jesus sees underneath it right. He knows why they're coming at him with this and how they're going to abuse these women. So this is why he responds that way. The last part, we can discuss a little more Bible study, don't get stuck on the unit thing. Get stuck on the point. What's the point? Sacrificing things for the kingdom of heaven? Some of you may sacrifice marriage if you can do it, for the kingdom of heaven. So we'll talk about First Corinthians seven Paul talks about that a little bit to sound surprising in our culture today. But this is what Jesus is saying. And this is this his point. So the Pharisees, they're the opposite of the servant, husbands that they should be, or that we're going to talk about soon. So then if you keep reading, you'll see that people bring children to Jesus and the disciples are like, and don't bother the teacher but Jesus is. No, no, no, let them come to me. Don't stop them. For the kingdom of God belongs to those who are like these children. I tell you the truth, anyone who doesn't receive the kingdom of God, like a child will never enter it. And he blesses the children. So receiving the kingdom with innocent hearts and childlike faith. Ah, innocent hearts. We're just talking about the hard hearts opposite Mark 1017. As Jesus was starting out on his way to Jerusalem, a man came running up to him knelt down and asked, Good Teacher, what must I do to inherit eternal life? Or you call me good? Jesus said, Only God is truly good. But to answer your question, you know the commandments. You must not murder you must not commit adultery, you must not steal, you must not testify falsely. You must not cheat anyone Honor your father and mother. Teacher, the man replied, I've obeyed all these commandments since I was young. Looking at the man Jesus felt genuine love for him. There is still one thing you haven't done. He told him go and sell all your possessions and give the money to the poor, and you will have treasure in heaven. Then come follow me at this the man's face foul and he went away very sad, for he had many possessions. Jesus looked around and said to his disciples, how hard it is for the rich to enter the kingdom of God. Let's amaze them. But Jesus said, again, dear children, it is very hard to enter the kingdom of God. In fact, it's easier for a camel to go through the eye of a needle than for a rich person to enter the kingdom of God. The disciples were astounded that who in the world can be saved that Jesus looked at them intently and said, humanly speaking, is impossible, but not with God. Everything is possible with God. Then Peter began to speak up, we've given up everything to follow you. He said, Yes, Jesus replied. And I assure you that everyone who has given up house or brothers or sisters, or mother or father or children or property for my sake, and for the good news will receive now in return 100 times as many houses, brothers, sisters, mothers, children and property, along with persecution, and in the world to come, that person will have eternal life. But many are the greatest now will be least important then, and those who seem least important now will be greatest, then maybe you're seeing a theme here. So a couple of things that people get stuck on, just kind of get them out of the way really quick. No one is good, but God. So what Jesus is saying here, he's doubting the guy's genuineness. That's what he's doing here. In other words, like you could put it like, like, why you call me good teacher? Why are you coming to me? You don't believe that. I'm God. You don't believe what I'm saying? So he's approaching him like that right out the gate. Okay, the other thing, the camel gate, right? So if you've been a Christian for a long time, maybe somebody at a Bible study, like, you know, this came up, right? And, and they're like, whoa, you see, there's a thing in Jerusalem called a camel gate, and the camels would have to kind of go down real low to get through, right? Why do they say that? Because they want to be greedy, right? So if you're at my Bible study, I'm like, wrong. That's wrong. That's not true at all. There's no camel gate ever recorded in history. It's a false teaching. So bad, bad, bad teaching. Jesus means what he says, but like we've seen before, right? pluck your eye out if it causes you to sit and cut your hand off. It's hyperbole. Correct. So it's an exaggerated statement. But don't miss the point. Right? Don't miss the point. Now, this is not a universal call, for everyone to just sell everything they own. Take the vow of poverty, we see that it's this guy's problem. We also see, we've seen examples before. And we'll see examples of get and remember the women who are being Jesus's benefactors, they were helping him out, you're going to see that again, remarkably, it's a lot of women, Lydia, Phoebe, whole book of the Bible, only one chapter, but fine, Lehman, he's obviously a wealthy guy, Paul's talking to him about his sleeve, and we'll talk about slaves later, you got to kind of have some money to have a house where Paul is going to stay in a slave. So the point is, we're supposed to be generous. If we have money, we're supposed to be benefactors of the church. Right? But this guy has an issue, and Jesus knows it. The bigger point serve others give to the poor, right? And you'll have treasure where?
And heaven right? So that's what we should be seeking that surpasses everything. No, Peter said, we've given up everything to follow you. So your focus here is not on our present condition. It's on heavenly things. This is always where Jesus is pointing heavenly things. You'll have eternal life. The important theme, though, but many who are greatest now will be least important then, and those seem least important. Now, it'd be greatest that pay attention to that. So Jesus tells a parable. If you go to Matthew, that's what happens. You have to turn the page there. Matthew 21. For the kingdom of heaven is like the landowner who went out early one morning to hire workers for his vineyard. He agreed to pay the normal daily wage and sent them out to work. At nine o'clock in the morning, he was passing through the marketplace and saw some people standing around doing nothing. So he hired them, telling them he would pay them whatever it was right at the end of the day. So they went to work in the vineyard at noon, and again, at three o'clock, he did the same thing. At five o'clock that afternoon, he was in town and saw some more people standing around, he asked them, Why haven't you been working today? They replied, because no one hired us. The landowner told them, then go out and join the others in my vineyard. So that evening, tells us Foreman calling the workers and pay them starting with the last workers. When those hired had five o'clock way later in the day, were paid. Each received a full day's wage. Then those hired first came to get their pay. They assumed Well, we're going to receive more right? They did it. They just received the same amount of money and they protest. And essentially what he says is, look, take your money and go, I can decide to do what I want with my money. Is it against the law to do that? So we get out of here. Matthew 2016. So those who are last night will be first then and those who are first will be last. A theme coming up here. So what's the point? This kind of ties into something we were talking about? Recently, I talked about Christianity being like a hard club to get into some churches kind of make it like that. Some people make it like that. And so the general idea here is first and last, when we think about it, there are going to be some that get into this club later than you. But we will all have the same inheritance in heaven. Get the point to us as an application, hey, don't think you're better than other people, other Christians are your values higher just because you've been in the game a little longer. Right? So don't let that make you prideful. We're all brothers and sisters in Christ, we all have the same inheritance, right? So from our Heavenly Father, that's the point. So those who are less now will be first than and those are first will be last a repeating theme. If we keep reading, we see that Jesus again, predicts his death. So we're walking along, people are following Him. And Jesus says, Listen, we're going to go up to Jerusalem or the Son of Man will be betrayed. By leading priests and the teachers of religious law, they'll sense and sin and hand him over to the Romans. They will mock Him, spit on him, he's talking about Himself as the son of men flog him with a whip and kill him. After three days, he'll rise again. Now this that does not make me chuckle what happens next often does, because it's really funny that James and John now come to him. So he's talking like, I'm going to die for you. I'm, I'm going to be your servant. Right? So then here we go. James and John, come in, in Matthew. It's like the mom at first on their behalf. And then then, but Mark 1035, then James, and John. So remember what Jesus just said. Then James and John, the sons of Zebedee, came over and spoke to him Teacher, they said, We want you to do us a favor, stop. Put it all together, as while reading larger sections is great. Think about this for just a second. Hey, I'm going to die for you. Hey, Jesus, we want you to do us a favor, die for you. Right, you know, what is your request? Yes, they replied, When you sit on your glorious throne, we want to sit in places of honor next to one of you, right, and the other you left. But Jesus said to them, you don't know what you're asking? Are you able to drink from the bitter cup of suffering? I'm about to drink? Are you able to be baptized with the baptism of suffering? I must be baptized with? Oh, yes, they replied, we are able. Then Jesus told them, you will indeed drink from my bitter cup and be baptized with the baptism of suffering. But I have no right to say who will sit on my right or left, God has prepared those places for the ones he has chosen. better translation would be it is for those who have been chosen. Quick note, if you're new, just right there, I'm using an NLT. Just because it's not my job to get up here and try to like, prove to everyone I'm smart. It's my job to get the information so that you understand it and give it to you. So I use just an easy reading translation so that everybody in the room, right from a younger person to a scholar understands what I'm saying. But I also read it in the Greek and when I read it in the Greek and I see it goes a little too far off. You get the brackets, okay, that's what that is. Just so you know, when the 10 other disciples heard what James and John asked, they were indignant. So Jesus called them together and said, you know that the rulers in this world, lord it over their people and officials flaunt their authority over those under the butt among you, it'll be different. Whoever wants to be a leader among you must be your servant. And whoever wants to be first among you must be the slave of everyone else. For even the Son of Man came not to be served, but to serve, and to give his life as a ransom for many. Makes more sense while he says it that way. Now, it's all about servant relationships. Now, it's been said, It's been said that there's one way to know that you're in a relationship with a Christian. It is that a Christian will consistently put your needs over their wants. Now, that might sound a little weird, right? Because I could have said something like your needs over theirs. But I've seen this kind of get abused in a couple of different ways. And so I want to give like a little bit of a disclaimer here, we're just going to do a couple of disclaimers real quick, and then get back on topic because I've really seen this abused, right? You're a Christian, so you need to do this, that and the other thing Okay, so let's just go back to the plane. So we got past the terminal. Nobody died. You got rebuked for Russian on the plane. We got on the plane. We sat down on the plane got hit in the face of baggage right. Those of you who came early, you're on the plane What do they do? So they give the safety instructors now it has been suggested that this be done before the sermon, we do something like Heather gets up and she goes their exits on the outside of your kind of eerie kind of work. But anyway, on the plane, I thought that was funny. On the plane, they tell you about like the buck all the other that anyway, so. So anyway, but then what happens, right and they love doing this, they do the blowing into the tubes thing. And then they love this. It's like a magic trick. They get the oxygen mask and they go and if something happens, right in case an emergency balloon, and they like lower the thing, that oxygen mask will come down. And then what did they tell you to do with it? Put it on you first. That's interesting. So we've talked about this in the past, and I talk to you guys about self care being important. And I'm not talking about self wants, like overloading on self one. But just basic self care. Really important. Right? So we've talked about in the past. And we also talked about the other end of this, especially in this culture in America, we have the super hero complex, we want to be the Savior, we get a savior complex and we forget something. There's only one savior in the story. Jesus, that's it. Right? Not us. And you can't forget that. And when we look at what Jesus did, we've been looking at his life and ministry here on earth when he had a human body like ours temporarily. What do we see? We see that Jesus got rest, we see that he often is Luke says, went off by himself to go pray. When the disciples go on their ministry, or they come back was Jesus say, let's go get some rest. Jesus as God instituted the Sabbath, I'm not being legalistic. No, we're not under the Law of Moses. But I said this before in the past, the Sabbath is the only one of the 10 commandments that Christians are actually prideful about breaking. Hero complex. So that's one part of it. All right. It's really important. And I've seen this so much, even in ministry, it's just crazy. You know, I'm like, bro, you need to take a day off, you need to take and I've seen this in with ministry workers, right? They overwork themselves, they end up in the hospital and great. Now that's one more visitation we have to do. You know, so it's a really important thing to get rest. You cannot be at the top of your game, you cannot be the best if you're not getting your rest. I'm not talking about like an excessive amount of rest. But just take a day off once a week, right? Get some time to yourself, spend some time with your family if you have one that's really important. So nobody's smarter than the Sabbath. I've always said that. And again, doesn't matter when you take it. I know what the Bible says about it, Romans 14 and Colossians. And everything else. We don't have to take one.
But Jesus did. So think about that. On the other side of things, needs are different than once I alluded to this. And I've seen a lot of people take advantage of this, this can get really bad, especially in ministry. This is very common in ministry where you know how people come in, they know very little about the full context of the Bible. They'll come in and be like, Pastor, you need to give me this right. So Jesus said, You need to give it to me if I asked for money you need to give me from my yard. And I'm like, okay, slow down. I need to equip you with your basic needs. So here's what happens. A lot of people don't know the Bible really well, which is why a lot of these false like prosperity teachers can come in and take advantage of those people to them, I would say read your Bible, because you would then not be able to listen to them anymore. Did Jesus doesn't say like, you know, I'm going to give you everything you want. You need to keep reading, right? The context is usually meeting your needs. And we saw that, and people like to read like the Matthew version, but they don't keep reading. They don't do charts. If you get to Luke chapter 11. Jesus clarifies so right. What one of you as fathers like if a child asks you for a doughnut or a loaf of bread, you give him a stone or ask you for a fish to give him a snake. But he clarifies there, how much more will your heavenly Father give you the Holy Spirit? That's the context. So it's usually meeting needs. And again, he's always pointing to heavenly things. That's what this is about. So knowing that, right? Someone comes in, and you have to be careful. You have to be careful, I need to give you what do you need? I'm hungry. No problem we got we do that here. Right. So that's where I talk to him about pizza for three hours. Everybody's had that experience with me. It's okay, so I haven't got to yet. I'll get there. Anyway, right. So feed them and we have meal here. You'll see we'll be told about it afterwards. We'd like to eat with one another. I might even invite them up to the cafe. I'm going to feed you. I'm going to get to know you. I need clothes. Okay, I need shelter. Okay, well, that's hard in Naples, but you know, I'll connect you with some people. I meet those things. Okay. Well, and I need 100 bucks. Like, for what? Right? So once you begin enabling someone, that's a one you don't need that. That's Want, so you got to know when you are enabling someone that is wrong. The other thing too, just to think about I've seen this in, we're going to talk about relationships between spouses abusing one another right? Employer, employee, friends, spouses, mom and dad, whatever it is, right? You meet their needs. But if there's a one that causes you or them to sin, it's a hard no. It's okay to say no. And no is a complete sentence. No. It's uncomfortable, isn't it? Right? So get better at it? No, you get good at that in this job? No. If it's going to cause you or them to sin, no, you do not need to give that to them. You don't need to do that. And that's, again, employers, whatever, all relationships, different needs and wants. So with that being said, Everyone understand that right? You can say yes, right. So otherwise, I'll just do it all again. I can do it. He will. Careful. Alright, so we saw theme here. But many who are the greatest now will be the least important than those who seem least important now will be the greatest that whoever wants to be a leader among you must be your servant. And whoever wants to be first among you must be the slave of everyone else. Giving up your things to serve others, whether that's marriage, if you can handle it, or whether it's all your stuff. Peter says We gave up everything to follow you. What does he demand of the young rich ruler as they call him? Give it up. It's all about servant relationships here and coming under Jesus as your master. So now we'll look at some of these relationships and what the Bible says about them. So if you'd like to read the Bible, I'll just explain something to you really quick. Colossians and Ephesians is where most people are going to go when you look at relationships. Ephesians is kind of like long Colossians, six chapters. Colossians is four chapters. And what happens is Philippians is in between them. So don't always get it right. You don't always get to that. But if you read, just read or listen to, I've told you in the past and listen to your Bible, listen to Colossians Ephesians. Because I tell people that often like if you're going through the New Testament, like just either read Philippians first or skip over it and then do Ephesians and Colossians together, and all of a sudden, you'll be like, wait a minute, I just heard about 50% or more of this, that's because it's false. It's like a regional letter to the same area, essentially. And he's saying a lot of the same thing. So a lot of the same issues, we're going to use Colossians takes on courage, you can read this stuff in Ephesians as well. Colossians because for the sake of time, and something is going to happen kind of in rapid succession. That's much easier to see when you're looking at Colossians. So let's start with marriage, the roles in marriage Colossians 318, Wives, submit to your husbands as is fitting for those who belong to the Lord. And I here's where husbands are like, close the Bible. You hear that? And the women are like, yeah, right. So that's how you feel when you submit, submit, you're like, Ah, so that's a bad thing, right? And they close it. And so this is a verse of the day problem. If you're new, like I complain, like everyone here is like, oh, no, he said versus the day here we go. Because I complain about this a lot. And like the verse of the day is not sufficient. Right? So read your Bible, but no, this is where you get things like this, right? So you'd eternally be like submit, that does not work in my household. So that's a joke. This is role playing. Submit right now. But if we've been in church for a long time, have we seen this? Oh, yeah. abused, I've seen this abuse, especially in certain denominations. Don't say it. Don't say it. Don't say it. So anyway. Anyway, like, just bad, like really, really, really bad. But here's the thing, women, just you make a mistake. You don't have to, like come up with all these different arguments. You don't need to come up with a million characters, you know, but what about this? What about Deborah? You know, what about just all this stuff? Somebody went there before don't You don't have to do that right? Because it turns into an argument. That's the Old Testament. Check this out. All you need to do is what I do every Sunday. Keep reading Colossians 319. Husbands love your wives and never treat them harshly. Zip it, right, that's what you tell an abusive husband. So there's the verse of the day problem. What do you see immediately, there's a correction right or a balance as I would call it, something to correct itself, but to the person abusing it. Never treat me harshly. Ah, what does that look like? Now? What does submit look like under that light a little different than they've been doing it? Probably. Right. So we got another one. Colossians 320 Children always obey your parents, for this pleases the Lord. Parents go. Right. But keep reading Colossians 321 fathers do not aggravate your children or they will become discouraged. raged. Do you see something happening here? Right balance important to keep reading, please. Now we're going to get into some other relationships Colossians 322 Slaves, obey your earthly masters and everything you do. Okay? So just for today's context, you can put like, employees, right and sort of masters, employers, just something like that. I'll explain to you why. Slaves or like, let's just say I'm not changing it, but just say, right here, employees, obey your earthly employers and everything you do, try to please them all the time, not just when they're watching you serve them sincerely, because of your reverent fear of the Lord. Look at that. Tony talked about that last week. Willingly. Whatever you do, as though you were working for the Lord, rather than people or for people. Remember that the Lord will give you inheritance as you reward and that the master you are serving as Christ. Okay, quick disclaimer here. And it's kind of important people kind of dance around this slavery. In our context, bad, very bad, nothing right about that. All right. And I've said this before, Christianity, and racism are incompatible. You cannot be a Christian to be racist. Impossible. Right? So, right Galatians, there's no longer slavery for a male or female, or we're all one in Christ Jesus, that's it. So need to say that. But in this context, if you understand the Bible,
this is not about racism. In the Bible, slavery, it's not about that, especially the New Testament. It's about commerce, it's a little bit different. You could have a slave and they're like the same color as you, right? So. So what is important to do is apply the Bible to us see what I did with like the employers employees, like, that's what we're going to get out of it. But we shouldn't be looking at the Bible, through our lens of cultural sensitivities. You'll always get it wrong when you do that, or you need to put that aside. That's not what they're talking about. This is not about racism at all. And they missed the point. So some translations, and it's quite interesting. They will say something like bondservant, although, say seven instead, because that sounds better. We can relate to it. And it really misses something. First of all, if you're reading it in a Greek, it's horrible. It just botches it because it's not what it says, there are other words, there's another word for servant. And there's a word for slave. And Paul uses them sometimes in very close proximity to one another. And it's like, why it's weird. What's the difference here? That's the first thing. But if you don't, it's not going to bother you. But what you need to think about is when we think of like a servant, right? It could be someone serving us like a server, that person's getting paid, right? So there's a lot of equity there, right? There's a back and forth, they can clock out. They get out at the end of the day, right? So that restaurant owner doesn't own them. Like they're just they're serving at this moment. If you know a little bit more about his like indentured servants, what do they do? They put in like seven years, right? And then they can get out. Right? So any of those translations are insufficient? Because Paul calls himself a slave. What did Jesus call his disciples, slaves? Why? And why if there are two different words, is he doing that? Because there's no getting out? Jesus is always going to be your master. You are yoked to him. You're just That's it? He is your master. Make no mistake about that. So they're not saying servant because? Well, it implies there's an out right, you know, put in my time and get out. It also implies there's like some kind of earthly payout. But what did we see? What do we see? We've given up everything to follow you what happens to Paul if you know about Paul's calling, right? You know, about x nine, what happens? You get blinded, right? And he says, Jesus says a guy name and I used to go see him. Tell Paul, how much he's going to have to suffer for my namesake. Think about that. Paul, some great choices. They're blind, or suffer for Jesus. All right, Paul's not clocking out. The only thing Paul is going to check out of is his earthly tent as he describes it, that's it. He's all in. Right. So that's why it's very important. And what's funny actually is the NLT does a great job of leaving that in there. And so we saw it pay attention here, Mark 1042. You know, the rulers in this world, lord it over their people and officials flaunt their authority over those under them. But among you, it will be different. Whoever wants to be a leader among you must be your servant. And that's correct and agree, and whoever wants to be the first among you must be the slave of everyone else. And so this is why Paul says, Paul, a slave of Christ Jesus, and an apostle, alright, so very important. They know these leaders among them, all right. They're not lording it over the people. They put themselves in the correct perspective down here. Servant relationships, it's about serving Leadership. That's what it's all about. I'm here. And here's the thing. It's about complete obedience and devotion that is inescapable above anything else. That's it with Jesus as the master and my eyes on the eternal prize, period. Regardless, this has been used out of context to be abusive, but we'll do another keep reading thing. So remember about the Slaves, obey your earthly masters. If you keep reading, you have to turn the page awkward chapter break, I know Colossians four one masters. Be just unfair to your slaves. Remember that you also have a master in heaven. Ephesians puts it this way masters treat your slaves in the same way. Don't threaten them. Remember, you both have the same master in heaven. And he has no favorites. So see it again. Right and even a point out harsher there. Your equal Watch it, watch it. So don't abuse one another Christians important relationship key work with enthusiasm as though you were working for the Lord rather than people. And so this is the attitude that we should have when we're working with people. You see them as Jesus Himself. Just serve them now. We'll hop over to First Peter because I want to show you a couple of things here. First, Peter does basically the same kind of thing, but it goes in reverse order. So first Peter to 18 You who are slaves must submit to your Masters With all respect, do what they tell you to do, not only if they are kind of unreasonable, but even if they're cruel, for God is pleased when conscious of his will you patiently endure unjust treatment. Of course, you'll get no credit for being patient if you're being for doing wrong. But if you suffer for doing good, endure it patiently God is pleased with you, for God called you to do good, even if it means suffering, just as Christ suffered for you. He is your example. And you must follow in his steps. He never sinned, nor ever deceived anyone, he did not retaliate, when he was insulted, nor threatened revenge when he suffered, he left his case in the hands of God who always judges fairly. He personally carried our sins in his body on the cross, so that we can be dead to sin, and live for what is right. By his wounds, you are healed. Once you were like sheep who wandered away, but now you have turned to your Shepherd, the guardian of your souls. Then he says this, I'll let God do the talk in first Peter three, one, in the same way. Your wives must accept the authority of your husbands, then even if some refused to obey the good news, your godly lives will speak to them without any words, there will be one over by observing your pure and reverent lives. Now, I'm just going to jump to this but he does address some things like basically meaning inward beauty focus on that gives examples of Abraham and Sarah so you can read that. I'm not trying to dishonor it. I just want to jump to this point. First Peter, three, seven in the same way, you husbands must give honor to your wife. See what happens here. The balance again, treat your wife with understanding as you live together, she may be weaker than you are. But she is your equal partner and God's gift of new life. Treat her as you should. So that your prayers will not be hindered. That's interesting. Now I'll speak to the husbands about this. Think about that. It's interesting that marriage is the context here about your prayers being hindered. God opposes the proud and the abusive, especially in marriage. If you do not honor your wife, this is God. You will not honor your prayers. That's God's word. Some you don't hear a lot, but think about it. Now check this out. First Peter three, eight. Finally. All of you should be of one mind. sympathize with each other. Love each other as brothers and sisters. Be tender hearted and keep a humble attitude. don't repay evil for evil. don't retaliate with insults. Does this sound redundant because it is when people insult you. Instead, pay them back with a blessing. That is what God calls you to do. And he will grant you his blessing for the Scriptures say if you want to enjoy life and see many happy days, keep your tongue from speaking evil on your lips from telling lies, turn away from evil and do good. Search for peace and work to maintain it. The eyes of the Lord watch over those who do right and his ears are open to their prayers. But the Lord turns his face against those who do evil. There it is again. This is both new and old testament. It says this right no lip service people you do what is right or let's it important when people do evil to you. Pay them black back for the blessing I'd add they probably need it right. Now with that being said, it's hard in the process of meeting needs, there isn't always as equity now. So now we gave you the disclaimer earlier. But here's the thing. Now we got to look at the other side of that coin and realize that Christian relationships are not about like, equitable. We're not supposed to be thinking transactionally I get like the server or the bonds, or where's my pay up now? Like, right, so that tip for tat thing, like, Okay, well, if this person treats me this way, then it has to be an equal treatment on the other side. It's a worldly way of thinking. Right? It's not a heavenly way of thinking. So it's not always like a transit. It's a relational thing. You love everybody so much that whatever, I'm just pleased to serve you. That should be the attitude work as if you're working for the Lord, not people. And there is your key right there. So if you look at everyone's face, and you see Jesus makes it easier to do what is right. And that's how we should see others, all others. Why? Well, we saw something I ran right over it. But I want to go back to it real quick. And then we'll wrap things up, because there's a point here. Now remember, Tony, something about sacrifice, right? But he did mention something that a lot of people don't mention in church, a lot of people don't like to talk about the word. Hell, right. So he mentioned that there is a thing called hail and the people that don't believe in Jesus are going there. That's it. So what's your response? So now remember, you're looking everyone's face and you're seeing Jesus, you're loving everybody? Well, if they say, I don't believe in Jesus, well,
there should be compassion and sympathy for them. That's how you should feel. Right. Okay. How do I get them in? Well, the word of God tells us hell, right. With a megaphone on the street corner, right? Remember, I talked about this with their sin on a sign and not yours? No, we never do that. Right. We're not going to pick it any place and remind everyone like we're horrible to know, just their sin megaphone. Does that work? Absolutely not. That's it's just arguments. But it's just funny because I won't get into this. I said, I wouldn't get into this. But anyway, I saw some people like St. evangelizing. And all I saw were arguments. That's all that happened. They're just arguments, a Christian woman. Now out of out of context, all this stuff. And what you're saying is right, but Muslim guy just starts fighting with or starts arguing with her. I'm like, will you take the guy to the cafe right there, buy him a cup of coffee, love him and talk to him like a human being about this? No? Screaming, right, your ones? And well, what about you, lady? You know, crazy. So anyway, here's the point, I ran over First Peter three, one in the same way you wives must accept the authority of your husbands. Why? Then, even if some refused to obey the good news, your godly lives will speak to them without any words. Imagine that they will be won over by observing your pure and reverent lives. That is the goal. We are always to be on mission with our behavior, not just our words, with our behavior towards people. That's the goal. And Tony talks about this too, right? It's about attraction, not promotion. There'll be one on what? Why is that person always so joyful? We love that stuff in the news? Why are they having outbursts of anger, right, which is a sin of the flesh we saw in Galatians. Right? Why are the why aren't they being argumentative? Right? divisive? These are all again, sins of the flesh read Galatians five, you know, how can they have so much joy? Why are they at peace with this? Well, how can this person love me? How they have so much self control? Galatians, five, for the spirit? How a question is going to come to mind, this is what the Word of God says. That's how to do it. They're going to wonder, ask these questions. I'm glad you asked friend. Let's go here. What do you like, right? Can I buy you a cup of coffee at a cafe at the church? Right? Let's talk. Well, hang on. I'll answer your questions lovingly, and peacefully, are the peacemakers. And this is why just real quick, First Corinthians seven I mentioned it, if you're reading it, basically the context is this. What's happening in the section of First Corinthians is that there are people who got married were caught before becoming Christians. And so the question arises, well, what do we do? Do we get a divorce? What happens if the other person leaves me over? And Paul saying no, you're not enslaved? You're not bound these bounded loosed is their kind of way of thinking of things. And I can make too many jokes and I won't. So anyway, you're not enslaved, you're not bound anymore, meaning you can get remarried. So he's addressing all these questions. And he says this, like basically but the gold stay as you were, when you came, if that's possible, stay as you are. That's it. And he says this The reason again, First Corinthians 716, don't your wives realize that your husbands might be saved because of you? And don't you husbands realize that your wives might be saved because of you. Again, the behavior so at first Peter was talking about they might see this behavior and be like, what? Okay, let's go back and talk About this Jesus guy again, if you say, Jesus, because when I look at you, I see Jesus like, that's crazy, then explain it. We are to follow Jesus example. So let's close with this. John 1312. So Jesus washes the disciples feet. Peter protests a little bit, but then agrees. So you can go back and read John. But here, here's the thing. Here's the point, John 1312. After washing the disciples feet, he put on his robe again, he sat down and asked, Do you understand what I was doing? You call me Teacher and Lord, and you're right, because that's what I am. And it says, I, your Lord Teacher, have washed your feet, you are to wash each other's feet, I have given you an example to follow, do as I have done for you, I tell you the truth, slaves are not greater than their master. Nor is the messenger more important than the one who sends the message. Now that you know these things, God will bless you for doing them. And it's remarkable to note that Jesus washed Judas his feet. The Bible tells us, we must follow Jesus's example. And we will be blessed for doing those things. That's the blessing we should be seeking. Right? So if you're in the Bible, you read Romans 12, get all this theology up until that point, and then Paul says, Therefore we are to be a living sacrifice, holy and pleasing to God. This is our spiritual service of worship. Yes, the singing is good, but that's just an extension if we have been living sacrificially for others. That's all that is. The Bible defines real worship as living as a sacrifice for others. That's worship. If you're not doing that, we read what happens, right? Oh, living sacrifice. We are not to be conformed to this world, think the way things we are to be transformed by the power of the Holy Spirit's of that and he goes into enemies that we can love our enemies. Quotes proverbs 25 just said, If your enemy is hungry, and his clothing, give it to him, right? That'd be like heaping coals, burning coals, shame on their heads. That shouldn't be the goal, right? It should be to see that person as Jesus, my Lord, yes, wash the feet. That's how we are to be living our lives. And Jesus tells us, we receive a blessing in return. Amen. We pray for you, Lord, I thank you for everyone who came today, to be a part of the body of Christ to hear Your word. Lord, I ask that you bless us, so that we can be a blessing to others. All those we encounter this week, even those we consider enemies, especially our brothers and sisters in Christ and the church. Not to be argumentative or divisive. To try to bring peace to all others, even outside these church walls. Let you make us vehicles of Your grace and mercy, your peace and your love. I asked these things in Jesus's name. Amen.