Lessons from Lazarus & Luke Last week, we learned about the dangers in gaming God's grace – that is, taking advantage of God's kindness and mercy toward us. This week, we'll look at what it means to be self-righteous – thinking we're better than others.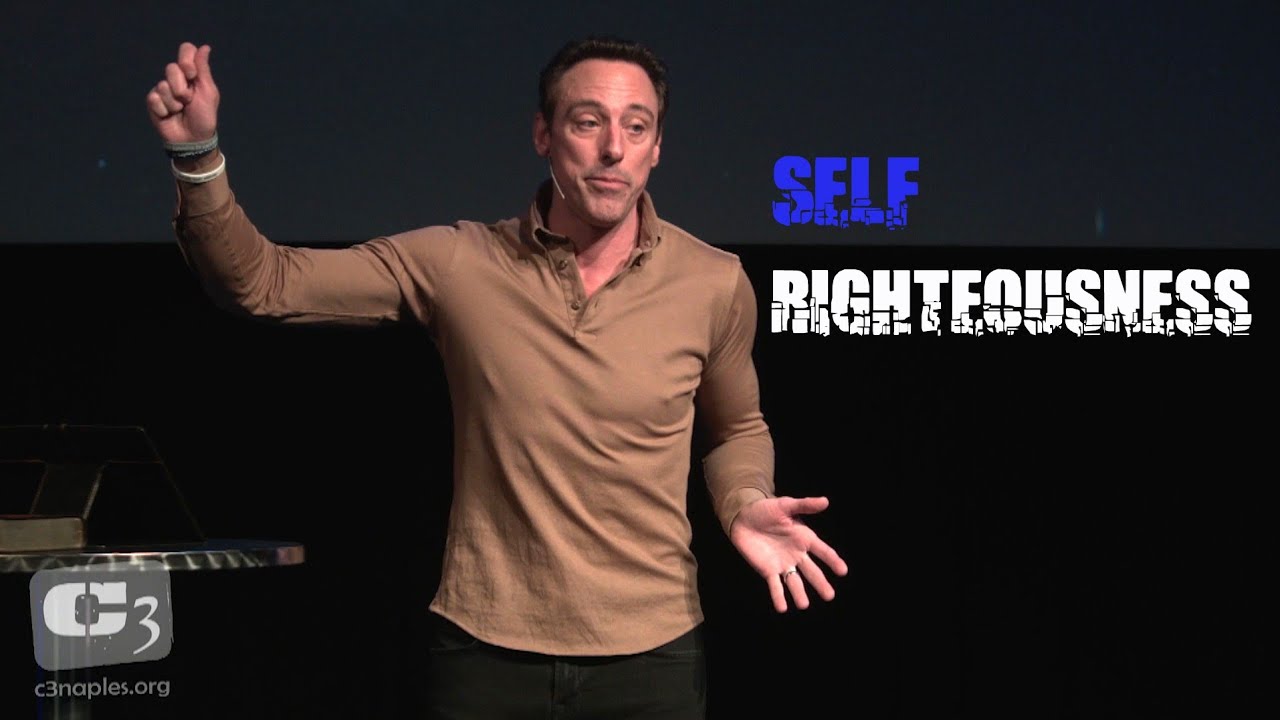 Self-Righteousness
Mon, Jun 04, 2023 10am
SUMMARY KEYWORDS
Jesus, people, sin, Lazarus, read, talking, god, man, examine, good, day, love, Galatians, life, church, lord, Martha, self righteousness, Mary, told
Good morning. Welcome. If you're new here among us, my name is Gene. And I serve here at C3 church as your pastor. And I wonder if there's anyone else here who has ever worked in sales, probably a lot of people, right, a lot of you have worked in sales in some way, shape or form, I worked at a lot of different sales jobs. I was a retail manager for a while. But to have that stand out to me, are from like two of my previous lives for good reason. Now, it's been said that sales consists of either massaging someone's ego, or agitating it. And so there's a little bit of both at play there. And you have to know when to do what. So if you know anything about my story, I was in the music business for a while, I was a professional musician, which is kind of like an oxymoron. So you get a job at a music store, because that's the only way you can afford all the gear. So that's kind of like if you're going to do that. That's kind of what you got to do. So it's kind of a unique thing. When I first started working there, when the old timers pulled me aside, he goes, let me explain something to you. And he pointed to the wall of guitars like there's always a wall of guitars and they're like, a lot of them on the wall. He says you see those up there? said yes. You know what they are? I was like, hope so. Their guitars he says wrong. Those are lotto tickets. That is what you are selling here. And he was right. That was a good lesson, right? Because what are your chances of becoming rich and famous right after you buy that guitar? Pretty slim, kind of like lotto from my experience. So it was really interesting, but that's what you're doing with the person. And it's kind of funny, because people will come in to the music store. And they are auditioning for you. It's weird. They play like they're auditioning for you. And I'm thinking every single time. We don't know anybody, because we wouldn't be working here. If we knew someone and could get you like a gig. You know, it's just the dumbest thing. So they're playing and it's always bad, you know? So it's like, and then you got to go over to him and lie. And you have to say, oh, man, that's that guitar. And you should, it's beautiful. Right? Wonderful. And so then I got into the martial arts industry, it's a little bit different, right? Because when a new person comes in, especially if they're huge, like some big jacked guy, maybe you just got beat up or something. That's not enough, but whatever he comes in, and you got to know what to do with this guy, because he's already got a big ego, right? You don't put them with my wife, Heather. Like she lives to emasculate people like that. So she, she's going to beat him almost immediately. And that's not good. He's going to walk out, he's never going to come back. So you got to put them with me. Because what I'm going to do is I'm going to like kind of let them get away with stuff not really that competitive. Oh, look, you're doing so good. And also on top mount right? The last minute. So what's that guy going to do? He's going to go home and tell his wife, I almost got the black belt, right? Sure. And that's going to keep happening until he signs the one year contract, then that's half now kill him. Right? So you got to know, you know what to do with the ego, right? So it's kind of an important thing. So there's a story about a very clever salesman, and he used this I closed hundreds of deals with this line. Let me show you something that several of your neighbors said you couldn't afford. Yes, we talked a little bit about that today. Tiny bit. But last week, obedience. The idea here was not gaming. God's grace. Like that was the idea. Last week, okay, so he's given us so much of this grace. Don't play with it. Right? Let's just be obedient. We saw the consequences for that in the rich man, and Lazarus, clean. So we saw that the rich man was in trouble. There were consequences. So we went through all these different parables, the prodigal son, all these different things. And well, you normally learn about this stuff. But you see that Jesus is still talking. Right? So there's a point where there's some consequences. And that's where he gets into storytelling, not walking out of Jesus's sermon, when he's speaking. So we're going to see something interesting. And here's another one of the benefits of doing this stuff chronologically. So if you don't know the Bible is not in chronological order. So just on today's topic, the Gospels you have four writings about the life and ministry of Jesus Christ, four separate books, if you will, they all kind of give different perspectives, some exactly the same in some places, but there's going to be some additives, different perspectives, no contradictions, just a different perspective on what's going on. But they're not chronological. They don't run the same way. They kind of do a mix and match sometimes. And so I'm making charts for you guys. And we're putting them together kind of in a chronological ish way. So today, we're going to start at Luke 17. And then you're going to see here if you're looking carefully, between verses 10 and 11, John 11 happens So that's kind of what's going on chronologically. So that's the way we're going to go about it if you're reading along and you know, I like when you read a lot. So Luke 17, one through 10. It's really just a summary of other teachings that we've seen before. If you want these charts, you can go in the app today, there was a little bit of a hiccup with almost like stuttered, when I said that there was a little bit of a hiccup with the app. This morning. Usually it's in the app, right on Sunday morning, so that you can look and follow along. So just type in C three Naples and wherever it is that you get your apps. And you can look at the chart, I put it in there. But again, today's a little bit different. It might not show up until tomorrow, hopefully by Bible study. And that's what we use some of this stuff for. So just to say that, so
it's really just a summary of some other teachings that we've kind of seen before. A lot about forgiveness and faith. So we're going to move right on to John 11. And I'm going to hop right in. A man named Lazarus was sick. He lived in Bethany with his sisters, Mary and Martha. This is the Mary who later poured out the expensive perfume on the Lord's feet and wiped them or their hair. Her brother Lazarus was sick. So the two sisters sent a message to Jesus telling him, Lord, Your dear friend is very sick. But when Jesus heard about it, he said, Lazarus, his sickness will not end in death. No, it happened for the glory of God so that the Son of God will receive glory from this. So although Jesus loved Martha, Mary and Lazarus, he stayed where he was for the next two days. Finally, he said to his disciples, let's go back to Judea. But the disciples objected rabbi, they said, only a few days ago, the people in Judea, were trying to stone you, and you're going there again, Jesus replied, there are 12 hours of daylight and every day, during the day, people can walk safely, they can see because they have the light of this world. But at night, there's danger of stumbling because they have no light. Then he said, Our friend Lazarus has fallen asleep. But now I'll go wake him up. The disciples said, Lord, if he's sleeping, he will soon get better. They thought Jesus meant Lazarus was simply sleeping. But Jesus meant Lazarus had died. So he told them plainly, Lazarus is dead. And for your sakes, I'm glad I wasn't there. For now, you will really believe Come, let's go see him. Thomas, named to the twin or the Animus said to his fellow disciples, let's go to and die with Jesus. Okay. So there are two ways that's translated either, let's go to and die with Jesus, or, let's go to and die with Jesus. Either way. There's commitment there. So what I'm going to do is I'm just going to kind of read and kind of paraphrase some of this for you. So Jesus arrives at Bethany, he's told that Lazarus has already had been in his grave for four days, Bethany is only a few miles down the road from Jerusalem. And many of the people would come to console Martha and Mary in their loss. When Mary got word that Jesus was coming, she went to meet him. But Mary stayed in the house. Martha said to Jesus, Lord, if you'd only been here, my brother wouldn't have died. But even now, I know that God will give you whatever you ask some pretty great faith in Jesus from Martha. We'll talk about that later. Jesus told her Your brother will rise again. Yes, Martha said he will rise when everyone else rises. If the last day. Jesus told her I am the resurrection and the life, anyone who believes in me will live even after dying. Everyone who lives in me and believes in me will never die. Do you believe this Martha? Yes, Lord, she told them, I have always believed that you are the Messiah, the Son of God, the One who has come into the world from God. So she returned to Mary, she pulls Mary aside and says, the teacher wants to see you come with me. So Mary went to Jesus immediately. Jesus had stayed outside the village where Martha met him. So when the people get, the house, consoling Mary saw our leaves so hastily, they assume she's going to go mourn for Lazarus at the grave go to weep. So they follow her there. And then when Mary arrived and saw Jesus, she fell on his feet and said, Lord, if you had only been here, my brother would not have died. When Jesus saw a weeping and so the other people wailing with her a deep anger welled up within him, and he was deeply troubled. Wherever you put him. He asked, they told them, Lord, come and see. Then Jesus wept. The people who were standing nearby, said, see how much he loved him. But someone said, This man healed a blind man. Can you kept Lazarus from dying? Jesus was still angry as he arrived at the tomb. cave with a stone rolled across his entrance was there he says, roll the stone aside. But Martha, The dead man, Sister protested Lord, he's been dead for four days. She's worried about the smell when he smell. Jesus responded, didn't I tell you that you'd see God's glory if you only believe so they rolled the stone aside. Then Jesus looked up to heaven, and said, Father, thank you for hearing me. You always hear me, but I said it out loud for the sake of all these people standing here. So if they will believe you sent me then Jesus shouted Lazarus. Come out. When the dead man Lazarus came out, he's all bound up his hands and feet about in the grave clauses face is wrapped in a head cloth. So Jesus tells them, unwrap him and let him go. Continues John 1145, so many people who have Mary believed in Jesus when they saw this happen, but someone to the Pharisees and told them what Jesus had done, then the leading priests and the Pharisees called the High Council together, what are we going to do? They asked each other, this man certainly performs many miraculous signs. If we allow him to go on like this, soon everyone will believe in him, then the Roman army will come and destroy both our temple and our nation. Caiaphas, who was high priest at that time, said, You don't know what you're talking about. You don't realize that it's better for you that one man should die for the people in the whole nation to be destroyed. So at this point, what's beginning to happen is they're coming up ways to get Jesus arrested to anyone who sees Jesus, arrest him, so they want to get rid of Jesus, they're totally done with him. And that's the summary of the next part. Luke 1711, as Jesus continued on toward Jerusalem, he reached the border between Galilee and Samaria. As he entered a village there 10 men with leprosy stood at a distance crying out Jesus Master, have mercy on us. He looked at them and said, Go show yourselves to the priests. You can go to the Scripture, I skipped over the chart, sorry. And as they went, they were cleansed of their leprosy. One of them when he saw that he was healed, came back to Jesus shouting, praise God. He fell to the ground at Jesus's feet, this thanking him for what he had done. This man was a Samaritan. Jesus asked, didn't I heal 10 men were the other nine, has no one returned to give glory to God except this foreigner. And Jesus said to the man, stand up and go, your faith has healed you. Next, we have a summary of the coming of the kingdom. It's because one of the Pharisees asks, when will the kingdom of God come? So Jesus replies, the kingdom of God can't be detected by visible signs, you won't be able to say, Here it is. It's over there for the kingdom of God is already among you. Then he said to his disciples, the time is coming, when you will long to see the day when the Son of Man returns, but you won't see it. People will tell you Look, there's a son of man, here he is, but don't go out and follow them. Whereas lightning flashes and lights up the sky from one end to the other. So it will be on the day when the Son of Man comes. But first, the Son of Man must suffer terribly will be rejected by this generation. We're seeing this theme here of Jesus reminding them when the Son of Man returns, it'll be like Noah's day. Those days, people enjoyed banquets and parties and weddings, right up to the time Noah entered his boat, and the flood came and destroyed them all. If you're eating Matthew, And Jesus tells us count Matthew 24, took them all away. Remember that, and the world will be as it wasn't a day of live. Remember when the people went about their daily business, eating and drinking, buying and selling farming and building until the morning lot left Saddam, then fire and burning sulfur rain down from heaven and destroyed them all. Yet, it'll be business as usual. Right up to the day when the Son of Man has revealed on that day, a person out on the deck of the roof must not go down into the house to pack a person out in the field must not return home. Remember what happens a Lot's wife will look back. If you claim to your life, you will lose it. And if you let your life go, you'll save it. That night, two people will be asleep and one bed, one will be taken. The other left, two women will be grinding flour at the mill, one will be taken and the other left. Wherever this happen, Lord, the disciples asked, Jesus replied, just as the gathering of vultures shows there's a carcass nearby. So these signs indicate that the end is near and I'm not laughing because that's funny. So we're going to hit a pause button here and blow some minds. So maybe somebody told you about a rapture? Maybe you heard about that. And that's kind of funny. Because when I first came to church, I was taught that, but then I read the Bible. And I was like, what? This is kind of weird. Alright, so let's just do some like, basic reading comprehension. Right? That's all we're going to use right now. Basic reading comprehension skills. So if you're reading Matthew 24, it's even more obvious than here, right? So Jesus does a variation of this teaching right here, because he doesn't mention Lot's wife. It goes straight from Noah. Right? And you'll see words like everybody was taken away. Everybody was swept away except what? No, who do you want to be? No, I don't want to be one of the eight people on that boat. I don't want to be taken away. Then Jesus immediately goes into the next teaching and says, One will be taken and the other left.
So when I first read it, not really knowing too much about this other teaching, and I heard about the teaching. I'm like, What are you talking about? Taking one is that's the bad one. Like that's the one you don't want it And then they'll go to some other places. And you're going to say First Thessalonians four. Trust me, I know it really well, it's an idiom that everybody gets wrong because they can't read Greek. So anyway, that's the only problem. So if you heard this teaching, it's false. It's, it's not going to happen. All right, for the first 1800 years of Christianity, nobody was talking about this. Because like, there may be reading in the Greek. In like the mid 1800s. Somebody came up with this and it caught on it sounds really good, right? So I'm not going to suffer any tribulation, nothing bad is ever going to happen to me. If you read in the Greek, it gets even funnier. And I'll tell you a little bit, I won't put it on the screens. But when I started reading Greek, I laughed even harder, because it's that's in the Greek, the one four left behind? Well, it's left behind, because that's the way the Greek thinking of forgiveness. Let it go. A female that's a Greek, and it just means let it go. Right? So like the song, I'm not going to sing it. So anyway, right? It means to let go is good letting go when you forgive someone? What are you doing? You're letting go it's a thinking in the Greek, but it's Aphimi. And everywhere else almost in the Bible where that word appears, it's translated as forgiven. So when I read it, I just read forgiven without the translation there. I was like, oh, so one is forgiven, right? One is taken, not good, like swept away in the flood. And the other one's forgets literally what you would see if you read Greek forgiven. I'm done with that. Now, we'll move on. It's in how you know, I know I ruin everything come here on Christmas. It's great. Like I ruin holidays are at all the teachings you like, it's not true. So anyway, if you want to know more about that we can tell you about a Bible study. But interesting, I know the context of everything, but just think about it. Go home, read your Bible and read it again. And don't put anything into that text. And you'll laugh if you're smart. So anyway, Luke 18. One, one day, Jesus told his disciples a story to show that they should always pray and never give up. There was a judge in a certain city and he said, No, sorry. When he said, We neither feared God nor cared about people. We know that city came to him repeatedly saying, give me justice in this dispute with my enemy. The judge ignored him for a while. But finally, he said to himself, I don't fear God or care about people, but this woman is driving me crazy. I'm going to see that she gets a justice, because she's wearing me out with her constant requests. Then the Lord said, learn a lesson from this unjust judge. Even he rendered a justice isn't in the end. So don't you think that God will surely give justice to his chosen people who cry out to him day and night? Where they keep putting them off? I tell you, he will grant justice to them quickly. But when the Son of Man returns, How many will you find on Earth to have faith? So, again, you're ready. Be persistent, be persistent. But that that last line, a lot of people forget that one, right. So be ready. Be persistent, examine yourself. But here we see the opposite. Luke 18, nine, then Jesus told this story to someone who had great confidence in their own righteousness, and scorned everyone else. To a man went to the temple to pray one was a Pharisee. And the other was a despised tax collector, The Pharisee stood by himself and prayed this prayer. I thank you, God that I'm not like other people, cheaters sinners, adulterers, I'm certainly not like that tax collector. I fast twice a week, and I give you a 10th of my income. But the tax collectors did it a distance and they're not even lift his eyes that haven't. He prayed and said, he beat his chest and sorrow saying, Oh, God, be merciful to me, for I am a sinner. I tell you, this sinner, not the Pharisee return home justified before God, for all those who exalt themselves will be humbled. And those who humble themselves will be exalted. Or those who exalt themselves will be humbled, and those who humble themselves will be exalted. Where does Jesus start with that many had great confidence in their own righteousness. So he goes into a parable, right to teach against that. Now, it's kind of funny. We usually look, that's not the funny part. Was I did say it's funny, and then they laugh. That made a lot of sense. Okay. So when we usually look at the raising of Lazarus, we see a few things, right. So clearly, it's a prefigure what's going to happen with God, they roll the stone away. That man comes out, okay, we get that prefigure of our own resurrection and Jesus. Yeah, that's right. And what's interesting looking at it chronologically, What story did Jesus tell right before that if we're doing it chronologically, about Lazarus and the rich man so you could be prefiguring this with a parable to work out for poor Lazarus? Not so much for the rich man, right? We didn't take care of him. Okay, that's all correct. And that's all good. But when we look to the full council of God's word Let me read larger sections because again, think about it. It's really, it's amazing. Like I talked a lot about all the false teaching. Just because something is popular doesn't mean it's right. Alright, so just think like, what's really healthy food? Oh, McDonald's, of course, because it's popular. No, sorry if you'd like McDonald's, but I'll ruin that for you, too. You don't want to eat that every day. Right? So it's just because it's popular. Usually, it's bad. Like, that's, that's an indicator there. It's called commercialism. Like, it's not a good thing. Either consumerism, right, but we liked that stuff. But here's the thing, we had to build a culture here. It's like me telling people, it's probably a good idea. Like, if you're going to read the sermon on the mount to read the whole thing. If you're like, oh, that's three chapters of the Bible. Oh, you know, I'm like, okay. But it's just going to take you a half hour like that's it, you know what I mean? You do a lot of it. But it's amazing. It's amazing. So when we look at these larger sections, what happens? You start to see themes, things become more clear. You're like, oh, that's what that means. Right? So some people don't read the know a thing, or the last thing. They just read this, this little thing there. And but you didn't, you got it wrong, because you didn't get the context. So when we look at the whole thing, like, let's think about it for a second what's typically said about more than you proud to be a Christian, no, this one's not that popular. But you know, like Martha, Martha, like, Mary's there at his feet. She has everything she needs right here. But what's Martha she's self righteous, right? Well, look at all the work I'm doing. You need to tell Mary Jesus given tell Mary, she needs to come with me and help me out. Right? It's not good. Typically, Thomas, even if you've never been to church before, you've heard what Doubting Thomas, are you a doubt culturally, we just know that. Right? She's people don't have a good reputation. That's interesting. But here if we honor God's word, and we read it, right, the way it's meant to be read, like, like a book, like you read a book, not just like one line at a time, like randomly all over the place. And when we honor God's Word, we see an entirely different part of their personality. A virtuous one, think about it. It's no longer Marcin, or Martha goes out to meet him first. Martha has amazing faith and proclaims that he is the Messiah. That's pretty good. So when you put it on the scale there, Thomas, he's willing to go and die with Jesus, Doubting Thomas. Interesting. So if we keep reading, we see a theme here, right? So you start to see this self righteous, chi, if you don't know what you're talking about, it's better that Jesus died than us. Interesting. The Samaritans and this is this takes a little bit to get sometimes but real basic, I'll explain it to you. The Samaritans are looked down upon as like half breeds. By the Jews, the Jews are very self righteous, we've maintained although they did not, we've maintained all God's laws and blah, blah, blah, blah, blah, you know, we're so great. But these Samaritans they mixed in with other people, and they don't follow the hall. And it's like, so that's a thing. So Jesus, every time he gets an opportunity here, he's going to make the Samaritan the better one. That's what he's going to do. So if you've never been in church, you might have heard Doubting Thomas, you've heard the Good Samaritan, that's where that comes from. So Jesus in the parable, the story, he makes the Samaritan to be the good guy, right? And these temple workers are these priests, the Jewish people like that white, your self righteous, that's the point. So the leper, now the only one that comes back, and thanks me is this Samaritan here that you guys keep putting down the rest of y'all didn't bother to thank me. This one was more righteous, and Jesus use him. As an example, think about the coming of the kingdom. Think about it for a second. Right? So people like what's the point? So there's two points when Jesus gives this type of teaching, right? He does that, like, You got to be ready for the master to come home, right? Don't let them find you slacking off, be ready. It's the same type of thing. It'd be like it was in Noah's day or these other stories that you know about their, their eating? Or they're just going about their business, doing whatever, not thinking about it, right. Be ready. It can happen. Boom, like that. That should be your takeaway. But what do we do? Oh, yeah. And that's what we're going to get raptured up. Think about it for a second. And I save those people. What makes you so sure? Because what was Jesus's point? Don't be so how many will the Son of man find to have faith that day?
Right. The opposite. Don't be so certain is what he's saying. How many? Well, I find that actually, have you ever heard Jesus say the road is narrow. We talked about that. It's not why not many will enter He says his words not mine. So Jesus is giving some very stern warnings here. You should be thinking of a crazy stories. Think about the ratio. What does he do in Noah's day only eight people go in Noah's day, and the rest of the world is taken. What are your chances? Why is Jesus doing that? Don't look back. If you cling to your life, don't be like Lot's wife, pillar salt. So what should your takeaway be here? Do Examine yourself. Check yourself. Not like, oh, yeah, can't wait till that happens. Because I'm going to just be whisked up. No, you missed the whole point. So this whole rapture, you'll see, here's the thing. I'm going to be taken up, not like that other center. Who does that sound like? Pharisee. That's who that sounds like. You should be you should be examining yourself and running around spreading the gospel. No, don't get swept away like the whole world, right? It's going to be like, No, again, guys, watch out. Check yourself and for me, like examine myself, man. Even if I believed in that doctrine, I hope I'm going to get taken up. Like, better do something about that. Right? Like, check yourself. That's the point. But that false theology reeks of self righteousness. Think the persistent will seek God seek God seek God? Because why? How does? Because when the Son of Man comes, how many will you find the faith? Examine yourselves. Right after the coming of the kingdom, Jesus calls into question, it's a question how many you're going to get in Pharisee. And attack Jesus says Jesus told this story to some who had great confidence in their own righteousness. It's why he tells the story. He's WARNING WARNING WARNING. The theme here is don't be so confident in your own righteousness and instead Examine yourselves. Get the mirror out self righteousness versus self examination. Now, it seems that if left unchecked, we can have a tendency to find flaws and others, right. So like, what do we normally remember about Martha and Thomas? The bad stuff? The bad stuff? Nobody ever talks about the good stuff? Never. You don't hear that about Martha and Thomas. It's amazing. Right? No, the tax collector. And doing so we miss a lot of the virtues. And sometimes we say things like, well, you know, at least I'm not as bad as that guy. But that's exactly what the Pharisee did. Jesus called it instead we're called to examine ourselves. It has been said, There is your business, and none of your business. We needed to work on cleaning up our side of the street, right? That's the important part taking our own inventory. But that's not what typically happens. Unfortunately, this is also plagued Christianity. We talked about hypocrite right did that recently. So I'm not going to do it again. But that's when people are pulled they're asked, right? They're asked like what comes to mind when you hear Christian if they're not they go judgmental hypocrite. Almost every time it's right at the top hypocrite. Why? Well, right. I'm so glad to be taken up not like everybody else. And here's the thing, we've developed the superiority, complex culture and Christianity. Have a culture of it. Right. So what Christians do well, Christians have favorite sins, right that they like to pick on. Their favorite sins they like to pick on. And you can think of them I don't even need to say. And what they'll do is they'll go out and unlike what the Word of God teaches us, which is go to First Corinthians five, what does Paul say? Do I judge those out in the world? No. Do I judge those in the church? Yes. First Corinthians five read it. Right but we do so we run out in the world instead of like, like proclaiming the gospel with love, like a giggle. Yeah, I mean, I get the sin but I do things too. Doesn't matter. Same room, a different branch. But let me tell you about Jesus, okay, because listen, this should change your mind. Check this out. Jesus, instead of doing that, like buying them lunch or something like that. We go out and we pick it. Right? We write their sin on the sign without writing ours on the sign because that's what we should do jump to signs, one that says there isn't this bill. But you know what? Jesus died for me because I do this, this, this, this and this. We don't do that. We put our sin sign down and we run around Don't worry, there's, and we call it social justice. It's self righteousness. That's what it is. It's sickening. And I see these things. I'm like, all the people that these people encounter will never become Christians. Never. That's terrible. It's obvious, but that's what we do. That's self righteousness. Those who humble themselves will be exalted. So here's what we're going to do. We're going to do a self righteousness test. Alright, to do it using scripture. All right, yes, you're being set up. First. I'll read it to you. Galatians 519 And when you follow the desires of your sinful nature, the results are very clear. Sexual immorality, impurity. lustful pleasures, idolatry, sorcery, hostility, quarreling, jealousy, outbursts of anger, selfish ambition, dissension, division, envy, drunkenness, wild parties and other sins like these. Let me tell you, again, as I have before anyone living that sort of life will not inherit the kingdom of God. Okay. Keep that up. Now, if you read that, and had someone else in mind, you're probably self righteous. Now, if you thought to yourself, maybe you're not. But if we're being honest, we're all a little self righteous. We'll struggle with that sometimes. Which is not a good thing. It's actually sin. Some would say, the root of all sin is pride might have heard that. Oh, that's where that comes from. Guilty. Now, there's no good sin on that list, or slavery or in general. But here's the thing. We've all got one on there. If we're being honest, at least, that we should really be working on. I see a bunch. Okay, like so. Whatever. Right? And shouldn't we see that first? It says something scary at the end of that list. Now, right, you get two ways of thinking here. One, I'm so glad that, you know, when the rapture happens, it's going to take me up and not toes, other senators on that list. Or all. Like, that's what it does to me. You know, I don't know, anyone living that sort of life will not inherit the kingdom of God. Ah, oh. That's what it says. It's not me making it up. Then here's, it doesn't say you need to be guilty of all of them. Just one and other sins like these. And so now what are the picketing Christians do? They go? They go to the top of the list? They go sexual immorality and purity and lustful pleasures will not inherit the kingdom of God. That's on their son. Okay, you don't see idolatry and sorcery because that's kind of weird, right? So like sorcerers, you know? Where are they?
You go to Universal.
Are we allowed to do that? Yes, you're allowed to do? Oh my gosh, anyone? I don't so it seems weird. But doesn't this is basically having faith in anything but God. That's it. idolatry and sorcery. That's it. Do you have faith in anything but God? Your money? Probably so guilty. All right, but wait, there's more. Alright. See, these can also be on the sign. Right? It's not like Paul's going but if you have this one, it's cool. You're getting in? No, don't say that. hostility and quarreling will not inherit the kingdom of God. That's what it says.
Oh, jealousy. Never do that. Oh, outbursts of anger. Less as I get to know Jesus better but oh
selfish ambition dissension division. There is no one calls that in the church envy, like jealousy, drunkenness and wild parties. Okay, I gave that one up a while ago, but while people doing that say they're Christians. It's okay to have a party to two drinks. That's it. If you can handle it, if not just better you don't. I tell my daughter. If you don't start you don't have to stop. So it's easy makes it easy. Alright, but he Here's the thing, do you have any of those? Do you do any of those? Or any other sins like that? Don't say yes. Just you do it in your head. With that being said, Listen, no one can be perfect. So you're going to let you breathe, you're ready. It says, Anyone living that sort of life. Okay, so what is it talking about? Clearly, it's talking about a pattern of behavior. Last week, if you didn't see the message, go watch it. I explained Hebrews 10. To you, right? Anyone intentionally doing this over and over and over again, there's no longer a sacrifice for that person. You're not gaming, God's grace. If you are playing with Jesus, He knows your heart knows that you're not genuine. No longer sacrifice for that kind of behavior. That's what it says. So it's a lifestyle of sin. It's referring to people like living in this sin, and intentionally doing it or same thing, not doing anything to stop. That's what it's referring to. Because we all mess up. This is not talking about mistakes. We all mess up. Everybody, I'm telling you, I hope you heard me say so you know, my heart, right? I'm not the two sides of my hand, right? You Me. But we're both in the same boat. I make mistakes every day. Every day, I make mistakes, right? No one can never sin. And so here's some scripture. First, John, one day, if we claim we have no sin, we're only fooling ourselves and not living in the truth. But if we confess our sins to Him, He's faithful and just to forgive us our sins, and to cleanse us from all wickedness. If we claim we have not sinned, we're calling God a liar. And showing there's word has no place in our hearts. Here's the thing. All true. But if that verse made you feel better about your sin, you really needed to keep reading, because that was another test. If we simply turn the page, that's it right from that verse. We see first John to one, just turn the page as I did there, no Pages and Numbers in the early Bible. So he's just continued. So if I just say, and if you continue, My dear children, I'm writing this to you so that you will not sin. But if anyone does sin, we have an advocate who pleads our case before the Father He is Jesus Christ was truly righteous. Turn the page again. First, John, three, seven, dear children, don't let anyone not anyone deceive you about this. When people do what is right, it shows that they are righteous, even as Christ is righteous. When people keep on sinning, it shows that they belong to the devil, who has been singing since the beginning. But the son of God came to destroy the works of the devil. Those who have been born into God's family do not make a practice of sinning, because God's life is in them. So they can't keep on sinning. Because they are children of God. So now we can tell who are children of God, and who are children of the devil. God's words, not mine. And just to pause here, I read this in Greek, this is pretty good. This is a paraphrase. So you understand it's not therapy. It's just an illusion. It's easy to read translation, so you understand it. But I've been in the original. This is what he's saying here. They belong to the devil. That wording isn't there. Anyone who does not live righteously and does not love and other believer does not belong to God. And just in case you didn't get it, he repeats himself first on 518 We know that God's children do not make a practice of sitting for God's Son holds them securely. An evil one cannot touch them. A little bit of a balance there now, huh? Your take away when you read. First, John, only five chapters doesn't take very long. You know, just pick out your favorite verse. What's the takeaway when you saw it all? Oh, should be your takeaway. Oh, this is not good. All right. does not say it's okay to send. You got to keep reading. The key, though, is just not make a practice of sinning most of the time. So it's like living that sort of life or intentionally doing it. But remember, before you do the math on it, well, he says, Do not game God's grace. Hebrews 10 Don't do it. We should be more about the business of examining ourselves as opposed to self righteousness. We should all just examine ourselves. Look in the mirror. Scriptures Galatians six, four. Pay careful attention to you your own work for then you will get the satisfaction of a job well done. And you won't need to compare yourself to anyone else. For we are each responsible for our own conduct, Second Corinthians 13. Five, Examine yourselves to see if your faith is genuine. Test yourself. Surely you know that Jesus Christ is among you. If not, you failed the test of genuine faith. So we did this a while ago, we are in Galatians, five. And so after those verses are some fruit of the Spirit verse, not those that got to go back and other page, but the ones I was talking about, about the sin, right. And so Paul continues well, but this is the first so this is the, I call it the fruit of the flesh, because Jesus says judge a tree by its fruit, rotten fruit, but it's just the sin of the flesh. It's what he's talking about, but for the flesh, rotten fruit versus the fruit of the Spirit. And he's going to contrast them. So what we did a while ago, won't do it again. But we did a while ago. And you can kind of do this on your own if you want take those scriptures. And I made a little chart, and like, bad column, good column, and then check how many you have in each column, right? And so see what your balance is, what your spiritual balance is, what's going on there. And so Examine yourselves and try to get some of that rotten fruit off the plate or whatever, you're going to, you know, think of it as, alright, let's just take that stuff off of there. And that's progressive sanctification, when the Holy Spirit knows that in you, it doesn't always happen all at once you know, you, you work on it, but what do you got to do, you got to surrender, you got to let them do it. Like just give up. So that was the encouragement. So we're not going to do the whole thing again. But there was a self examination thing. And so I want to look at it if we continue. So you had the scent of the flashlight of Galatians 522. But the Holy Spirit produces this kind of for their lives. Love joy, peace, patience, kindness, goodness, faithfulness, gentleness and self control. You see you some antithesis is here, right? So you got someone was an English major, though you got that right. Are you exhibiting that kind of fruit? No one can be perfect, except Jesus. That's it. But we are called to be producing more of this fruit as the rotten fruit. That's why Jesus says Matthew, so you judge a tree by its fruit. And that's how Christians are judged. So as before, why do people call us hypocrites? Well, probably because that's the fruit of the flesh, right rotten fruit that most Christians are exhibiting. Judge a tree by its red bow. As a Christian filled with the Holy Spirit, right, we should be exhibiting the fruit of the Spirit, living a life that produces an abundance of that firm. For a good tree, was good tree do produce one fruit No. Good tree produces an abundance of fruit. So an abundance of love and abundance of joy? Is Jesus enough? If he is then yes. My peace with peace don't know Christians. angry all the time. outbursts of anger. The news or whatever it is. It's annoying. It's agitating people. Do we? Are we peacemakers the OVR if you know, wouldn't it be wonderful. If the first thing when people like oh, so what do you think of anything Christian?
Oh, they're so peaceful. So peaceful. But isn't that what Jesus told us to be in? Isn't it?
Right, they're not Alberta, Alberta. That's the opposite. Wouldn't it be wonderful, right? You're like, Well, what do you think of Christians? Most loving people I've ever met. Just accepted me. You know, that's fine. told me it's going to work on myself. Jesus will change your Holy Spirit. And I'm not talking about accepting sin, like, acknowledging it. No, no. But again, put the mirror up and you should be going. Okay, whatever. That person's got their own thing. The Holy Spirit of wash that away. But is it in you? Peace, and they're so peaceful. They're so joyful. No matter what. The world is going crazy. It seems like everything's crazy here. How can they have joy? Let me tell you about Jesus. I tell you where I'm going. Right. That's how self control to the people with the picking sides look like they have self control. These fruits will give you the capacity instead of like looking down on others, to love others to help build them up genuinely. Because here's the thing. Another thing that people do any So called Help. done outside the power of that from the Holy Spirit is self righteousness. Let me help you know, any help without love, right without joy in doing it loving peaceful having self control any help, because that's what they say, I'm here to save them from hell. That's self righteousness that's not out of love. I mean, you really love someone, right? Just really practical. We're going to wrap up and say, you really love someone? What do you do? I mean, the people, anybody in the search, how do I treat you? You know, like, you know what, how they're come up on the stage. Like Heller was mean to me yesterday. Let's, you know, like, Matt came in with a sign like, when it's others turn to speak, share her story, like, put her sin up there and broadcast it to the church. Are you kidding me? Right. Now, I love someone you know, you're kind of like, look, we got to talk about this. We got to talk about this, like, you try to you know, you might argue, but let's talk. Come on. Let's write and you love them you do. Come on, why don't you love everybody else that way. But that's what we're called to do. So as we close, I just want to go back to Galatians. We'll see something that we talked about in the past. And it's the preceding verses to some of the ones we saw today. Galatians six, one. Dear brothers and sisters, if another believer is overcome by some sin, you who are godly should gently and humbly help that person back onto the right path. And be careful not to fall into the same temptation yourself. So you still examining, share each other's burdens, and in this way, obey the law of Christ. If you think you're too important to help someone, you're only fooling yourself, you are not that important. Pay careful attention to your own work. For then you'll get the satisfaction of a job well done. And you won't need to compare yourself to anyone else. Before we see the balance, before we can help someone we need to check ourselves. So just some encouragement as we close today. Don't worry, we have food. So if you're getting hungry, I'm getting hungry. Like I can only make like, certain amount of time forgot to eat something. So I'm getting hungry. So we have food for you guys upstairs, be great to have fellowship with you get to know you. And that's what this is all about. And that's one of one of them going here. With this. Look, we're all struggling with something. Okay, so nobody's perfect here at all. Like, I'm not, I'm just going to say Not, not perfect. Okay? So there's still things that as a pastor, I'm working out, I'm like, Okay, I got to stop doing. But the thing is, right, what are we supposed to be doing? Like, you know, I'm trying my best to get rid of it, praying through it, like the Holy Spirit do His work in my life. That's all that's the only difference. But if we're all going through something, right. And that's what we as a church should be doing. Not getting anywhere. If you're going to hide in a corner, or whatever it is, it's fine. But like anything else, right? They say, what you get out what you put in, you have to participate. This Christianity is not a spectator sport. It's not church. Ecclesia. The very, the Greek word means to assemble together to assemble with home to us. You can't do church alone, but being churches in a crucial part of Christianity and the Christian life. And so if you're here, awesome, you're among a lot of other people who are going through things or have gone through things, the stories you hear, and if you've been here for more than a few months, you're like, Whoa, you know, I'm not alone. And that should be the feeling that you get here. If you open up you're not you are not alone. There are people ahead of you, there are people behind you that people you can help to relate to people doing the same stuff. That's what we're here to do. And that's one of the reasons we follow the principles of the early church. Right. So they devoted themselves in the wall out there. Right. So what the word right so the apostles teaching, what are they teaching, keep reading the word. That's it. Probably noticed a lot of scriptures today. Better God talk than me, right. So that's it. We honor the Word of God. I'll explain things to you. And I'm just the funny guy, right? I'm not even that funny if you asked my daughter. So the word friend, right? He's not funny at all. Right, the fellowship, the breaking of the bread and the pair on the prayer. So two birds one stone upstairs after the service. Right? You can connect with us. You'll be told how to do that by a much more handsome guy than me. I think Ed's doing the announcements today Rob.
I can't do both here. Which is weird, right? So anyway.
Have the mic he'll have them and then I'm in trouble. So Oh, anyway, you can see, we're friends here, right? So this guy, this is serious, but at the same time, God's children are called to have joy, right? And so that's a part of it humor, Joy. We have fun here. I want to get to know you. Right? That's if you don't know me, I'm not your pastor. Right? So I want to get to know you. We can talk. I can connect you with other people who you can talk to will not judge won't do any of that stuff. They'll just love you. And we'll just do life together. Right? Amen. So just if you heard anything else today, I love you. Because Jesus loves me. Right? We pray for you, Lord, thank you. Thank you for everything you've done is immeasurable, immeasurable. So, Lord, as we just bask in the appreciation and love for you, I just ask that you just take us to new levels of humility. Just by the power of your Holy Spirit molded us into a truly new creation that resembles you Lord. Be with us all as we go out this week and make us vehicles of Your grace, your mercy and your love. I ask these things in Jesus's name. Amen.