Jesus' Exodus - The Passover and The Passion
Last week, we saw what a faithful worker for the Kingdom of Heaven looks like – one who is focused on Jesus. This week, we will focus on the cross as we approach Easter next Sunday. Between the traditional celebration of Palm Sunday and Easter, we often forget what Jesus did in between. It is Jesus' sacrifice for us on the cross that made the resurrection on Easter possible.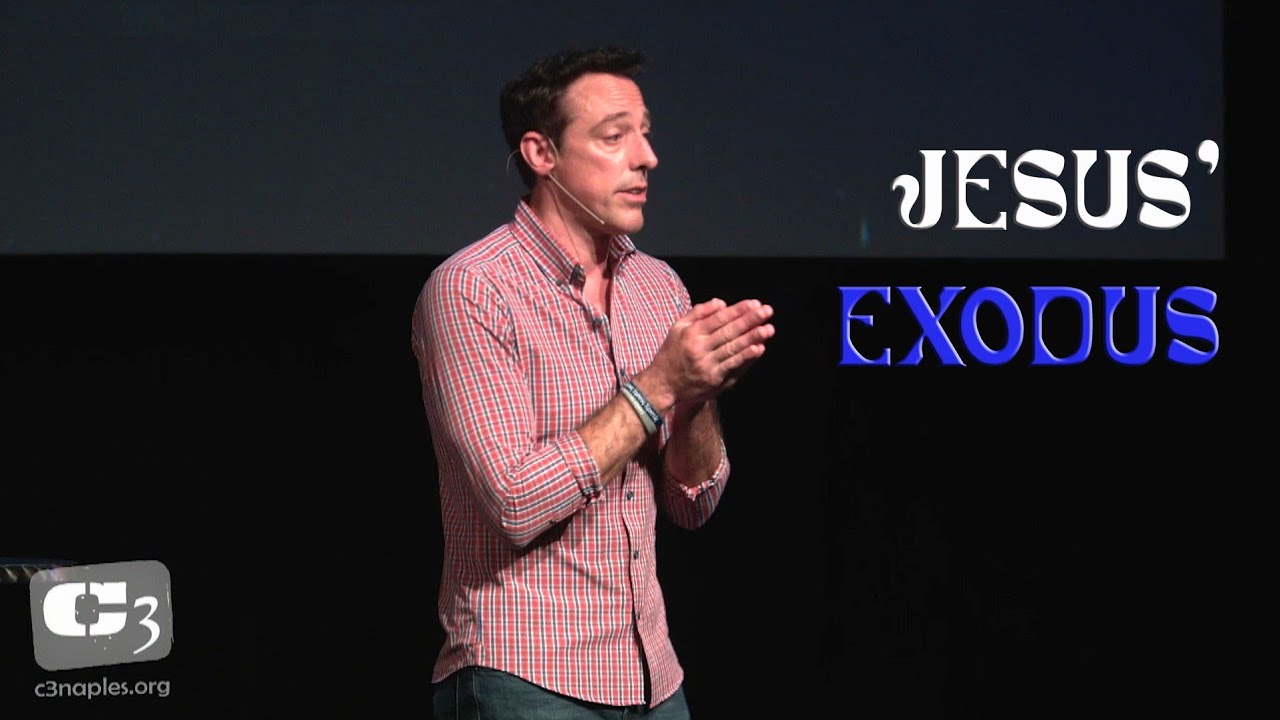 Auto-generated by YouTube
SUMMARY KEYWORDS
Jesus, people, sacrifice, god, exodus, Moses, blood, church, fire, death, son, long, put, pizza, Elijah, cross, hand, read, eat, flogging
Good morning, welcome. If you're new here among us, my name is Gene. I serve here at C3 church as your pastor. And no, this sermon was not written by AI. That's like a thing. So that got us worried about things, how many people believed anything that you read in your newsfeed yesterday? That came up in my newsfeed. That's why I mentioned it. There these old bracelets, and I have Greek things [put] on them and I get it made. Anyway. So that company came up in my newsfeed and it said, we have these new bracelets that identify you as a human or AI. For a minute, I'm like, that might be a good idea. Maybe they're onto something. So AI is a thing now, but don't be worried about it. Don't be worried about it. We're in church now. Everything's going to be okay. Now, there are some pastors who don't always write their own sermons. That's the thing. So yes, AI can do it for you, or other people can do it for you. And if you've been here for a while, you know that I write my own sermons. And even the jokes are little illustrations, and sometimes like today's they're not really funny. But anyway, sometimes I reach back to like an older preaching illustration that I like something, you know, that's been done by a lot of different pastors. And they're a lot of different variations of it. So today, I'm going to share one with you, that gets kind of to the point of what we're talking about now. Fires, when you first moved down here, you might not think that you have to be worried you don't be worried. But you have to be concerned about that type of thing. In Naples, Florida, you always worry about the rain, right? The Hurricanes, coming wetness and winds, fire. And when you live here long enough, you realize that we have a dry season, we go through like our winter down here. And if you live out east just a little bit, it happens. We get these fires, and they become a danger. So this illustration, was written about fire. And it's kind of an interesting thing. I don't really know too much about this time period in American history. But you had the pioneers, and they'll be out there on the prairie. And one of the things that they really had to worry about were prairie fires. So I never really would think about, apparently they could be fast moving and present a real danger. And so one of the techniques that they would use to fight these fires was fire, they would actually burn. So you're nodding. So you must have been in one of the maybe you want to get someone's I didn't know about this, right. So I've never experienced anything like this, but they would burn a designated area. I guess when that was all burned up. There's nothing left of her. And people would write about these times where the pioneers would marvel at the fact that the experience people would just be sitting in the midst of this fire all around them. Totally calm. Not even worried about anything at all. Very interesting fighting fire with fire. Now, it has been said that when the judgment of God comes to sweep men and women into fire for eternity, there's one spot like that, that safe. nearly 2000 years ago, on cavalry, the wrath of God was poured out there the Son of God took the wrath that should have fallen on us. Now if we take our stand by the cross, we will be safe for eternity. And now there are some of you are like oh, no, he's talking about fire already. Don't worry. All right, we'll be all right. So now some of you have been in church for a long time. And you are like me, it's Palm Sunday. Correct. It is Palm Sunday. So we celebrate Passion Week around this time, we're going to do something a little bit different. today. We are a non denominational church. We're not necessarily tied to all the different traditions of the church that came later. So if you know anything about Palm Sunday, we're celebrating Jesus's triumphal entry into Jerusalem that kicks off what we call Passion Week. And so churches have adopted this tradition of like the palm branches and then you'll make the crosses out of the palm branches sometimes depending on what church you're in, and there's nothing wrong with that. That's nice. So we're going to talk about that too. But here's the problem with some traditions and I've seen it so here at see three church we've been every kind of church you can possibly imagine to get to the point we were actually nondenominational really non denominational. So we started out many, many years ago as a traditional church and then did a modern service and kind of were schizophrenic and did all kinds of different things. But the traditional church would do Palm Sunday like this, and say they have all the palm branches and different stuff East You'd have your lilies and that was really important. But the problem with this stuff is first and foremost, it's not biblically mandated that we do it. But then here's the real issue. Some people get so wrapped up in these things, that if it isn't just right, or we've run out of palm branches or Easter lilies are, they're not here on time. It gives some Christians this license to treat other people poorly. Remember the traditions of men we talked about last week, right? You value your traditions over the Word of God or loving other peoples that sometimes the problem with these things they can kind of get in the way. Here's the other issue about passionate weak. And I've also seen this in church for a long time. So you know, if you look at Bible study, so I get it. So first thing I want to say, if you're here, right now, that can be a miracle for some people just getting to church once a week, I get it, we work we have lives, totally get it. So Wednesday night Bible study, it's kind of a big ask. And so there's not so many people at that compared to church on a Sunday. And then Passion Week, you're asking them to come to Good Friday, maybe have a Maundy Thursday service. And so it's a lot of church for people, they're still working their bosses, don't let them out until you know, whenever it's Easter weekend, I get it. But here's what happens when you get these two very joyful Sundays, one after the next. And that's great, because, again, nothing wrong with that, right, we do the travel, and we're celebrating a lot of stuff we're happy and all this stuff. But we forget about Good Friday. There are not too many people at the Good Friday service when we've done them over the years, compared to the amount of people on a Sunday morning. And today, I really want to reflect on that. And what's kind of cool that happens here is that we arrive in a part of the series where it actually kind of works. So I looked at this section and I said, Okay, this works here. And so we're going to reflect on the cross, Jesus is going to make some statements here. And it's important to remember, right? Without the cross, the gospel is no gospel at all. He cannot rise from the dead Unless he dies on the cross. So we're going to talk about what that means in relation to some of the things that Jesus says that I think a lot of people don't catch took me a while to catch these things. So we're in this series, we looked at the need for faithful workers, risk versus reward. So we look at Jesus here, today, we look and see that he paid the ultimate price for so here's the chart, just very quickly, because we've done this again and again, and again, the Bible's not in chronological order. So I kind of put it in order ish, the best I can for you in the gospels, it jumps around a lot sometimes. So you got to kind of move stuff around to get it about, right. And this is about right. It's just three sections. Really. You could follow Mark straight through pretty much Mark nine. So where we left off, Jesus predicts his death. He predicts Good Friday predicts Passion Week. All right. That's where we were. And remember, to the people who were sent out to his followers, he gets a lot of really stern warnings. We saw like a whole page of warnings to people about when they're sent, what's going to happen to them. All kinds of bad stuff for being a Christian people are just not going to like you, you're going to be flogged. Well, then he tells me so also you and me. Then he says, deny yourself, anyone who wants to follow Me must deny themselves pick up their cross and follow me. Really important. What does a person gain by getting the whole world but then losing their soul? Then it picks up now if you're reading Matthew or mark, it'll say six days, they're just doing about six days, Luke will say about eight days. So around a week later, we'll look at Luke 928. About eight days later, Jesus took Peter, John and James up on a mountain to pray. As he was praying, the appearance of his face was transformed, and his clothes became dazzling white. Suddenly, two men, Moses and Elijah appeared and began talking with Jesus. They were glorious to see and they were speaking about his Exodus, from this world, which was about to be fulfilled in Jerusalem. Peter and the others had fallen asleep. When they woke up, they saw Jesus's glory and the two men standing with him, as Moses and Elijah were starting to leave Peter not knowing what he was saying blurted out, Master, it's wonderful as to for us to be here. Let us make three shelters or your version, my say tabernacles as memorials, one for you, one for Moses and one for Elijah. But even as he was saying, this, a cloud overshadowed them and terror grip them, as the cloud covered them, then a voice from the cloud said, This is my son, my chosen one. Listen to him. So if you hop over to Matthew, He gives us a little bit more details here. They're terrified they fall to the ground, and Jesus says Get up Don't be afraid that they only saw Jesus there. And he tells them something interesting. Don't tell anybody about this, until the Son of Man is raised from the dead.
But they're thinking, why do the teachers of religious law insists that Elijah must return before the Messiah comes. And so Jesus lets them know, Elijah has indeed come. And he wasn't recognized. So they chose to abuse him. And in the same way, they also make the Son of man suffer. Again. So here we have the prediction of his death again, and his resurrection in this whole section. So we have a lot going on in here. And I would just want to keep moving on our particular application this morning. But you could spend a long time on this. The, the shelters with Peters kind of referring to as the festival, the shelters, and it's nice that when you put it together, that's commemorating the time when God protected the Jewish people, the Hebrews, the Israelites, when they were wandering through the wilderness, that's what you do to commemorate that time. So that's a tabernacle, and you would shelter in there, Peter is freaking out, Moses and Elijah. So Moses died, Elijah, remember, he was taken up. And when Jesus is saying that it is the spirit of Elijah, and John the Baptist and this fulfill some more scriptures, that's who he is, and they beheaded him, remember, last week. So Jesus is extending that to his death. What's interesting here, and I want you to just put this in your back pocket. Luke says it, Jesus's exodus from the world. Interesting. It's an interesting word to use. So remember that, if we keep reading, we get to an account about a demon possessed boy, when they returned to the other disciples that come down from the mountain, they saw a large crowd surrounding them and some of the teachers of religious law. were arguing with them. When the crowd saw Jesus, they were overwhelmed with awe, and they ran the greed of is all this arguing about Jesus asked them, What are the men in the crowd spoke up and said, Teacher, I brought my son so you can heal him. He is possessed by an evil spirit that won't let them talk. And whenever the spirit seizes him, it throws him violently to the ground. Then he foams at the mouth and grinds his teeth and becomes rigid. So I asked her disciples to cast out the evil spirit, but they couldn't do it. Jesus said, Love you faithless people. How long must I be with you? How long must I put up with you? Bring the boy to me.
Not very nice, you faithless people? How long must I be with you? How long was it I
put up with you? Interesting. Well, here's what happens. Essentially, how long has it been having Jesus wants to know when the demon sees Jesus throws him down. He's riding the mouse. It's really bad. The father explains the general situation to him is what happens he often since he was a little boy, this happens. He throws him in the fire and water trying to kill him. Right? Help me or help us. If you can. See, he's it says, If I can, if I can. Anything is possible. For someone who believes for one who believes matters response, I do believe but helped me in my unbelief. Interesting. So we struggle with our faith. He does believe it helped me plead to heal the boy. And so Jesus does, such as his hand and he rises up just like Jairus' daughter to leave the room. Same type of thing happens here. Amazing. Anything is possible for one who believes. Now, an interesting thing. Because I've heard people like misdirect the statement. And they'll say, Well, when Jesus says right, how long was he with you? How long must say put up with you? Right? It's just the crowd. He's yelling at right? Yeah, forgot to keep reading because what happens is afterward, when they're alone. Jesus asked, why couldn't we cast out the evil spirit? This kind can only come out with prayer. Some versions will say prayer and fasting. Most likely. It's just prayer. He's saying, if you go to Matthew, Matthew 17, nine afterward the disciples asked Jesus privately, Why could we get us out of the demon? You don't have enough faith. You faceless people. He says it flat out there. Jesus told them, I tell you the truth. If you had faith, even as small as a mustard seed, you could say to this mountain move from here to there, and it would move, nothing will be impossible. So if you've been tracking along in the series, you probably just saw a bunch of things just come together right there. Remember the faith? That mustard seed the parable of the mustard seed and how the Kingdom grows, starts out as a smallest of all seeds and then when it grows, it turns into one of the largest of the garden plants where you can necessarily shade and burn birds make their nests, here's applying the mustard seed to something else, you can start with just this little tiny seed in your face can grow, so that you can do really big things. Mark 930, leaving that region they traveled to Galilee, Jesus didn't want anyone to know he was there, for he wanted to spend more time with his disciples and teach them. He said to them, the Son of Man is going to be betrayed into the hands of his enemies, he will be killed. But three days later, he will rise from the dead. They didn't understand what he was saying, however, and they were afraid to ask him what he meant. Again, he's predicting his death. If you don't know you're new to church, when he says Son of Man, he's referring to himself, I'll mention that later, too. This is going to fulfill more scriptures there with that statement is again, predicting his death. Jesus is exodus from the world. So this all ties together as Scripture does, amazingly, and I feel here a little restricted, and I did my best to kind of condense it all so that I can put it together for you. But now I know you'll get hungry, but I could do this for hours, there's so much here. It's amazing. It's really, really amazing. So Jesus is exodus from the world. Moses shows up with Elijah, interesting, Moses and Elijah situation. So if we go back to the Exodus account, we're going to see a lot of things at play that Jesus is going to fulfill. So I'm going to just Overview This not every detail for you just keep it kind of simple, so that you can understand some of the things at play here Jesus's exodus from, so the Exodus account, the Exodus account really gets kicked off, going back to Genesis, Joseph, Genesis 37, through 50, the Joseph account. So that's where they get set up there as brothers, you know, the hand them over to the Ishmaelites, slave traders, they hand him over, and he's in like Potter fires house helping out the prison. So Joseph gets taken away, but by the power of the Holy Spirit, and some intellect. He's kind of an overachiever, he becomes like the second highest ruler there in Egypt, like, top governor, if you will. Right, he kind of saves the day for Egypt, through this big famine. And so he's rewarded, he gets to move, although his brothers were not very nice to him, he gets to move his family there in the Goshen area, into that region, and they're set up and they thrive there in Egypt, but time goes by, and they forget about Joseph and what he did. And now they've multiplied greatly. There's all these Hebrews in the land, and they started to get worried. They can overtake us, what do we do? Well, let's enslave them. So they enslave the Hebrew people. So that's how that happens. So we kind of understand that, but that's the setup there. They're enslaved there. Then, if we get to Exodus, where time goes by now, let's kill the all the male babies. That's what they're going to start doing today. The slavery is not good enough, we have to start eradicating them. Alright, so you get some, some midwives, their ship run Puah. And they're kind of saving the babies. And it's a little bit humorous, because they're like, What, what's going on here? Well, Hebrew, women, they're vigorous. So they have the babies too fast. We can't kill the babies. It's like kind of a crazy thing. But anyway, and during Moses, Amram, and Jacobin, they give birth to Moses for three months, they keep them and then they put him in the Nile among the reeds in this basket. And so you might know that about the account. Pharaoh's daughter finds him, takes him in. So jockey bed, his mom, she actually ends up nursing him for a time I'm not sure exactly how long or if it even says, but then he's raised by Pharaoh's daughter. He's raising like the palace, right? So in a nice place, but he gets older, goes out to see what his people are doing. And he notices an Egyptian beating them. So he murders him and hides him in the sand next day goes out sees two heroes arguing you're arguing about well, I guess they know about it. They're like, are you going to kill me like you killed that Egyptian. So he fleets he leaves the area he goes to end of Midian where he runs into his wife as a fora not Sephora. And rule is dad's name. Alright, so Jethro is his other name. And so he's in that land for a while. And ultimately, what happens is the burning bush account so God appears to him and you're supposed to go back right so you're going to redeem the people from you're going to be like their leader, you know, talk to Pharaoh, you're going to do these types of miracles. There's a bunch of things like a staff turns into a snake his hands like lepers. You're going to do all these signs for them and convince them to get out but he's going to harden Pharaoh's heart. It's not going to happen, right? So Aaron's at play here. So he's not going to talk because his tongue gets tied up here. And actually, there's been movies about the account, like Aaron is really underplayed in most of these accounts, he actually does a lot. He's really a big part of what's going on when they do these miracles. And so you probably know about like, the 10 plagues, right? So it's a lot of disgusting stuff, blood frogs, gnats, flies, boils, all these horrible things. And finally, you get toward the end, there's complete darkness in the land. And then we get set up for the last play. All the firstborn sons die. Less, less, you do what I say you initiate this kind of festival, and it's going to be a remembrance festival. So what do we do? Well, we get a one year old, spotless lamb, basically, right? And you're going to kill it and make the Passover lamb is going to be a feast, you're not going to eat it raw. You got to roast it better herbs and spices, certain way to do it. And something else, and you're going to do it with expediency, you're going to do it fast, really quick, because you're going to get out of here. It's their exodus, they're being redeemed from this slavery. And so it's kind of weird. If you're reading it, you're going to eat it with your sandals on your staff and hand and fully dressed. Don't eat naked in front of other people, right? It's weird. So, but anyway, fast, be ready to go. Right? So in today's language, like, pack your bags, we're going also kind of an interesting thing, you unleavened bread. And so you may hear this right? And you don't know what they're talking about? Well, Jewish people are having the Passover and they eat unleavened bread for the week. Was that mean? Unleavened Bread? Well, here's where I found an opportunity to talk about pizza. No, me. No, I'm looking for any cheese. Why? It's so funny. Because Okay, so here's the thing I can explain, like the leavening thing to you, if you don't know, this actually came up at a Bible study, because I was wondering, like, you don't have time. The idea here is you don't have time to live in the bread, meat or like, like, make the bread rice. And I asked, like years ago to Bible study, because I never baked anything. And so I asked, like some of the ladies, they're like, Well, how long does it take? And then they're like, I don't know, rice in a couple hours. And I was like, Okay, a couple hours. You know, you didn't have time to make good pizza. The phone only takes a couple hours. Let's go. Why do you got to do that? I didn't really understand it. Until, until, so, I started making pizza. I'm very excited about this. My wife says I'm obsessed. And I'm like, No, I'm not obsessed with pizza. I'm obsessed with Jesus, and pizza. So
I'm making pizzas. And I'm really like, I'm taking it very seriously. So I have all the equipment I need. I'm like getting the double O 's flour. I'm not there yet. So I'm just practicing on public stone and stuff like that. And so I learned I'm studying like water to make the dough and all this stuff. But I ended up at one of the best pizza places in the world. They're literally ranked like one of the best in the world. It was not in New York, it was in Miami. The best one in the world is in New York anyway. So. So I asked them, I just flat out as a delicious pizza. Like, how would you do this? We let the dough rise. How long? Three days, three days. So that it rises. I'm like, oh, there's a sermon illustration in the making, right? So anyway, anyway, that's what they do. And they're done making the dough. They put it in their coolers in their fridge for three days. So then I started thinking about this and I'm like, I don't have time for that. It takes a while. So the idea of like yeast rising to make really good product takes a long time. So basically, like that's flatbread. Right, and that's not pizza. No. So I first came down here, like I had a friend take me for pizza. And we were eating this flatbread and I'm like, where's the pizza? Like you ate it? I said, No, that was the appetizer, crackers, tomatoes and cheese. appetizer. That's what we just had there anyway, so I'll move on. I'm done with the pizza. She's like, it's in the sermons now. You know, so? Yep, I got it in there. So there are a lot of reasons here are sacrifices, but this one in particular. So we have a remembrance thing going on. We have expediency going on and there's one more very important thing. And once it's like the most important thing, but kind of what they're to do with the blood. You don't eat the blood. We talked about this a Bible study, right? Because the life is in the blood. And so this goes way back to Noah, like, it goes all the way back there. Don't eat the blood. Don't do that. So they drain the blood, but they take a hyssop branch, remember that? They take it hyssop branch and they cover the doorpost in blood in of those homes with the doorposts covered in blood, the death angel will pass over and their firstborn sons will not die. Why it's the Passover and then this particular sacrifice and festival is to be celebrated every year and God specific so you remember what I did you remember this exodus like that? See the big deal here. So you have like a remembrance sacrifice going on, and you have like a purification thing going on. So they're safe, God keeps them safe. Now, there are a lot of different kinds of biblical sacrifices. This is one of them. But they're done for different things. So sometimes it's kind of like a redemption, your Bible version might say, buyback, so when you're born, you know, you, you sacrifice this animal or if you can't afford the one year old lamb, it's the birds or the pigeons and turtle doves and stuff like that. And so it's this idea of redeeming yourself. So remember the redemption, they were redeemed from Egypt, remember that you can also redeem you, right? So you pay for you, you're not your own, you belong forgotten. There's the Day of Atonement, or you can atone for sins, there's substitution. And so is this idea where the animal pays the price for you, you should die, it pays the price, right? So kind of redemption. But substitution, you get into all these fancy word worship, just worship. So it's like kind of, you're sacrificing your first to God. So we see it all over the place. But Exodus is a reminder. And if we go backwards, and you start going back through Genesis, and you look at Jacob, you see the build alters, and this is usually a response to God. Isaac, alters a response to God, and you keep going back and so to Abraham, Abraham, covenant, right, so there's a covenant sacrifice there, that's really important. But you also see insensitive worship and trust and faith. Remember what he did to Isaac, he offered his son a foreshadowing right of what Jesus did offered his son that type of thing, but God will provide the RAM is provided in the second that type of sacrifice if we go back to Noah, when he gets off the boat, the flood you probably kind of know that account, right? So he offers what a fragrant aroma to God. So worship, you have that there will see Cain and Abel, you have the first human sacrifice. Then what the first murder, right? So but Abel, the first of his flock, you offered it, it's worship. It's what he's doing here. Now, other people ask, okay, I get it. But why are these animals separate? Like, why do we have to do all this stuff? Why do the animals have to die? I don't get it. It's weird. If we keep going backward, we get to their parents, Adam and Eve, humankind. So this is the backdrop. Adam and Eve have to think about this appropriately. They're given paradise. It's perfect. You don't have to work for your food. So you're just thrown around the garden naked. And then you just eat whatever you want. And life is great. It's perfect. It's like heaven, right? So it's just perfect. There's nothing wrong with it. It's good. God gave that to humankind.
But that wasn't good enough for them. That's the problem. He also gave them free will. It's your choice. You do what you want here. That's a gift free well, you can choose to disobey me. Think about that. They made that choice. We
we make that choice all the time to be disobedient freewill. We can do what we want. And so what is the serpent said to God really say, you can't eat from that tree? They're given. Simple don't eat from that tree right there. It's the knowledge of good and evil. Well, serpent says we feed that you'll become like God. Don't blame me because Adam does it to you will become like God. So fundamentally, here's what we have happening. Just see the big idea. Humankind was given basically heaven on earth, Paradise. But it was not good enough for them. So they tried to rob equality with God. Keep that in mind too. So I took from the tree did not belong to them with the idea or understanding that that would make them God. That's the problem. And that's the reason why no pain in childbirth. Now you got to work for your stuff. Right? So sin, sin entered into the world. So here's what the Bible says about it. Hebrews 922. In fact, according to the law of Moses, nearly everything was purified with blood. For without the shedding of blood. There is no forgiveness. That's it. So, again, we went over that idea here is the animal is getting the death you deserve without the shedding of its blood. There's no forgiveness. That's it. Okay? We're not at today yet. So we're not here. And during Jesus, remember I told you, Abraham and Isaac, it's a prefigure of what Jesus beautiful story. We don't have a lot of time for it today. But the sun even carries the wood to the point of sacrifice, right? So, remember, we'll go back not too far, John the Baptist, what does he call Jesus? The Lamb of God is the Lamb of God. That's how he identifies him. John 316. A lot of you know that verse, right? I gave him What did you do sacrifice them for us, is a sacrifice. You get to First Corinthians five. Christ is our Passover lamb. Jesus is called the Passover lamb. He fulfills the Passover. It's an amazing thing. And I could go on and on. But the big idea is that here, what's the plague that the lamb saves them from the death of the firstborn sons? Now? Jesus is the firstborn over all creation. The firstborn Son God now gives him he becomes the Passover Lin. If we are covered by his blood, we're not condemned for all eternity. A beautiful reversal. Amazing. Amazing. So I mentioned Hebrews, the book of Hebrews, beautiful, beautiful, beautiful, really, we did a series on it a while back called it, Jesus has superior. That's the point. So you have these Jewish believers, they become Christians. And they're getting persecuted for it, like it says, and so they're tempted to go back. And so the author or preacher of Hebrews is probably the sermon goes through point by point that Jesus is superior to all these things. He's superior to the prophets, the angels, he's the superior son, he's superior to Moses is superior to Joshua, He's superior to the priesthood to Melchizedek. He's the mediator of a superior covenant. So live by faith discipline lies, because Jesus Christ is the same yesterday, today and forever. Hebrews micromachines version of it. Who knows what they are, okay, so anyway. So it gets to a point, what he's saying is these sacrifices, they're just a copy. They're just a foreshadowing of the heavenly things that we have in Christ. This is how Jesus is better. So I want to share this with you, as we think about that. Now, you know what the exodus is, you have that in mind. So sacrifices like the Passover, the atonement, just a copy of Hebrews 924, For Christ did not enter into a holy place made with human hands, I'll just expand there, like a temple like that, that the temple worship or the tabernacle, which was only a copy of the true one and heaven, he entered in Heaven itself to appear now before God on our behalf, and he did not enter Heaven to offer himself again and again, like the high priest here on Earth, who enters the Most Holy Place year after year with the blood of an animal. If that had been necessary, Christ would have had to die again and again ever since the world began. But now once for all time, he has appeared at the end of the age to remove sin, by his own death as a sacrifice. If we continue, he was that one, the old system under the Law of Moses was only a shadow, a dim preview of the good things to come, not the good things themselves. The sacrifices under that system were repeated again and again, year after year, but they were never able to provide perfect cleansing for those who came to worship. If they could have provided perfect cleansing, the sacrifices would have stopped, for the worshipers would have been purified once for all time, and their feelings of guilt would have disappeared, but instead, those sacrifices actually reminded them of their sins year after year, for it is not possible for the blood of bulls and goats to take away sins. That is why Jesus came into the world. He said to God, you did not want animal sacrifices or sin offerings, but you have given me a body to offer. You were not pleased with burnt offerings or other offerings for sin. Then I said, Look, I have come to do Your will God as it is written about me and scriptures. First Christ said, You did not want animal sacrifices or sin offerings or burnt offerings or other offerings for sin, nor were you pleased with them, though they are required by the law of Moses. Then he said, Look, I have come to do Your will. He cancels the first covenant in order to put the second into effect for God's will was for us to be made holy by the sacrificed body of Jesus Christ. once for all time. That is what Good Friday is all about? that. So tried to make that kind of simple. So anybody, even if you've never read the Bible or been in church before, kind of understand, I know, it's complex, but that's as easy as I can get it right now. What I'm going to do is, I just want to reflect on Passion Week. And just going to give a little disclaimer, I really wrestled with different ways to kind of do this. So I'm going to show some visuals. And if there are sensitive eyes, like kids, I don't know if they can hear me in the kids room. But if someone can maybe just hop back there, I don't know if they have the TV, they haven't seen the other TV on there, turn that off. It's just an anybody. You can fall Karalee to the kids room. If there are kids sensitive to that kind of thing here, just give a little disclaimer. So Patrick, triumphal entry, then you have them celebrating the Passover. That's what they're doing. And Jesus during that Passover meal, initiates the fulfillment of that the Lord's Supper, we do that here once a month, the Lord's Supper. And I usually do it with a teaching. If you've been here too, that I usually go through the us a lot of you actually have heard a lot of this. I go through the Exodus thing. I'll teach you why we're doing this. So he initiates it. And it's very similar like Exodus why? Why do we do this to remember your redemption? Why do we do the Lord's Supper to remember our redemption? Whatever else denomination you believe about it, that's fine. But that's the basis. That's why you're doing it. Jesus says, do this. And remember, remember what I'm doing for you, just like the Exodus account. Remember, your redemption is what it's all about. So my body will be given for you is the cup of my blood, the blood of the new and everlasting covenant when you do this, do it in memory of me. That's what it's all about. He does all this knowing what's going to happen. So we see how Jesus is going to do this. First, he's betrayed and arrested by his friend, Judas, remember that? Look at Judas, retrospectively their friends, I mean, Jesus knows what he's going to do to him but betrayed and arrested by his friend that sets the stage. Now he's put on trial. All kinds of false testimonies, the big underlying theme through the passion is that they're asking if You're the Messiah, then do this. Are You the Messiah? Are you the Blessed One of God? Finally, the high priest asks him, Are you the Blessed One? He says something very important. I am. Remember the burning bush. That's the name God gave for Himself to Moses, who do I say you are? I am. Ready says that scripture saying, I'm God. And you will see the Son of Man seed in the place of power, God's right hand coming on the clouds of heaven. He's reciting Daniel seven. It's prophecy. So I'm God. And so they say, why do we need any more witnesses? He deserves to die. Sip, fate is sealed. And they treat him horribly spitting on him. Beating him. Meanwhile, zone people, this is the Jewish High Council. Meanwhile, his lead Apostle Peter denies him.
This top guy out. I know we've been in a lot of situations we lose people, whether it's organizations, partnerships, those kinds of things. Your top guy, he's out. Great. Now he sent the pilot. Are you the king of the Jews? You've said it. Jesus says here he's mocked by Herod soldiers. This is the kind of Tetrarch the king not the Roman king. So pilots the Roman guys who have Roman occupations has been bounced everywhere. Herod and his soldiers mocked Jesus too. So it's not like having one trial. That's it. You sent from place to place to place bounced around abused mocked this whole long process finally, back to pilot. Then finally because he doesn't want to do it, he doesn't see the problem. Here's why. His wife has a dream … He's trying to look for ways again this why am I kill this guy? All right. Ah, this custom where we released one prisoner. Right bravas is set up to go but Jesus. Don't Want You the King of the Jews back. No. So a murderer Barabbas gets off the hook. A street. Crucify him. Crucify him. Crucify him. Now he's flogged now I was raised pretty strictly and I know what it feels like to get hit with a belt never got hit with the buckle and I never got hit with a lead tip flail with bones inter woven through it. Here's the idea. Now the Jews, you'd be relegated to 39 because you're not supposed to whip anybody more than 40 times. So they do 39 Just so you don't mess it up. The Romans are under that law. They're going to beat you to death. They know They're crucifying Him. And I really don't want it to last too long. It's work. You have to sit there and guard the bodies. So what they would do and I'll advance a little bit, break their legs and make sure they die. We'll get there. They flog him. This is supposed to and here's the picture just doesn't quite get it, right. The flogging part. If this happened, they've scientifically just broken this down, looked at it had medical experts people would do this kind of stuff. This would have torn his back open. Torn it open. You'd see exposed bone possibly Oregon's horrific. This isn't even bad enough. Horrific. Now I don't know about you. But do you ever have something happen to scan on your back? It's painful. All the nerves are there. At this point, Jesus is a dead man. That's it. No physician is going to be able to cure him of this at this point. Dead Men. He's losing massive amounts of blood. He's just injured beyond repair. That's a flogging. Then they put a crown of thorns on they mock Him, spit on him put a robe on him who hell KING OF THE JEWS hit him with a read stick. If the flogging wasn't bad enough, what? Then you get to carry your own cross, probably the cross beam but could be the whole cross. The thing that you're going to die on, carry Golgotha the Place of the Skull he's going there. But he's a dead man. He's a walking dead man. He's practically a corpse. So then let's Simon of Cyrene, father of Alexandria and Rufus, to help them out. Got to carry His cross for him. When he gets to where he's going, they now him to it. EMF and Milan to it. You can tie him to it. Now into it. So it gets to that point. You die in crucifixion by suffocating, can't get any more oxygen in your lungs, your diaphragm needs to expand and contract. You do that by pulling yourself up or pushing yourself up with your legs, which is why they would break the legs was due to the other people being crucified or overweight. Let's go break legs and you can't put yourself up you're dead. Can't get your Aaron anymore, you get tired. So it normally takes a long time. But in the meantime, Jesus as nails, probably going through here, Greek word in the Bible, one word for this whole part. And the same thing as we're just going through here. He put it through here probably rip out. Put it here. Nope. And we know what's here. What happens that people injure themselves there. You're dying. That's no good feat for dry the nails put through the feet. But we know from like excavation archeology that the feet are probably going this way and the nails probably through both the heels. That's how we found some of this stuff. They're both heels. Now here's the thing. If you're trying to survive, that's instinct. You're pulling yourself up, you're pushing yourself up against the nails that are going through your wrists and your feet. What? Oh, and then remember the back. You're rubbing your exposed back your organs up against a wooden cross a tree
excruciating it means from the cross Latin. They do invent a word for this.
He's being ridiculed. They're casting lots for his clothes. What is Jesus said, forgive them. Forgive them. Take a moment and think about who you can't forgive and what they did to you.
Forgive them, they don't know what they're doing is marked by one of the criminals to criminals on either side. If you're really the Messiah Get yourself out of this and get us out of this to one of the other ones, hey, we've done something wrong, he hasn't remember me. When you enter your kingdom Jesus. Today you will be with Me in Paradise.
It's still continues from the cross, John, the only disciple that we know of probably John is there with Mary. And he has his mother's welfare in mind. As he's going through all of this, dear woman, this is your son. In other words, John take care of her. That day on she lives with John. constantly thinking of other people's interests. The Crucifixion is six hours long.
Six hours, not three. A lot of people can't count it six hours of exclude excruciating pain, oh my God, my God, why have You forsaken Me? Father, I trust my spirit into your hands. Then he says I thirst. hyssop branch. Remember the Hisle branch is dipped in sour wine and lifted up to him. It was finished. I was just having dies.
Author of Life did that for you. That is the God I worship.
First Peter, when it for you know that God paid a ransom to save you from the empty life you inherited from your ancestors. And it was not paid with your gold or silver, which lose their value. It was the precious blood of Christ, the sinless, spotless Lamb of God. God chose him as your ranch long before the world began. But now in these last days, it has been revealed for your sake. I always get a picture of a courtroom. I get a picture of a courtroom where I'm guilty of everything. I'm guilty of everything. I'm charged with everything. Murder, whatever, I am guilty. I know I'm going to be sentenced to what I deserve the death penalty. I'm going to die. And I deserve it. For anyone here today who thinks that they're somehow righteous? Go back to the Sermon on the Mount. If you've hated someone, you've murdered them in your heart. If you've looked at someone with lust, you've committed adultery. You're guilty. And so I get that picture knowing what I know. I deserve to die. And then that and then Jesus comes in ransoms me, it frees me, He takes my place. He comes in pays the price for you with His blood.
The blood of Christ, we are ransom through the blood of Christ were redeemed. Through the blood of Christ were made just were justified. We are holy, we are righteous and redeemed by his blood
This is something that shouldn't just be relegated to Good Friday. It should be something that we think about. Often. It's a gift. The gift of eternal paradise. Are we Adam and Eve. Were going to be given this gift yet take it for granted. No, we should remember what he did for us, as he said. Do this in remembrance of me. So as we close, I've just really been enjoying closing with God's word. Nobody can say it better than him. But if you've been around for a while especially, I have the Lord's Supper. You know I really, really liked Philippians, one of my favorite books of the Bible, and I have favorite sections in Philippians, two, five through 11. It's probably an early hymn or poem or something like that. It's hard to identify in the Bible sometimes unless you're paying attention. But this is one of them. I'd like to close with it because it tells us about who Jesus is his nature and what he did for us. And I'm going to throw a little couple little things in here so you can see it, you can see it. In Philippians, two, Paul says, make your own attitude that of Christ Jesus, who, existing in the form of God did not regard equality with God is something to be robbed, snatched, taken advantage of, like Adam did, reverses the garden. Instead, he emptied himself by assuming the form of a slave taking on the likeness of man. And when he had come as a man, in his external form, he humbled himself by becoming obedient to the point of death, even to death on a cross. For this reason, God highly exalted him and gave him the name that is above every name, so that at the name of Jesus, every knee should bow, those who are in heaven and on earth and below the earth, and every tongue should confess that Jesus Christ is Lord, to the glory of God the Father. Amen.