Jesus - The Imperishable Investment
Last Week, We Looked At Some Practical Ways In Which We Can Sustain Our Christian Walk. This week, we'll look at who Jesus is in light of the whole Bible and why He is superior to everything this world has to offer. We've looked at what we should commit to, now we'll look more closely at who it is we are committing to and why he is superior to anyone else.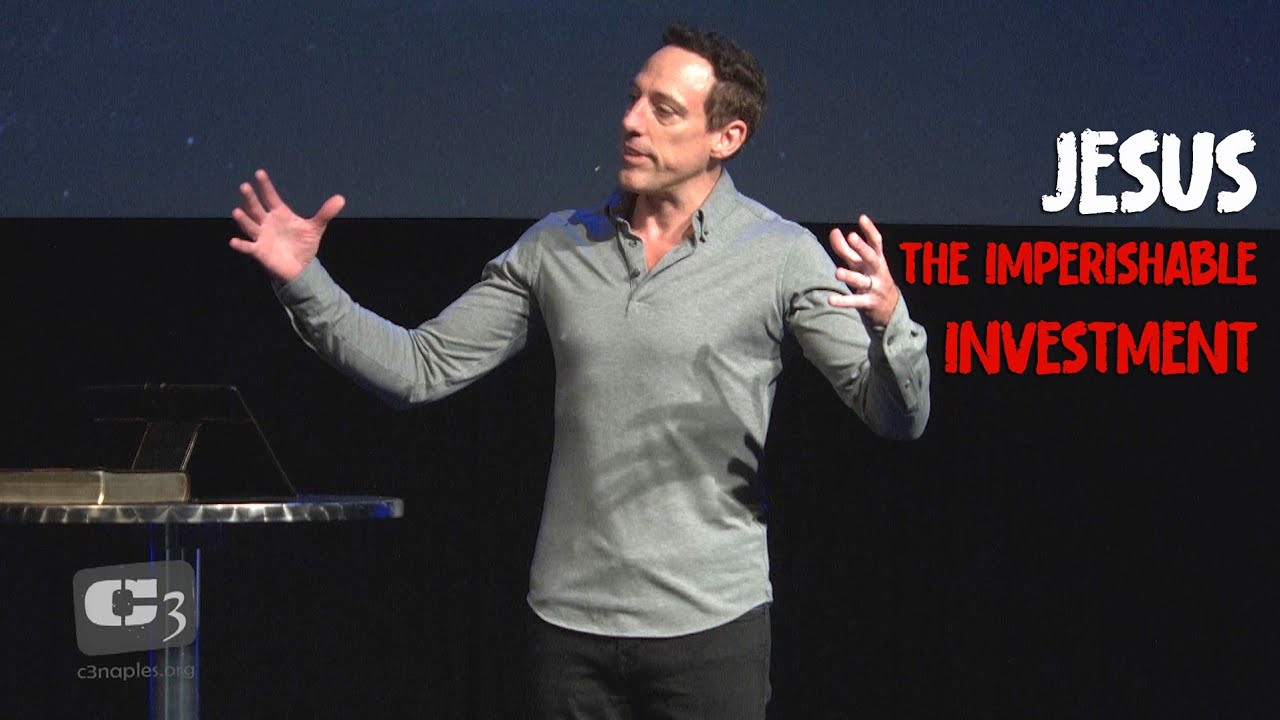 Sun, Nov 05, 2023 10:AM • 57:18
SUMMARY KEYWORDS
god, Jesus, Hebrews, people, talk, Christ, read, live, die, high priest, heaven, bible, perishable, hear, suffering, superior, Melchizedek, church, faith, old testament
Good morning. Welcome. If you're new here among us, my name is Gene I serve here at C3 church as your pastor Charles Francis Adams, not of the Addams Family, son of President John Quincy Adams and grandson of President John Adams kept a diary. One day, he wrote in it went fishing with my son, complete waste of time. His son, Brooke Adams also kept a diary, which is still in existence today. On that same day, he wrote this, when fishing with my father, the most wonderful day of my life. The father thought he was wasting time fishing with his son, but his son saw it as an investment of time. The only way to tell the difference between wasting and investing is to know one's ultimate purpose in life and judge accordingly. Today, we'll talk about the best possible investment you can make. And our response to that investment. So last week, we were in x 70. No, there's no joke there. There's no joke there. So didn't need to break any ice at all. You guys seem ready to go. You got the coffee. We're good. All right now that was brought the next 17 First and Second Thessalonians some stuff if we're being honest, right? God's Word speaks the truth to us. And it isn't always the way the world speaks to us. So it can be tough. I'm glad to see that you guys are brave enough to come back because now we're going to do Hebrews. We looked at practical methods of perseverance for the church. Last week, today, we'll look at the head of that church. So we're doing this because there's a theme of persecution. So you have these first Jewish believers, all the original Christians, originally, Jesus is Jewish, and then they become Christians. But what happens even before the Roman persecution is, well, the Jewish people who did not decide to become Christians persecute, so we saw Paul get chased around right there, chase them from town to town, chase him around. So this continues to happen. And the reason we don't have like Paul saying, Hey, I'm in the town of the Hebrews, right? And I wrote a letter back to there. That's what happened in Thessalonica. Right. But the theme is remarkably similar. It's the same theme, same encouragement. So that's why we're doing Hebrews. Now. A couple things about the book of Hebrews for a long time, they thought that Paul wrote it. But if you go back before that, they just didn't really know a lot of people attributed to Paul. But it is the word of God. Right? So it is Holy Spirit inspired, we do have an influence on things or they did have you know, Paul has his own little things. John has his own little things. But they're writing by the Holy Spirit. So it doesn't matter. Really. It's God's word. So we believe that Hebrews is the word of God. Important note, a couple things about Hebrew. A lot of people love to speculate, right? But just think, if you know me, I really don't like to speculate, because it cannot be known. Right? So just that's, it cannot be known. So when we cannot know something, we shouldn't go looking for it. Right? So he spent all this time I wonder who wrote it and people write books about who wrote Hebrews, and I'm like, what? A foolish investment of time, right? It's a waste of time. You can't know so just let it go. Right? It's God's word. The Holy Spirit wrote it. That's it and the story. So don't ask me a Bible study who wrote Hebrews? I just, that's it. I'm going to have to buzzer you. I have a buzzer. I'm hesitating about bringing it up here. Sunday. Oh, that would be funny. All right. So knowledge, really good knowledge of the Old Testament is necessary in order to completely understand Hebrews, you have to I mean, the things half Old Testament reference or, you know, quotation, it's just you cannot be a New Testament Christian only, you really have to understand it, but I'm going to explain it to you. All right. Now the Holy Spirit is going to nudge you a little bit. If you've been here for a while, we're going to get to that part. But if you're new, don't worry about it. I'll try to do my best to kind of boil it down and explain as we go through. Now, Hebrews is most likely a sermon, it's most likely a sermon which is really interesting. Very important to hear it all in one shot, and not supposed to do it line by line, so you get everything wrong. So we talked about that. I won't go over that anymore. But it's really important even chapter by chapter, you're going to see it's insufficient. If you were in a Bible study that was doing chapter but there are awkward chapter breaks here. The chapter breaks don't appear until 1200 years later, but that digest there are no numbers, reference numbers in your Bible at all. Okay, and so, yeah, 1200 ad the Archbishop of Canterbury Stephen LinkedIn. I think okay, nerd glasses off. But anyway, they're not in there. And so what we get now is like really awkward chapter breaks, and you're going to see a few of them here. It's like, no, don't stop, just keep reading. Same thing, Jesus Sermon on the Mount, I give this illustration all the time, chapters five through seven of Matthew, when you stop, you interrupt Jesus, you need to let him finish his sermon. So the same thing is true here, because he'll often what? clarify a point, so I've had people get up and walk out, like now ish, right? You know, well, he made a point, but he's going to clarify that point, right, and the sermon, so don't draw a conclusion. So you get to the end. So here's the thing. We're not going to read you all the verses in Hebrews. To paraphrase a little bit, I'm going to encourage you to read your Bibles again, don't believe me? Don't believe anybody else believe only this. Alright, so just read this by the power of the Holy Spirit. And those are all your answers. So paraphrase a little bit, I'm going to read certain scriptures. Subject line in this email, if it was an email, Jesus is superior. That's your subject line, right. So this is kind of the heading over everything that we hear or read. Hebrews one long ago, God spoke many times, in many ways to our ancestors, the prophets. And now in his final days, he has spoken to us through His Son, God promised everything to the sun as it inheritance, and through the sun, he created the universe, the sun radiates God's own glory and expresses the very character of God, and He sustains everything by the mighty power of His command. When He had cleansed us from our sins, He sat down in the place of honor at the right hand of the majestic God in heaven. This shows that the sun is far greater than the angels, just as the name God gave him is greater than their names. The sun is superior to the angel, so the prophets and to the angels, but there's much more than that really important here.
When he brought his supreme son, into the world, God said, Let all of God's angels worship Him. So big building and building and building, Jesus is God, we get this clearly here, Hebrews one eight, but to the sun, he says, Your throne, oh, god endures forever and ever. You rule with the scepter of justice, you love justice, and hate evil, therefore, oh, God, Your God has anointed you. So you have some Trinity speaking here, pouring out the oil of joy on you more than anyone else. He also says to the sun in the beginning, Lord, you laid the foundation of the earth, only God can do that made the heavens with your hands, important. Remember, they will perish, like everything will perish, but You, Jesus remained forever, they will wear out like old clothing, you will fold them up like a cloak and discard them like old clothing, but you are always the same, you will live forever. Very, very important. Jesus is God. Jesus again, is superior to the angels. So it's going to just kind of move into this theme in Hebrews two, one. So we must listen very carefully to the truth we have heard or we may drift away from it, for the message God delivered through the angels has always stood firm, and every violation of the law and every act of disobedience was punished. So what makes us think we can escape if we ignore this great salvation that was first announced by the Lord Jesus Himself, and then delivered to us by those who heard Him speak against the ANC, goes right into this chapter with the angels. And then you get it theme. drifting away, whoever is preaching, this is concern, same as Paul was in Thessalonica, right? Don't grow weary and give up. They're going to be persecuted, we're going to see that as we build. So he's building Jesus is better than all this stuff. Keep going. Something about Jesus, the man, God, for whom and through whom everything was made, chose to bring many children in in glory. And it was only right that he should make Jesus through his suffering a perfect leader fit to bring them into salvation. So no Jesus and the ones he makes holy, that's us, if we believe in him have the same father. That is why Jesus is not ashamed to call them his brothers and sisters. So have you ever heard that something that sounds weird like my brother Jesus, right? This is where it comes from? It's scriptural, Hebrews 214 Because God's children are human beings made of flesh and blood. The sun also became flesh and blood, for only as a human being, could he die? And only by dying? Could he break the power of the devil who had the power of death? Only in this way? Could you set free all of live their lives of slaves to the fear of dying? We also know that the Son did not come to help the angels. He came to help the descendants of Abraham therefore it was necessary for him to be made in every respect like us, his brothers and sisters, so that he could be our merciful and faithful high priest before God, then He could offer a sacrifice that would take away the sins of the people since he himself has gone through suffering and testing. He is able to help us when we are being tested. See, it starts to come together here. He's both high priest, brother and sister he's got he's fulfilling everything, He's superior to everything. Again, no chapter breaks in the original Hebrews three, one. And so because of what we just said, Here, brothers and sisters, who belong to God, and our partners with those called to heaven, think carefully about this Jesus when we declared to be God's Messenger and high priest, right, so it's almost like Apostle and High Priests, for he was faithful to God, who appointed him just as Moses there faithfully when he's entrusted with God's entire house. But Jesus deserves far more glory than Moses, just as the person who builds the house deserves more praise than the house itself, for every house has a builder, but the one who built everything is God continues. Jesus is superior to Moses, right? So Moses, certainly a faithful servant in God's house. But his work was an illustration of the truths that God would reveal later. So he's going to talk more about that there. Right, but Christ as the Son of God, in charge of God's entire house, and we are God's house. So there's that hope in Christ we have there. And that idea that we are the body of Christ, we are individually temples of the Holy Spirit together, we are the body of Christ. And that is why the Holy Spirit says today, when you hear His voice, don't harden your hearts as Israel when they rebelled, when they tested me, God has been quoted here in the wilderness. So here, we're going to move in that photo up here again, we're going to move into another section, we're going to move from Moses to Joshua. So he's setting that up, right. So if you know the story, they're in the wilderness, they're wandering around, they styled the land numbers 1314, they go, and then they're afraid they saw these giants like or so they thought, we look like grasshoppers, they get scared, they don't want to go, they don't trust God, only Caleb and Joshua want to go, which is why they get to enter the Promised Land, the rest of them, they do not, they don't get to enter. So they're wandering around the wilderness for 40 years. That's what's going on here. And what the author is talking about from your Old Testament, alright, so they rebelled against God, even though they heard his voice, wasn't it Moses, who led the people of Egypt. So we see that because of their unbelief, they were never able to enter the rest. He's going to extend it beyond the people that just like couldn't get into the promised land. So it continues, and for Hebrews four, one, God's promise of entering his rest still stands, though we ought to tremble with fear that some of you might fail to experience it. For this good news that God has prepared, he's rested and announced to us just as it was to them, but it did the no good because they didn't share the faith of those who listens to God. So it'll move here to Joshua. And what's just kind of interesting, Jesus is superior to Joshua, if, when I first started reading it in Greek, I kind of laughed because I'm like, wait a minute. It says Jesus, Jesus and Joshua, the same name and the Greek are really interesting, right? So if you read the Greek Old Testament is very hard. Great to read. You'll notice that Joshua isn't Joshua, it's Jesus. And it makes all these foreshadowings are going to see it was only a shadow of the good things to come. So it makes the foreshadowing so obvious. You're like, Oh, okay. So it's really way more congruent here. On people don't know we talked about in this series. It was especially important when we did the Old Testament a lot. Most Christians don't know that the Bible being quoted here is Greek. It's the Greek Old Testament, it is not the Hebrew. Now, this is remarkable. This letter is written in Greek. They're reading the Greek Old Testament to the Hebrews. It's not in Hebrew. It's absolutely remarkable, right? So the early church is the Greek Old Testament, they believe that it's a Holy Spirit inspired version to point to Jesus. Indeed, it does, because when you read it, you're like, Oh, it's so much more obvious, you have to do a lot less work. So just a quick, okay, nerd glasses off. A quick note for you, is going to look more congruent. The Bible of the early church is way more congruent. He talked about more Bible study. So basically, now if Joshua had succeeded in giving them this rest, God would not have spoken about another day of rest still to come. So there is a special rest still waiting for the people of God. So even these people, they didn't get into the real promised land. And we'll get into that. Keep that in mind. Now with this context in mind, judgment for Israel for disobedience, right. So think about that. Let's look at the right way to understand a commonly misunderstood verse. If you're Christian for a long time, you probably said this. Depends on how you said otherwise stop. Hebrews 412. For the word of God is alive and powerful. It is sharper than the sharpest two edged sword. That's probably where you stopped. Right? You've done that you said that? Right. shouldn't stop cutting between soul and spirit between joint marrow, right, so it's like a scalpel. It exposes our innermost thoughts and desires like a scalpel would expose your heart. Nothing in all creation is hidden from God. Everything is naked and exposed before his eyes. He is the one to whom you're held accountable. It's talking about a heat. It's not talking about your Bible is not about your well. Now the word of God is Jesus. The Word of God is the Bible, too. So it's one of those things that can have like two, it can mean two things. Here, it does not mean your Bible, it means Jesus. So if you keep reading, like all the way to the end, you're going to see in the beginning of Revelation, I believe the first chapter, what comes out his mouth. Right? Judgment, comes like chapter 19, was the judgment that comes out of his mouth. Right? So it's the context here is Jesus, he's exposing you, he's cutting you open, like the priests cut open the sacrifice with the knife. It all ties together. Okay. So Christ is our high priests going to be the next section. So this is what is used here. to segue into that section. Brilliant isn't the Word of God, great. So then since we have a great high priest who has entered heaven, Jesus, the Son of God, let us hold firmly to what We believe this high priest of ours understands our weakness when he faced all of the same testings, we do sound familiar, yet he didn't sin. And no one can become a High Priest, simply because he was such an honor, he must be called by God, to this work, just as Aaron was. So Aaron, right. So it's like this beginning of the Law of Moses and this priestly lineage. Moses, his brother, Aaron, there's from the tribes of Levi, you have to be from the tribe of Levi to be a priest. That's how they're chosen, right? So you can't just say, I want to be in that system, the law. That is why Christ did not honor himself. So you see this humility and obedience like Philippians. Two, by assuming that he could become a High Priest. No, he was chosen by God who said to him, You are my son today, I become your father. And another passage, God said to him, You are a high priest forever in the order of Melchizedek.
What's that? So I'm going to kind of keep this short. Basically, let's see. Genesis 14, I could be wrong. Check my word. Genesis 14. So you probably heard of Sodom and Gomorrah never read the Bible, right? Fire and brimstone, right, and the Lot's wife, pillar of salt. That's how it goes. But what happens is he's leaving he's leaving in this area of Sodom, right? And what happens is, there's a war for kings against five and cuddly Omer. This king hard to say, No. King comes in attacks steals away lot, right? So he takes all the plunder, but they get stuck in like tar pits, and then Sodom and Gomorrah taking stuff back. And so it's like this, this whole thing, but Abraham gets a 318 treatment. I said it backwards. Sodom and Gomorrah get stuck. Kevin Lee Omer gets the stuff back. Reverse. But anyway, he finds out about it finds out that lot is stolen wet. And so he goes with 318 train men, and he gets lot in the stuff back. On his way back, he runs into this Melchizedek guy, he's like this really mysterious priestly figure who comes and blesses Abraham. So it's like this weird thing is that Abraham gives him a 10th of the spoils of war. Very bad illustration, because some people would be like, you got to give 10% Because it was before the law of Abraham give just decontextualize the whole thing. It's 10% of the spoils of law of war. There was a tradition back then the ancient world, just give 10% Right? And yes, you should still do it today. Because your hearts right. Okay, not going to go anywhere on that. That's your milk, a Snickers, but he's this mysterious freeze just comes out of nowhere. David's things about him later, but you don't really hear too much about him. So that's what the author here a preacher is talking about. Now. Hebrews five, seven, while Jesus was here on Earth, you offered prayers and pleadings with a loud cry and tears to the one who could rescue him from death. And God heard his prayers, because of his deep reverence for God. Even though Jesus was God's Son. He learned obedience from the things he suffered in this way. God qualified him as a perfect eye priest, and he became the source of eternal salvation for all those who obey Him. And God designate him to be a high priest in the order of Melchizedek. So, Jesus, if he is like a High Priest, like anybody, he's like, Melchizedek, who just he's an eternal priest. He's not from this like line. He's from the tribe of Judah, Judah, that line, not Levi, right? So he's got to explain that. So this sounds complicated, right? getting complicated. Wait a minute, you're like, just drive me all around my Bible. Pastor, this is crazy. So the author knows this, which is really funny, right? Or maybe it is a sermon. He's preaching and the people are like, are they given that look, sometimes you guys do it, you're like, Yeah, I'm like, really? You know, so he knows he loses them. So this is the part where I know I'm losing you. And you're like, I don't know what he's talking about. He's like, flipping around, like you're going too fast. And so this is what's happened and I think so. So, a digression, Hebrews 511 There's much more you'd like to say about this, but it is difficult to explain, especially since you are spiritually don't and don't seem to listen. You Wow. Is right This guy's awesome. That's why they thought it was cool. You have been believers so long now that you ought to be teaching others. Instead, you need someone to teach you again, the basic things about God's word. You are like babies eat milk and cannot eat solid food. For someone who lives on milk is still an infant and doesn't know how to do it. Right? solid food is for those who are mature, who they're training, have the skill to recognize the difference between right and wrong. And some today are like that. So we get people they're like, Oh, I hear so many scriptures, to tell more jokes and be funny pastor. hear God's word. Right, but wrong. You should be wanting to hear more of God's word if you love God. Hello. So there's some frustration here, no chapter breaks Hebrews six one. So let us stop going over the basic teachings about Christ again and again. Let us go hunt instead, and become a church and understanding surely we don't need to start again, with the fundamental importance of getting from evil deeds and placing our faith in God. You don't need further instruction about baptisms, laying on hands, the resurrection is dead and eternal judgment. And so God willing, we will move over to further understanding. I felt like I meant that. Alright, so that brings us to an interesting part. All right, and so we'll talk a little bit about this. Now remember, he's going to continue here, and this is what this is about. Therefore, it is impossible to bring back to repentance. Those were once enlightened, those who I experienced the good things of heaven and shared the Holy Spirit, those who have tasted the good news of the Word of God, and the power of the age to come. And then to turn away from God, it is impossible to bring such people back to repentance by rejecting the Son of God, they themselves are nailing him to the cross once again, and holding him up to a public shame. Okay. Now, another thing people talk like with circles about, right, because the answer is right in the Word of God, but then you have people writing books about this, it brings to mind the question, wait, can we lose our salvation? Oh, because it kind of sounds like it. Well, maybe. And so people just want to say no, we can lose our television movement, a little a little talk circles, instead of just reading the Word of God. So if you keep going, First John, and he's talking about people going after the things in the world, which fade away first, John 219. These felt people left our churches, but they never really belonged with us. Otherwise, they would have stayed with us. When they left it proved that they did not go along with us. I'll translate that. If it quacks like a duck. It's a duck. That's how it goes. Anyone can say they are Christian. We talked about checking the box. Anyone can just come in here and sit here and listen, say I'm a Christian, check off a box and then just leave in sin like crazy. I mean, like on purpose. And we'll hear about that, right? We're all going to mess up. Ask my wife. I mess up a lot. But intentionally just going out there and like treat just after you heard Jesus after you've heard the word of God, like what are you thinking? Right? So anybody can say, but if they don't want to listen to Scripture is like, oh, it's way too much of God's word like, that scares me. Like, how can you say that? If you're a Christian, if you love God, I can say it's too much Scripture. Like, usually want to hear that all day. They just get ready to get ready and go right? When we don't want to become more like Jesus and word indeed. Right? How can we say we are a Christian, a baby Christ, I can say I am like a little Jesus. It makes sense if you're not trying, right? If it quacks like a duck, so that's where you get your answer from the Word of God, not people, but the Alright, so we get a disclaimer, which I kind of know in the context is kind of funny, your friends, even though we're not we're talking this way, we really don't believe it applies to you. So when I say that, like well, not you? Not You're right. So it's kind of funny because well, disclaimer, but he says, Look, are great desires that you'll keep on loving one another as long as life lasts, in order to make certain that what you hope for will come true, then you will not become spiritually dull and indifference. That's it again, instead, you will follow the example of those are going to inherit God's promises because of their faith and endurance. Sound familiar? Right? This alone is we saw that kind of thing. All right. So now we keep moving along. These people have fled to Jesus. And then we have confidence as we hold on to the hope and find other verses you've heard and so this is cool. Hebrews 619 this hope is a strong and trustworthy anchor for your soul. It leads us through the curtain and to God's inner sanctuary, Jesus has already gone in there for us, he's become an eternal high priest in the order of Melchizedek. So now you know what that's all about if you did it before. Now, here's the thing. Jesus, again, is superior to the priesthood, and Melchizedek. So it's a big, long section here. I explained the Abraham thing to you. So he kind of goes through that we don't really need to do that. But he explains like he's not a descendant of Levi, I think I went through that a little bit. Right. And he kind of brings up this illness. It's interesting illustration, right? So since Abraham had, it's really weird. But anyway, Levi is like a descendant. So Levi seed was an Abraham. And so it can be said, right that the tide was given from the tribe of Levi, Smokies attic, and the one who gives the blessing is better than the one who receives the blessing. So what is he doing? He's bringing like to be removed from Jesus. So he's saying like, yeah, the priesthood of Levi, because they're dealing with like, oh, we might want to go back to being a Jew, right? He's like, No. And so what he's doing is he's taking that whole preset of Levi and knocking them down as really interesting. So that's what's going on here. kind of complicated, but the seed is
going to go there. He's better than that. And Jesus, he's like, Melchizedek, does what the next section is about, but he is superior to Melchizedek. Here's the main point, we have a high priest who sat down on the place of honor beside the throne of majestic God in heaven. There he ministers in the heavenly tabernacle, the true blaze of worship that was built by the Lord and not human hands, they serve a system of worship, that's only a cup of coffee, a shadow of the real one in heaven. So it's going to be like applied to Galatians. Remember, there is no more luck. That's it. So that's the big thing here. Jesus is the mediator of a superior covenant, that old covenant which included the law, right, the Mosaic Covenant, if you want to get fancy, right, it was only a copy. It was only a shadow of the real stuff in heaven. So think about Galatians I read this Hebrews Eight, seven, if the first covenant had been faultless, there would have been no need for a second covenant to replace it. But when God found fault with the people, he said, The day is coming, says the Lord will make a new covenant with the people of Israel and Judah, this covenant will not be like the one who made me their ancestors when I took them by the hand and lead them out of the land of Egypt, right. So you might know the Exodus account, they did not remain faithful to my covenant. So I turned my back on them, says the Lord. But this is the new covenant I will make with the people of Israel on the day since the Lord, I will put my laws in their minds, and I'll write them on their hearts, I will be their God, and they will be my people. And they will not need to teach their neighbors nor will they need to teach their relative saying, Here's know the Lord, for everyone from the greatest, the least will know me already. And I will forgive their wickedness. And I will never again remember their sins. When God speaks of a new covenant and means that he has made the first one obsolete is now out of date and will disappear. So if you're tying things together, you've been paying attention obsolete yet. So write them on what your heart's not tablets of stone, remember the tablet. So non tablets of stone, right, so that will appear in the prophets to Ezekiel say 36. And so now it's written on your hearts. Remember that scalpel? Heart surgery, God can tell what's on your hearts. So the old cabinet will continue is just a shadow, just a copy. And this theme continues through chapter nine, and into chapter 10. It talks a little bit of it's kind of hard to understand, but like, according to the law of Moses, nearly everything was purified with blood without the shedding of blood, there's no forgiveness. So it's like a lot of sacrifices that, basically that animals take taking your place. Right. So that's why the tabernacle and everything in it were copies of the things in heaven, for Christ's did not enter a holy place made with human hands, which was a copy of the one in heaven, but now is important once for all time, he's appeared at the end of the age remove sins by his own death as a sacrifice. So he's both the high priest and the sacrifice, right? So do you see what's happening here? They're saying he's full. He's fulfilled everything. He's the culmination, he's the fulfillment of everything in your Old Testament, their scriptures at the time. And so, again, it's a dim preview, it's a shadow. It's not the good thing is that heavenly things themselves better than the priesthood and the Holy Spirit also testifies for he says, This is the new covenant will make my people on that basis, the Lord I will put my laws and their hearts and I'll write them on their mind. So like a bit of reversal, same idea going on here. When sins have been forgiven, there's no more need for any sacrifices. Our guilty consciences have been sprinkled with Christ's blood to make us clean, and our bodies have been washed with pure water. I know, he's going to start to move into some slightly more practical things, right? So we see this happen in the letters a lot. So you get into chapter 10. We're in chapter 10. Now, remember last week, I kind of gave you a preview into this, Hebrews 1023, let us hold tightly without wavering to the hope we affirm for God, Ben can be trusted to keep his promise Jesus coming back, let us think of ways to motivate one another, to acts of love and good works. And let us not neglect our meeting together as some people do. But encourage one another, especially now that the day of Jesus was returned is drawing near. So if you're gathering together as the Body of Christ is commanded, it's not optional, if you belong to Christ, Hebrews 1026, dear friends, if we deliberately continue singing continuously, so just think for a moment, what did I just read to keeps going. So this is your context, right? So you need to armor yourself up with the church, get into church, your friends, if we deliberately continue sending after we have received knowledge of the truth, there's no longer any sacrifice that will cover the sins. There's only the terrible expectation of God's judgment, and the raging fire that will consume his enemies. For anyone who refused to obey the law of Moses was put to death without mercy on the testimony of two or three witnesses. Just think how much worse the punishment will be for those who have trampled on the Son of God, and have treated the blood of the covenant which made us holy, as if it were common and unholy. And I've insulted and disdain the Holy Spirit, who brings God's mercy to us. Free we know the one who said I will take revenge, I will pay them back. He also said the Lord will judge his own people is a terrible thing to fall into the hands of a living God. So this is not popular is not very popular verses but just the key points here, intentionally sitting intentionally, just Guy No, everybody told me, I'm just going to keep on doing it. Really, you know, come on. So it's a concept. Again, if it quacks like a duck, that's what's being said, Here, you can attach this to chapter six. Important to understand, I'm not saying popular things, I understand that. But the word of God says it. The key points here is what you do. Says way more about what you believe, than anything you could possibly say. And what you believe, will have an effect on where you go when you die. So important decisions to make. And this is supposed to have some gravity. So the response is Hebrews 1032. Think back on those early days, when you first learned about Christ. Remember how you remain faithful, even though it meant terrible suffering. Sometimes you were exposed to public ridicule, and were beaten. And sometimes you help others who were suffering the same thing you suffered along with those who were thrown in jail. And when all you own was taken from you, you accepted, it was a joy. You knew there were better things waiting for you that will last forever. Again, not popular versus but you can see here, here's where you get your clue. They're suffering. And we saw this right, like Jason right, yes, to get bailed out. And when we go back to X seven scenes, so they're suffering persecution from their own people, and sometimes they get all their stuff taken away. But you accepted it with joy, you knew that there were things in heaven, like you're looking forward to that, you know, how can like whatever you have the better than heaven? Right? So that's the answer. You knew there are better things waiting for you. That will last forever. Jesus is superior to all your stuff. Imagine that. So now I want you to remember that, okay, you're waiting for better promises that in heaven take because we're going to get into some stuff. And you got to keep that in mind the entire time you're reading. So remember the hope for in just a little while Christ will come and not delay. So he gives him that hope. So we live by faith. I want you to look at the verse, Hebrews 11. One faith shows the reality of what we hope for it is the evidence of things we cannot see. Faith, right. Faith is the evidence of the things we cannot see. Or we hope for but what? Like we're waiting for what? heavenly things? I want you to remember that because I'm going to read a few verses that nobody ever read you. Right? So we have some problems. There are people out there, and sometimes they call themselves the word of faith, right? And so they name and claim everything and they're always asking for what they're not asking for what they're asking for, like a new car, a new job, the jet right, somebody's bachelor's as a private jet. It gets ridiculous, right? Crazy things, right? New Rolex, like whatever it is. They're always asking for things that are what? Perishable remember chapter one. Perishable, he's pulled it up, throw it, even the whole world done. Pears will always ask him for perishable things. But we think let's think this is great. Let's think the whole thing can be defeated right here. How do you call yourself the word of faith? Because she failed the reality what we hope for is the evidence of things we're not going to get Now we cannot see them. I know. I'm working not moving fast. They're just saying what you're thinking. So, like, no, not going to get a new toy. Now if you keep crying like that, can you hear me?
So anyway, all right. It's ridiculous, is ridiculous. Things we can't see. And did you just read it? No, they don't. Right? You read that the things you're looking forward to in heaven, not here. But it'll get worse for the people who believe that so through their faith, right, in the days old people and a good reputation, so it's going to go through the people the faith chapter, right? It's all these things, right? So I'm not going to do everybody's story, but it's a lot Abel, Enoch, Noah, Abraham, even Sarah, verse 13, I want you to just highlight this, all these people died believing what God had promised them. You hear people say like God promises us to so we need to have it. Like he's a genie in the bottle. Check this out. Got to promise him they did not receive what was promised. Reverse 13 for yourself, I want you to open your Bible, right? So don't put it up on the screen. Look, they did not receive what was promised. But if you keep reading down verse 16, but they were looking for a better place a heavenly homeland. That is why God is not ashamed to call their god we prepared a city for them again, this presents people believe that stuff some pretty big problems. Because they always talk about the grabbing Old Testament figure, right? Who was sitting like crazy, like Solomon or something like that, right? But like everything he did was a sin. He broke every rule. According to the king in Deuteronomy 17. it hard to hear but not a hero at all. So it's really funny. He didn't receive everything, but they bring up some kind of character, right? You're going to be like that, and you're going to be rich, right? They didn't receive what was promised. They know. Right? So continues Isaac, Jacob, Joseph Moses. Joshua, by default the people of Israel Rahab. What more do I need to say we take too long recounts the stories of the faith of Gideon Barak, Samson, Jephthah, David Samuel and all the prophets, yes, it would take a long time. So we're going to move on to Hebrews 1139. All these people earned a good reputation because of their faith. Yet none of them received all that God had promised, for God had something better in mind for us, so that they would not reach perfection without us. And here's the thing, it then begins to talk about people, some of these people suffering horribly. Like getting sawn in half. Can you imagine that and it's not a magic trick, song and half and they're alluding to Isaiah traditionally, that is the way Isaiah died hiding in the trees saw him and half, some got sawed in half. So with the sufferings of these people in mind, no chapter breaks, right? Like Jesus, we too, will receive God's discipline, Hebrews 12, one therefore, since we are surrounded by such a huge crowd, or cloud of witnesses to the life of faith, let us strip off every weight that slows us down, especially the sin that so easily trips us up. And let us run with endurance, the race that God has set before us. We do this by keeping our eyes on Jesus, the champion who initiates and perfects our faith, because of the joy of waiting him, he endured the cross, disregarding it, Shane, now he is seated in the place of honor beside God's throne. Think of all the hostility he endured from simple people, sinful people, and then you won't grow weary and give up. Cloud witnesses, some say that this is like people who died, they can look down on us, more likely, like he just talked about all those people, right? So since all these people gave us an example, we too, that's probably the better way to look at it. But whatever, if you want to believe that that's great. Did you read don't become weary and give up. It's exactly what Paul said to the church in Thessalonica. We persevere by fixing our eyes on Jesus, not the world. heavenly things. That's the important thing. So he goes on and says, look, the Lord disciplines, those he loves. And he punishes each one he accepts his child. Now, if you want to, like change it, like I don't think God would be disappointed. It's not very nice. It says scourges. And the Greek gods scourges all that same word for how Christ got whipped. Look, as you endure this divine discipline, remember that God is treating you as a stone children who ever heard of a child who was never disciplined by his father, I'm not going to go into links to the like commentary about how parenting today is terrible. You get the point. If God doesn't discipline you, as he does all of his children, it means that you are illegitimate. And you're not really use children at all point. Our heavenly Father does not spoil his children. Important, no discipline is enjoyable while it's happening, it's painful, but afterward there will be a peaceful harvest of right living for those who are trained in this way. Now we get a call to listen to God. He's going to be getting close and Hebrews 1214 work at living in peace with who? Everyone at work and living a holy life over Those are not holy will not see the Lord. Blessed are the peacemakers. Yeah, look after each other so that none of you fails to receive the grace of God. Watch out that no poisonous root of bitterness grows up to trouble you corrupting many. Alright? So live peacefully, not immorally. Right? Because we serve an unshakable kingdom. And so there's this theme, right? So all these things like that you believe in the world. Everything is shakable. Think of an earthquake. Buildings crumbling right. No good. Jesus solid foundation is unshakable. Hebrews 1228 Since we are receiving a kingdom that is unshakable, let us be thankful and please God by worshipping Him with holy fear. At all, we've talked about that fear of the Lord, very biblical, even New Testament, for our God is a devouring fire. So there's no separate God of the Old Testament and the New Testament, as the same one, we need to fear and how much worse will the punishment be just said, Right? Son of God, so exhortations now just keep on loving each other's brothers and sisters, remember those in prison, give honored and marriage, just all these different things important on my point, or the Word of God's point, Hebrews 13, five, don't love money. Be satisfied with what you have for God has said I will never fail you and I will never abandon you. Why don't love money as much as I love Jesus, how many people said that? I don't love it. As much as I love you. Don't love money. Doesn't say, Don't love money more than Jesus. Like the American church said, no, just don't love money. And actually, did you read the next part? Be satisfied with what you have? You never hear like that on the news, right? Don't invest in his gold bullion on selling because he should just be satisfied with what you have. No, it's the Bible says the opposite of what the world says. Be satisfied with what you have. Paul tells Timothy flee from these things, right? sent people to ruins. Here's 13 Seven, my favorite. Remember your leaders who taught you the Word of God. Think of all the good that has come from their lives and follow their example of faith. Except when I talk to my wife sometimes, right? So don't follow that example. Now I just need to point that out. But you guys are great. So we do all this because okay, if we can have a verse of the day, I'll let you have this one, Hebrews 13 Eight, Jesus Christ is the same. Yesterday, today and forever. Amen. So there's no two separate Gods here is the God in the beginning. He is the God of the Old Testament, He is the Lord. So we get some warnings about false teachings, just like we saw in every single letter of the Bible, here. And then Hebrews 1314, for this world is not our permanent home. We are looking forward to a home yet to come. Therefore, let us offer through Jesus a continual sacrifice and praise to God proclaiming our allegiance to his name. And we if you're going to stop and think it's just singing, and don't forget to do good, and share with those in need. These are the sacrifices that please God. Right. So think of Romans 12. I go there a lot, right? Therefore, Hanukkah law I appeal to you make your bodies a living sacrifice, holy and pleasing to the Lord. This is your spiritual service of worship. It's not just singing, right? That's just an extension if we have gotten that part, right, if we can we've seen in the Word of God New Testament. He says, I'm not listening to you. There's Oh God says Amos five. As a one. Peter quotes thought that stuff. Nope. So your prayers won't be hindered. Nobody saying they're treat your wives well. Your prayers won't be hindered. No important, we got to get that stuff, right. Otherwise, well, anybody can sing lies quack like a duck. Hebrews 13 Seven, obey your spiritual leaders and do what they say. That's my favorite verse that their work is to watch over here. They're accountable to God, give them reason to do this with joy, and not sorrow. Please. Now it's certainly not for your benefit. Pray for us. It's something that churches is good at doing. They're good. They pray for me, which is great. I need prayers to for our conscience is clear. And we will not live honorably and everything we do, and especially pray that will not come back to you or that I'll be able to come back to you soon. So now he's going to conclude with a prayer. We're going to pray for them. talks a little bit about Timothy.
Pay attention, like basically obey what I've written in this brief. exhortation calls it brief. All right, may God's grace be with you all. That's how it ends.
Jesus is superior to everything we sometimes hold in high regard. He has the same yesterday, today and forever. Unlike any of those things. Jesus teaches right the malls are going to eat up. The Ross is going to process is going to destroy it. The no Jesus is the same and forever. He's the only everlasting thing here. We talked about commitment right last week. What are we committed to perishable things? Have we invested our money or time and stuff that has faded away as disappointed us? Have we had that experience? And we just like keep doing it again, and we remake the investment again, even though it's disappointing, we talked about that too. And some reasons we may do that. Failed investments. So, just to be real, like, I, I learned a lot about investing from my father. My father, he worked five jobs, it's not a joke. It's possible you can work fired up, obsessed with money, investing, investing, and I learned a lot about it from him. And early on. I was labeled as a bad investment. I wasn't good at school. Right. So before Jesus cured it all, I had dyslexia and all kinds of problems. Well, I'll tell you saw the problems, but not the dyslexia anymore. But I'm like, okay, we can beg to differ. But anyway, I had a lot of problems I learning disability before they had any of these labels and stuff like that. And I wasn't going to school. It's horrible, horrible in school. Terrible. Really, it was like torture, like I called it prison. It was going to prison every day. I was like, it just didn't understand stuff. Just dummy. So it's called that a lot. Dad called me that a lot. And so here's the deal. I'm not a good investment. Now. We talked about this with Samia, like, like the old older women, carefully, you get what I call Bag lady syndrome, right? Like, everyone's going to die, and no one's going to take care of me. Right? So God's going to take care of you calm down. Right? So, you know, that's the thing. So my dad's like, I don't want you to invest in him. You know? Like, why? He's not going to make any money. He can't take care of me. Right? So they invested and my sister was good at school. She didn't have those problems. Right. Very, very lopsided. If you asked my wife, the resentments. We'll talk about that later. Really lopsided. So I grew up like that. Really bad investments. So I found a way to make a lot of money. And I did and needed suddenly, a lot of money just to prove everybody wrong, right. And I have value and worth and I got addicted to it. And the feeling it gave me but it wasn't good enough. I was on a hamster wheel. I told this story before, so I'll make it quick. I would buy really expensive cars. That was one of my things, really expensive cars. And I'd be driving off the car dealership lot. And before I got it on the road, I'd be looking back at the next one I was going to buy. Ridiculous, I was just on this hamster wheel of stuff. until Christ cured it. Until Jesus was enough. Done with it. It's okay to have some nice things. But are you obsessed with it? Are you like just looking over the nice thing for the next night? I mean, come on. Is it more important? Yes. Do you spend more time with it than Jesus? Do you think about it more than Jesus? Does it affect you to give more money to other things when you should be helping out your neighbor or your church or something else? Then it's a problem. Jesus was enough. And here's the thing. My dad continued in it. I watched him continuing, like and he just kept going and kept going and kept going. And just nothing was enough. And if you know they are new, he passed away. And if you knew my dad, you for being honest, he was a miserable person. Like when he died like I like family hated me. Hated when he died. I was like anything was better than death was the best thing that ever happened to that man actually said that I didn't care. Because the best thing that he was there was not he proved he did well, too. He proved there was nothing in this world that could ever really make you happy. It proved it. You're living proof. He kept going but always complaining. So I feel like I feel like I feel like God said to him his parenting like this is the way I parent but never laid a hand on my daughter never had to. Is it because she's good? are like, Oh, no, anyway. But you ever say this apparent? I'll give you something to cry about. That's not going to be good after that sentence. And when I was a kid who got beat, right? I'll give you something to cry about. I feel like Heavenly Father said that to him. Like you have all this wealth. You have everything like house in your house enables. They're nice. You have all this stuff. You have 30 acres victories, Robert, you have like all these cars and all this stuff. You've lived your dream. And that's not making you okay, you're going to cry. I'll give you something to cry about. And he gave him a job like illness. I believe it was from the Lord. And I'll tell you why. Job like it was last 15 years of his life. He withered away to nothing. I watched him die for 15 years. Just look like a skeleton. watch him die. And it was kind of crazy because we went to the funeral. And my uncle my favorite uncle. He's really funny. And he's like me like He tells jokes even in death. It's funny, but he like couldn't help. But talk about my dad's wallet. He just couldn't help it. This came out I don't even know if it was in his notes. I never asked him as well because he called it I didn't know they had a name for it. It was called the brick like so I guess his brothers were like the brick you guys the brick? Because it was really that big. Like, he was like this fake. Who's crazy. As a kid. I've just confessed I'll confess. Right? He knew when we didn't we could take hundreds of dollars out of his wallet. You'd never know. Did it? Sorry. We talked about my alcohol and drug problems. I got the money to do it. You could you could just take money. And you never know. I'm like you got to what your dollars. My sister was doing it too. Don't lie. Right. So everybody was doing it. My mom was doing it. It was crazy, right? But this brick of a wallet. Like what are you doing? I don't even know he put in his back pocket somehow, like, sit on a brick. But he loved this wallet. So here's the thing. He got cremated. Have you seen that happen? Right. I couldn't help but look at this thing that looked like the brick. Wall. Whoa. That's what happened. I couldn't really think it's taken years. years to like, fully comprehend it. And I finally come up with like, it's like an ironic internment. It's pretty good one. But it's like that, you know. And then some other things as they know the Bible. I'm like, it's like the idols in Isaiah, they become like what they worship, you know? Like, it's heavy. It's like, This is crazy. But here's what made it better. And here's what I knew. A lot of people who thought I might have been obnoxious as funeral. I knew this. We had a final conversation and we all knew that's it. Like he was done right? So he's going to die in about a week. And so I go and make the amends. Right. Because Jesus said, and I take this seriously, if you don't forgive others, Jesus Father is not forgiving you right? I believe that. I believe that you cannot the worst thing. resentments really cancer. Gotta get rid of them. Forgive. Right. So, Dad, we got we got to talk. So We forgave each other. Forgive me, I forgive you. Everything's good. The man is a little worried. I can tell. Right? So at this time, was that Pastor, I believe I was a pastor. And this one was pastor. I can tell it smell it on you. I smell fear. So. So from the martial arts a little bit too. I know when you sweat. It's gross. So anyway, it's like a little nervous. I can tell. I can read him. And he says, Jean, you know the Bible really well. What do you think's going to happen to me? This is a moment sorry. Like a father asking the son for encouragement. It's like, so Well, dad, who's Jesus to you? He's God. Is your Lord and Savior? Yes. All that I'll see in heaven. That's it. took them a while. It might have taken the disease to bring him to that level of humility. Indeed, sometimes we gain in our suffering. That's not from the devil. He finally got it. And if you don't believe that scripturally true, or what Paul writes. True. My grace is sufficient for you. Second Corinthians 12? I think so. So then I say to him, dad, you know, Hebrews 12. Is this all happened? Hebrews 12. That great cloud of witnesses. Well, if it really is true that like when you die, you can look down from heaven on me. Please, I asked you this one thing. Stay out of the bedroom in the bathroom. That's right. It's been said that I'm really fun to die around. So that's a true story. I really said that too. And he laughed. enjoy seeing. See laugh. I throw in a bad word for effect. And so you know, but I won't do that here.
Real bad word. It wasn't affected had like, really? It was good. It was good. You laugh. Alright. So here's the thing. Look, all other things is what they're all perishable. You are perishable, your body that is that we're all going to die. Ashes to ashes, dust to dust. You cannot take any of it with you. My dad tried, didn't work. Jesus is imperishable. Jesus is unshakable. Jesus is eternal. That's it. Jesus is superior to the prophets. To the angels, he's the superior Your Son is superior to Moses, to Joshua, to the priesthood, to your poverty, to your prosperity, he is superior to everything. So we live by faith, even if it means suffering, because Jesus Christ is the same yesterday, today and forever. Amen. Let me pray for you from the scriptures. This is the prayer from Hebrews. Now may the God of peace are brought up from the dead, our Lord Jesus, the Great Shepherd of the sheep, and ratified and eternal covenant with His blood. May he equip you with all you need for doing His will? May he produce in us through the power of Jesus Christ, every good thing that is pleasing to Him all glory to Him forever and ever. Amen.