Last week, we saw that old habits – especially bad ones often die hard. This week, we'll look at the book of James and what it takes to develop new habits and that it does take some work on our part. The church has been likened to a "spiritual gym" – if that is true, then this Sunday is "leg day"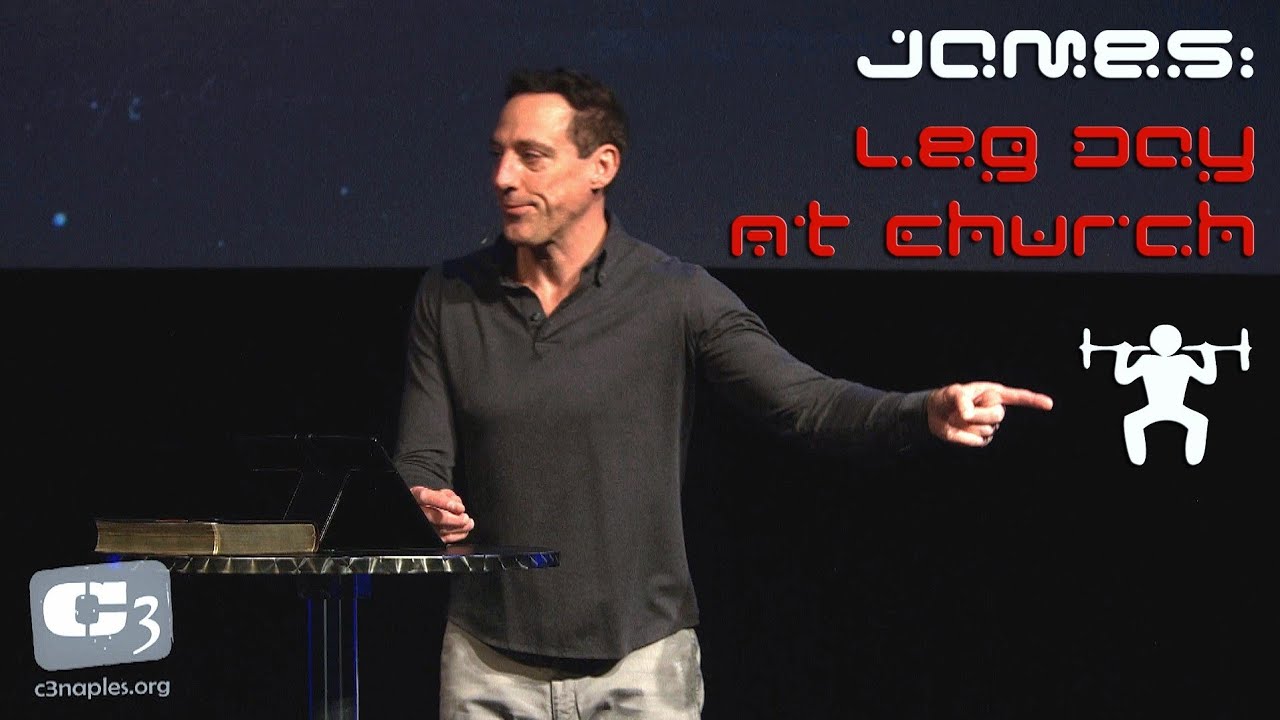 James: Leg Day at Church
Sun, Oct 08, 2023 10AM • 1:06:29
SUMMARY KEYWORDS
James, church, people, Galatians, faith, lord, god, Jesus, called, bible, book, rich, give, Paul, talking, Greek, judged, law, bad, today
Good morning. Welcome. If you're new here among us, my name is Gene I serve here at C3Church as your pastor. And it has been said that this church is kind of like a spiritual gym. And I have to agree. It's been called a lot of different things. Some good, some bad, maybe some call it home. A lot of people say this feels like home I feel at home when I'm here. Yes, but some say it's like a spiritual gym. And indeed, some of the same types of things happen, right? Good teachers, what? Good coaches, they're going to push you, right? You're going to get a workout, you may be a little sore afterwards. But they're also going to encourage you to so you have that balance going on. Well, here's the thing. If this is indeed a spiritual gym, then today is leg day. Here's the thing. That joke I cannot take credit for it. Heather, my wife came up with that we're having this discussion. I'm like, gosh, and James is really hard. And she's like, it's like leg day. I'm like, kinda, yeah. It's a tough book. Alright, so there are a couple of other things about Heather that you didn't know. It's not going to be like a couple of weeks ago or last week when I it seemed like a throw under the bus and she's on the soundboard. Right? So I'm going to be nice today. So one thing you might not know about Heather, is that on Friday, it was her birthday. Yeah, you made. Like when you're young, it's an expectation when you're old. It's a surprise. So that's a good thing. Wow, you're here. That's great. So here's, here's the other thing you might not know. She didn't have birthday cake. And it's not because we couldn't fit all the candles on. There are only 29 of them. Again. No, it's just that a wonder woman like her. doesn't eat birthday cake. She eats birthday stick. It was late. A bunch of that? Yeah. So here's the thing. This is like a Choose Your Own Adventure book. Or if you are old enough to remember that. Right? Like, so part of me is like, ooh, Let's preach the sermon on the meats. And then the other part of me is like, Let's do James. You guys are like meat. Please. preach about the steak. So one last joke. When I cut into it. It said, moose. She likes it. She likes it rare. And that's the way I cooked it just three minutes aside. Okay, I'm going to stop. Love my cooking and my food. All right, so last week, we saw that old habits often die hard. We looked at Galatians it was the law, these traditions is different things, right? So this week, we'll talk about new habits, getting new habits. And we'll see that it does take a little bit of work. On our part contrary to popular teaching, there's a little work involved here. So that's why today is going to be a leg day right in the church. Alright, so we were introduced, let's do some background on the book of James, I'll just give you kind of what's going on here. Last week, we had that counsel, that's what led to Galatians. And even Paul mentioned James in the book, James is Jesus's brother. He's the head of the church there in Jerusalem. So he's like the overseer of the church. Right? So even Peter kind of defers to him we see in that church environment really interesting. That's James, the justice. He's calling history. He was martyred, obviously, after writing the letter. So Jesus's brother, you may remember him from John seven kind of mocked him a little bit like, Oh, you're so proud to go to the festival, right? And Jesus doesn't want to go at first. So obviously, he becomes a believer. And this is really amazing, right? So it comes to being a skeptic, his brothers and sister reject him, but he becomes the head of the church. So big deal. He's known as just James the Justin history very, like pious and righteous type of guy. Well, you probably haven't heard maybe, maybe not, is that when you're reading it in the Greek? His name isn't James at all. It's Jacob. So it's actually Jacob. Even people who translate the text have a hard time explaining how this came to be. There's a lot of myths. Do not listen to them. It has nothing to do with the King James Bible, blah, blah, blah, blah, blah. Just turn off your YouTube, please. It's getting annoying. Anyway, nonsense noise, right? Probably the way it went through languages is everybody's best guess who like knows anything about languages? You're going from like, Hebrew to Greek to Latin. I didn't even know this old French. And then it gets to English. And maybe James like, that's what people will say. Anyway, long story short, we don't know. This is a highly influential book, right? It's Bob is this book is, many people don't know. But the program of AAA is said to have been based on the book of James. So if you know anyone in an AAA program or whatever it was originally, the AAA Christian Fellowship, it was a Christian program. And so the founders were really big into the book of James. And so they insert a lot of this in there the life lessons, right. So really big, heavy influence. And fact, the early Ayers, wanting to call it the James club. That's what it was originally called by many, very interesting. But some haven't liked it. So surprisingly, this surprises a lot of people. Martin Luther was openly critical of James and wondered whether it belonged in the Bible. I'm going to show you a quote, just because I've said this before, and people don't believe me. So I'm going to actually read the actual quote, this is from Martin Luther. We should throw the recent throw the Epistle of James out of this school he's teaching maybe shouldn't be four, it doesn't amount to much. It contains not a syllable about Christ, not once doesn't mention Christ except at the beginning. I maintain that some Jew wrote it probably heard about Christian people have never encountered any. Since he heard that Christians place great weight, weight on faith in Christ. He thought, wait a moment. I'll oppose them and urge works alone. This he did. I don't even know where to start. So this is really shocking. And for a lot of people, no Protestant, Lutheran people, they're like, oh, you know, I can't I can't believe this. And it shouldn't be shocking. Like if I said that, leave, leave. Don't listen to another word. I say, just get out. This is heresy. It's really, really that he's speaking about the Word of God. James, some Jew, anti semitic, right? So some Jew, yeah, some Jew, Jesus is brother. They're both Jews. Hello. It didn't meet a Christian. He met Christ. This is just insanity. Right? So what's happening here? Well, reading comprehension skill. Some people don't understand paradox. This is why it can be very, very, very difficult. A quick note on this quote, too, that's why we're a non denominational church. We believe that not this what men says whereas check my work, right? So just a note there. So what's going to happen here? Is this this book? Well, it's going to be like a paradox. You're reading your Bible, you're going to kind of run into like, a paradoxical situation. So when two things are contradictory, and you put them together in context, and there seems like they are, then they make sense. That's apparently fancy way saying that, right? So you run into especially and this is another reason we're doing them back to back. We had that council, we had Galatians, based on the council there. Okay. Now, James. Now, these two books have been sad, the sense of being like opposition to one another. Like, we'll see an example where Paul says something, and James says something and uses it the other way. But what I want to do is there in recent memory, I'm going to show you so I'm going to kind of reference Galatians a lot. I'm going to show you how like they actually are, when you read the whole thing, you go, Oh, okay, I get it now. Right. And on that note, bigger sections of text. I'm not going to talk about this too much. A lot of you aren't new here. So you know the deal. You got to read bigger sections, right? So imagine, someone borrows a book from you. Like, they asked for it back a year later. And they're like, No, I'm not done with it. You're like, really? It was 100 page book. It is right. And they're like, Okay, well, where are you in the book? Right? You get a sense for how long it's going to take. And they're like, Oh, no. What are you doing? I just read a sentence today randomly. Do you know the books of that? Absolutely not. So that's what happens with the Bible. Right? So you got to read bigger sections. We're going to go through all the James I'm only going to paraphrase a little bit of it. And don't worry, we'll feed you and get you out of here on time.
Well, you're going to hear a lot of if you're a big fan of the word. When I first got to James, and I had read, like a lot of the Bible really started studying it. I was like, Man, this is a lot. This guy reads the Proverbs every day. So he reads a proverbs a lot. And it really echoes Jesus's teachings, especially the Sermon on the Mount. So it's kind of like this montage of, if you will, of Jesus's teachings, it's really interesting, echoes a lot of stuff in there. Alright, so I'm just going to hop right in just to know if you're real Bible nerd, I just use an NLT because everybody can understand it. When it differs a little too much for my tastes from the Greek I'll actually just put the Greek word in there. Or just maybe what a more lit I hate to say this, but literal translation was, that's all so whenever there's not really a problem, I don't think is a good translation, especially if it helps you understand what's going on. James one, one. This is a letter from James a slave of God and of the Lord Jesus Christ. I'm writing to the 12 tribes, Jewish believers scattered abroad to the 12 tribes just First, Greetings, dear brothers and sisters, when troubles of any kind come your way, consider it an opportunity for great joy. For you know that when your faith is tested, your endurance has a chance to grow. So let it grow from when your endurance is fully developed, then you will be perfect and complete. We'll look at that word in a minute a Greek word, it's a real theme here. Looks weird to you. But I'll tell you how it kind of sounds needing nothing. If you need wisdom, ask our generous God and you will give it to you. He will not rebuke you for asking. But when you ask him, be sure that your faith isn't God alone. Do not waver for a person with divided loyalty is as unsettled as a wave of the sea that is blown and tossed by the wind. Such people should not expect to receive anything from the Lord. Their loyalty is divided between God and the world. It's a double minded man literally. And they're an unstable in everything they do. Let's pause take a look at what's going on here. James notice something. He is the head of the church in Jerusalem like he's the main man there. What does a main man do in our culture? Right, you know, your, your apostleship lordship of the church, Dr. Reverend Bob. All right, so but what does James do? James, I'm a slave of Christ even mentioned that he's his brother. Right? humble, very, very humble guy. Again, it's initially to dispersed Jewish Christians, but it is to us as the word of God today, it's what's called like a general epistle general letter, if you will. So it's for the church actually have Galatians Well, there's a certain problem going on right there. And that's how we'll get to some of this emphasis like so the writer is going to emphasize those problems going on in the church and may not pay attention to something else, which creates a feeling of imbalance sometimes and this should not this is just generally like not just you know, the rich people in Glacier the poor people it's everywhere all the churches, okay. reoccurring theme so should it sounded a little like Romans five, right, this endurance kind of thing going on this theme of being whole right. So to Leo's is, like, whole guy said it wrong. And oh, my Greek friends of mine are going to be like, No, but anyway, it's like that. Paleo, so it means whole or complete. So did you see double minded man, when your loyalties divided, he's already doing it right. So not good. That's not whole and complete. So that's the theme we're getting here. You need to be to Leo's not fractured, divided, double minded, so it's going to keep going over and over again, applies. It's almost everything. Alright, so here's going to start sounding a little bit like the Sermon on the Mount James one nine believers who are poor have something to boast about, for God has honored them. And those who are rich should boast that God has humbled them, they will fade away like a flower in the field, the hot sun rises and the grass withers, the little flower drops and falls and its beauty fades away. In the same way, the rich will fade away with all of their achievements. So you should be getting a little like, oh, yeah, this reminds me of First Peter, because he's quoting Isaiah 40. Very similar kind of illustration. Rich people are like grass, right? And they're just, they're just going to die, especially out in Florida when it doesn't rain. So picture that those are rich people, right? Okay, so you get a little bit in this section, more about enduring testing. God doesn't tap tempt anyone that's on you, and your sinful desires, James 116. So don't be misled. My dear brothers and sisters, whatever is good and perfect, again, whole is a gift coming down to us from God, our Father who created all the lights in the heavens, literally, the Father of lights, he never changes or cast shifting shadow. He chose to give birth to us by giving us his true word. And we out of all creation became his prized possession. So again, God is whole He is not like a shifting shadow. So you're getting here fractured, shifting, changing, breaking apart. No whole complete does not change. James 119 Understand this, my dear brothers and sisters, you must all be quick to listen slow to speak and slow to get angry. human anger literally man's anger does not produce the righteousness or justice God desires. So get rid of all the filth and evil in your lives and humbly accept the word God has planted in your hearts furnace, the power to save yourselves, but don't just listen to God's Word, you must do what it says. Otherwise, you're only fooling yourselves for if you listen to the word and don't obey is like glancing in your face in a mirror. You see yourself, walk away and forget what you look like. But if you look carefully into again, the perfect the whole law that sets you free, and if you do what it says and don't forget what you heard, then God will bless you for doing it. If you claim to be religious, but don't control your tongue, you're fooling yourself and your religion is worthless, pure and genuine religion in the sight of God the Father means Caring for visiting orphans and widows in their distress and refusing to let the world corrupt you. So a lot here, but clearly likes the Proverbs sounds a lot about the Proverbs on anger. Anger is not a good thing. Leave it up to God. Right. So that's what that's all about. Remember to Galatians again, what was anger outbursts of anger was one of the sins of the flesh in chapter five. It's not a good thing. Seven Deadly Sins, think of that wrath or literally anger? What's going on there? That's a no good. So we're going to read more about being peacemakers. This will if you have good memory, it'll tie to the tongue. When we start talking to the tongue. He's kind of going in and out of these things. Another thing, religion, it's not a bad thing in the Bible. The Bible never says religion is bad. Nope, actually says it's a good thing right here. So it's how we impose our religious behavior on others. Right? Now we get legalistic or the hypocritical is a byproduct. That's the bad side of religion. The Word of God says, religion is a good thing. It's okay. You can do some of that. We'll talk about that later. Big theme to coming up again and four, he's going to smack you in the face if you didn't like it didn't hurt right here just a little bit. So don't let the world corrupt you right? So you're going to have some gut pains today. It's an update to right. And later, he'll say a friend of God, or a friend of the world is an enemy of Gods is another thing to look for. He'll bring this full circle towards yet, James to one, my dear brothers and sisters, how can you claim to have faith in our glorious Lord Jesus Christ, if you favor some people over others, divided, right? For example, suppose someone comes into your meeting dressed in fancy clothes, expensive jewelry, literally a gold ring, and another comes in who was poor and dressed in dirty clothes. If you give special attention and a good seat to the rich person, when you say to the borrower one, you can stand over there, or else sit on the floor, right? So well? Doesn't this discrimination show that your judgments are guided by evil motives? Listen to me, dear brothers and sisters, haven't God chosen the poor in this world to be rich and faith? Aren't they the ones who will inherit the kingdom? He promised to those who love him is like exactly like the Beatitudes. Right? But you dishonor the poor, isn't it the rich who oppress you and drag you into court? Aren't they the ones who slander Jesus Christ who's noble name you better remember when we read back a while ago, you can slander the gospel right by your actions. Indeed, it is good when you obey the royal law found in scriptures. Love your neighbors yourself sound like the Sermon on the Mount. Right? So all the lawn prophets, that's it just treating others the way you want to be treated. Matthew 712, the golden rule, right? So it's right in there, just do this just love each other. Forget about all these other things. And it's called the royal law. Notice how he changes it. And we'll see this too. If you favor some people over others, you're committing sin, you are guilty of breaking the law. So again, the poor are blessed. Don't be divided in your favoritism. Alright. So again, that contrast you must be complete, whole not divided Galatians the law. So we're going to start running into socio economic divisions here we had religious divisions in Galatians. Now socio economic.
Basically, what he'll go into, say here is, you break one of the laws, you break them off, and then he segues into the curse pronounced by the law, right? So if you're going to go back and follow that you're cursed, right? So it's kind of like that he goes through a couple of the commandments. This law sets you free. What law the royal law he's talking about in Christ. Remember that you will be judged by the law that sets you free. Love the other ones, he's doing the same contrast that Paul was doing just in a shorter time. James 214. What good is it your brothers and sisters, if you say you have faith, you don't show it by your actions? Can that kind of faith save anyone? Suppose you see a brother and sister as no food or clothing? And if you say goodbye, have a good day and stay warm? Well, you don't give that person any food or clothing. What good does that do? So you see, faith by itself isn't enough. Unless it produces good deeds, it is dead and useless. Now, some may argue some people have faith, others have good deeds. But I say, how can you show me your faith? If you don't have good deeds? I will show you my faith by my good deeds. You say you have faith, for you believe that there's one God or God is one good for you. Even the demons believe this and they tremble in terror. How foolish sounded like Galatians. Can't you see that faith without good deeds is useless? Don't you remember that our ancestor Abraham was shown to be right with God by his actions when he offered his son Isaac on the altar. You see his faith and his actions worked together. His actions made his faith complete. And so what happens is the Scriptures say Abraham believed God and God counted him as righteous because of his faith. He was even called the friend of God. So you see, we are shown to be right with God by what we do, not faith alone. Rahab the prostitute is another example. He was shown to be right by God by our actions when she hid those messengers and sent them safely away by a different road, just as the body is dead without breath or spirit. So also faith is dead, without good, worse. So do you notice that in the theme now that you're seeing the whole thing, right, it's coming up again. And again. And again, it made his faith complete what he did made his faith complete, just the body is dead without breath or spirit. So also faith is dead. Without works. They work together. I've given you this illustration, both sides of the same coin. They work in tandem. Good deeds are evidence of faith. Simply put, without evidence. How do we know it's true? So here's the thing that probably Martin Luther struggled with Abraham. If you remember Galatians, Paul was talking about Abraham can just like James quoted, but James uses it like a different way. Alright, so Paul is saying pull up all trying to do is he's saying, look, the circumstance No, that makes you right. He was counted as righteousness before the law before the circumcision. That's it. It was by his faith. Why? Because Paul Singer saved by your faith and grace, faith, he's preaching that and he's just like, No, stop. Right? So he's using this example. Now it is said in church history that people really ran with that like greasy grace, we call it today, right? They start just going crazy. Oh, my concern, and then he addresses that enrollment. So should we go on sinning, so that God's grace may abound? No, May it never be not becoming great. They had never been no. Right. So Romans six. So Paul, and James are preaching the same thing. But they're saying, Oh, he's going the other way. Because of Paul, I don't know. Look at the points they're making, though. You know what I mean, he, they're just using it to make two different points. They go together, I want you to think about it. The fruit of the Spirit was the emphasis, not like Paul doesn't preach on this. Think about it, are you going on and on? And he gets to the fruit of the Spirit, and the sin of the flesh. He's saying, what you do matters. He talks about the sins of the flesh. And what does he said people do these things won't inherit the kingdom of God. What do you what? Deeds? He'll be judged by your deeds, careful, exhibit the fruit of the Spirit, right? You need to be radiating that stuff. Right. So those are deeds, right? It's the same thing. They're evidence of the fruit. Disclaimer, right? Paul's writing Ephesians. Two, we are saved by grace through faith alone. Just in Jesus. That's it. All right. That's how we're saved. But keep reading also. And there's an also right, we are made new in Christ Jesus created for good works. It says it was literally the next line. Right? So what do we do with that? Almost? Yeah, good works. Get out there and do it. That's evidence that you're saved. Otherwise, I don't see the fruit, right. So you might not be saved. So that's the point Paul's making two they're both making the same point just in different ways. So we're getting back to the tongue right here. It's on me, James three one Dear Brothers and Sisters, not many of you should become teachers in the church, for we are teachers will be judged more strictly. Indeed, we all make many mistakes for if we could control our tongues, we would be whole complete, perfect, and could also control ourselves in every way. So teachers, I read this line when I was training to be a pastor before that, actually, I knew about it. I was like, no, no, no, no, no, no, no, but this is true. We're going to see the pastoral requirements and stuff. It shouldn't be really hard. You know, so you teach responsible for a lot. So now I'm just thinking about it. Like, you know, Paul talking about the false teachers and all the nasty stuff he says about false teachers calls him out big time. Remember the circumcision? Like I hope the knife slips, you know, so he's pretty graphic about it. Alright, so teachers like you're held to higher count. So now he goes into three examples, like a bit in a horse's mouth, a small thing relative to the horse, a runner on it? Yep, a small thing relative to the ship, and a spark and a fire spark a very small thing relative to like a giant forest fire imagined, right? That's what the tongue is like. It is set on fire by hell itself. He says he's really strong language here. So that's an illustration for the tongue three things. Again, he's going to talk about being double minded, not divided or double tongued. It just keeps coming up. Right? And so blessing and cursing come out of the same mouth. And then it goes back and it sounds like almost like a sermon on the mountain. Again, like do you judge a tree by you know, can does a fig tree produce olives, right or grape? Vine proves figs. No. So it's two different things coming out of the same mouth. It shouldn't be that way. You should be whole consistent, complete, like one minded, not double minded. Just like to judge a tree by its fruit. James 313 If you are wise and understand God's ways, proven By living in an honorable life, doing good works with the humility that comes from wisdom. But if you are bitterly jealous and their selfish ambition in your heart, don't cover up the truth boasting in line for jealousy and selfishness are not God's kind of wisdom. Such things are earthly, unspiritual and demonic, for whatever there is jealousy and selfish ambition, there you will find disorder and evil of every kind. But the wisdom from above is, first of all, pure is also peace, loving, gentle all times and willing to yield to others. It is full of mercy and the fruit of good deeds. Wow, the fruit of the spirit there. It shows no favoritism and is always sincere. And those who are peacemakers will plant seeds of peace and reap a harvest of righteousness sound like the Sermon on the Mount? Peace. Blessed are the peacemakers you'll be shelling from God. So there you have that the fruit of the Spirit and there's the same kind of contrast that you see in Galatians five, if you're recognizing it, you see that right? So what jealousy that selfish ambition and all those bad things like that cause division. Now what do you got to be? Peaceful? Loving right? Gentle at all times, though. Fruit of the Spirit, love joy, peace, gentleness, faithfulness, kindness, self control. Nice, so it's about proving it by the fruit of the Spirit. Also, we're supposed to display wisdom. Christians are supposed to be smart. Why is this supposed to be you caught that? Why is it serpents gentle as doves? Hmm. Okay, James, for one, what is causing the quarrels and fights among you? Don't they come from evil desires at war within you? You want what you don't have. So you scheme and kill and get it? You're jealous of what others have, but you can't get it. So you fight and wage war to take it away from them? Yeah, you don't have what you want. Because you don't ask God for it. Even when you ask you don't get it because your motives are all wrong. You want only what will give you pleasure. adulterous is, even when he's speaking to guys. That's what the Greek says, he changed it to feminine. Don't you realize that friendship with the world makes you an enemy of God? I say it again. If you want to be a friend of the world, you make yourself an enemy of God. Do you think the scriptures have no meaning. They say that God is passionate that the spirit he has placed within us should be faithful to Him. And He gives His grace generously. As the Scriptures say God opposes the proud, but gives grace to the humble. So start to sound a little like Galatians right, foolish Galatians you fool us adulterous is so kind of crazy. But here's the thing I talked about this last week, so I won't spend too much time on the Bible doesn't read like most people preach. They really doesn't. Like we're not called to be like, good job. Just your sin is awesome. I didn't I was hearing so many bad things about your behavior. But it's so cool. Isn't that great? He's going to give you everything you want. Like totally the opposite. Anyway, regardless of all this stuff, you know, like,
aren't you happy? You're saved? What's wrong with you? I don't understand why you're depressed. Oh, enjoy people, right? So that's the Bible. When you read your Bible, you're like, oh, I should be like, very corrective, you know? But it's like a father. Right? You know, my dad went a little too far right? But, but like if you have a good balance father, I like to think that I'm one and my daughter might tell you like you know, I can be tough like real tough. I'm going to give it to you very straight. You know? It's kind you know, me as I don't really yell or anything like that. But you know, just perception. Anyway, so Bible warns us Second Timothy four right they're going to be itching yours like a dog and he's going to be scratched and there's going to be teachers scratch it for you take all those years warns us right? Don't give you this thing just that's the way preaching is going to be in the future right? Friendship with the world makes you an enemy of God. Ah, okay, you don't get what you want. Because you're greedy. Remember we saw that a lot of classes will twist that teaching right as a father he'll give you whatever he asked for you go to Luke for the clarification how much more will he give you the Holy Spirit to those who asked it has nothing to do with material possessions Peters like we left everything to follow you know like come on read the whole thing right? So you're greedy so when you go and like in Jesus name What's that new Bentley you know? And Jesus name you got togot to give it to me and then that kind of thing. It's like, we James, you don't get what you want because you're greedy. And if you get it, it might not be from God because Satan promised Jesus blessings didn't he? distractions from the mission. Alright, so divisions, the flesh in this Spirit are at war, your loyalty is divided between the God and God in the world and the next section so what you need to be wholeness pointed, warning about judging others sounds like Matthew seven parts a 12. Then James 413 Look here, you say, today or tomorrow we are going to a certain town and we'll stay there a year, we will do business there and make a profit. You know what your life will be like tomorrow. Life is like the morning fog. Let's hear a little while, then it's gone. What you want to say is, is the Lord wants us to we will live and do this or that. Otherwise, you're boasting about your own pretentious plans. All such boasting is evil. All right. So this should remind you of the proverbs right. So Proverbs talks about this too, right? We have all kinds of paths, but the Lord directs our steps, right? You see that idea? Remember the grass, it fades away? This is like vapor. A cool little thing. It's not in Hebrew, but just a Hebrew story. This is in Greek. So it's like Agnes in Greek. It's the same thing though. So it's habel. Right? Okay. If you're Jewish, I don't know Hebrew. It's like hell, right, Abel. So Abel didn't live long. And he's like, so that's where like the name comes from. That's just cool. Whatever. If you want to nerd out with me, that's fine. We can nerd out. Otherwise, I'll stop. So remember missions? How do we plan them? How do we plan on biblical missions? I'm going to get started. I got I got some emails, like domestic mission trips, kayaking, that was like a real, real email I got recently, like, Let's go hang out with a bunch of other Christians on a field trip, you know? And then we're going to sign on and we prayed about it. Right? And he didn't fast about it. What I mean, like enough of you people, so anyway, they make their own plans. What we're going to do is we're going to go and have the pins and the clipboards and then we're going to go there aren't you know, you're not praying about it? Right? They're not saying like, Lord, where we go. And if he doesn't say anything, don't go. Wait, we can not go somewhere. We saw that next right. The spirit of Lord Jesus told him not to go to this place not now. There's an order my order God not mine. God's orders. Well, I think he's saying, right. So think about that. Your plans will come back to that and I know you don't want to go back to that, but we're going to go back to that later. James five one. Look here you rich people weep and groan with anguish because of all the terrible troubles ahead of you. Your wealth is rotting away and you're fine clothes are moth eaten rags, your gold and silver are corroded. The very well if you are counting on well, you know your flesh like fire, this corroded treasure you have hoarded will testify against you on the Day of Judgment, for Listen, hear the cries of the field workers whom You have cheated of their pay the cries of those who harvest your fields have reached the ears of the Lord of Heaven, his armies, you have spent your years on earth and luxury satisfying every desire that in yourselves for the day of slaughter, you have condemned and killed innocent people, righteous people who do not resist you. You're right. Everybody, okay. Oh, okay. So here's the here's the thing. It's not just about employers like, right, so this is tough. So you're not going to hear this a lot churches. Right? This is a very tough one. Sounds like Jesus, right? Don't store your treasures here. Store your treasures in heaven where mobs can eat them and rust can destroy just echoes of Jesus. So it's great, great stuff. Martin Luther is wrong. All right, so. So but what does Jesus teach? Like we'll get back to but I'll do it real quick. Luke 12. Like the man with the barns, I have so many extra crops? What do I do? I'll give some to the poor? No, I'll build bigger barns and store them all away. What did you say you fool, was a fool not to have a good relationship with not to Yeah, not have a right relationship with God. But you know, storing up all these treasures. I said it backwards. But that's the point. Right? So this is what Jesus said about it echoes that. So here's the thing. There. I just want you to note this, we'll talk about it a little bit. There are rich people in the church. Tell rich people to leave the church. He doesn't say that. He's talking about the behavior. So we'll get to that in a second. So there are wealthy people in the church. Okay, we get to First Timothy six. They should be generous. That's what he tells Timothy. Well, what about the rights people in the church? Tell them to be generous? James goes a little harder here, which is crazy. But anyway, we'll get back to James five seven, do your brothers and sisters. Be patient as you wait for the Lord's return? Big Idea and all these letters. Consider the farmers who patiently wait for the rains in the fall and in the spring, they eagerly looked for the valuable harvest ripen, you too, must be patient that's a fruit of the Spirit. Take courage for the calming of the Lord is near. don't grumble about each other brothers and sisters or you will be judged Look, the judges standing at the door for examples of patients and suffering Dear Brothers and Sisters, look at the prophets who spoke in the name of the Lord, we give great honor to those who endure under suffering. For instance, you know about job, who a man of great endurance, you can see how the Lord was kind to him at the end, For the Lord is full of tenderness and mercy again, patience, a fruit of the Spirit. Don't be divided wholeness. Remember Paul's perspective in suffering? Same perspective here, right? The patient and suffering. He will go on to just it's like the let your yes be yes and your no be No. Don't take an oath. Sounds like Jesus in the Sermon on the Mount. Don't be divided. And what you're saying to people, again, the theme. Here's the closing James 513. Are any of you suffering hardships, you should pray. Or any of you happy you should sing praises. Weep with those who weep rejoice with those who rejoice, or any of you sick, you should call for the elders of the church to come and pray over you, anointing you with oil in the name of the Lord. Such a prayer offered in faith will heal the sick, and the Lord will make you well. And if you've committed any sins, you will be forgiven, confess your sins to each other and pray for each other so that you may be healed. The earnest prayer of a righteous person has great power and produces wonderful results. Elijah was as human as we are. And yet when he prayed earnestly that no rain would fall and fell for three and a half years. Then when he prayed again, this guy sent down rain and the earth began to yield his crops. My dear brothers and sisters, if someone among you wanders away from the truth and is brought back, you can be sure that whoever brings this inner back from wandering will save that person from death, and bring about the forgiveness of many sins.
So sounds a little bit like the ending of Galatians. Remember, someone's in sin gently and humbly held them back. Very similar, in a lot of ways, similar endings there. So here we see. And when you read the whole book, and you just did go through the entire book of James, you all lift, you're good. It was like at 1.5 or two, that New York speed, but that's okay. You heard most of it. And you'll learn stuff. And I know it's quick and go faster than that. But Heather tells me Do not write people cannot understand it. Unless you're from New York, you probably are like that wasn't even fast at all. Anyway, we can reconcile these two books when we look at the full picture, correct? Yes, yes. So I like to look at the individual words, the little micro things. Of course, don't do that until you've read the book. It's a mistake, you need to read the whole thing before we do a book report on it. Make sense? It's just ridiculous. Like this Christian culture that we're living in. Sometimes I'm like, I'm talking about I take the sentence like, that's not at all what that even means. So here, you get to see what the book of James means, but also in light of other books and how God's word is. can do so however you say it, right. It's complete. It's perfect. It works. But you got to read the whole thing. Alright, so big point here. Let's go back through it just a little bit with a few application points. And then we'll eat and cry. Some of you are crying already. It I totally get it like I'm trying not to the jokes. That's why the joke. Alright, so faith in works together. Right? They make our Christianity whole or complete. This is the big idea. So it's not just like some people are like, Oh, James, you know, it's about you know, you got to do good works. Other one. Yes. But the theme here is not being divided, not being fractured, or, you know, like that kind of split up the hole, right. James says that faith without works is dead or incomplete. So someone calling themselves a Christian without good works is divided. Incomplete. And you get this idea. So if a Christian is not doing good work, that is an incomplete Christian. Not done right. Not really a Christian Right. So incomplete. They're not whole, a whole Christian. So when you see it in the Greek and you understand those words, you go, and then you read the whole thing and go, Okay, I get it now, and it hurts worse. So what? When it comes to putting the work in? We often don't like it. We don't want to do it. Like day at the gym is hard. Right? It's really hard to skip it all the time. Right? It's hard. But here's the thing. Legs are essential. They make us whole like we have long legs. So it's like more than half my body is like the how we get around, right? People who lose if they don't feel whole or complete we have so much pity right when we see someone like oh, no, feel so bad. And then we're Christians right for five minutes. So anyway, right? But they make us whole we stand on them. It's how we get around, paced back and forth. They make us whole. Now, when we get to the letters of John, and if you're familiar with the Word of God, but you'll get to John, and you'll hear this concept, he says a lot of things. Like first through third John, it seems like he's old. He says children a lot. But he also just walking a lot walking, right? So you're walking in the light, you're walking in the truth, walking in love, you're walking in the stuff, right? So the concept of walking in, something's not here in James. But the concept. And first, John's a lot like James, but internally as opposed to more externally, what you're doing to others. concept here is the same doing it. Right, it means you're applying it. So it's kind of interesting. When I first was a pastor and training, as I was affectionately called, by my mentor, we would use the inductive study method or whatever it's called, and I can't remember, it's been so long, but this is how you do a Bible study. So you start doing pastor things, you know, under supervision, and then he lets you do it by yourself after a while, and then someone complains, and he comes back. But anyway, we use the inductive, oh, is a is what they would call it. And what you would say is observation, interpretation. Application, like these are the three pillars of Bible study as per this method, and I still got to use it today. It's just natural. Now I don't have to identify, but for the people in the class, they don't know. Right? So what I ended up doing is I put o IA up on the board, but in vertical fashion. So put the letters up that way, right? And so you see something if you're artistic, what do you see? The stick figure without arms? Like that's what I see is like the cloud game, right? We play that. But I see a stick there. So what I would say is, it's a good way to think about. So when you when you observe that that's great. I observe what did I observe in the Bible? Yes, you should do that the whole book, we're drawing a conclusion, right? How do you interpret it? You can't wait unless you read the whole thing, then you will not get an accurate interpretation. Right? So But where's that all go? There is what goes in here, right in the Oh, and I'm maybe some in the body if it gets to your heart at all. But I used to say the application is where your Bible grows its legs.
Okay? They did the same thing, a Bible study, don't worry, they're like,
I didn't need that. You could have just said it. Alright, so but it's a good visual, right? The applications where it walks, it's where it grows its legs, it's doing it. Right. It's all had knowledge if you're not doing it, right. So it's just for you. We can talk the talk, but we must also walk the walk. And we can't if we're not working on our legs per se, right? What good is it if you say you have faith, but then you don't do whatever it is make a list of good things you should be doing? Because it even the demons believe that that? Like, what did he just say? You know, think about that to a modern audience. Yeah, you say you have him try not to look at anyone in particular, this is very difficult. Don't look at your wife. You say you have faith. Hey, great. demons believe that? What's the difference between you and a demon at this point? Yes, that's what's implied there. That they get like 100 emails the next day, right? So but that's what God's word challenges us with. It doesn't work. If we don't work it. We need to work it. Now, here's the thing you, you might have heard this. It's all about, right. Well, it's not about religion. It's about relationship. I heard that right. It's not a but that's not at all what the Bible says. You won't find that in the Bible. It's not there. It's a half truth and a false statement. It's not all about relationship, and not at all about religion. Probably doesn't say that anywhere. It's not even implied. It's a false statement. It's not true. And you just saw not true from the Word of God. Good. See, here's the key good relationship leads to religious behavior, good religious behavior, the enemy. That's how you know what somebody's in a relationship with how they behave. Right? So if I'm in right relationship with Christ, I will naturally exhibit good behavior, just I can't help it. And naturally when I'm exhibiting bad behavior, you know, Holy Spirit's like, Yo, I'm not here telling you I don't do any bad stuff. Okay, are we clear on that? Like, I take it for granted that a lot of you know me, maybe there's somebody who doesn't know me. I'm really going to throw myself and my wife under the bus, right. So right now perfect number Perfect, right? No, not saying that. But like I'm getting better called sanctification progressive sanctification. I'm getting better. Because when the Holy Spirit goes, you know, I'm like, Yes or so. Thing is the question should be what are we are you religious about? Think about this. Sure there's most people don't have a problem with religion. We all do something, religiously. Think about it. And you see, I'd say before, that's how you know who or what someone's really in a relationship. But what do they do really, like? religiously? counterpoints? Anyone would just say, what are we doing religiously? Just something religiously? I'll think about it. Maybe we work out religiously. Right? So I was one of those guys are way too big. You know, like, I was doing that religiously. I'm going to crush people. Now I go to the gyms and I see the biggest guy. I'm like, It's okay. You can stop. Let me tell you about Jesus, right? Maybe you do that religiously? Some people do and they get like, why are we doing? Maybe we're watching TV religion. Maybe we're playing video games religiously. Maybe we're on social media, religiously. People are on social media religiously. Stop checking the comments, like just don't do that. Maybe you're religiously on your phone. Some people drink religiously. Some people eat religiously. Like, we're good at religion. We're really good at religion. So the person who says it's all about relationship, okay. But we've what? It's all about relationship. What are they saying when they say that? Can you read into that one? Yes. Because you're smart people. I want to throw away everything in James. Martin Luther. I don't like James, why do you think he doesn't like James? Because it calls you out? calls your relationship out. They go together? Are you in relationship with the world that this book should? Cause you to ask that question, please ask that question today? Am I in a relationship with the world? Do I love the world? And people people know you know and love Jesus, I liked the world. What do you spend all your time doing? Okay, that's how I know what you're in love with. Is that it's as simple as that. It's a hard statement, but it's just true because it comes not from Pastor Jean. I'm wrong a lot asked my wife. This is never wrong. very seldomly wrong, am I? I'm looking at my wife even. It's kind of hard to try to avoid her when I say things I'm like. Alright, so here's the thing, we're going to go to breathe, stick. Okay, so we saw this. There were rich people in the church. There's always an interesting thing. The original in the church will get to find Lehmann. He's a rich guy, and the church and Paul's writing to him, right? So he doesn't say, Give me all your money. Because for certain people, they need to do that. If it's a problem, I need to give away a lot of money because that was my problem in the past, get rid of a lot of stuff. So cigarettes, what did they do in the church? What did I say? They'd be generous. What's the other thing you see here? We're just kind of interesting. How people treat the rich. Isn't that interesting? Like what the rich should do and warnings to them and kept 152. But we the people as interesting because what does some churches do? I've seen it. I've had some people tried to do it to me, it didn't work they left, right. They try to leverage with their tithes and offerings, getting what they want everything from hymns. I've seen that Benji likes the hymns. And so I've seen I've seen I've seen it go all kinds of ways get elevation and status with the pastor coming my rotary meeting and sign this for me hanging out with the pastor means I'm a good person, right? So take it to lunch a lot. And I'll take advantage of that. If you'd like to take me to Capitol grill. I have no problem doing that. But if you think you're going to get something from me, I'm going to be laughing all the way home and then I tell my wife about that meeting. I could say that. But do we do that? Do we see churches doing that? Literally the opposite of what you just saw. If someone comes in with fancy clothes, and what if policy about their status? What they meant as leaders of the church meant nothing to me. He said, If I was here to win the approval of people, I wouldn't be a slave of Christ as what he said. I crucified I'm Chris So I just don't care about it anymore like the song just give me Jesus. And you know what the world is done with me to Paul says he didn't care yet despite that and James to leave those there I could keep going. What did they do? What are some churches? Do they parade these people reserved never going to church to see reserved? I'm like who? Jesus like the Holy Spirit, like who's showing up today? You know what I mean? Some rich guy with the gold ring comes on, like, I'm out. Taking my Bible with me to it, but does it happen? Yes. It's stupid. Right? And then leaders come up and like they have a security team. And they have people come up and worship them. And they're so great, right? I mean, they wear expensive clothes. The teachers wear expensive clothes. I told you about the $2,000 sneakers. That's a real thing. And they don't change them. I've had these for 20 years. They're awesome. And they were expensive at the time, but and make the most out of them. Right. That's how you should be kind of present. Well, fine. Right. So like I was in Texas, I might wear a cowboy belt hat or something like that. You know, you want to fit in I'm in Naples to wear some nice shoes and a collar on your shirt. Right? That's all but that's enough. Stop, stop. And you don't need private jets. My cars are all on me my wife we have all the we get that stuff herself not on you. So this whole thing about like the people getting things from the church like this crazy assigned seating. Okay, is a poor way to call these people. My wife's like, always a good idea. Like, priority parking spots for people. Well, there's some signs we had to get rid of when we moved in here just saying there's a first thing to go we told the whole staff you parked by the dumpster. That's your spot, washed everybody's cars. Like that's what we should be doing. I'm not watching. I just don't have the energy to do it. So how backwards is the church in so many ways? Celebrity pastors, celebrity worship leaders, reserved seating for Lonnie? Nobody. We had a lot of smart people today early sorry. I've been spinning I think it sounds about encouraging the rich people not to want anything, no donor plaques, none.
Stop it. Stop it. Just the word of God and St. Just give generously because the Holy Spirit's compelled you like my barns are fall, I need to get rid as long as I can give it to the church because the church is helping the community. Because we're preaching the gospel, that means something. It's important. walking the walk, this is hard to hear. But walking the walk means putting our money where our mouth is. It's just the bottom line. That 10% shouldn't be something like we're striving for a floor. I get to keep 90% is the right attitude. Now we're not under the Law of Moses, but it's just a great idea. Say that helps the church that's all. Now just a quick note. And then I'll get to a close. I know you just done like, and I if you're new here today, I barely ever talked about money. I make the people doing the announcements do that. That's true. All right. But we're in James and we have to came up I'm not going to ignore it. Right. Be brave. So but here's the thing.
We spend a lot of money on things we don't need. I do I do guilty. No, but I try to balance it by giving you the church.
I mean, it's totally okay. balance that out. It makes me feel less guilty. We say we're Christians, but are we nurturing the body of Christ with what we know it needs? We know it looked at the building around you. It's clear. We know it needs nurturing. Now I just want to address something this is what I want to get to just a little bit about not really digression but on the topic. It's talking to someone about getting donation being like real with you. So because that's how we operate on donations. That's it. That's how we get our money. We really tried to get grants that we can't really get. So just we you That's it. You watching their people watch and they give. That's it. We rely on that. That's how we run. And I was talking ministry work or running a nonprofit and they're like, oh, and so what happens here is people come in Naples. And they open churches, they would do their nonprofits. Everybody's a nonprofit and abled, right. You know, because what do you think, right? Just let's be real. Like, they're rich people enable somebody to get their money. So it's where all these people come. And they come to me and they're like, how do you get money? I'm like, you don't? Because that's how they're rich. Maybe, I don't know. They don't give anybody any money. Right. So it's really hard, right? It really is. It's really hard. Yeah. So but here's the thing. It got worse after all the not even to talk about all the things that went on in the world. Last couple of years. It got worse, because we had this epidemic of fear. That was the real epidemic. There. No pandemic was fear. That's what that was. Now, both sides of the coin fear really quick. I'm not going to go into teaching because most of you here know what I've taught you already. Right? The Bible says a lot fear the Lord your Lord. It doesn't say, the Bible says fear not 365 times that is a lie. That is a lie. It's about at one time, but at times it says fear now, it says fear 500 times. So the rest of the time, it's either an example of someone being afraid or fear the Lord, the wise fear, fear the Lord, and the king. It says, work out your salvation with fear and trembling. Fear Lord can be a good thing, especially if it motivates you to be a Christian, and support your church. That is a good thing. A little less fear of the Lord is a good thing. But there's bad fear. How do you tell really quick, I'm going to do a whole teaching. Fear is bad when it stops you from fulfilling your purpose in the Lord. Simple as that, I'll say it again, like one of those guys said louder it sound good, emotional. Fear of the Lord. So, fear is a bad thing, when it stops you from fulfilling your purpose in the Lord. Otherwise, probably good. You shouldn't be afraid of the Lord. Especially if you're behaving badly. So didn't look at anyone in particular there. All right, but you have this fear, and it's causing people to withhold. What about Luke 12? And this is an interesting thing. Interesting thing. What does Jesus talk about in Luke 12? Right? Don't feel those who can kill your body, there's going to kill you. They can't do anything to you after that. I'll tell you who to fear. Fear the Lord who can kill your body and then throw you into hell. Read it. Luke 12. Right. It's, it's there. It's not going to be exactly with the same accent and everything, but it will be close. So but what does he tell in that same chapter? What is he talking about? The man with the barns. So what's it all about? It's really interesting, because a man comes from a cell. It's a dispute between me and my brother, about my father's inheritance. He says, who made me a judge or arbitrator over you. Beware of every kind of greed. Then, man had these two barns they filled up and see here Christians be like, my store houses are going to be full and the Lord and Jesus his name, right, just like that. Like to forget about the rest of the story. Hello, he complaints it. They're full. What do I do? Like I said, before it came to the poor? Nope, I'll build bigger barns and fill them all up. Then God says, full, Jesus says it to just like Paul and James. I'm not going to start calling you guys fools. Don't worry.
That you wear that hat again? You look at it. Anyway, right? Oh, right. Your life will be taken from you like this very night. That's it, then
who will get everything you work for? It's all congruent when you read it. So it, it all goes together the full council of God's word, when you put it all together? It says the
same thing over and over again. In here, oh, what would we do in a year with all this money in my barns where we can attach the two teachings? On a year I'm going to do this, that and the other thing and do business there, right? We do
that. Right? For adult trusses in that case? What? Careful, we need to stop saving for the unforeseen and
have the faith to be generous. Simple as that. Don't let your wealth and this is just you're just passing it along. Don't let your wealth be stored up in judgment against you. Careful, remember, X. Okay, so as we close today, just leave you with remember x waterfall of the Holy Spirit. We all want that. Are we going to say like, Holy Spirit, just a little bit of you? Know, he's saying, right. Bam. What would that look like the church of Acts? What did they do sold everything's and nobody had any. They weren't going to really have to give 10% When someone says that I'm like, I worry about you. What is going on with you? You know, that's what I think they were like just selling it. Just give it away. I don't know. I don't want anyone to reward. That's what happened. We don't have to do that. But why aren't we like in a heart saying it'd be really cool if that was the case. So we need to really evaluate and giving everything so being the biblical church meant the same thing the church has needs. So just want to invite you into being part of supporting what complete Christianity is for those of you who've been here for a while and you get it so we're trying to be more like the book Vax has four points on the wall, right? So we spend time with each other, we break bread, we pray, we do all that stuff. Obviously, we're devoted to the Word of God, the apostles teaching, what are they teaching the Word of God. Very important to us here. It goes out to a lot of people, right? mentioned a recovery meetings, we have recovery meetings, here we house them. And, you know, I don't know, I have nothing to do with the money here. But, you know, they don't really pay the bills. It's a community thing, right? You're trying to give portions of your building to the community around you, so that you can be hospitable, as the Bible says, and create a bridge to Jesus. That's what it's all about. So many people have come from the rooms of AAA, here. So it's a big deal, right? So we're meeting people blesser these people, they're, they're in this dire circumstance, don't give me the sick, give me all your time. That's fine. We'll take care of you. And that's what we're doing. We do a lot of work with different coalition's like, Homeless Coalition, all these different people, people rehabbing from drug and alcohol, David Lawrence center, we have contacts there. So they'll use our meeting space from time to time we make bridges in the community contacts, so that helps me with my case management. They give me people, they've sent people to the church, we need different things, whether it be volunteer hours pastoral counseling, because they're getting more spiritual. That's a good thing, because then I'm going to tell them about Jesus. It gives me time to work side by side with individuals like Paul and Timothy, and do the work we're supposed to be doing in ministry. Alright, so it's just a quick thing, in case you don't know. But look. It's not free. Just to be really real with you guys. We're doing good. We're doing good. And we're nonprofit, right? If you have big store houses, and you're a nonprofit, you're an oxymoron. Right? So when someone says, we have this much in reserves, you're like, Oh, my pastors will brag about it. I'm like, don't get me started. So we run on empty, you know that that's our job to run an empty, we're a nonprofit. Why? Because if we as an organization is leadership's leadership, we're saying like, you know, keep it away, be like the woman who gave away on a poor people to woman gave away everything woman to copper coins, and she gave more than the rich. Why? Because she's giving like everything, right? So if you don't have money, and not off the hook, so anyway, it's a good practice. It's a good faith building practice. Really, just practically, it just helps you build with and to tell you the truth. My wife and I, we interview don't we just individually ties. And I was talking about the other day, it's embarrassing, because I don't notice it. Don't even notice it comes out and like, I have plenty. I'm not preaching. Like if you give, then you'll get more. And if you give you get more. No, no, I'm saying me. Give me 10% of the church. I'm like, I don't even feel it. So just some encouragement. And I was a business person when I first came in here. So I was entirely skeptical. I actually said like, like, you're not getting my money. My first meeting with the pastor that came out of my mouth, like so if you think you're bad, like, nope. But I got saved, changed everything about the way I saw everything. As my face increased, I was like, I just need more faith, I'm going to run that will be fine. And it has been fine. It has been my husband's I have always had what I needed, and plenty more. So that's what I pray for, you know, before I close about to meet the steak. It's a good source of protein to help you heal from a workout. Just saying. Alright, so until the next workout, you're going to be told how to connect with us. I hope you do. We don't want you to do in life alone. We want you to be a part of the body of Christ. I'll tell you all about all the plethora of food that's upstairs. A lot of people out today. So if you're hungry, just take something if you know somebody who's hungry, we'll send you with a care package. So if you know someone who's hungry, and they need a meal, and you can think of someone or maybe someone's lonely, right, so if there's somebody like to be elderly, but if they're elderly or whatever, they're lonely, you know, take some food don't Hey, I just want to bless you with this. It's my church. Come with me next week, right? Do something like that, or exactly like that. You know, I love you all. That's where it all came from. But most of all from here regardless of how I feel. I pray for you. Lord, I thank you for everyone. And the sound of my voice everyone watching online as well. Everyone who's out because they're sick, everyone who's out because they're traveling, please keep them safe, Lord. We love them all. Thank you for everyone who took the initiative to come in here knowing that they're going to hear God's word knowing that it's not going to be easy knowing that it's going to be a workout came in anyway, so I just thank you for them so much. build them up, heal them where they need to be healed and reset toward so that they can be more effective. Messengers of your good news I asked these things in Jesus