Country Club Christianity
Last week, we took an in depth look at the accounts of Jesus' resurrection and the witnesses to it.
Today, we'll look at some accounts and contrast the humility of Jesus and the desire of some to make
Christianity a hard club to get into. We too are called to be witnesses to Jesus – but do we often keep
our faith to ourselves?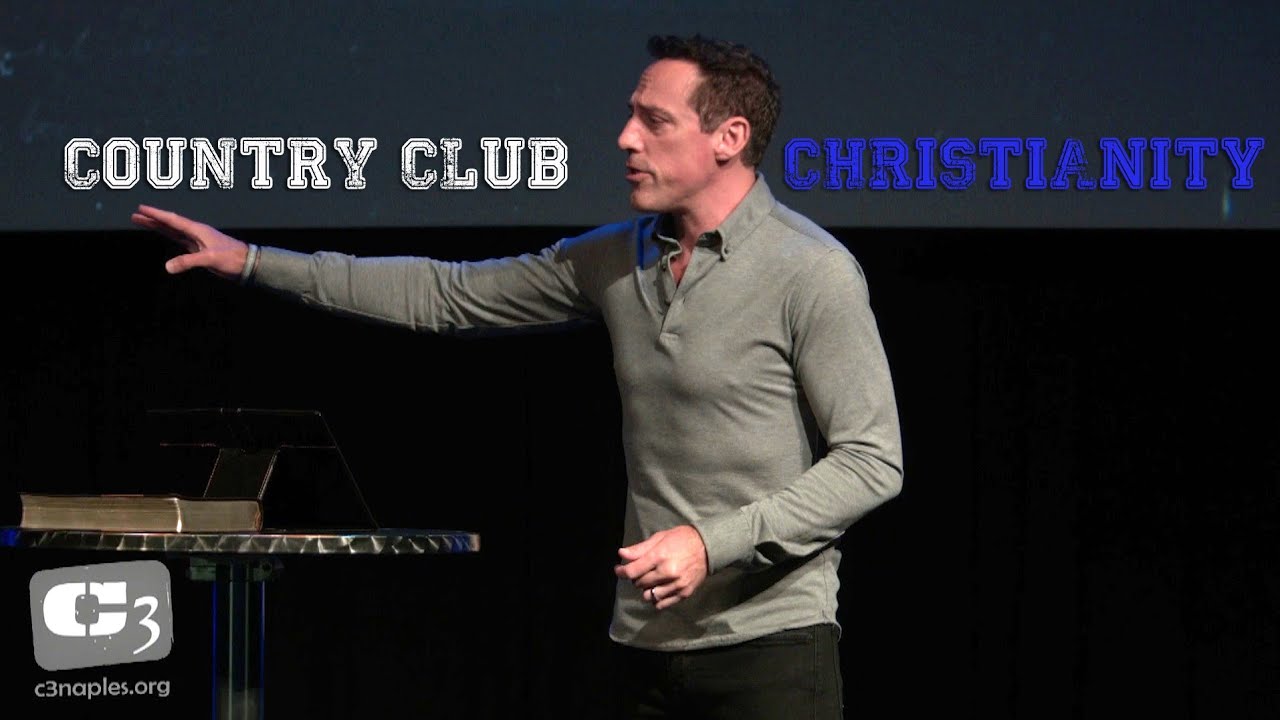 Auto-generated by YouTube
Country Club Christianity
Lessons From The Gospels
Mon, Apr 17, 2023 11:39AM • 58:57
SUMMARY KEYWORDS
Jesus, people, church, Paul, point, Ethiopian, calls, bible, gentiles, heaven, offend, humility, club, gospel, worship, money, rebukes, race, Christ, kingdom
Good morning. Welcome. If you're new here among us, my name is Jean I serve here at C three church as your pastor. And I want to tell you a story. We're going to start with another story. I am a big fan of my own stories. With this one, maybe you're not. So I'll keep it short. This one's about, I want you to put a picture in your mind of jagged cliffs, rocks, and a stormy sea coast, right? So a very stormy kind of dark environment to see lots of rocks. And if there is a beach, it's kind of like, not like the beaches we have in here, you know, in Naples, you wouldn't want to lay out on this beach at all. It's just kind of a cold, rainy place with dangerous seas. As a result, there's a lot of shipwrecks in this place. So some of the locals there decided to make, like a lifeboat station rescue station for those who would be shipwreck. And so they had a heart for going out and saving people. Well, as time went by, and it caught on, especially with those who had been saved a lot of the people who had been saved and Well, I wouldn't have a life if it weren't for you. So, you know, I'm going to devote my life to saving people. And it grew. And it grew. And then it kind of caught on. Some of the town's people wanted to help out to some of the philanthropists and maybe they felt guilty. So they helped out started donating toward this lifeboat rescue station. Well, it grew and went from being like a shack to Oh, pretty decent sized building. Well, then, as more and more people, especially the wealthy people joined this effort, they wanted to make it nicer. So they started to contribute to it, build it out a little bit, make some improvements. It seemed though, that there was just a core of people there who were really interested in going out and rescuing. The rest of the people were just kind of members of the club. And so they kept improving it. And so they replaced the uncomfortable benches and stuff like that with really nice couches, maybe chocolate brown leather couch, right? So they started putting into wood paneling and got a pool table. So ultimate man cave, right. So it's really nice in there. Even the floors, the old planks that were there, they replaced it with really nice hardwood floors. It grew and grew like this. Now everybody wanted to hang out at the rescue station. Finally, one day, there was a big shipwreck, big passenger liner went down. And now the core of the guys that was interested in saving people, they're like, Okay, let's go, they're getting suited up. This is what we're doing here. We're going, let's go. And they noticed that most of the people weren't even responding. They just kept playing pool or doing whatever they were doing. It seemed like they were ignoring the rescue workers. So they turned they said, Hey, what do you guys do? And let's go this is what we built this place four. Don't you guys have it? There's a lot of people drowning. We need help. Okay, I guess but when we save them, are we going to bring them in here? Kind of what this place was built for right? Well, are they going to be wet? Well, when you're drowning, you kind of get wet. Like that's kind of what happens byproduct. Yes. Won't that ruin the hardwood floors? Yeah, so some you're like, Oh, no. I know where he's going today. You got that? Right. Okay, who complained about the carpets? So, Easter for us? Well, we just kind of like in America here. But the Orthodox Church Easter is different date. So if your orthodox brothers and sisters had Happy Easter, we did it last week. So we took a break from this series, a little bit of a break here. Before that, I tied it in. But here's the thought today. I'm going to so usually, we are a non denominational church. So everybody's welcome from every denomination. We're going to get into that today. But we just follow the typical calendar honoring the normal church holidays and things. So the thought that comes into my mind, if I'm being honest, on Easter Sunday, is like Where were you all the rest of the year? But besides that, like who is going to come back? You know, isn't it now this is a weird place because of vacation area. So a lot of people are just passing through and you kind of got to get down to that when you talk to people. But if they were local, like who's coming back next week. And so it's interesting, but here's the question just to kind of get our minds in the right space for the message this morning. Do we make this a hard club to get into So that's kind of the overlying theme here. And that's what we're going to see in the Scriptures today. So, if you're new, maybe you don't know this, but if you've been here for a while, this is why make charts the Bible is not in chronological order. So it can be very, very confusing. So you have four gospels, for example, that's where we are now. And they give slightly different accounts. They're not bad differences, like contradictions, they're just different angles on the story on what's going on here. But even these aren't really made or written to be perfectly chronological, within themselves from the Gospel of Matthew are marked, for example, it's kind of like a like a collage, or something like that, if you will, until you're either at the beginning or at the very end. So it's difficult, and they place them differently, like Luke will place certain things in different spots, it's okay, just the way they're telling it, right. So it's indicative of these ancient Greco Roman biographies. That's the literature you're reading. So I kind of put it together in chronological order. And it's interesting both ways. You can see what the gospel writers trying to do when he put it together and building certain themes. But then when you look at it in the chronology, it gives you something different. So you begin to see these themes, Jesus's kind of repeating certain things and trying to get the disciples of the crowds to understand certain things. So this is where we are. And you'll see the theme pretty quickly. So where we left off, before we talked about the crucible, actually, that's what we were talking about. We talked about Jesus's exodus from the world, the transfiguration, he heals the demon possessed boy, right, I do believe, but helped me in my own belief, that guy who has struggled with his faith in Jesus predicts his death. So that's where we were. So they're on their way to Capernaum. So we'll pick up right here and Matthew 1724. On their arrival in Capernaum, the collectors of the temple tax came to Peter and asked him, doesn't your teacher pay the temple tax? Yes, he does, Peter replied, then he went into the house. But before you had a chance to speak, Jesus asked him, What do you think, Peter? Do kings tax their own people? Or the people have conquered? The tax the people they've conquered? Peter replied, Well, then Jesus said, The citizens are free. However, we don't want to offend them. So go down to the lake throne, align, open the mouth of the first fish you catch, and you will find a large silver coin, take it and pay the tax for both of us.
That's weird. So you have a few things going on here. I'm going to get kind of I'm going to move quickly and get to our application today. But the coin, what are the coins say the fish with the coin? Well, either Jesus has control of nature, we saw that he can come to see or foreknowledge, he knows that the fish sometimes people throw, it's kind of like when you go to the mall, or whatever it is. And they're like, don't throw coins, and million is like a koi pond or something like that. It's expensive fish, and but you see all the coins in there. Making wishes. So like that, that would happen in fish would, you know, grab onto a coin. So Jesus could know this, or just make the fish do whatever he wants. But Jesus has power here. The citizens are free. This is actually very interesting. I could go on for a while about it. But I'm going to kind of move quickly here. Citizens of what? The kingdom of heaven. So right now he's speaking of look, they're not going to have this temple. So if you remember, we talked about a little bit, but we're talking about the future, right? So Destroy this temple. They think he's talking about the temple, and I'll rebuild it in three days, but he's going to rise from the dead in three days. So there's a lot going on there. But don't offend. Now, this can get confusing, because if you're listening to Jesus a lot, you're like, he doesn't have a problem offending anybody. Right? So Jesus usually going around offending everybody. But here he doesn't. Well, these aren't like the Pharisees are we're going to see later people were just being like, kind of disobedient, right? double minded. They're like, okay, yeah, we're following Jesus and be like you, but we got to take care of some stuff. So you'll offend them. Not worried about that. But these people, they're just doing their job. This is according to the law, you got to pay the temple tax, so we don't want to offend them. Interesting. So you see a little bit of humility here. So Mark 933, is where we'll pick up after they arrived to Capernaum. So that's where they are and settled in a house, Jesus asked his disciples, What were you discussing on the road? They didn't answer, because they had been arguing about which one of them was the greatest. He sat down, called the 12 disciples over to him and said, whoever wants to be first must take last place and be the servant of everyone else. Then he put a little child among them and taking the child in his arms. He said to them, anyone who welcomes a little child like this on my behalf welcomes me. And anyone who welcomes me welcomes not only me, but also my Father who sent Me. So this gets kind of funny depending on what version you're reading, but the main point is like they're arguing with each other about who's the Greatest right? So, and he gives us illustration with a child be welcoming. All right. But if you're reading in Matthew, it'll go into what were, well actually, it'll go into this teaching. Like it would be better for a person who causes one like this, like the child, the better for them to have a millstone, like tied around his neck and be thrown into the sea drown into the sea. It's kind of exaggerated type of thing, right? So if your hands cause you to sit and cut them up, feet causes and cut them off, right? So he'll go into this teaching. But Mark is interesting. Mark gives us a little ditty, like kind of tattletales on John. So right in the middle of this, so Jesus already be humble, welcoming, John, John has something really important to talk to Jesus about. And so this is what it is Mark 938, John said to Jesus, interrupting mind you, Teacher, we saw someone using your name to cast out demons, but we told him to stop because he wasn't a part of our group. He wasn't in our group. Interesting. Don't stop him. Jesus said, No one who performs a miracle in my name, will soon be able to speak evil of me, anyone who is not against us. As for us, If anyone gives you even a cup of water, because you belong to the Messiah, I tell you the truth, that person will surely be rewarded. Then in March, he goes into it, but whoever causes one of these little ones to stumble, right, the better that they drowned, right? So if your hand causes you to sin, cut her off, it's better to enter eternal life with one hand, then all your hands your whole body and be thrown into hell, he does the same thing with the feet and the eyes, right? And where were the worms, man, or maggots never die in fire goes out. So it's a quote of the end of Isaiah there. So this is kind of comical when you read it all the way through because, first of all, they start by saying, like, who's the best, like, which one of us is the best one, right? So Jesus is like, okay, here we go. We're going to do the same with the child, then John's like we wait till just because they're not in our club, right? It's like, I'm trying to tell you to welcome the child mean to Father, like, What are you talking about? A club, we told him to stop because he wasn't in our group. Interesting. So you can see this developing here. If we continue. Matthew 1815. If another believer sins against you go privately and point out the offense. If the other person listens and confesses it, you have won that person back. But if you're unsuccessful, take one or two others with you go back again, so that everything you say, may be confirmed by two or three witnesses. If the person still refuses to listen, take your case to the church, then if he or she won't accept the church's decision to treat that person as a pagan or corrupt tax collector, I tell you the truth, whatever you forbid, on earth will be forbidden in heaven. And whatever you permit on earth will be permitted in heaven. I also tell you this, if two of you agree here on earth concerning anything you asked, My Father in Heaven will do it for you. For where two or three are gathered together as my followers, I am there among them. Okay, so a lot here. So the first thing is, we're usually where you go when you're talking about church discipline, right? So it's basically like 123 strikes, you're out, right? And that's kind of the takeaway people get. And unfortunately, a lot of people are like, God, sinner, tax collector, I'm done. Right. So raced through the first couple steps, so they can get to what they wanted to get missing the whole point. The whole point of this is reconciliation. How does he continue in this? Right? So where two or three are gathered as my followers, I'm there, when you're in agreement? Err, I am Jesus says, right. So he wants peace and reconciliation. It's about love, not like 123 strikes or out. You're not the pitcher here trying to get the guy off the mound, right? So or whatever. However, that works. Not a sports guy. Anyway, you get, you get my point, you know, throw that in there. It's about reconciliation. But here's what happens. Right? So now it's not John. Now it's Peter. Matthew 1821. Then Peter came and asked him, Lord, how often should I forgive someone who sins against me? Seven times? No, not seven times Jesus replied, but 70 times seven. Peter's got a number, right? So he's like, you know, seven times that enough Jesus, he's like, like, Did you it's about reconciliation. So Jesus tells the story, therefore, the kingdom of heaven can be compared to like a king or a master and he wants to settle those accounts. So he calls in his slave who owes him a myriad of money in Greek like just some version will say millions of dollars doesn't a lot of money. He can't pay so the servant bags and like please, please forgive the debt please. Really good. Because what he wants to do is sell them in his whole family to make up the debt. Okay, he has pity on you mean his mercy lets him off the hook. Then he runs out and immediately goes and finds a fellow slave If what was him like a fractional amount like 1000s dollars, whatever it is not as much as this guy owed, and he's given me back my money, right? You won't forgive him. He hasn't thrown in prison. But other servants see this and they're like, what? So they go tell the king, the king calls him back in. And the king is like really worthless slave. I forgave you, you should have forgave him. So he has him thrown into prison and tortured you till he can pay everything back. Jesus says this after telling the parable, Matthew 1835. Remember where he left off? Right. So torture, that's what my heavenly Father will do to you. If you refuse to forgive your brothers and sisters from your heart. Jesus serious, really serious. So the whole parable is told it all connects. You see how it's going here? It's told in response to Peters callous question. So you see have this looping theme when you do it in the chronology first, John doesn't get it. It brings up the bad example. Peter. Now same type of thing, right? Not in our group don't want to forgive. No, we continue. John seven, one. After this. Jesus traveled through Galilee. He wanted to stay out of Judea, where the Jewish leaders were plotting his death. But soon it was time for the Jewish festival of shelters. And Jesus's brothers said to him, leave here and go to Judea where your followers can see your miracles. You can't become famous if you hide like this. If you can do such wonderful things, show yourself to the world for even his brothers didn't believe in Him. Jesus replied, now is not the right time for me to go. You can go anytime. The real can't hate you. But it does hate me because I accuse it of doing evil. You go on, I'm not going to this festival because my time has not yet come. After saying these things. Jesus remained in Galilee. So just quick point, we're going to get to it. Jesus does go because it's a mandatory pilgrimage festival. He's going to go to that. He's not like sinning or anything. But the point, the humility of Jesus, think about it. You can't be famous if you hide out here and don't do all your miracles. Now, listen, I'm nothing like I'm just not even close to Jesus level, like here because if I had that power, I'd be like, now you guys are donkeys like I turn them into like two donkeys I'd be like, Ah,
right, or at least we've seen it in the Bible. Like they just close up people's tongues right now you move you can't talk at that's what I would do. But think about what Jesus does. He's like, go ahead. The humility of Jesus is getting kind of egged on here, but he's like, No, he could do whatever he wants. Remember? Really interesting. Now, he will go, Luke 951. As the time drew near, for him to ascend to heaven, Jesus resolutely set out for Jerusalem. That's where the festival is. He sent messengers ahead to a Samaritan Village to prepare for his arrival. But the people of the village did not welcome Jesus because he was on his way to Jerusalem. I'll explain. When James and John saw this, they said to Jesus, Lord, should we call fire from heaven to burn them up? But Jesus turned and rebuked them, no. So they went on to another village, there is a lot here, so I'll try to keep it kind of short. So he's going to the festival. There's an animosity between these two people, Samaritans it goes all the way back, like two generations past David's if you know anything about King David Right. Then there's Solomon, who actually gets to build the temple. And then array of an array of bomb really messes up not that Solomon didn't. And then the kingdom splits. So easy way of thinking of it. It's like Judah in the south, along with the Levites, Levi and Benjamin, but basically Judah in the south, and the other tribes in the north. They make their capital city Samaria. So they're referred to as Samaritans. When they fell, before Judah fell, they both got conquered. First of all, they were involved in a lot of pagan worship, but they kind of they fall from the Assyrians or by the Assyrians, and they kind of intermix the Lord has to send lions to get some of them because they're not worshiping Right. Right. So but they intermix a whole lot. Whereas Judah, not as much, right? So simple way of thinking about this, and I'm going to simplify today, Judah, Jews, Samaria and the north, Israel, the Samaritans. So explain to the Samaritan woman at the well, the Good Samaritan. So Jesus is using these people for reason, because there's like this. So James and John aware that they don't like them, like they're not a part of their club, right? So we're getting into that again. And so they want to burn them up. So the Samaritans aren't nice to Jesus because well, he's going to go celebrate a festival where what was the moment the well, right you were up here, I worship they're going in the wrong place to worship in their opinion, Jesus says it's the right place. So the fire if you remember, we're talking about Elijah and he remember, right so he burns up Like 50 soldiers and other 50 soldiers on their captain Connie Bernsen calls five I'm a man of God, fire come down from heaven Burleigh. So Jay. Basically, James and John are like trying to be Elijah, which some versions will tag that on there. Right. So they're like, ah, should be called on fire men and burn them up. Again, they're not part of our group. Jesus rebukes them like No, guys seriously. Then. So they're continuing to travel along Luke 957. As they were walking along, someone said to Jesus, I will follow You wherever You go. But Jesus replied, foxes have dens to live in and birds have nest, but the Son of Man has no place even to lay his head. I'm homeless. He said to another person, come follow me. The man agreed. But he said, Lord, first, let me return home and bury my father. But Jesus told them let the spiritually dead bury their own dead. Your duty is to go and preach about the Kingdom of God. Another said, Yes, Lord, I will follow you. But first, let me say goodbye to my family. But Jesus told him, anyone who puts a hand to the plow that looks back is not fit for the kingdom of God, once you get started here. And then you go get distracted and stop, you're not fit for the kingdom of Gods what Jesus is saying, You Your duty is to go and preach about the Kingdom of God. So you see in these accounts, there's like a lack of humility here. There's a lack of putting people putting themselves aside, Jesus requires that we put ourselves aside for him. But putting ourselves aside can be really difficult. So it's the same with us was the same with them. Jesus requires another thing, we follow his example of openness and humility. Right? So he did engage with the woman at the wealthy, if you remember that, right, openness, humility, the point in order to spread the Gospel, that's how it's done. Not by burning a crowd of people up, right, we don't want to do that. Your duty is to go and preach about the Kingdom of God. Now, mind you, this has said to just different people, it's not just the apostles, and anyone who wants to follow Jesus, not everybody is a preacher or a teacher or something like that. But at the base level, what do we do, we love our neighbors, and we talk about Jesus that's like, the base level there. And so it's really interesting. Jesus doesn't want to offend. So unless someone's doing something wrong, he's like, we don't want to offend humility among his brothers. That's amazing, in my opinion, or if you have siblings, it's like, love to turn them into a donkey or something like that. Caring for the innocence. Right? Reconciliation is what he's preaching through this whole section, giving people chances. Let's try to reconcile this guys, come on, you know. But, Lord, how often should I forgive someone who sins against me? Seven times. No, 490 times keep going, Peter, the unforgiving it's told because of Peters callousness, the disciples, talking about who is greatest among them, who's better me or you. And then even after being told to be welcoming, John runs up to him, and he's like, Wait, this guy's not in our group. Really. James, and John, they're not a part of our racial or religious group. And I'll explain that a little bit more. We are to put our own needs aside, to be Kingdom builders, for the kingdom of God. These people are putting their own identity, culture, group, even family, above the goal of Christianity, that's to spread the gospel and welcome others into this family of faith. It's the point over and over again. Jesus calls us to leave certain things behind. Sometimes we have a culture kingdom, we've built an identity Kingdom we've built we're supposed to be calling people into the kingdom of heaven. That's the point. So that everybody can get into the club. So that brings us to a question, logical question set at the beginning. How might we today be making this a harder club than it needs to be to get into church to outsiders, I talked to a lot of people about church I'm always inviting people to church. And I get this a lot like, Oh, I couldn't go there. You know, like something about being dressed the right way, right? Or I'll burn up Pray that James and John are not here at sea. Don't worry about like Risa they get these impressions. Right? So just to begin, just to begin, if you, Paul people, and they say, you know, just describe Christians in two words, judgmental hypocrites. That's how people describe us, just so you know. So if you're trying to build a church, like we're trying to build here, it's a lot of work. It's a lot of work. I have to like, disclaimer, everything. When I talk to people, I don't care. So I'll say a bad word, like, oh, relax, you know what I mean? Like, calm down, I'm not going. I have all kinds of bad things about, but it's a lot of barriers. It's kind of a hard club to get into here. Why? Well, it goes all the way back to the beginning. So let's start at the beginning, I'm going to kind of go back and forth. I'm going to mention a lot of scriptures, I'm not going to put them on the screen, but you just jot them down. Or you can ask me later, I know what they are. But I'm going to mention where this is happening here. So really quick, and I'm going to interchange the Bible does it to a lot of you won't catch it unless you can read Greek. But when you read Greek,
when we talk about race, or ethnicity today, which is a little different. It's very complicated. All right, I understand there's a lot of sensitivities around it. But when I speak, I am speaking in the biblical context, and then trying to draw it to today. It's still complicated, right? So sometimes, like, for example, Romans, it'll say, Gentiles straight through, but sometimes Paul is saying Greek. Sometimes he's saying, what we would think of as like ethnicity, right? And it's he's interchanging it. So sometimes he'll talk about Jews and Gentiles, but then sometimes they'll say, Jews and Greeks, and it's like, wait a minute, Gentile is more of like an ethnic thing. Greek is like a national thing. He's just anybody who's not didn't start out here as a Jew. Alright, so now Jew today. Complicated, right? Because you can maybe convert proselyte and you can convert now you're a Jew, right? But you're a Jew, by what? Religion? Not necessarily race, right? So it's like a, like a both in ethnicity and race when you're looking at it from a biblical standpoint, right now. definitions, it means something different. So just understand that. So I'll just kind of broad brush this. Think about the application, your group, right? So whatever that may be, whether it's race, totally, whether it's nationality, totally, whether it's a mix of both if they're mixed in there, your group. So just think of it like that. So if you hear me say one thing or another culture, race, the basic idea. So if you go back to the Bible, that's what they're dealing with here. Again, in Greek, it's like Ethnee is the word usually being used and think ethnicities, right? So, but in this context, anybody who's not Jewish, he didn't start out being Jewish. And a lot of people don't realize this. A lot of people will quote, Romans, they'll do Roman studies, and they kind of hear you're supposed to be doing the line by line thing. After you've just read the HUD just read the whole thing. Like they would write Phoebe brings the letter, and maybe she's the one who reads it. But she reads the whole thing. She's not going to be like today, we're going to do chapter one, verse one, there are no verses and these letters, numbers or anything like that. She just reads straight through. And so they have a broad understanding of the point Paul's trying to make was going to make a point here, it's not written. Like I said this before, like, I'm going to set out to write the greatest theological work ever written. No, that's not what Paul's doing here. There's disunity in the church. Right? What happens is, Claudius expels them, and the Jews have to leave Rome. They don't like Jewish people. Ironically, I think it's a Nero who lets them back. So this is basically like x a team, right? So now Priscilla, and a killer a meeting Paul, they get kicked out because they're Jewish, of Rome. In the meantime, the Roman church grows, but it's Gentiles. It's non Jews, as this starts out as a Jewish faith. That's what Christianity is Jewish sect. It takes the apostles to like Acts chapter 10, to figure out that they have to let non Jewish people in to so like an ethno religions both going on because they're dispersed to Jews and all this other stuff happening. So anyway, this church builds but now what happens? The Jews come back, the Emperor says, Okay, you can come back, they come back, and they're like, Oh, you're not doing all these Jewish things. Right? So you're supposed to be doing Jewish stuff, and you're not. And so they have kind of an attitude. Because what we're Jewish Jesus was Jewish. No, we're superior to you. We have the law. And you know, so Paul writes Romans, that's the reason for writing get along. So Romans chapter one, yes, the Gentiles have sin to the Jews isn't to know so much. Teach Yourself. Three. We've all sinned and fallen short of the glory of God. That's the point. That's how the whole thing starts. I'm not going to go through the whole thing, but so you get the point. Ephesians unity, same type of thing going on there. What does he say? We're all one body of Christ. That's the point. So it started there. But do we do this today? Do we some No, like within the church, we have superior people with superior knowledge, my better Bible translation, whatever it is my club. Do we associate like if it's a racial issue with people of just the same race all the time? And that's it. We're not interested makes us uncomfortable. Do we do that today? Do we have certain superior? I mean, we know of course in our American history, I'm not going to get into it. Yeah. Really guilty of that. The bad, right? So my race is superior. And no matter what color you are, or where you're from, is there like a bit of a superiority complex going on? Do we do that today? And what is Paul saying, What does the word of God say? Stop? You've all sinned and fallen short of the glory of God. That's why I'm not popular all the time and say stuff like that. So do or are we all one in Christ Jesus? Economic, James gets this chapter to James chapter two, what's happening in the church? Well, there are rich people in the church, Phoebe, I mentioned is the Benefactor that's okay. You can have nice stuff, just don't do this. So what happens is, a guy comes into the church and he has a gold ring on wearing fancy clothes, and the church responds by Whoa, sit up here and we reserve this for you. But then someone comes in with rags on what do you say? You can stand in the back or just hear no cheer for you? paraphrasing what James says the situation he rebukes it? No, no. But do we do this today? You know, do some pastors Beeline it for wealthier members? Does that happen? I've seen it happen. So or in some churches and you know some people told me about this I would have a hard time going to church like this. There are certain people if a celebrity comes in literally they get like the special spot front and they give more attention to him. What Yes, we do that today. Pastor parking the next pastor, what do you know about that? I tried really hard not to get into that because I don't want to obviously single out any particular churches, although it's kind of my job, the Bible says telling the truth. But anyways, no Pastor parking here like fasters here we have to park to get another parking lot in the back by the garbage dumpster. That's our spot. But that's what I teach everyone here. So first Corinthians one through four. That's the issue for writing. That's the first issue. So there are many issues but that's the first issue he's addressing pastor worship. Lu Apollo's is a really good speaker. We're going to go to his service. You know, his Bible says Peter Peters. Awesome. I love it. I love Paul Paul's like, I'm glad I baptized. None of you, except Stefan, his Christmas and gays. Anyway, but he's making a point. Otherwise you'd say you were baptized in Lima. Paul. What? And then by the time you get to chapter four, he's so upset. He's like threatening with a stick to come and beat them. True. Read it, trying to get you guys to read this stuff. It's exciting. Anyway, Pastor worship, do we do this today? Do we do this today? Who He's so good. And it's like, no, he's not because he's not using enough of the Bible. The Bible is really good, not him. So but people start, you know, as my favorite pastor and preacher, this is my favorite worship team. How do we do that? And really get distracted from the point from God. It shouldn't really matter. As long as the people's person is a gifted teacher, it doesn't matter who's up here. Do we do it today? There are no celebrities here at sea three, except Jesus. That's it.
Religious again, issues and this is kind of interesting. This comes up in the Bible quite a bit. It's hard to catch because you got to kind of know a lot about the Bible, where it comes from and stuff to get it but simplified. Just make it really simple. You got First Corinthians eight through 10. Romans 14, it comes up Colossians. Two, the Sabbath comes up. But they have different things like, again, it's a Jewish faiths, the Gentiles are coming into the Jewish faith. And so it kind of naturally comes up well. Do the Gentiles use non Jewish people? Do they have to get Serkis circumcised and try to follow the law of Moses? Well, no. And then the Gentile is like, right, circumcision thing. Not fun. So anyway, they have a council x 15. And they decide okay for things right, so fornication, what strangled from the blood? So, one of these things is meat sacrifice to idols. What you know, but it's pagan worship, right? So they're taking an animal and they're sacrificing it and then what do we do with the meat? Do we eat it? Don't eat the meat with the blood in it or things strangle or sacrifice the idol So James, Jesus's brother becomes a believer. Amazing. He's head of the church there. Aaron are the power of the Holy Spirit. And with this council Peters there, all the guys are there. They come up with this these four things, and then it gets sent out to all the churches. So this is the frame of reference behind what Paul's talking about when he's talking about these things. So first Corinthians a context eight through 10. That's what it is like, should I eat the meat sacrifice settles? Or should I not Romans 14, that comes up a bit. And Paul, basically to condense it down is, first of all, he calls those being legalistic, weaker in the faith. That's where he calls them weaker in the faith, I'm putting all these chapters together for you. We're living but if a weaker believer has a problem with the meat, and he's going to see it, doing it, just eat vegetables, like just don't eat the meat, like just don't cause anybody to stumble. But if you're behind closed doors, eat the meat, right? It's not a big deal. You know, think about it. There's four things the Gentiles have to do, and he's just disregarding 25% of it. Why? It's not gospel. That's your like, religious stuff over there. It's not gospel. Now, there's anything completely bad with religion. James says it's a good thing, pure and undefiled. Religion is caring for widows and orphans. So it's okay. It's just the kind of religion you're trying to press on somebody else. Don't know, Sabbath. I think it's Sabbath. Right? It's just me and God, that's what I do. We get to Saturday, haven't had a day off. wife and daughter have that day off. And that's why I take Saturday's off. That's it, right. But it's one of the 10 commandments, right? So you don't obey the whole law of Moses, but it's probably a pretty good idea. Look at the 10 commands, right? God's trying to save you from your own pride, and running yourself off a cliff. Right. So I think it's a good idea. I highly recommend it. I recommend it to my people. If you've ever met with me or talk to me, it's like, Hey, you getting any time off? Are you praying? Are you spending time with the Lord? Are you spending time with your family? No, I haven't taken a day off. And it's three months. I'm like, that's the problem. Right? So I recommend, just take a day off. Tell your employer, you're a Christian. Take a day off a week, Sunday, great come to church. It's just a good idea. But you've never heard me go. Every single one in here needs to take a day off, right? No, say it's a good idea or kind of snicker when you have problems will be like okay, but I'm not going to rebuke you for it, and I'm going to be legalistic about it. That's the point. But do we do that today? 40,000 Christian denominations? Yeah, that's actually a fact. Yeah, we do. 40,000 times. We do. We do. That's what the denominations are all about. He'll get the Christian denominations not cults, not called not talking about cults, Christian denominations, we all believe the same thing. We all believe the basic tenets of the gospel, and different denominations just make a whole bunch of other stuff really important. That's it. That's the only difference. And they argue so much about that stuff like the meat sacrificed to idols or Sabbath. They argue so much about that stuff that they split. Paul's worst nightmare. was like, No, don't split. But we've done it. And I've seen Christians argue about these secondary points. I'm like, It's it does not so if you don't take pastor Jean Sabbath, you're not going to hell. It's not a salvific issue. It's not an issue of salvation. So try to get along guys. Did we do that today? And then what is the outside looking in? See? Oh, it'd be a part of that club. That's what they see. I mean, logical question. Why are there so many denominations? Because Christians really like to argue with one another about things that are really not important. Yeah, just like this is yeah, if you're me, politics, we'll do this really fast. I don't like to talk about politics at all. I don't like to listen to politics. Here's the thing if you go to write this down, you don't leave your Romans 13 First Peter to honor who cares? Honor authorities who Oh by the way are burning you alive. Read First Peter to read first Peter to honor the Emperor the king. Not being very nice. These Emperor's are kings. Honor them. Why? Big Idea. Put it all together for you. Peter says it we are aliens here. We don't belong here. Were sojourners and a soldier. Someone who's just passing through where we were just passing through. Philippians our citizenship is in heaven. We are citizens of heaven. We are just politely passing through. That's the idea when you read all these letters. Remember, make a defense for what you believe how respectfully and gently that's how you do the public. idea, making defense respectfully. So this is Jesus. We don't want to offend like, but we'll find you with the gospel. That's it. All right here. This is Jesus, I love you, whatever. How can I help? I'm going to heaven. See? That's it. But, and this is this is through the last couple of years, man, I got to be real with you. I said, Man, but I'm being real. I'm trying to just really hold back. But I took a lot of people, politics has infected their Christianity. It's disgusting. I can't just it's been heartbreaking in some cases, watching what other Christians will do other Christians, crazy ideas they'll adopt that then supersede Jesus's plain commands. It's crazy. Yeah, we do this today. Now, brief. Okay. Not you. Okay. With that being said, so quick little thing here of interest. If your Bible translation has Paul saying something like to the Thessalonians, you're my pride and joy, cross pride. And because pride is a sin, it's one of the seven deadly sins. Pride is like always a sin in the Bible. They mean well with the idiom, but I get it. But no, it's confusing, because pride is never a good thing. Never use a word. coffee mug, right? So it's like, boasting and some translations will say boasting instead, like you are my boast. It sounds weird, right? In our vernacular, it would be something like I want to brag on you. Right? So it's about, maybe you're not going to say it like that. But it's about like, you know, like, using someone's example. So you did a good job, right? And LML Can I do it too? I'm proud of you. And I'm like practicing. But anyway, it just comes out because that's just part of our language, right? So this is what I want to do for you. Because I want to highlight a few ways in which C three. So this is the world is what we want to avoid. And we got to kind of watch out, let's not go back there. Because we were there as a church just being real. We were there. Getting stuff wrong. So it's been like non denominational loving, to get where we are. And so I want to highlight a few ways in which I think I think we've made this an easy club to get into. I do from what I see, I'm again, general, we were doing pretty well in some of these areas. We don't divide over religious issues. My Greek tutor, she is an orthodox believer. So you love Jesus. Yes. Great. Go worship your paintings. I'm sorry. But, you know, we can make fun, but it's okay. That they don't. Anyway, it's not it's okay, that was a joke. Well, I'm going to hear it. For sure. But anyway, what we can do that it's okay, it's not a hill, I'm going to die on right. But you should really do this, okay, you know, great, like, whatever. We're not going to fight. We don't fight here over stuff like that. Don't fight here over stuff like that. Right? So we don't do that. That's fine. If that's your favorite translation about, that's what you believe. Go worship Martin Luther, like whatever you want to do. Great. I do love Jesus as your Lord. Great.
This is cool. Because we had a meeting on Friday. We had a lot of different groups come other nonprofits that deal with different issues. And so if you're new, you might not know we try to break down those socio economic barriers. And so we have a real heart for those in recovery. In those in need. Yes, that happens in Naples, we get vacationers it was like really Yes, is called East Naples. And it's not like this. So there's a lot of people who need our help. A lot of the reason that that happens is because of substance abuse and mental illness. And so what we try to do is not be an expert in everything. I'm not. I don't know anything about that. So I pray Holy Spirit help the person and if they're too drunk to get that, I send him somewhere else, right. So I don't know anything about that. So we have these different people we partner with on Friday, they use the facility, the cafe. To me, it's like a huge networking thing. And we're kind of you know, just getting to know everyone. I've certain people at certain organizations, I know them by name, I'm friends with them. So they want to have these cases come in, I can actually help them get the help they need. Right. And then we work together to communicate. So I give them Jesus, I teach them about you. And what's happening is a lot of these people are saying, Hmm, I kind of want to come check out the church. I've actually had that a woman from one organization came in to talk about all this stuff. And halfway through it, she was like, I don't want to talk about this stuff anymore. Let's talk about the church and then joined our church, you know, serves in the kids ministry. So see how this works. You know, and so we're building bridges, we're helping the community. And again, breaking down those socio economic divisions, those things that would normally divide. And certainly, now we've moved past those rates, racial or cultural barriers, like what Paul says Galatians 326. For you are all children of God through faith in Christ Jesus, and all who have been united with Christ and baptism put on Christ, like putting on new clothes, there is no longer Jew or Gentile, slave or free, male or female for you are all one in Christ Jesus. So no Ethnee right. So no race, right? No, you're not better because you make more money, whatever that is right? slaver free. No, you're all one in Christ Jesus. And I think we do that well. And I'm just going to highlight something and do a little coffee MA for Mr. She's going to get really embarrassed. But you smell that? That's really good food. So we have a cafe we break bread, like the early church did an AMA made some Ethiopian food. So you see, we have Ethiopian people here. And what we do is we don't divide over that, like, you know, they don't come up to me that maybe they're thinking that we're Ethiopian, we're better than you. Right? You know. So anything that doesn't happen here, we just embrace one another, you can keep that culture, but that's their citizens of the kingdom of heaven first. And that's over here. And by the way, as I was passing through, I became an Ethiopian, right? That's not who I am. I am in Christ, right. But we celebrate these things. We welcome these things, right? It's fun, we can have a good time while we're here. And we want to use those things to come together to unite over things. So anyway, you really need to have the Ethiopian food. I hadn't had it until Emma introduced me to it. It's amazing. You wouldn't think so I just don't know. Because all these things you learn about when you're a kid and the crisis is there. Wow. It's really, really, you guys are getting a treat like this. She needs to open a restaurant. It's amazing. So if you've had Ethiopian food you're going I can't wait. It was like, I see people moving up to the balcony. But anyway, here at sea three, there's no color. Just Christ. That's it. If we can use some of those things to build bridges. Great. That's fine. Now, as I close it, just want to talk about one thing, and just give you guys some encouragement. The personal, this is an area we all need working, right? The personal, it should be we should be holding up mirrors right now. Not doing that. The personal and so on that I think I said this last week, but some people will say like, religion is a personal thing to me. So I just keep it to myself. said Jesus never. In fact, he commanded us to do the commanded us to do the opposite. It's not optional. It's not optional. Your religious sharing. Your faith is not optional, according to Jesus. And it's so redundant how he says it so many times. It's not optional. So here's the thing. And I'll explain a little something because if you do come at Easter what happens in church and this is just another thing you should understand about see three church. Churches will adopt programs like basically what churches will do is they'll say, Okay, we need more people in here. Right? And how do we do that? Well, they look to the outside world right? So marketing and so that's what they put the person on the board who has the best marketing experience or whatever it is, and then they start doing what throwing money at it. That's what they do. And a the friends that I have that run big churches, they all tell me the same thing. This place is a revolving door does they say they have to venues so machines are hungry, which you got to keep feeding money, throw money, throw money at it, throw money at it, their money out, throw money at it. It's unbelievable. And then when we put the fake budget up, we're going to we're going to line item that is ministry. All right. But that's what churches do. And in that there's a lot of bait and switch. And there's a lot of gimmicks. So, something about Easter, the way we celebrated it on Sunday. It took us years to get here. And finally, I don't think anybody asked for Easter lilies, did they? Thank you, Lord. Okay. But anyway, it took years to break this this this culture, but here's I'm going to tell you what happens a true bait and switch. This is what happened. So, you're going to come in on Easter Sunday. We're going to see what the Easter eggs the bouncy castle we got a bouncy castle. I think we did that when you're a bouncy castle, right? It's going to be all crazy in here. And then the message is going to be about 20 minutes long, so you can handle it. And it's just going to be all Yeah, you know, like, this is great. You come back the next Sunday, it's like, where's the good coffee? Where's the bouncy castle? And why is this guy still talking? Right? It's different. But if you came on Easter, it's not different. This is who we are. That's it. We're not trying to pull a bait and switch. This will be the same church you walked into, on Easter Sunday, where it's all about Jesus. That's the most important thing happening here. And that's it. And by the way, that's enough. You know, if we didn't have the worship, singing, if we didn't have the Ethiopian food, you know, this should be enough gathering, loving each other. You know, if we can break bread, that's good. That's the four points out there for a reason. But that should be enough stuff system goes down, good, let's just sing acapella, or some, whatever, or do real worship and like, help people. That's what the Bible says real worship is. So when you do that, we do the opposite. They're the marketing stuff. And I've seen it, we've done it, you'll grow a country club. That's what you're going to grow when you throw money at it and do it like that. Not at church. Churches copy the world, in an attempt to grow that way. And they turn worldly, they just start in a country club. And that method is found nowhere in the Bible. They had money than nowhere. But you know, what is word of mouth? If you've been in business, you know that term, word of mouth, that's the best advertising. Right? If Jesus had a marketing strategy, it would be word of mouth. That is how we are supposed to be growing. It's something to be shared Luke 960. So when pulling this from today's accounts, Jesus told them let the spiritually dead bury their own dead, right? Your duty is to go and preach about the Kingdom of God. It's about putting aside or whatever it is our religion, right? our race, our culture, our other identities, whatever they are, putting those things aside, for the sake of the kingdom of heaven. That's what it's all about. beyond our own culture. So just quickly, we'll hop to First Corinthians real quick, and then we'll, we'll wrap up, because that food smells so good. Like I told him, I said, you want to keep my messages short. Do that ever.
All right. No, no, no, I'm not putting aside the Word of God. So if we're in First Corinthians eight through 10, within that context, right, so the meat sacrifice idols, he's, he's using himself as example, say, Look, I have a right because it sounds weird. It just kind of comes out of nowhere, but it doesn't. I have a right to pay. The Lord commanded those who preach the gospel, make their living off the gospel, not to become millionaires, right. But this will be taken care of member when the disciples were sent, right? Engage in the hospitality, let don't take anything, not a money back. But the people support you and you're doing this right. So there you go. But Paul, sets aside, he says he gives up his right, he calls it a right to pay what he's trying to do show up all these false teachers, right? Because they're doing it for money. And so was he doing okay, I'll do it for no money. Right? It ends up becoming this whole thing. But the point is, he sets aside even his right as an apostle to pay. Then he says this first Corinthians 919, even though I'm a free man, with no master, I become a slave to all people to bring money to Christ, when I was with the Jews lived like a Jew to bring the Jews to Christ. When I was with those who follow the Jewish law, I too lived under that law, even though I'm not subject to the law. I did this so I could bring to Christ those who are under the laws of the Jewish people, when I am with the Gentiles, who do not follow the Jewish law, I to live apart from that law so I can bring them to Christ. But I do not ignore the law of God I obey the law of Christ is making a disclaimer there. Don't think that I am sitting when I'm with those who are weak. I share their weaknesses for I want to bring the weak to Christ. Yes, I try to find common ground with everyone doing everything I can to save some I do everything to spread the Good News, the Gospel and share in its blessings. I do everything. I will become anyone. I hang out in anybody's club. It doesn't matter. I'll engage with anything if it's going to bring people to the gospel. This is a total breaking down right? of race, culture, religion, God. Know how Okay, fine, I'm a Jew, okay, fine. I'm a Gentile, whatever, blah, blah, blah. Let's get to Jesus. That's the point. Our identity should be in Christ, when it is humility will guide our hearts. So we are led to engage in what's really important. And like, oh, what's not the kingdom of heaven? So I want to encourage you as I close today, because a lot of people when this topic comes up, just being very practical, they're like, oh, you know, you're all of a sudden, you're Moses, right? My tongue gets tied. Gatsby, can I bring in Aaron, you know? No, like, okay, I get it. I know. And I'm introverted and shy, and I don't like to engage with people. This is the way you need to think what you do. says more about what you believe, than anything you could possibly say.
You don't need to do the talking with your mouth. There's a lot of other ways to love people, right?
Just love people. Love them. Some really simple things, blow people's minds. Really simple things. And also your attitude. If you go around and do whatever it is, right, you're not exhibiting the fruit of the Spirit. People are noy going to want to join your club. Why? Right? So fruit has what seeds in it, right? Something don't get, you know, some gardeners going to come up and you have to serve them like technically, you know, the fruit has seeds in it, right? So fruit spreads the seeds, good fruit spread seeds, right. So that's what we want to do. Sometimes they're seeds. And so I try like in my neighborhood, love your neighbor. And so a girl in my neighborhood. Some people have to come to the church in my neighborhood. Some people have not, and I've been in that neighborhood for 10 years. But we always stop and talk. Why he's like, Jamie, you just seem happy all the time. I'm like, you looked around you. Beautiful. Yeah. What is there to complain about? Right? So I don't know. But he's not. And so I try to counter that and just like well, hey, you talk about positive things probably hates us by why doesn't come to church sick this guy again. Right? So anyway, but Right. So as we go out, just do. You know, if you're not good at talking, you don't know anything about the buns. Fine. You know about Jesus, if you're a Christian if you don't talk to me after the service. But if you know about Jesus, that's it. That's simple, but be like Jesus, Jesus washed feet. So as we go out this week, look, exhibit the fruit of the Spirit. Galatians five, love, joy, peace, patience, 10 years. kindness, goodness, self control. Those are the fruit of the Spirit Galatians five. That is what the Holy Spirit should be bringing out in us if we are in Jesus. A pray for you. Laurie, thank you for everyone who came today. Lord bless them as they go out this week, but make them a blessing. Make the vehicles of your fruit your love your joy, your peace, your patience or kindness or goodness or self control your gentleness this week. So that so that we can help to bring more people into your kingdom, all for the glory of God. I ask these things in Jesus's name. Amen.