Are you Committed to Christ
In the last installment of this series, we looked at the book of James and saw what it was to put the work in from a biblical perspective. This week, we will look at the book of Philippians – a theological thank you note of sorts - and what it says about our commitment to Christ.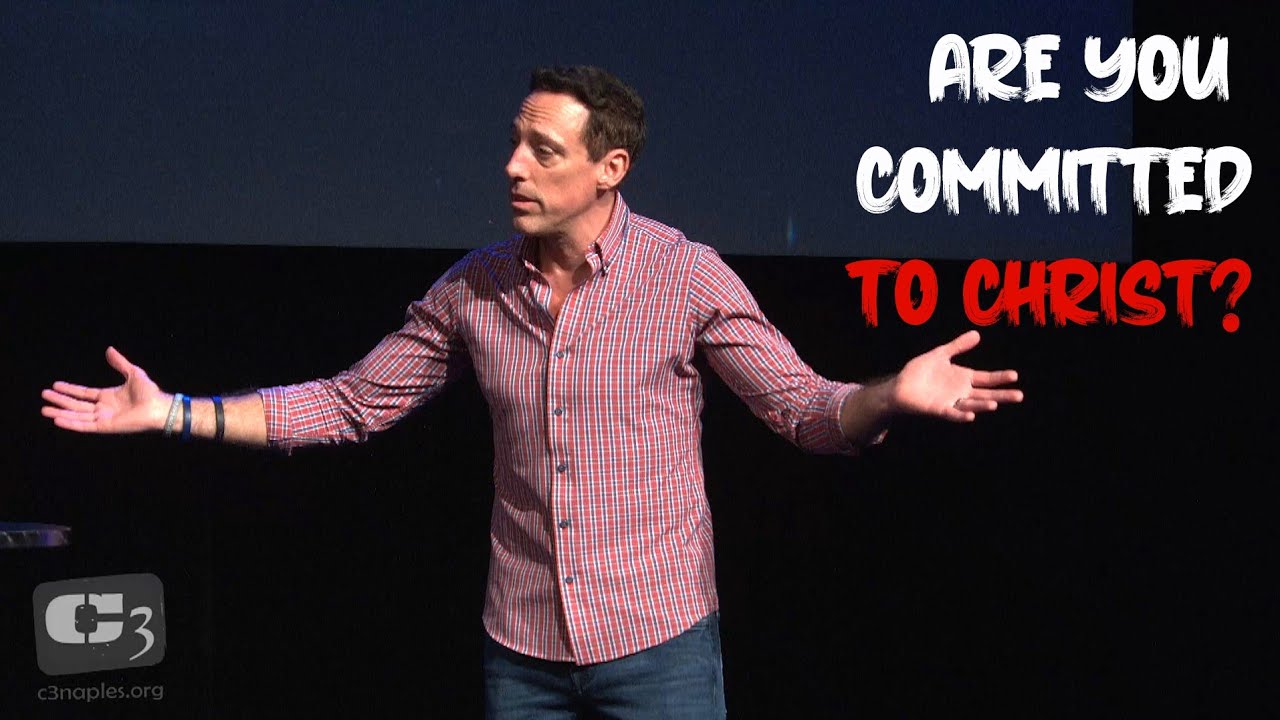 Are You Committed To Christ?
Sun, Oct 22, 2023 10AM • 1:02:49
SUMMARY KEYWORDS
Paul, Jesus, god, people, Christ, Greek, Philippians, talked, slave, remember, Christ Jesus, verse, live, word, church, put, lord, person, bible, attitude
Hey, everyone. Welcome if you're new here among us, my name is Gene I serve here at C3 church as your pastor. And if you are not new, you know that Tony preached a good message, a great message last week. So I want to thank him for doing that. And thank all of you, who are the body of Christ, you guys are awesome. Keeping things alive and going here. Well, also, if you're not new here among us, you know that I used to be in the martial arts industry. And so we used to tell people want to be good fighters, if you want to get the prize, you have to be fully committed. So there was one meme that I would see back in the day, that would always make me laugh, but I really liked it a lot. Probably shared it too much. So let's share that with you right now. So this is Sylvester Stallone. Supposedly and asking, oh, You, Adrian, how many pushups can you do? So he's asking Chuck Norris? Chuck Norris gives the correct answer. All of them. Right. So this is the kind of attitude you needed to have very committed type of attitude. So here in my new life, right? I want fully devoted fully committed Christians, or at least people who want to be right. So that's a church full of people at least want to be fully committed Christians. So now we have to change the meme. So here now it starts with Chuck. And Chuck lets them know, Hey, I'm preaching on Philippians. So that's just a loan versus all of them. And that's what we're going to do today. All the verses in Philippians? All of them That's the right attitude. And I thought you guys would laugh harder at that one. I There are, they're scared you I think that's what it is. Really, he's really going to do. But if you've been here for a while, you're totally used to it. What do you what are you worried about? All right, today, we're going to hear Philippians the way they heard it in the early church, the way it was supposed to be read not one line at a time randomly out of order throughout the year, five years or so he's supposed to hear it, you're going to get the context is going to be fun, especially for me, because it's like, one of my favorite books of the Bible. I love to look, you've been here for a while you know that too. Alright, so quick recap. So Tony, preach. We looked at James why, because you're an X 15. They have the council the first like church council there. And James is basically presiding over that council. Right. All the bigwigs were there, but he came down with the final decision. So we looked at the book of James, and we're pairing these things with the book of Acts, that's a lot of fun, right? Because Paul goes to a place and then he leaves that place, and then writes letters to that place. And so often you see the same people the same things, and we're going to, it's going to get exciting for me, especially because there's like regional letters. And people don't even know that. So a lot of fun, we find ourselves in Acts 16, and Philippians. So we've kind of peeked in here a little bit. So I'm just going to summarize what we've looked at already, because it's how we got to Galatians and all these other things. So the first thing if you're an x 16, you're going to see Timothy and if you remember, we talked about him getting circumcised, just in deference to the Jews that were there. Titus did not get circumcised. So Galatians we dealt with that. They're traveling through all these different reasons. One of them is Galatia. We also saw when we looked at missions, they were told by the Holy Spirit or the Spirit of Christ, where not to go and where to go, right. So they just didn't have like a dark map with a dartboard and just like, there, that's where we're going right? Or a clipboard. Anyone can sign up. So you see that in effect. Now Paul gets a vision. That's a man from Macedonia, come over to Macedonia and help us so he believes this from God. And so we're going to hop right in, this is what happened. At 1611 we boarded about a TRO, and sailed straight across to the island of cemeteries. And the next day we landed in the office. From there we reached Philippi, major city of that district of Macedonia Roman colony. And we stayed there several days. On the Sabbath, we went a little way outside the city to a riverbank where we thought people would be meeting for prayer. And we sat down to speak with some women who had gathered there. One of them was Lydia from diets Hira, a merchant of expensive, expensive purple cloth who worship God. And she listened to us the Lord opened her heart and she accepted what Paul was saying, she and her household are baptized and she asked us to be your guest. If you agree that I'm a true believer in the Lord. She said, Come and stay at my home. And she urged us and so we agreed. Okay, so just a pause here, what's going on here and x? And you're like, I thought we were going to be in Philippians. Oh. So you're going to see the we narrative if you're careful observer, we, we start saying we all the time, who's weak? Luke. Luke wrote x, he's putting himself in the account. That's kind of cool. So that picks up here. Maybe they picked them up in Philippi. You'll notice Lydia so Luke also talks about a lot of women and he also always mentions that the women are benefactors when they are so their benefactors. Remember in the Gospel of Luke to Jesus His ministry and there were a women it was kind of crazy. So here again, it's a woman selling expensive purple cloth, right? So the expensive color and make because the mollusk shells and all these things you got to crush up to do it. So she has a home maybe a wealthy woman, obviously benefactor to policy twice here in this chapter, you're going to see them staying at her house. So I'm going to summarize the rest of 16 for you so we can get to Philippians. So basically what you have happening as a counselor, Now, Paul and Silas, now with Barnabas anymore, he's hanging out with solace because of mark all this other stuff. So they're walking along. And for like, it appears to be several days, this girl with the spirit of pipe Dona, and it probably does not say that in your version, no matter what English version you're reading, it probably says spirit of divination, fortune telling something like that. Why? So this isn't a Greek and why it's kind of cool to know the original languages. Hi, Fiona, it's the reader then would know, because that's where the reader is then. Right? So, so that reader would know, the Greek mythology, the things going on in the background, you wouldn't need to mention anything. So they think of the Oracle of Delphi, maybe you've heard of it, right? So Apollo chills, this Python, and it's rotting down there beneath it, the fumes come up, and they give the Oracle the ability to prophesy, basically, what's going on here. So that's what this girl is doing, what she's saying, these are servants of the Most High God, like, they can tell you how to be saved. So what she's saying is really good. So it's kind of funny at first that Paul gets exacerbated. He gets tired of this, this girl doing this, that he commands, the spirits come out of her. And it does. Okay, but the owners, she's a slave girl, the owners are not happy with this, because now they're not going to make any more money. So they make some false accusations against them that bring them a court, essentially, and have them beaten with rods. So they're severely beaten at this point, right, then thrown in prison, and they're put in stocks. So you got to think you're really, really, really super uncomfortable. If you ever been anywhere. They have like a theme park of those old recreation towns and you sit in it like super, super, super uncomfortable. They're in the inner dungeon. They're all chained up. So what do you think they do? They worship, stop worshiping, right? People are listening, and they literally bring the house down. So it's like this big massive earthquake happens. The doors are opened up, the chains fall off. Well, I jailers got a problem number what Herod did to the people who are in charge of theater, right? They had them killed when they couldn't figure out how he got out. Well, this is going to happen to the jailer. So he goes to kill himself and Paul's like, no. So the guy's like, Okay, this is unbelievable. How do I get saved? So long story short, he gets saved, takes him the house cleans Paul's room, his whole family is saved at this point. Awesome. But here's an interesting issue. And I think maybe once or twice, I've had someone use these verses way out of context to try to. So what happens here is Paul, the FTD officials say let them go, right. But Paul's like, oh, no, they need to come here. And let us go. Right? That's what's going on. So they do and that's what happens. They let them go. But people like you see, you know, Paul, it's basically like, almost like to have some kind of right to speak badly about, you know, rulers or politicians or something like that. You know, I was like, I was a pretty good stretch, brought it up. I'm like, here's what's happening. And this actually is very important. When you're reading Philippi and some of other Paul's letters, blameless. You hear the term blameless, I was blameless, live blamelessly. This and that, Luke is going to great lengths here. Remember, Theopolis? That's the guy he wrote it for, or to his audiences, all of us. But you got to think, right? Like a Roman person. Well, he doesn't want he wants to make sure that everyone knows Paul's not a criminal. I did not get put in jail, like, because I did something against the Roman law. And that's the first charge they bring against. And it's against our laws, you know, like, so Luke, knowing that his audience is Roman wants you to know, once the Roman audience to know, Paul is not a criminal. He's not here. He's getting put in jail, because of the gospel. That's it, but he's not done anything wrong. So if these rulers basically if they let them off the hook and go, they're gone, right? And they can say anything they want. Yeah, they were criminals. Oh, Paul's like you basically, you're going to acquit me of this. You know, I want the rulers to have approval, so that everybody knows I'm blameless. So remember that theme. This is really important to Paul. So it's not some kind of call for like civil disobedience. All right. So this brings us to Phil, but this brings us to the Philippines. So what happens is they go back to stay at Lydia's house again. And now we're going to do the letter to the Philippines. We're going to Thessalonica next and 17. But some background. So, Paul,
here's the thing. I think I talked about this once or twice. Every letter, like an email, like has a subject line that you need to have in mind. Right? So this is basically like the subject line. Like I'm in prison. Thanks for the gift. You know, something like that would be the subject line to Philippians. That's what Paul is telling you. It's really important no matter what verse you read in this whole book, He keep the subject line in mind. Otherwise it goes out of context like an email, right? So you write someone an email, the subject line, they take one line over here, like, oh, by the way, my dog got sick. You know, they pull it out and they start applying it to everything. It's no, no, it needs to be all under that email is a terrible example. It's just the first thing that came to my mind. So anyway, so Paul is in prison, not in the prison, because he got out of that one, but he's in prison. Again, some scholars will say this is written like later in his life. I don't know. Don't get too caught up on that. He's in prison. That's the big deal here. Right? They send this guy you're going to see a Pafford itis with a gift for him back then not the same as it was today, right and have the same rules about being in prison. So prison could be more comfortable in some people's houses nowadays. This is not like that. Right? So it could be called and horrible no AC no heat, maybe, you know, he's just here's like, some bread and water, maybe you know, stuff like that. It's terrible. So what they're going to do is if someone's in prisons, by Jesus, emphasize, when did I see you sick or in prison there, Jesus mentioned that? Well, because it's bad. And so you're going to send a gift to that person in prison, some money, bribe the guards to get you some extra food, whatever it is some clothing. And that's what they do. After that just goes with the gift. Paul receives the gift, he sends a Pafford itis pack with Olympians this letter Philippians one. This is a letter from Paul and Timothy, slaves of Christ Jesus. I'm writing to all of God's holy people in Philippi, who belong to Christ Jesus, including the church overseers and deacons. May God our Father, and the Lord Jesus Christ give you grace, and peace. So in here, he could talk a lot about what's going on here. Grace and peace, very standard greeting. There's actually a lot to that when you're reading it in Greek, but grace and peace to something that Paul says a lot. So remember that piece that Tony talked about last week. So right away, was reminding them, we're going to look at what it meant to be a slave back then, so that people see us know, like, slaves of Christ Jesus, what? You know, I will explain that later. So we're going to go back to that Philippians one, three, every time I think of you, I give thanks to my god, whenever I pray, I make my requests for all of you with joy, right? So this is an important theme coming up already. For you have been my partners and spreading the good news about Christ from the time you first heard it until now. And I am certain that God who began the good work within you will continue his work until it's finally finished on the day when Christ Jesus returns. Okay, so a bunch of things here. Remember, glaze, he's talking about good works. That's interesting from Paul. Net, as we talked about both sides of the coin and Galatians. And James, good works are evidence of salvation now how you get saved, but the evidence of salvation, right? So important right here. Christ is returning throughout the entire New Testament, this is a huge, huge theme. And it should be that a lot of people forget about Jesus is coming back. There's going to be a theme here. This is our home. This is great. Jesus is coming back. So that promise right there living in this promise I talked about last week, the Holy Spirit and then you'll have a room, right? And the house, you're going to have a place in heaven. So they're just living in hope in this promise of Christ's return. That's your backdrop. That's the attitude Paul has presented. So he's going to let them know you. He loves them, right. So I pray the love overflow more and more, and that you'll keep on growing is very interesting. He says in knowledge, and understanding, it's a call to being smart. And here it comes. So that you may live pure and blameless lives until the day Christ retires. Important, right. So it connects perfectly with the situation and, and acts what's going on there. So he wants him to know that everything has happened to him like he's in jail. Remember this in jail has helped spread the good news. So everyone's hearing about Jesus, including complicated version, maybe his praetorium or palace guard. So basically all the guards here hearing about Jesus. So Paul's attitude, his attitude, yes, right. So I get to spread the gospel with people captive audience, they got to be here with me. So it's just like X. What happened to the jailer is his whole family got saved goes pretty well, doesn't it is the pattern of behavior. This is a really interesting thing, basically, the next thing Paul says, he's like summer preaching out of jealousy and rivalry. And then some had good motives. Now, some are preaching to make these chains more painful for me, right? But basically, what Paul says is, it makes no difference to me whether they're doing out of selfish ambition, or whatever, all I care about is that the gospel is being preached. So he says, I rejoice this theme with joy. Again, I just want you to take that and just kind of put it in your back pocket. Hold on to that until we get to chapter three, because I actually had someone come up to me because the Bible if you read the Bible, it talks a lot about false teachers and the problems with false teachers a lot. So whenever I say something, inevitably someone comes up to me and they're like, well, it's okay. You know, like, No, it's not. That's not what the Bible says. And I always want to call that stuff out. And so what they'll do is they'll point to this sometimes which is like, it's like nails on a chalkboard to say, Well, you see Paul didn't care as long as the Gospels me so they can preach on whatever they lot but it's a by the way, the Gospel. It's okay. All right, we're going to see now every time I'm like, did you keep reading Philippians? And they're like, I can do all things through them. We'll get to that one too. So, no, no, you did not. So anyway, just back pocket that one that one annoys me. So Philippians 124. I fully expect and hope that I'll never be ashamed. But then I'll continue to be bold for Christ as I've been in the past, I trust that my life will bring honor to Christ, whether I live or die. For me, living means living for Christ and dying is even better dying again. But if I live I can do more fruitful work for Christ. There it is again. So I really don't know which is better. I'm torn between two desires I longing to go and be with Christ, which would be far better for me. But for your sakes, it is better that I can send you to live Wow. That is a fully committed Christian. I remember I got up here one day I was like you want to be cool just been preaching the gospel. In fact, the largest strikes in the den a wake up, well done good and faithful servant. That's a great way to go and have people grown adults come up to me like, don't die yet. Like, I can control that at all right? Like, please don't leave us yet. I'm like, watch my Elijah or something like that. Like, no, it's the way it works. But anyway, I realized how selfish that was. I read this again, like always a really selfish thing to say, right? Because I'm out by you know, so good luck with the church guys. You know, you will call me in heaven really be praying to me like, right. But we don't do that. Okay. Anyway. So. So you're looking here at a fully committed Christian. This is a fully committed Christian, this is that that it that is easy to get? Like, take the Lord, Take me Lord, take me, Lord. You guys. All right, well, I'll work for Christ's but it's just for Jesus, right? This guy's fully committed. So basically, double down on it. I know just for your sakes, I'm going to stay here Philippians 127. Here it is, above all, you must live as citizens of heaven and conducting yourselves in a manner worthy of the good news about Christ the gospel, then whether I come to see you again, or only hear about you, I will know that you're standing together in one spirit and one purpose fighting together for the faith, which is the good news, the gospel, don't be intimidated in any way by your enemies, this will be assigned to them that they're going to be destroyed. But you are going to be saved even by God Himself, where you have been given not only the privilege of trusting in Christ, but also the privilege of suffering for him. Is that one come up with like the verse of the day. We are in this struggle together. You have seen my struggle in the past, and you know that I'm still in the midst of it. Alright, citizens of where heaven, remember that going to come up again. Being of one mind is like a theme. When you're in the Greek you see certain words that make it a little bit more obvious, like it's a theme here, one mind, one mind, one mind, one shirt there and these one, not literal fighting. Hope you guys understand that some people don't. It's not literal fighting is nothing in the New Testament, that condones that kind of behavior, the privilege of suffering. What? So what a mindset here, right? So I'm suffering? Yes, right. This is the mindset here. Now remember to this is highly consistent, which is like, well, Paul's a wild card. You know, he's crazy. What did Peter do? Right? So they beat them in x five. All right, what did they do? They rejoiced. There's that word again, because they were counted worthy of suffering disgrace for the name of Jesus. Consistent Christian attitude, hear the privilege of suffering Philippians two, one is there any encouragement for belonging to Christ, any comfort in his love, any fellowship together in the spirit, are your hearts tender and compassionate, then make me truly happy by agreeing wholeheartedly with one another, loving one another, and working together with one mind and one purpose. Don't be selfish. Don't try to impress others. Be humble, thinking of others as better than yourself. Look out only for your own interest, but seek an interest in others to you must have the same attitude that Christ Jesus had. Okay? So think, like, Jesus, this is really, really important. And it's going to set us up for what scholars will call the Carmen Christie. It's a poem and some Bible versions are really cool. And they'll like kind of, like, you'll get to this point, they get the verse five through 11, and they'll go put it in like a just like that. Shut down when you do it.
You know, put it in like a little poem form so that you know it is and they had these early like creedal sayings, these poems to remember, you know, not that it's not all important, but it's real important facts about the gospel. And this is like my favorite, so I don't have a favorite verse. I have favorite verses and these are them. Now here's the problem. When you learn how to read it in the best translation, gee, what's the best translate Should the original, the original notes. Now if you speak two languages, if you're bilingual, you know that like you can never get a perfect translate, it just doesn't happen. There's certain idioms you don't, they don't have like you're speaking Portuguese or Spanish, it's backwards, they'll describe something the backwards way that we do it. So everything is all messed up. And it's really hard to get a good translation, you get the point, you get the point, like, you know what's going on, but the thinking you have to think, like a person in that language, right. So I spent a lot of time with Brazilians. So I learned Portuguese horrible now lost a lot of it. But I learned in order to get what they're talking about, I had to become like a Brazilian person, I had to get immersed in the culture, because then I would understand the idioms they were using, like different phrases and stuff like that. Still got offended when they made fun of me. But anyway, so here's what we're going to do, I'm just going to give you a little cheat. And then that's it. So I'm going to translate it for you added the Greek directly from the Greek. But what I'm going to do is I'm going to explain some of the words the words, draw certain images and the Greek speaking person's mind. And our English translations, they don't give you that image that you know, I mean, it'd be kind of cool to have version like, Hey, this is what this word would be bring from somebody give you that I'm going to kind of do more into the GSV translation this morning. So here we go. So I'll put the Greek up. And that's what it looks like. So it's like Lord of the Rings or something like that looks real weird. Anyway, this is what it looks like in Greek. And if you can read Greek, right? If you can't, there it is. And I'm just going to translate it for you. Okay, so verse five, basically, if I had to, like translate it in the simplest form I possibly could, I would just say, think like Jesus phonies think it's a thing like Jesus, right? But have the same mind in you. Some say, make your own attitude that of Christ Jesus. Pretty good, right? But think like Jesus that comes with an attitude change. Right? So that's the first point in here. So although He existed, so there were like more fees in there. More, right. Although he existed as God, he didn't regard equality with God. as something to be not a grasped. Some versions, say some versions say grasped. Rob. But isn't that so different grasp, Rob didn't think equality guys something be taken advantage of. Right? So there's all these different versions in English, and they're all right, but not one of them is complete. So the word in Greek is our Padma, that's the word in Greek. And so we're in Greek reader thinks of this, like a modern Greek reader. And I've talked to Greek people about this snatched. It's like, you're going to like come and like snatch some out of someone's purse like this to steal it. That's what the word means. So it means like a like a drive by sniffing I'm going to get it. So like, it's like you picture in the movies like a kid taking some fruit of a fruit stand and running with it. Now, think about what I just said. sort of think about what I just said. Right to snatch fruit. Okay, let's go back. So God came as man, a man form and morphed into a man form. Let's go back to the first man. first man and woman go all the way back to the beginning. What did they do? They snatched fruit from the tree. Why? To become God right to be like God, that's the promise they're given. Jesus did not snatch the fruit from the tree or think of equality with God is something that so you get the imagery, Paul's giving you here all in one word, our problem. So really cool. All right. So he emptied himself by assuming the form of a slave and that's duel on there. So that that is slave it's not servant doesn't say that. Sara and becoming the likeness of people. So think, anthropology, so like anthropology, not store anthropology. I have a teenage daughter. So like with people being found in the appearance of a man, right, so. So when he comes like this, in the form of slave take on the likeness of a man, He humbled Himself, He humbled Himself, by becoming obedient to the point of death and your aversion to English, they'll try to like render it. So it kind of makes sense. But you lose a poem here, you lose the part of the poem. So say the point of death, even to death on a cross or something like that. But it's like, you kind of cascades. So it's like, He humbled Himself, by being obedient to the point of death, death on the cross, like so that's kind of how it really reads in the Great. Therefore, God also exalted Him and graciously granted him the name above every name, the Ottoman, so that at the name of Jesus, every knee will bend, and every of those are in heaven on earth. So those who are in heaven, on earth, and below the earth, so that at the name of Jesus, every knee will bow, and every tongue gloss I think, glossary and every time should confess that Jesus Christ was lords of the glory of the Father glory. doxology think doxa glory, so beautiful about the nature of who Jesus says this is who Jesus is, what he did for us, and why that's important. And I hope you guys can see from the Greek you can draw like a lot of really cool imagery. It's very, very, very deep. But it would make our translations right like twice the Bible already here driven making twice as long as they really are, if they did all that, for just, whatever, five verses. So, we have that about Jesus with that in mind. Philippians 212 Dear friends, agape, beloved, you always follow my instructions when I was with you. And now that I'm away, it is even more important. Work hard to show the results of your salvation, obeying God with deep reverence and fear wrong. fear and terror. Yeah, for God is working in you, giving you the desire the will and power to do what pleases Him for His good pleasure. Alright, so work out your salvation with fear and terror. So, most translations say fear and trembling. That's pretty good. Trembling is good, because the Greek word terror, and if you showed that word promo to a Greek person, they just heard terror. Because it condensates you're so scared that you're trembling. So they go, like, oh, let's not be too hard on these, like American leaders. So let's just make it trembling. No, it says fear and terror. That's what it says in the great fear and terror. What the Bible says, Do not be afraid 365 times wrong. It says do not be afraid about 80 times, it says fear about 500 times and most of the time, you should be afraid, you should be very afraid. Alright, so work out your salvation with fear there. So number Tony's message and number what I preached if you've been here for a while, both sides of the coin, right? He went to Luke 12. Rightly last week is a great place to go on this teaching both sides of the coin. Don't be afraid of those who can just kill your body. And after that they can't do any more to you. But I'll tell you who to fear, fear God, who kill your body and then throw you in the hell. That's who you should fear. Both sides of the coin anyway. So let's see. Do you see the response? Right? So Carmen Christie, who Jesus is what he did super humble, obedient to the cross. So work out your salvation with fear and fear that so live blameless lives until Jesus comes back. Got another theme there. That's the next thing Paul talks about. Right? So talks about that, and being joyful to rejoice in that next section, too. So this is interesting, because there are two people. Paul's going to point out here and he's like, here, let me give you some examples. Of some committed Christians. Now think about the flow, right? We're in this letter, we've been walking through it. Think about the flow. Oh, my gosh, I got to be obedient to the point of death and the death on the cross. God did that for me. So Paul goes, Okay, you're in terror, nosey went hard. So now he's like, Okay, wait, wait, I'm going to send Timothy to you. I have no one else like Timothy. Who cares? And go go back to that thing. Think of other people's interests, right? Who cares about other people's interest and just not his own? That's what he says about Timothy Oh, and Pafford itis. him to write like, he came to me almost died. I'm going to kind of summarize this almost died getting this letter to me basically, is what he's saying. Right? So And what's really interesting, if you read in Greek, he calls him an apostle. Why? Because of Ostello. I send a number of missions. We talked about missions, there's no word missionary in the Bible, and the Greek is apostle. So your ascent one. So it's not a capital A apostle. It's a lowercase A apostle. Just an interesting note. So really interesting to hold on to this just like you did, like Paul's teaching is no big deal. But this one your back pocket to Paul talks about not being so worried, is worried. It talks about being anxious Marinela in Greek, he says he's anxious here. And basically like they're worried he's worried right? So you're worried about Pafford itis I was worried. So I sent him back to you so that you wouldn't be so worried
thoughts about having worry. All right. Now I want you to as I read this, keep Galatians in mind, if you know Philippians three, one, whatever happens, my dear brothers and sisters, Rejoice in the Lord. There's that theme again. I never get tired of telling you these things, and I do it to safeguard your faith. Watch out for those dogs. Those people who do evil those noodle laters who say you must be circumcised to be saved. For we who worship by the Spirit of God are the ones who are truly circumcised. We rely on what Christ Jesus has done for us. We put no confidence in human human effort, though I could have confidence in my own effort that anyone could, indeed, if others have reason for confidence in their own efforts I have even more. I was circumcised when I was eight years old. I am a pure blooded citizen of Israel, a member of the tribe of Benjamin, a real Hebrew if there ever was one Hebrew Hebrews, it said, I was a member of the Pharisees who demand the strictest obedience to the Jewish law. I was so zealous that I harshly persecuted the church. And as for righteousness, I obeyed the law without faults as blameless I wasn't according to the law, I was blameless. I once thought these things were valuable, but now I consider them worthless because of what Christ has done. Yes, everything else is worthless when compared with the infinite value of knowing Christ Jesus, my Lord. For his namesake. I have discarded everything else. was counted as a year Paul says Devala. And if you're Greek, you might have just got to say that in church, because it's it's a four letter word, but it doesn't begin with an S, it begins with a C. It's like refuse, right? So he considers all that stuff, sewage refuse, so that I could gain Christ and I become ONE with Him. I no longer count on my own righteousness through obeying the law. Rather, I become righteous through faith in Christ, for God's way of making us right with himself depends on faith. I want to know Christ and experience the mighty power that raised Him from the dead. I want to suffer with him sharing his death, so that one way or another, I'll experience the resurrection from the dead. Remember those false teachers not made a big deal and other dogs and other dogs? So you always got to keep reading right? There mutilator the flesh? Do you remember that from Galatians? Remember, Paul was a nice to those false teachers either. What do you say? I hope when you're circumcised and each other that nice slips, right, so he's really not nice. You see here, what does Paul think about all these credentials? This garbage, it's refuse It's poop. Some version of the best version could probably say dumb. I consider it all down. Like it's something you don't want around anymore. Something you remove, right? You're rid of it. So we did this just quick application. Remember, that didn't Galatians a few other times you have a lot of these people in church or they got to get the first seat, the reserved seat the pastor apostle, this that doctor this the law, Paul saying, Get your garbage away from Galatians? What do you say? It made no difference to me who Peter was right made no difference to me who Peter was I rebuked him to his face. Now I have to just go over you can people in that respect. It also talks about having respect for the teachers and stuff like that. Just think about the modern church. Right? Like, everybody's got to be honored every five minutes, and everybody's going to put pasture this and this title and that title and reserved parking spots. We do not do that here. So it comes up again, it's going to come up again in First Corinthians two. So again, we have Paul's privilege of suffering. He knows if you do not die, you cannot be resurrected from the dead. So that's what he's saying here. Like, I need to die. So I've not obviously achieved that. But suffering. I want to be like Jesus, Jesus said, pick up your cross and follow me. So I'm going to obey him right? So not once, but whatever called us Philippians 312. I don't mean to say that I've already achieved these things that have already reached perfection. But I press on to possess that perfection for which Christ Jesus first possessed me. No dear brothers and sisters, I've not achieved if they focus on this one thing, forgetting the past, and looking forward to what lies ahead. I press on to reap to reach the end of the race and receive the heavenly prize for which God through Christ Jesus is calling us that all of our spiritually mature agree on these things. If you disagree on some point, I believe God will make that plain to you. But we must hold on to the progress we have already made. Do your brothers and sisters, pattern your lives after mine? Remember Timothy Pafford itis call and learn from those who follow our example. For I've told you often before and I say it again with tears in my eyes, that there are many whose conduct shows that they're really enemies of the cross of Christ. They're headed for destruction. Their god is their appetite. It literally says up. The gods are belly Kalea. They brag about shameful things. And think about only this life here on Earth. But we it comes up again, our citizens of heaven where the Lord Jesus Christ lives, and we are eagerly awaiting for him to return is our Savior theme we will take you will take our weak mortal mortal bodies and change them into glorious bodies like his own using the same power with which you will bring everything under his control. So you see those examples? But now think about that. Like they're contrasted with these dogs, noodle eaters of the flesh. Can you think about of anything worse than the enemy of the cross of Christ? Well cross The cross, none of us are saved. Enemy of everything. Enemy of the cross of Christ has some pretty harsh light bellies. Their god is their belly, it says. Now that's not very nice isn't. Right. Why? Because it is a big deal. Because it is a big deal. They're leading people astray. You're playing with someone's salvation. Tony might have mentioned this. I'll just mention it really quick. So what's the big deal? You don't make you promise for health, wealth, everything, everything's going to be just fine. Well, that's why we'll just does not say that, as you can see here, like over and over. So it gives you all these false promises. only going to take one verse out of here, that's it, people. There's nothing you have to do ever. We saved by grace, but what does it say? Ephesians? Two, eight, right, good. But keep reading. We're made anew in Christ so that we can do good works. Alright. So it's kind of important evidence of not seeing the evidence, but you can do whatever you want. Go ahead, you're good. You're going to be wealthy. Well, What's wrong with that? Because they heard the gospel. So there's some like little miss things. Well, here's the problem when that stuff doesn't happen, they fall away from the faith. That's the problem. You're laying a snare for someone. It's evil. So a part of our job here is to call that out as you can see here. But here's the thing. Here's the thing we're waiting for Jesus has returned. That's the prize. You don't want to short st I give this example right and be like getting you're on the way to Disney World, right? If you're driven there, but then you stay at Dinosaur World you go, let's stop there on the way we almost did that, because I'm like five years old, and I love dinosaurs. But anyway, I'm going to stop there. And then we spent all my money for Disney World at Dinosaur Land. You miss the goal. And that's the problem. When you strive for the earthly prize you miss the heavenly one. Don't get stuck at the tourist trap. This whole thing that was got all these tourist traps for you guys all over the world, right? No, no, he's okay, fine. You spend like five bucks a dinosaur? Well, cool. Now we're out. But don't blow it on the world. Don't blow it Keebler what you're doing in this world is okay to have nice things. But you better keep that focus on the heavenly prize. That's the idea here right? Big deal for Paul. Alright, so he's going to wrap up chapter four. He talks about three people Euodia and cinta key. He calls people out by name that's interesting. Like stop being so mean. So you know but they do that all over the Bible is funny as a lot of people's names who are like in here forever like him Demetrius like all these people are terrible. So the column out in the Bible, the does God and since a key but he's nice, tell him to get along. Apparently there's a problem. There's a personal touch climate, his name is written in the Book of Life, we'll see first climate maybe we'll do that after the series. It's a letter written afterwards to the church in Corinth, still having problems. Alright, Philippians four, four, always be full of joy. And Lord. There it is. I say it again. Rejoice. Big theme. Let everyone see that you're considerate and all that you do. Remember, the Lord is coming soon. Don't worry about anything. Instead, pray about everything. Tell God what you need. And thank him for all he has done. Then you will experience God's peace which exceeds everything we can understand. His peace will guard your hearts and minds as you live in Christ Jesus. So he's closing here and you see the peace coming here. And again, remember, peace, grace and peace to you all that he has the thank you note, not God like I knew this. I get it. But God no, first. Thank you. Thank you. Thank you for all you have done for me. That's the right attitude. rejoice, ye the Lord is coming to rejoice in prison. Rejoice in all circumstances and your suffering. Rejoice. Now, did you notice this? Don't be anxious? Who will be anxious about anything? But wait. Paul also said he was anxious. Right? So this is an ideal. It's when someone's saying Oh, worry about it. Right? You know, but don't ever worry. No, there's all kinds of people including Jesus worried a little bit when he was in the garden sweating blood like he was getting anxious right there. Right so just remember though, you have this peace in the storms like last week, and then the suffering right because you have the hope in what Lord's Return Jesus is coming back just let's focus on that.
You're going to close he says fix your thoughts on what is true, honorable and right. If you're lovely and admirable. Keep putting these things into practice. Oh, look at that again. Right. So see, be like me again, do everything you heard me saying and saw me doing, then the peace of God will be with you again. Peace. Philippians 410 Here we go. How I praise the Lord that you're concerned about me again. I know that you've always been concerned for me, but you're going to have the chance to help me. Not that I was ever a need for I've learned to be how to be content. Just remember he's saying this content with whatever I have. I know how to live on almost nothing or everything. I have learned the secret of living in every situation, whether it is a full stomach that kill you again, or empty. With plenty or little. I can do everything through Christ. It gives me strength. Even so, you've done a well to share with me and my tribulation. Pretty heavy word. Tribulation. Can see when you see it. Oh, like that? Does Brian do all things through Christ? It gives you a look a little different right now. Yeah, Paul's in prison. He's not playing sports. Right? It's more like I can endure all this stuff through Christ who gives me strength? Right? Don't belittle the verse. What did he just say about earthly prizes? I can do all I can win this. What did he just say about earthly prizes? worthless, right? He's content to live in poverty or tribulation. That's what those verses mean. And we have the danger of the verse of the day right? So he lets him know that he's going to double down on this idea at this moment have all you need, he acknowledges Pafford itis sending the gaping sent with a gift and then he'll close Philippians 420 Now all glory to God our Father forever and ever. Amen. give my greetings to each one of God's holy people all who belong to Christ Jesus, the brothers who are with me send you their greetings, and all the rest of God's people send you their greetings to especially those in Caesar's household who Caesar, the Praetorian Guard, especially all the soldiers guarding me. It took me a long time to get that and it's kind of fun. May the grace of the Lord Jesus Christ be with your spirit. Grace and peace. So that is Philippians that's when you take out any verse. You heard it. You made it.
You heard it the way the early church is supposed to. You're probably without the stupid jokes but right. You're hurt. Yeah. Yeah, you heard it there. It wasn't here. Yeah, they were stupid jokes. I know which one you're going to pick. Lonnie. You like God?
Anyway, we're family here for the first time here. We joke we have fun. Alright, so but you got it right. So like any of those verses, you might have heard some Don't be anxious about anything. I can do all things through Christ. But see, you got the subject line. Now you got the whole thing. You know what's going on? And you're hearing it the way it's supposed to be heard. Now, perhaps you notice something? Jesus, it's always struck me I feel like Jesus was obedient. is obedient to what? The point of death even death on a cross. Welcome when courage what things like Jesus be like Jesus be Christ like? Well, yeah, take away well, what is Christ like look like? Being committed? Be really committed. Paul is really commit, I just can't think of anybody more committed than that. Right? Calls committed. A Pafford, itis sees committed. Timothy's committed, he doesn't think of himself. He just thinks he's committed. Commitment. That's what you see here. Christ was committed to the cross. We see all these examples. Now, back to the slavery thing. Paul calls himself a slave Jesus was put in the form of a slave. Just real quick, because this is a big problem. There's something every person should think about when they look at the word of God. Never look at the word of God through our cultural lens. You will get it wrong every single time but look, your whatever it is your political affiliation, your your socio economic status. All that's got to go. When you look at the word of God, you have to pray. Holy Spirit clean me from all that garbage. Because that's what Paul called it right? That refuse. I'll call that old. Refuse like, no, no. Your word, this is the only perfect thing ever. So why put on dirty, imperfect lenses that look at something that's perfect and pure. Makes no sense. We have to look at the world and everything in it through this lens. That's how you get it right. was a really important, but it happens. So when you see the word slave, what's that? You know what I mean? You shouldn't say that word, but that's your cultural lens. That's not the word of God. Because there are two different words you have servant and slave and they're two different words in Greek. And so the beginning of flipping, it can actually overseers and deacons, deacons, the word servant has used it right? So in the versions where they go upon servant of Christ Jesus Timothy upon Timothy bondservants questions, and you get back to all the, you know, the stuff as a deacons. Now, what does it say? It's slave, it says, slaves. That's just what it says translated right? Just honor the Word of God, not your culture. So horrible thing, slavery in our country. Terrible, terrible, terrible. I've said this in the past, racism and Christianity are completely incompatible, period, right? We're all one in Christ using alone Greek, Jew, male, female, slave free. We're all one in Christ Jesus, that's what we believe here. No racism, none. But the thing is in the Bible, it doesn't mean racism. So talking about that, right? So you could own a slave and you could be the same race or ethnicity as you. It's about commerce as a some people would actually do very well, being a slave of someone. So cancel the racism out. I just think translations that route to that is very fickle. So anyway, it's about being bound. You don't have an option here. You're bound to that master. And it puts everything in right perspective. Jesus is the master or the nobody like in the soul. That's it. That's it. If we speak, it's only on his behalf or because he told us that was okay. Right. That's it, but we can't get out. And when you're a servant, you think of serving tables, right? I clock out and whatever. And I know that's just my job. As my servant doesn't do it, it doesn't give you the gravity that it should have here is incredible gravity. You are bound to Jesus. That's it. You don't take no vacation from Jesus. You don't get a day off from Jesus. It's you are his slave at his beck and call you obey like he did. So it's why the word slave is very important. But here, we see that Just write joy, joy, joy, joy, joy, joy be joyful no matter what, there's joy in this slavery, you'll find joy in your life completely out of your own head. You're just thinking of other people's interests. And that's the point. That's where we're supposed to be at knows we all yes, Jesus is going to come back, this is going to be amazing, he's going to be none of this garbage just refuse any more than I have to deal with. And they're serving a Masters in a committed way. They're living out that parable, Jesus's parable of the faithful servant or registered, well done good and faithful slave. Sort of actually. They're just living another life. Yes. Laughter yes, no, I just want to live to please, you have so much joy
in it. So how long people again, I'm not always joyful. Well, here's the thing. Think, how did the karmic or had the power of the poem begin Karim Christi.
Stay, think like Jesus, make your own out and do that, of course, Jesus. They stink, like Jesus have the same mind in you that he had. And then what he did for us. Seeing others go through distinct about all the lines in the letter. see others is more important and don't just look out for your own interest, but the interest of others is constantly revolving. Get out of your head, we say walk a mile in someone else's shoes, right? Think think about what somebody else is going through why they're there, and try to be empathetic and loving. That's what it's about. Right? So we're thinking of others. We're not like so self absorbed, don't be selfish. means that we need to think like Jesus, this will cause us to serve like Jesus. Right? If we're in that mindset, is what Paul's saying. So it's this renewal of the minds, you get the Romans 12. Right? Public Hello, I appeal to you, your brothers and sisters make your bodies a living sacrifice, holy and acceptable or pleasing to God. This is your spiritual service of worship, do not be conformed to the world, but transformed by the renewal of your mind. He's already talked about the Holy Spirit and living in new life in the Spirit and Romans eight. So it's implied there. By the power of the Holy Spirit. We've watched Titus, through the washing, regeneration Renewal by the Holy Spirit, right? Really another good creedal saying when the kindness of God is love, for mankind of purity, see the thought and the basis of deeds, we adopted righteousness, but according to his mercy, through the washing of regeneration, by the Holy Spirit, we poured out abundantly upon us through Jesus Christ, our Savior. justified by his grace, it means living as a serf, as a sacrifice, right? So we are to be as committed to Jesus as he was to the cross. That's what it's all about. So in our everyday life, there's always got to be like, application. Okay, I think that's great. How, right? So you want to talk about baptism, talk about that, with me, that's fine. But just a little practical stuff. We're all charged at a base level, to meet the needs of those around us. Regardless of what other ministry we may work in, or what our specialties are, right? We're all charged basically, like, you know, Jean doesn't leave church and be like, poor person, well, you know, I'm a teacher, so whatever, you know, we got one of the James say, you know, what kind of faith is that? Because he's the one who has these needs, and you know, help them as not faithful. So all charged with meeting people's needs. at a base level Booneville now needs and wants are two different things. Unless you're married, then that is
getting real serious. Alright, so needless to say, there are two different things. And yes, so I'll stop, save myself some trouble for later. Okay. So,
but there are those outside of these categories that like want from us way more than these needs, right way more than these needs. And they please, I'm just going to give you a little bit of like, kind of like faster school advice certificate, and that just goes real quick. And especially for this reason, I was going to kind of like pull some of this out. But Heather, actually, my wife said something really smart. And she says lots of smart things, way more than me, but that's how you do it. And so and as he wrote it, so she said, You know what, I was like, I want to kind of trim this off. And, you know, she said, the holidays are coming up. The holidays this month, the holidays are coming up. I was like, so you have people like stepping over the boundaries, don't you? Like everybody does. It's like all these boundaries. You don't even have that in your business. You feel codependent going to have to do this to have. So they're stretching those needs and trying to pull them into the one category as affecting your relationship, and then you overeat and then you come prime. So we're going to try to like kind of curveball that let's get get it in here because the holidays are coming. Are they already here? It's Christmas, right? It's Christmas at the store. It is not hobby skip Halloween just went straight to Christmas. It's crazy, right? So you're already stressed out. So let's look at some boundaries and guidelines in the servant living for others. And ourselves, we can save ourselves a lot of trouble. So first, for those, we are helping, okay, we're helping this happens all the time. Probably more to me than anyone you guys may not. But we help them. And then we have to help them again, as the same thing, we have to help them again. And then we have to help them again. Okay, if this is happening, we have to ask ourselves a question. Are we enabling that person? Are we enabling them? The big question got asked that one because you might actually be doing more harm than good. Now hear me? You need to meet these. Everybody who's here knows this. But just to say to people watching alone or whatever, like, I No one gets denied a free meal on Sunday. Let's see features. Nobody. I don't care what you do. Okay. And we had we've had a happening get Oh, you are drunk at church again. Like I don't reboot the person forever. I just like, go get some food Shut up. Just leave me alone. Like don't talk to me earlier. So you know, that's it. That's it. That's what's going to happen here. I love everybody. I will feed anybody meal. It doesn't matter. Right? That's not what I'm talking about. Right does not want to tell you this thing. And you got to do something and you got to pick the particular get the percentage jail or whatever it isn't. They're not there for the same reason Paul is right. So it's over and over and over again. Now they're going to do some they're going to there are professional, needy people. Lots of them. Now not all needles, some people would like in that reason. And we here at see three church if you're new, we have a real big heart for those people. But we're all about like, okay, let's figure out why you're there. Stop that, and then teach you how to fish. That's how we do it. So but some people, they're professional, they don't want to do that you need to do everything, right. So I enable and they use a couple of examples. The prodigal sons, like my favorite example. Fair example. Like what, you know, the father was waiting for the sun to come back and he welcomed him back. Right. Okay, let me just hold on the Father, let the sun go. Remember that? Let him go. Alright. Fine. Take your inheritance. And guys, first thing you got to remember about that parable? Right? Keep the subject line, okay, you can go he comes back. But what is it a sunset? father, I've sinned against heaven and you want to no longer worthy to be called your son. Just take me back as a slave. Oh, there's that word again. We got there. Right. He's repentance. But yes, it was not. They are. And this is what you can say if you want and you can say pathogen can be a permission to insult you. But no, you're not the prodigal son. You're the prodigal son if he asked for his inheritance again.
That's who you are. You're not repenting. You just keep asking for the inheritance.
I want to hear I'm out. It's okay to say that I'm out. Doing so. Some people will use this verse to Proverbs 1970. If you help the poor, you are lending to the Lord and he will repay each bottle much like yeah, like really? So you did you catch these next verses here? Okay, it says that, but then it says, discipline your children, while there's still hope, otherwise, you will ruin their lives. Remember that enabling thing? You are fully capable of ruining somebody's life? By enabling them? Yes, you hot temper people must pay the penalty. If you rescue them once, you will have to do it again. And again, and again. And it doesn't end. It's called insanity. That's the definition. The same thing over and over again, expecting a different result. So what does the Bible tell us right here the way Jesus says right? The Word of God. Let's do it the way Jesus says, Okay, I will help you. Right, I'm given to the Lord. This is great. Right? But then immediately after it says, But discipline your children, like otherwise, you're going to ruin their lives. So this person needs to this person needs some discipline. I want to enable them. So you get the whole formula right here like three verses the Proverbs. Right? I don't want to enable them, I could ruin their lives. And if there's something they're hot headed, or just insert whatever it is in there, they got a problem that keeps getting in the situation. Go back to the other verse, back to step two, right? discipline them. Know, you keep getting yourself in this problem, because you're doing this until you stop this and not doing it anymore. That's the biblical way to do it. Right. Not the world's way to do it. Right. So it's very hard for us because we have a hard time prodigal sons dad, okay. But all it does is First Corinthians five the man's in sin, right? Sleeping in sexual sin. So what do you do? He says, I handed him over Satan, so that maybe he'll be saved in this glorious one. doesn't come back repent. So we call it here, learn golf, they got to hit a bottom. And I hope that bottom is very high. Sometimes it's a low one, that's not on me anymore. So it's very biblical. So here's just the other thing before we close. Sometimes, you get into these situations, and it's just you like, the person just needs you. Like, like, they're like, they have other friends or other people or the pastor down, like I sign three people to you. But like, I'm the only guy you're calling. Please stop. You know what I mean? Like, why is it just me? Now this can lead to an unhealthy relationship for you, and have them. Right, maybe they're doing ask yourself, Why are they calling me? Have I been enabling them? Do they know they're going to get what they want? No, you got to ask that question too. Right? Or just like nobody else in the world did this and you got to get some other friends who like, but you, we have to be very careful. And we help people not to make ourselves dominant over that person. What did it say? Don't think of like others better, or you is better than others or that kind of thing? And that's another, you get my point, right? Don't think of yourself as better than other people. How much patronizing do we do that seem? It's terrible. You know, like, here I am with this homeless person. Yeah, this is awesome. patronizing. So you're what all I hear is, I'm so much better than this person right now. I'm a better person. I have my stuff together. But I'm still gracious and humble. You're not because you took a selfie of and put it on the internet. You're horrible. You're horrible. Don't let one hand know what the other is doing. Jesus says right? So we got to be very careful with the hero complex. You really care because this is another cultural thing that we do. You got those dirty, dirty lenses on right because Dong lens is on. And you're looking at the Bible now. Right? And you're making yourself the hero the story. And if you got the dirty lenses on you're going to find the hero's story and there might be you. But when you take those dirty lenses off and just look at this with pure hearts, you'll learn that Jesus is the only hero in the story. David was a horrible person. Solomon was a horrible person. They're all horrible, horrible. Selfie. Listen, like if you read your Bible, David got 70,000 people killed his pride killed 70,000 people. There's a murder. It's why he didn't get to build the temple. It wasn't just an adulterer. Nobody's great here. Solomon broke every law there was for a king he worshipped false gods one Molik, you know your worship Molech you kill your babies to Him. simpleide Who's really worship Him? Horrible people. Jesus is the only and you know, I'm a horrible person. That's why Jesus had to die. Right? Nobody good. I'm not a hero. You're not a hero. Sorry to break that news. So we got to be very careful because we flirt with this. We play with this. But notice how Jesus, Jesus is humble. Jesus is obedient. Jesus rested the column in the storm, right? What was he doing in the boat? Jesus got rest. Jesus, he bring that was Mark for Mark six. He sends the disciples, John the Baptist, he called they come back. When he's only do get some rest. Luke, he often went away by himself to pray at rest. So I want to hear this. Like, I work 8 million hours a week I provide for a family. I don't know you do nothing. You help you help the Lord. That's what you do. You help the Lord out, you're a slave. We help out a little bit. Because the Lord of the reason you or your family has anything they have at all period. And you're just just to help her and you're going to die. That's you. That's me. That's it. That's what Philippians is letting us know. It's all by the grace of our Lord Jesus Christ period. Now, and I'm really awesome to new pond, Timothy, slave of Christ Jesus. So just watch out for that hero complex. Sometimes, serving others the way you want to serve them can lead to sin. Sometimes serving others the way they want to be served, can lead to sin. We have to watch that ultimately, we are slaves of who? Christ. We do it the way he says to do it. That is the only correct way to serve others. As we are looking at this book and seeing what it is to be a slave of Christ. We must produce good fruit. boastful, not filled with jealousy and selfish ambition, that rotten fruit serving where Jesus had to serve. Not the way anyone else tells us the serve and produce good fruit that way. We must examine our motives adopt the attitude of Christ and all of these things in that commitment, and that's the thing We need to focus on the heavenly prize, and all things, not the earthly prizes. Jesus says right when malls eat rust destroys. It's not a good foundation to build on people got to build on our heavenly prize, the eternal prize in Christ Jesus. And this is the key. We find our peace and our purpose outside of those things, and in the heavenly things. That's the key to finding our joy in Jesus. And then we pray for the Lord. Thank you for everyone. And the sound of my voice. I pray that they're encouraged by some tough words here, but they're your words God, so unapologetically, I just say let them be encouraged by the truth. The truth of can be built up, given your peace, you love them feel that today, throughout this as a good father that you are. Thank you for everything we have everything you've already given us. And thank you so much for that promise, that eternal home with you. And in our time here as we're passing through, pray that you just keep us built up in you so that we be more effective gospels, got vehicles for your gospel message. Ask these things in Jesus